Hiking Gear
Backpack – Gregory Baltoro 65: A+
If any piece of gear absolutely shined during this hike, it was my Gregory Baltoro 65 backpack. It carried up to 40 lbs (18 kilos) with remarkable comfort, properly transferring the weight to the top of my hip bones and the small of my back once it was adjusted. The day after the hike ended, only my feet were still sore. It also has enough zippered compartments to access camera gear relatively easily – just about as seamless as a dedicated camera backpack. To hold my camera, I used the internal unit from a Shimoda backpack I reviewed recently, which also was flawless (much lighter and firmer than F-Stop Gear's internal units). It's taken me a while to get to this point, but I think I finally have optimized my camera bag system. (The Baltoro 65 is on Amazon for $179, at least in some colors and sizes, at the time of publishing this article – on sale from the typical $299, which is what I paid.)
Tent – Big Agnes Copper Spur UL3: A
Although I did the Laugavegur as a two-person hike, the three-person Big Agnes Copper Spur UL3 was our choice of tent, and it performed very well. I don't think Big Agnes still makes this exact tent, but I suspect the newer versions are also quite good. I've used this tent – and the two-person UL2 version – for a few years now, and it ticks all the boxes, although it weighs slightly more than some minimalist options you can find (at 4.3 lbs, or 2 kilos). It's dead-simple to set up, and the extra space of the three-person version was enough to keep all my camera gear in the tent while sleeping.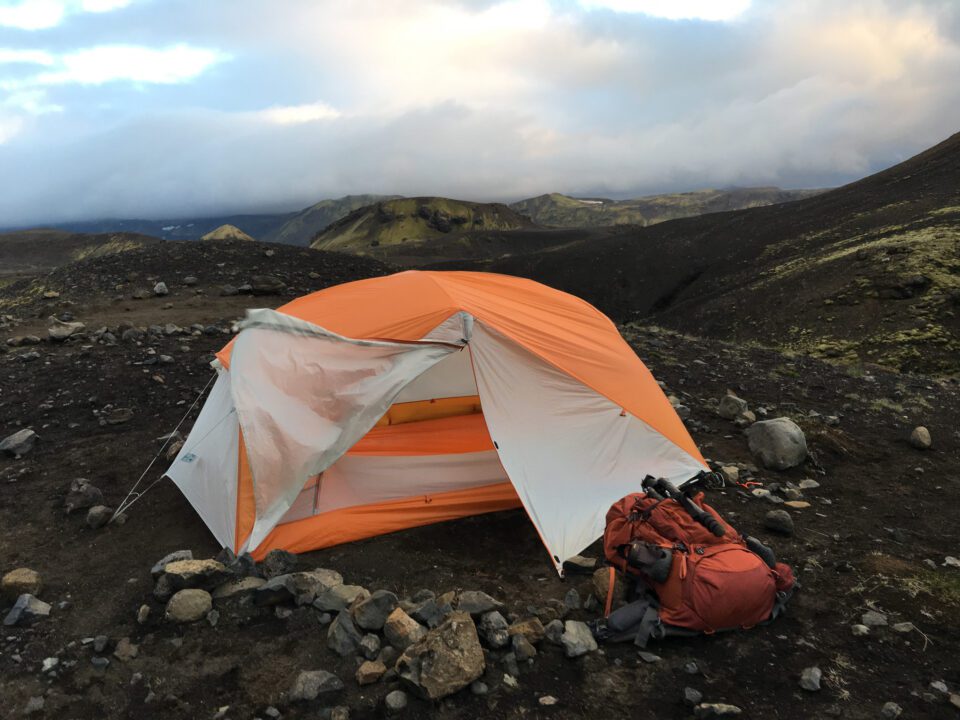 Ground Pad – Therm-a-Rest NeoAir XLite: A
I've had this ground pad for years, and I've always found it to be comfortable and relatively warm. It's also lightweight and compact. It doesn't quite get an A+ because there are other options on today's market with a better ratio of warmth to weight, but it certainly won't disappoint. No doubt I'll bring it along next time as well. $170 for the regular size.
Sleeping Bag – REI Igneo 19: A-
This is the best sleeping bag I've ever owned (although it isn't available anywhere I've found, since it has been replaced by a newer version). But it was overkill for the reverse schedule I had on the Laugavegur. In hindsight, I would have brought my "sleeping quilt" instead, which weighs about half a pound less – and that, too, would have been more than warm enough. Normally, a warm bag like the Igneo 19 would be ideal, but my reverse schedule made things more confusing. As cold as it sometimes got at night while I was taking pictures, the tent was consistently warm as I slept during the day, even when it was cloudy. But if you're not on a reverse schedule, this is probably about what you would want.
Pillow – Hyperlite Stuff Sack Pillow: B+
I never like to skimp on a hiking pillow, but in this case, I did – I got the small version of the Hyperlite Stuff Sack Pillow. It's really just a lightweight bag with a felt liner on one side, and it worked all right. I used it to store the Therm-a-Rest ground pad while hiking, which was a great system. Still, you'll need to be careful about the clothes or other items you put into the Hyperlite to make your pillow; my down vest worked well for the first 30 minutes, but it soon compressed enough to be quite uncomfortable. If I did things again, I probably wouldn't bother with a pillow.
Stove – JetBoil Flash: A
The JetBoil Flash stove is one I've used for a few years with some success. It's not actually the one I tend to use in windy conditions, but the one I prefer – the MSR Windburner – broke before this trip (due to a since-corrected defect in the original version). In its place, the JetBoil performed admirably. Although I might not bring this exact stove next time, I wouldn't be disappointed if I did. It's selling for $91.
Water Filter – Etekcity Water Filter Straw: A
I was impressed by how well the squeeze water filter from Etekcity worked, although I don't have enough experience in this area to know if it's better or worse than typical options today. All I know is that it was lightweight, and it only took a few minutes of work to refill a water bottle. A filter like this was essential for the hike, reducing the amount of water (and therefore weight) that I had to carry from point to point. Note that this was only possible because the Laugavegur constantly crossed small streams, which is not something you can rely upon for all hikes. It's cheap, too – $15.
Lip Balm – Blistex Lip Medex: A+
There might be fancier lip balm on the market, but this stuff worked great on the Laugavegur. It kept my face feeling like a face for the entire trip, despite the constant cold and wind. The comfort-to-weight ratio of high-quality lip balm is probably better than any other equipment you can bring along, so don't skimp. It's just $6.36 for three of them, and I only needed one for the nine days.
Hiking Poles – REI Traverse Shocklight: A
Although they needed occasional re-tightening during the hike, the REI Traverse hiking poles were spectacular. When you carry nine days of gear on your back, one of the best ways to keep your legs working properly is to offload some weight to your arms. On the Laugavegur, there are large sections of snow, and the baskets on these hiking poles also worked well. I'll definitely bring these on my next long hike. I would add a link, but they appear to be discontinued.