What's the right aperture for landscape photography? Is it the sharpest aperture measured in the lab (usually f/4 or f/5.6), or is it "f/8 and be there"? Maybe something narrower? Of course, it depends on the photo. But, on balance, most landscape photographers don't stop down enough!
Introduction
Let's assume that you want your photo to be as sharp as possible from front to back – in other words, the nearest foreground and most distant background are both as sharp as possible. (This isn't always going to be what you want – see Five Common Landscape Photography Mistakes – but it's true more often than not for most landscape photographers.) Let's also assume that you're using a tripod in reasonable lighting conditions, giving you full flexibility over which apertures you use.
What's next? How far should you stop down? One thing that scares people away from the narrowest apertures is diffraction. In particular, at narrow aperture values, you lose sharpness because the light interferes with itself substantially when it bends through the small opening in your lens. Diffraction is why almost all of our lens test charts show a drop in sharpness at narrow apertures like f/11 and f/16: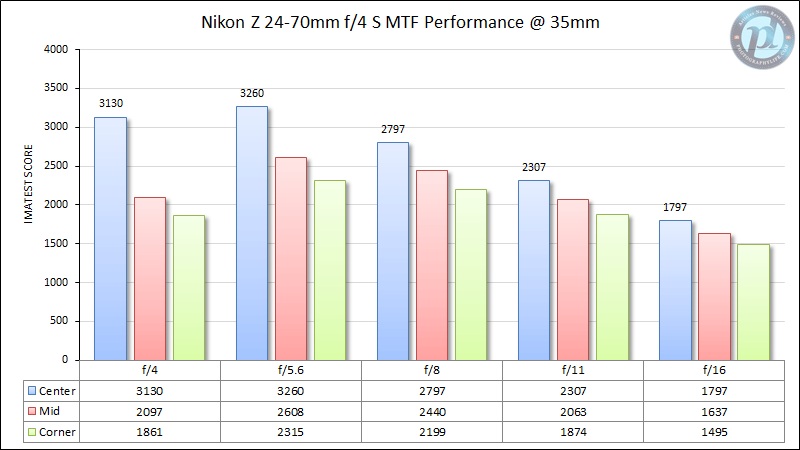 However, you can't just stick to f/5.6 all the time for landscape photography, since you'll often need more depth of field than that. Instead, most of the time, your choice of aperture becomes a balance. Stop down too much, and you lose sharpness because of diffraction. Don't stop down enough, and you don't get sufficient depth of field.
Pop Quiz
Let me give you a few hypothetical examples to test how well you can find the optimal aperture. For all three situations below, assume an optically excellent lens, with the same goal stated earlier: maximum front-to-back sharpness. Focus stacking is banned because it's a windy day! (Interestingly, the correct answers don't change with the sensor size that you're using – although the scenarios and focal lengths discussed below are based on common situations as a full-frame photographer.)
Scenario one: You're using a 20mm lens, and the nearest object in the photo is fairly close, specifically 3.0 feet away from the plane of your camera's sensor (a bit under one meter). You've focused at 6.0 feet to maximize depth of field, taking advantage of the double-the-distance technique of hyperfocal distance.
Scenario two: Your focal length is 35mm. The closest part of the foreground in your photo is 6.0 feet away (a bit under 2 meters). You've focused at the optimal hyperfocal distance of 12 feet.
Scenario three: You're at a longer focal length of 140mm, and the closest object is much further away – 100 feet exactly (about 30 meters, or roughly the length of a basketball court). As before, your focus distance is ideal: 200 feet this time.
Do you have your predictions? Given the title of this article, did you bias them a bit on the narrow side to be safe? Here's a hint – not all three scenarios demand the same aperture. I'll reveal the answers after the following photo.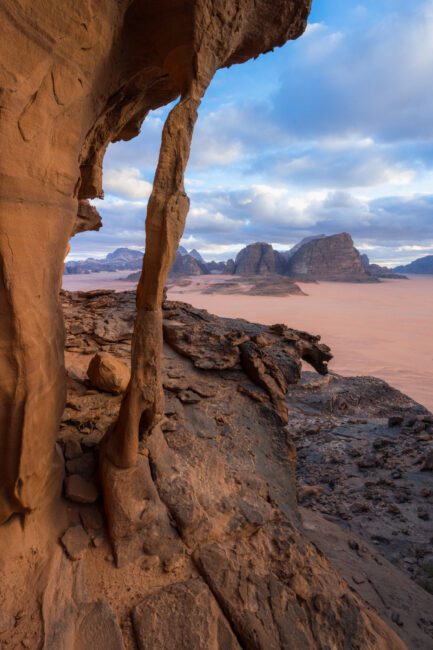 Ready for the grand reveal? The mathematically optimal aperture values for the three scenarios above are f/13, f/16, and f/16 respectively (derivations here). Even knowing the topic of today's article, those apertures might be narrower than you expected! After all, these are hardly extreme scenarios as a landscape photographer, but f/16 feels like a pretty extreme aperture. Nevertheless, those are the optimal values.
Actually, in practice, it's even a bit more dramatic than that. These three answers are correct only when you focus exactly at the double-the-distance point (also known as hyperfocal distance) with an optically perfect lens. If your focusing distance is imprecise, or if your lens has any field curvature, you'd maximize sharpness by stopping down slightly further, such as an extra 1/3 to 2/3 stop.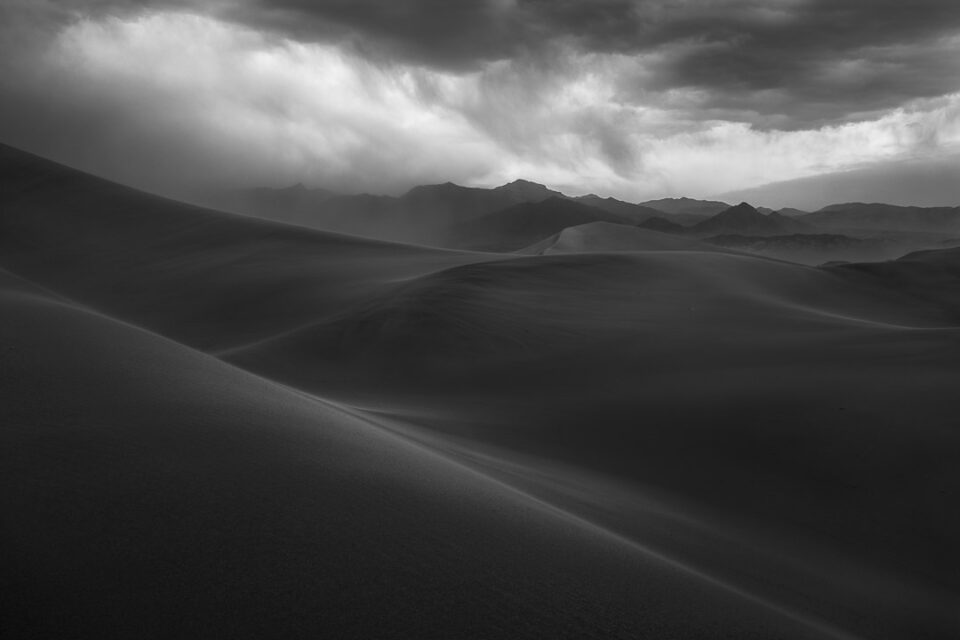 For context, what would have happened if you had used f/8 in these three scenarios instead? In scenario one, you would have lost about 17% of the photo's maximum possible resolution (measured in line pairs per millimeter) at both the near focus point and infinity. In scenarios two and three, it would be a 31% loss of maximum resolution. These numbers are according to calculations by George Duovos.
Real-World Examples
Even if you're convinced that the answers above are correct, it might be hard to wrap your head around the impact on real-world photos. So, I'll share some examples using the Nikon Z 24-70mm f/4 S at 35mm. This lens's maximum sharpness occurs at f/5.6 in a lab environment, but what aperture should you use in practice? It depends on how close your foreground is.
To match scenario two as described a moment ago, I photographed the following scene: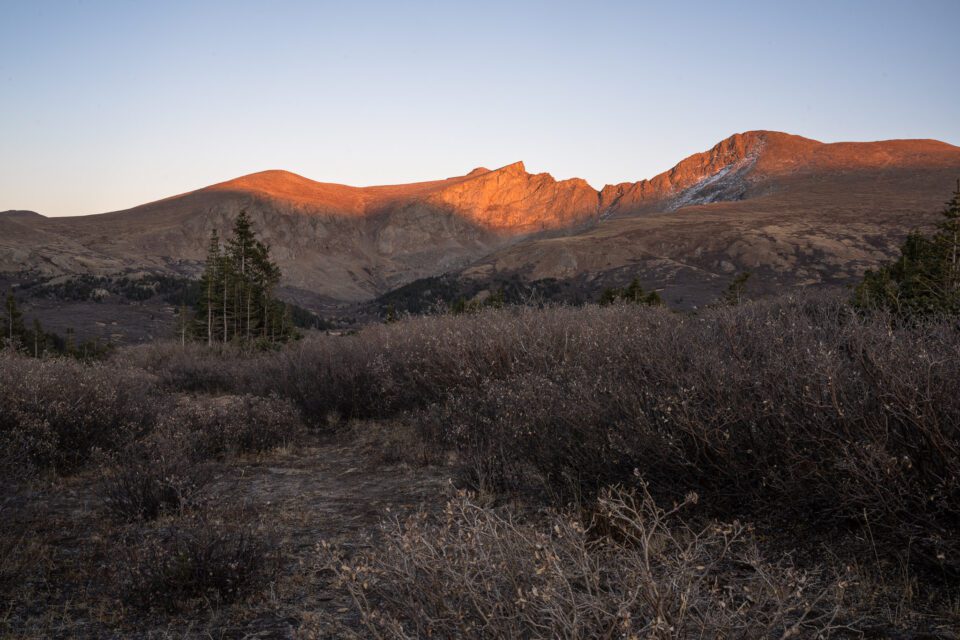 The composition is a little unusual because my camera was pointed directly forward (according to a bubble level) rather than angling the camera slightly downwards. This way, the plane of my camera sensor would intersect with the ground directly below the camera. This allowed me to put a measuring tape on the ground and ensure that I matched scenario two exactly rather than simply eyeballing the distances.
The nearest object in this photo is part of a bush at the bottom of the frame. As you can see, it was exactly 6 feet (72 inches) away from the plane of my camera sensor: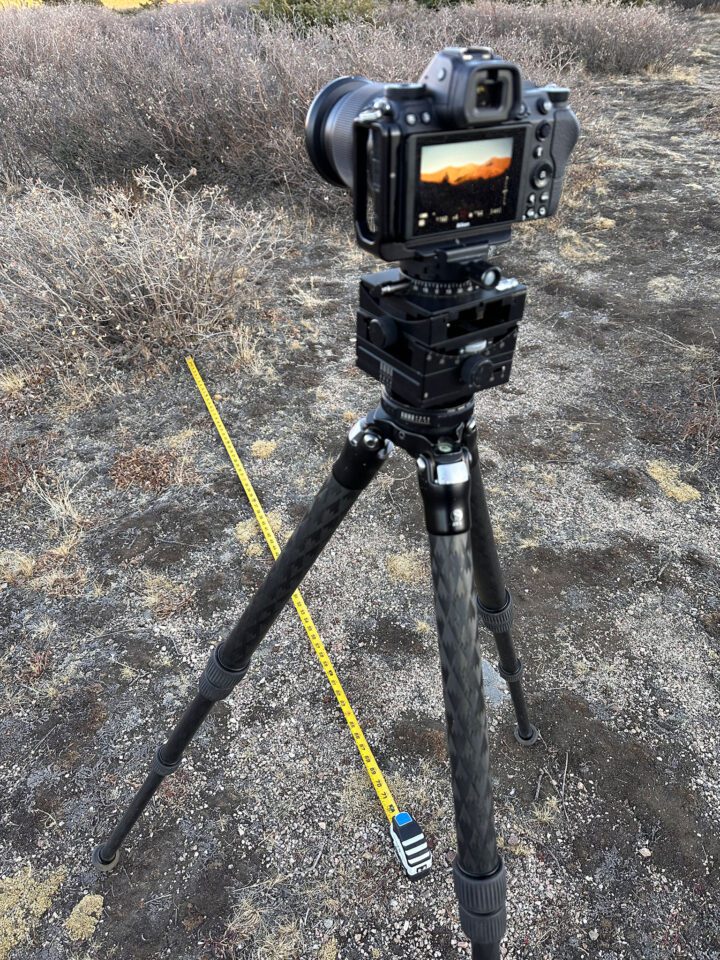 So, I focused at a distance of 12 feet (144 inches), which lined up with a more distant bush in the middleground: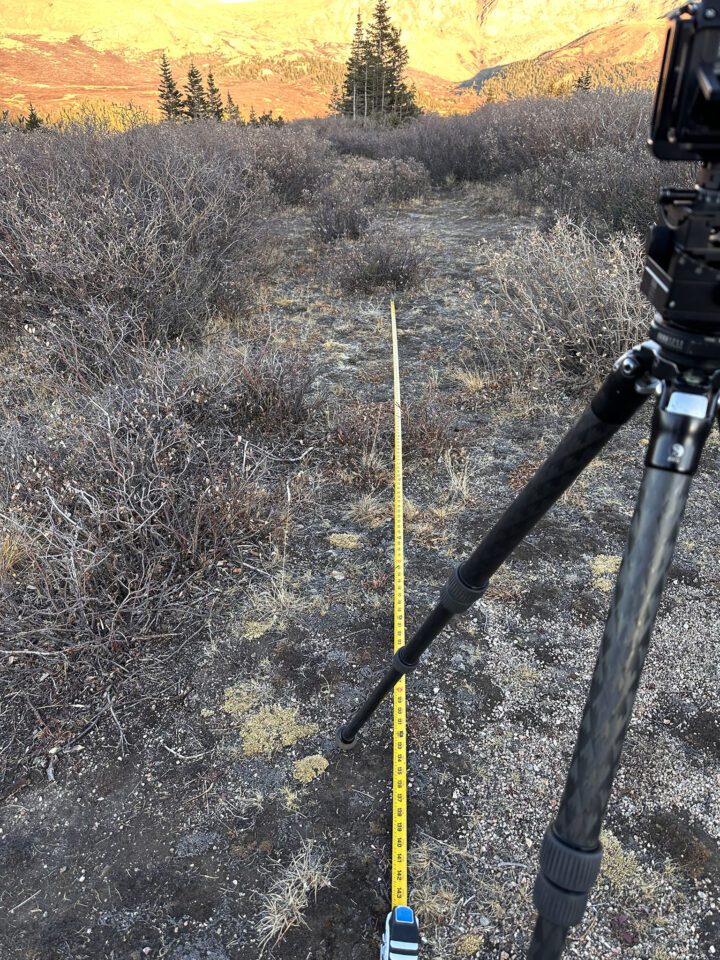 As you'll see below, I've included 100% crops of this scene at every full aperture from f/4 to f/22, with only Lightroom's default sharpening applied. On this lens, the sharpest aperture in the lab – AKA, at the focus point – is f/5.6. However, according to my calculations, an aperture of f/16 will maximize foreground and background sharpness in this particular scenario. (As a side note, traditional hyperfocal distance charts – which are not very precise or optimal – claim that using f/11 at 35mm will provide depth of field from 6 feet to infinity.)
With that in mind, here are the 100% crops of the nearest foreground and the furthest background. Click on them to see full size: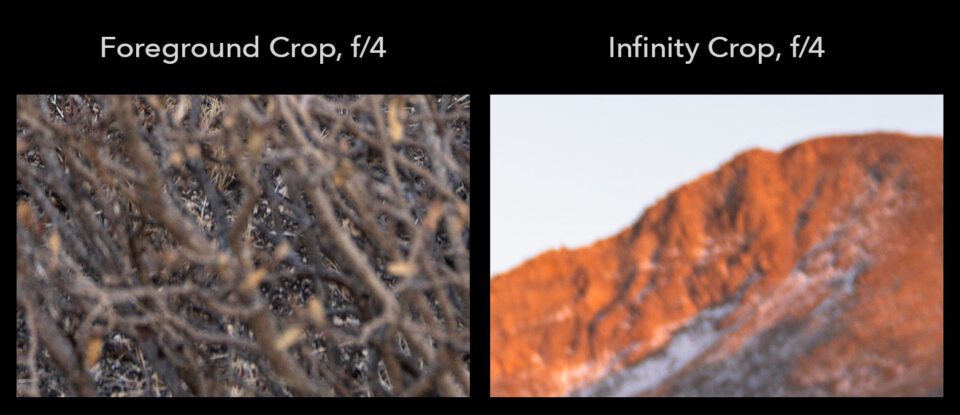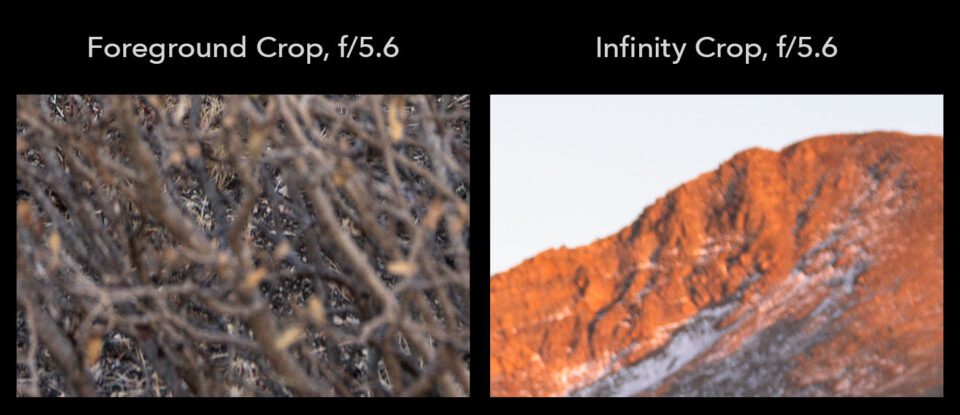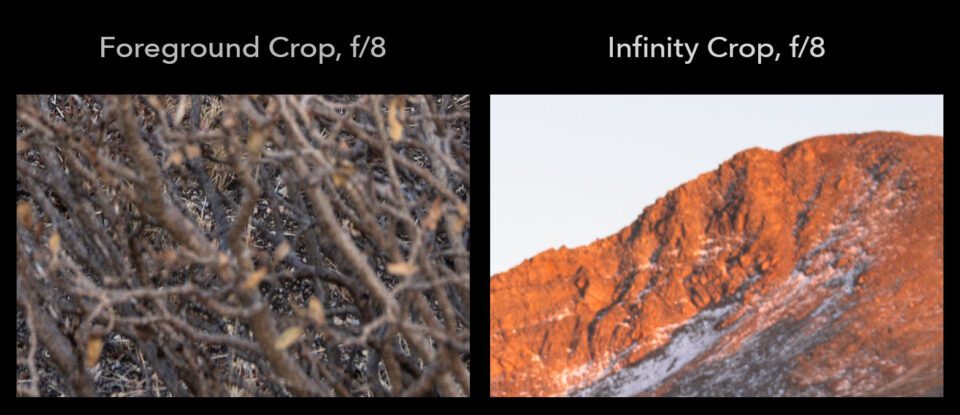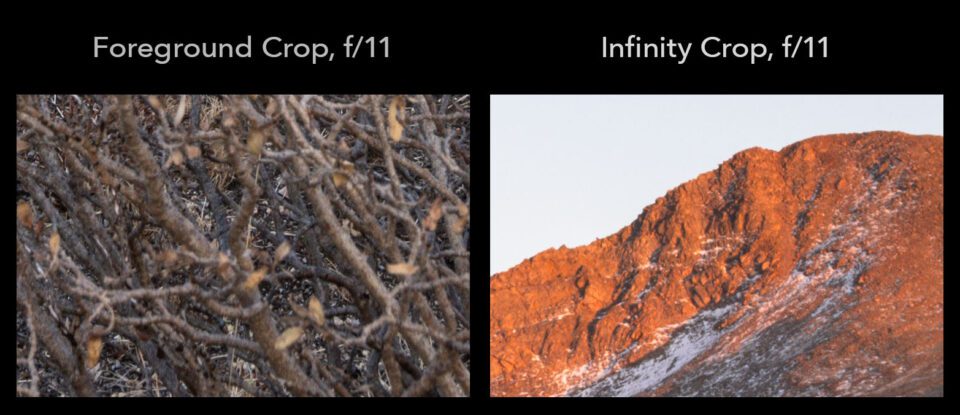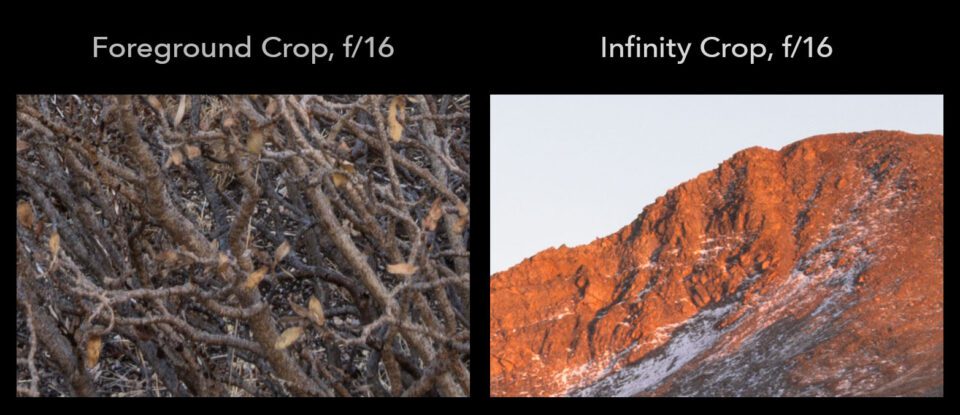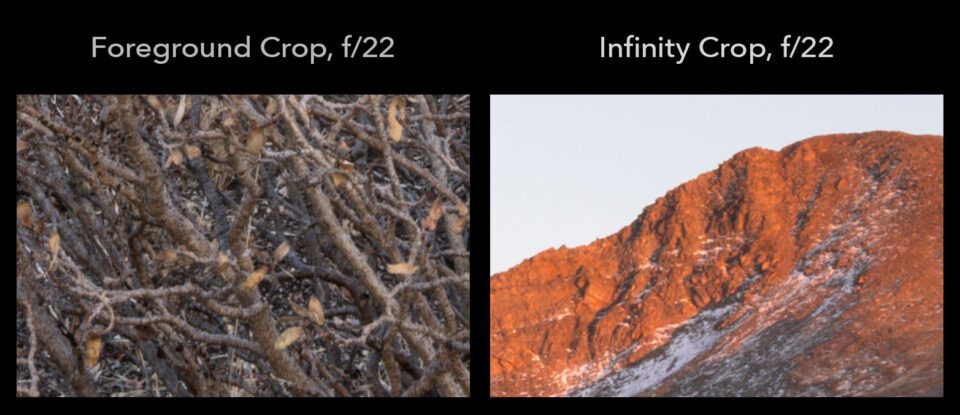 As you can see, the foreground and background here are sharpest at f/16. The images at f/11 and f/22 are almost as good – which they should be, since according to the same Duovos calculations that I linked earlier, those apertures have just a 10% loss in resolution. However, the crops at f/8 and especially f/5.6 are quite blurry by comparison, not to mention f/4. In other words, the math holds up in real-world images.
Takeaways
I see a lot of landscape photographers avoid f/16 or even f/11 because they're worried about diffraction, yet they don't realize that the wider apertures they love are costing them far more sharpness! Only the plane of focus will be nice and sharp at f/5.6, whereas the nearest foreground and furthest background will look pretty mushy up close.
By the way, I think this phenomenon is responsible for many of the complaints that "my lens is blurry in the corners" that I hear from landscape photographers. Your corners might be blurry because they're out of focus, not because it's a bad lens. In fact, I'd much rather have a kit lens at f/16 instead of a $2000 prime lens at f/5.6 if I wanted my nearby foreground to look sharp.
That said, in landscapes where depth of field is not a concern, feel free to use whatever aperture measures the best in the lab. At distant overlooks, for example, I prefer apertures like f/4 or f/5.6, where my lenses tend to be the sharpest from corner to corner. I don't want you to always avoid f/5.6 as a landscape photographer – only avoid it when there's a nearby foreground. (Just keep in mind that the definition of "nearby" is broad, especially as your focal length increases).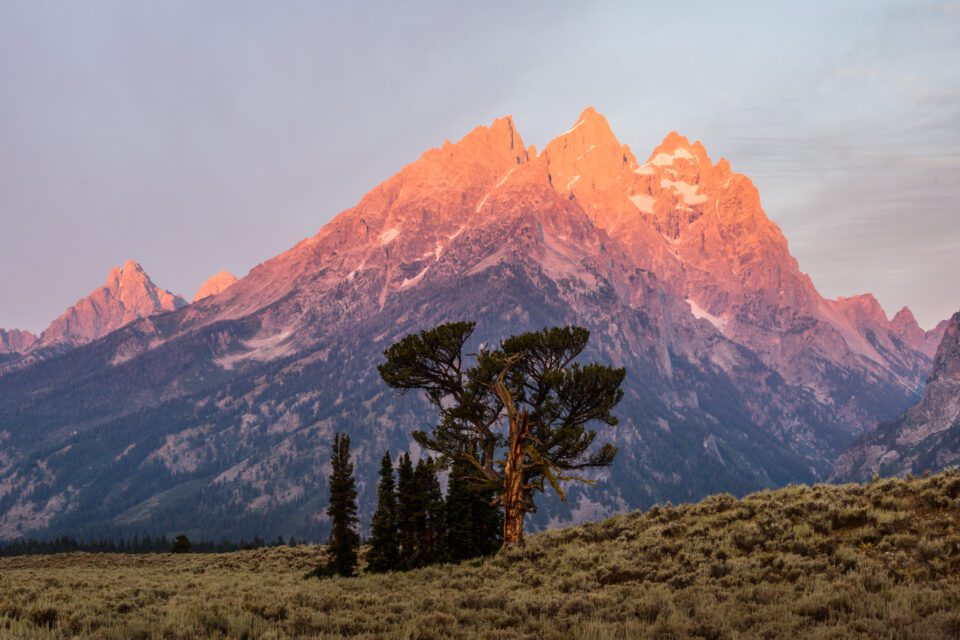 If you're a stickler for maximum detail, and you refuse to shoot at apertures like f/16 no matter what, you have three options. First, you could reduce how much depth of field you'll need, either by zooming out or by stepping back from your subject. Second, you could use a tilt-shift lens to align the plane of focus more closely with the landscape. Or, third, you could use focus stacking if everything in the scene is completely stationary.
Otherwise, be prepared to use f/11, f/16, or even f/22 if you want to maximize foreground and background sharpness in a lot of landscapes. It may give you more anxiety than using apertures like f/5.6 or f/8, but the math (and the images) don't lie. The extra depth of field is absolutely worth the loss in sharpness from diffraction.
Finally, if you want more specifics, you can see a full list of optimal aperture values at various focusing distances and focal lengths in this article. I also recommend reading that article if you use a non-full-frame camera sensor size, or just ask me any questions you have in the comments section below.
Conclusion
I hope I've convinced you to shoot at narrower apertures more often as a landscape photographer. A lot of photographers will pay for expensive lenses that might be just 10% sharper in the lab, yet they could gain more than that just by using the right aperture and focusing distance in the first place.
Sharpness is hardly the most important thing in landscape photography, but if it's something you care about, make sure that you're not setting wildly incorrect apertures. Often, this means stopping down more than expected. Just because an aperture measures well on a flat test chart doesn't make it the best choice for the three-dimensional world.