Every once in a while, I bump into a great idea that I wish I came up with myself. Recently, I came across such an idea – a website called "KeepSnap" and I thought that the concept behind it was very smart. Many of us photographers often go to the streets and events armed with cameras, in hopes of finding something or someone interesting to photograph. And sometimes we do indeed come across fascinating people that we immediately get attracted to, wanting to take their pictures. Many of us can relate to such situations. While I was photographing a beautiful sunset in the mountains last fall, I saw a couple, sitting on chairs and enjoying the sunset and the surrounding beautiful scenery. I approached them and asked for a permission to photograph. They not only immediately agreed, but also requested me to take more photographs, because they had not been photographed for many years! I took a few photos, including some close-ups. When I showed the photos to them, they were really excited and they were ready to pay me for preserving their moment of happiness and joy.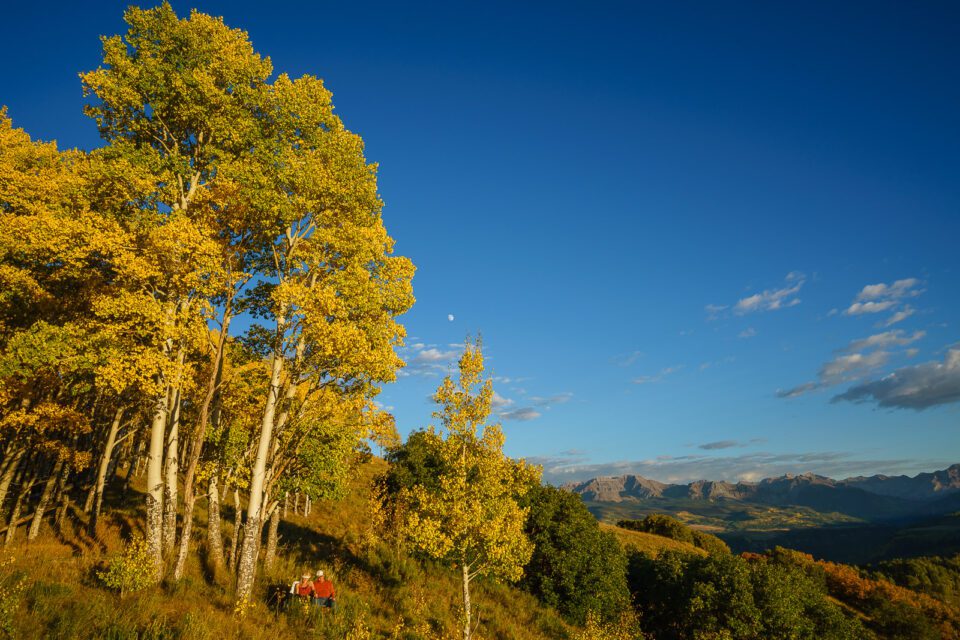 We know that people gladly pay for professional images of themselves and yet few think about getting photographed in their natural state, in that moment of time that is often so precious. The above couple would have appeared totally different in a studio setting: nicely dressed, with their make-up and their fake smiles on their faces. But I bet they would gladly trade those pictures for images of real moments they got to enjoy together. No distractions, no formalities – just stunning scenery in a quiet, serene and peaceful environment. I am sure many of our readers would have similar stories of people they had met before and photographed. And yet very few probably ended up establishing a good relationship with whoever they photographed and probably never got to see them again. So many missed opportunities like that come and go, and we rarely ever act in such occasions.
But what if you had the opportunity to take advantage of such situations? That's where KeepSnap comes in – it is an online service for connecting photographers with people. KeepSnap is a people-to-people service, just like AirBNB, Uber and Etsy. It is a simple, efficient and straightforward model, because it allows photographers to conduct business with people directly and quickly via a website that is designed specifically for this purpose. You meet someone, take their pictures, give them a KeepSnap card with a QR code to your public gallery and once you upload images to the site, the person who has your card can see the pictures, pick the ones he/she likes and buy them.
Basically, it is a simple "shoot and sell" model, the process of which can be divided into five steps:
Signing up and accessing your public gallery
Downloading your promo cards, and printing them off at home or the closest printing shop
Finding a place where you can take photos of people, going out to take pictures, and giving everyone you shoot the promo cards
Editing the photos, uploading them to your gallery, and setting the price within the range of $0.99 to $19.99 for every photo
Selling the photos
Here is what a KeepSnap "Promo Card" would look like:

Prices can vary from $0.99 all the way to $19.99 per photo and you set the price yourself. Registration is completely free – there are no start-up, membership or annual fees to pay. Like most other people-to-people services, KeepSnap takes a percentage out of each sale, which varies between 20-30%.
Here is an infographic that explains the process: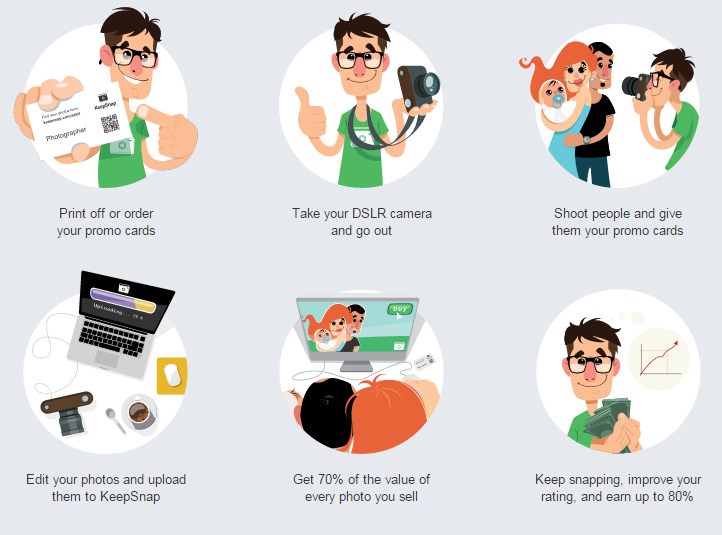 Customers enter your public gallery, pick out the photos they like, and purchase them. There's no registration / sign-up process for clients and the only thing they will need to do to access the shots is to enter the gallery, choose the day when you took their photos (according to your camera's EXIF data), and purchase the pictures using a credit card or PayPal. Shots that weren't purchased within 14 days will be automatically deleted from your public gallery, whilst all purchased photos will be stored on KeepSnap's servers forever.
Photos can be uploaded in DNG format too, either manually or using KeepSnap's plug-in for Lightroom that lets you upload files directly to one of your galleries after editing. You will receive at least 70% of each photo value and after selling more photos, you will get badges that will let you earn up to 80% (the minimum payout amount is $100 due to fees imposed by PayPal).
Another feature of KeepSnap is meant for those, who think that public galleries lack privacy – which is especially important for weddings, birthdays as well as studio and love story photo shoots – and for those who think that 14 days is too short. The private gallery feature lets you create a gallery protected by the PIN where photos will be stored for up to three months. Unlike public galleries, where all photos will have the same price, you can assign a different price point for every private gallery you create.
KeepSnap offers an elaborate system of notifications both for photographers and their customers as well as detailed statistics on sales of photos and possibility to link your profile to Google Analytics for even deeper control over your visitors and sales.
It is important to point out that photographers working with KeepSnap will always have copyright over their photos. When browsing through photos in your gallery, customers will see previews protected by a watermark. When your customer buys a photograph from one of your galleries, only limited rights for use of the image are transferred to them (for personal use only). This basically protects you from people who would attempt to use your photos for commercial purposes.
How KeepSnap Benefits Wedding Photographers
Wedding photography poses several problems that have to do both with customers and photographers. Typically, wedding photographers are paid by hours they spend at the wedding. Despite the fact that photographers come back with hundreds and sometimes even thousands of images, they rarely ever deliver more than a few hundred to their clients. What happens to the photos that are not included in the final delivery disk? They are either lost on a hard drive somewhere or simply deleted, never to be seen again. With KeepSnap, you can rejuvenate those photos and let the newlyweds or their family members pick what they would like to keep. It is another way to generate a bit of extra income from images you would consider to be throwaways.
On top of that, why not offer photos to the family and friends of the newlyweds? They practically never get to see their images! By printing out a bunch of cards and giving them out to people at such events, you would be potentially generating extra income. While it would surely take some time to professionally edit the couple's photos, you could quickly upload JPEG images from the wedding the same day and already start selling to the guests and family members. Just don't forget to create a new gallery before the wedding or event, so that the information is already printed out in those KeepSnap cards.
In my opinion, KeepSnap is a great idea and something our photography community could benefit from. Check out their site and if you have any questions or concerns, please feel free to ask in the comments section below – we will ask the KeepSnap team to respond to your inquiries.