For many photographers there comes a time when investments in equipment (other than buying cameras, lenses, and lighting) becomes necessary for the growth and profitability of their business. Depending on the nature and volume of their work purchasing equipment such as large format printers, laminators and trimmers can make economic sense. As the following photos indicate, printers are mechanical beasts and when buying one we need to plan ahead for the inevitable repairs. We don't usually think of this type of issue up front when buying camera bodies or lenses, but it is an important one for large format printers.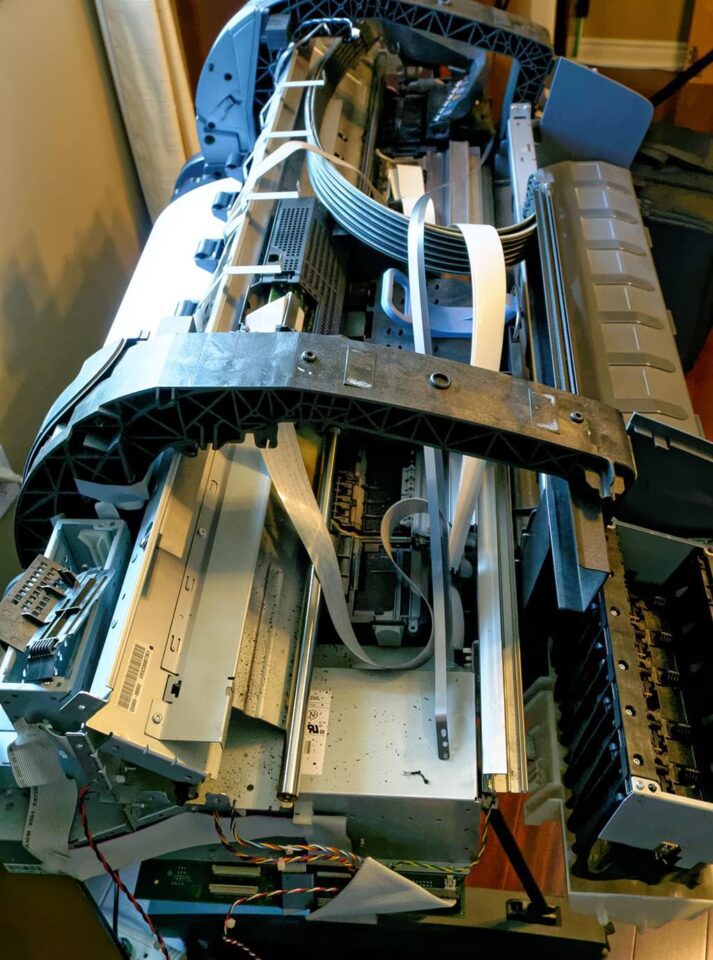 While the above image of my HP Z3200 DesignJet 24" photographic printer looks rather ominous, the news regarding the required repair was actually good – all it needs after more than 5 years of faithful service is a carriage belt. This is a typical wear item…and the first time that my unit has needed one.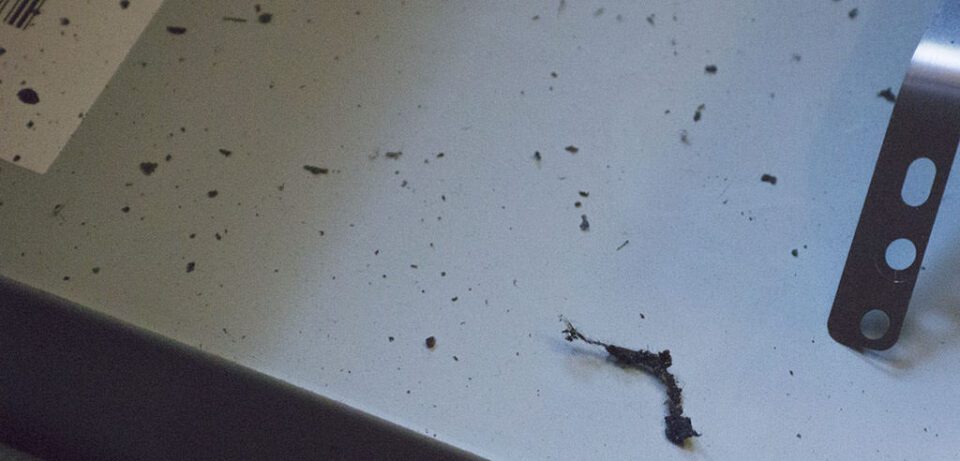 These little bits of black debris that you can see on the inside of my printer chassis are pieces of rubber that have come off the carriage belt. I had noticed a few small black specs on some of my recent prints when doing a major client project and immediately arranged for servicing to identify the issue before I faced a total equipment failure.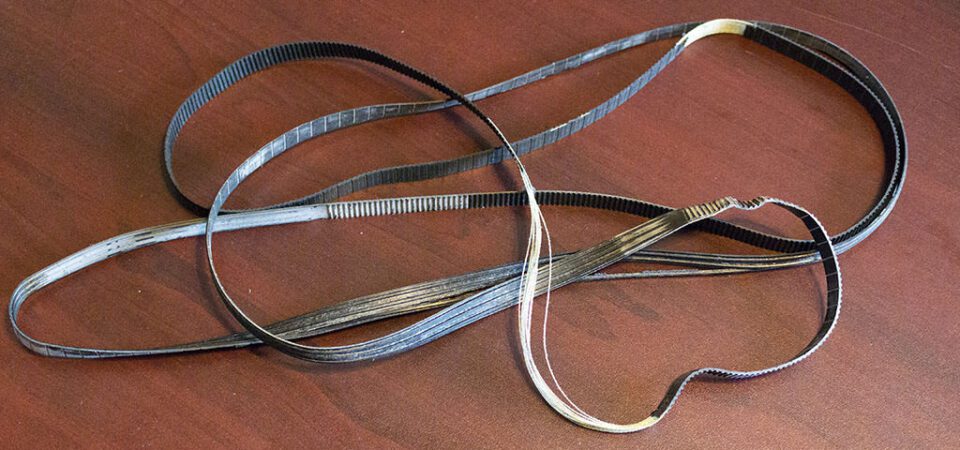 Amazingly, this frayed carriage belt did not fail and I was able to complete a large, custom safety poster order for my client with no loss of quality or time delays.
As photographers, most of us do a good job researching camera bodies, lenses, flashes etc. before we make a purchase. Luckily there are many great web sites, like Photography Life, that do equipment reviews to help us with those kinds of purchases. When it comes to other related equipment like large format printers, we often find ourselves in strange, unfamiliar territory.
Obviously, the same pre-purchase diligence is required when buying large format printers as when buying camera gear. I thought I'd share a few insights about the factors that I considered before buying a large format photographic printer for my business.
Does my print volume warrant the investment and what is the expected ROI?

To assess the ROI for a large format printer you need to calculate your contribution margin and consider your annual volume to then determine your break-even point. To do this you first need to calculate your contribution margin. This is done by taking your average revenue for a print, then deducting the estimated variable costs associated with that print (e.g. ink, paper, and the cost of any other consumables). We will leave labour out of the variable cost for now as many photographers would operate their own equipment.

For illustrative purposes let's say that you sell a print for $20 and your variable cost is $5 – you would then have a contribution margin of $15 per print. If the printer you are considering is going to cost $5,500 then you would need to produce 367 prints ($5,500 / $15) to break even on your purchase. At even a small monthly volume of 100 prints per month your ROI would be 3.7 months. A no-brainer decision for most photographers.

What are the operating costs?

If you buy a machine you'll need to look at ink usage and any consumables that you will need such as print heads. Some printers are more efficient than others in terms of ink consumption. You can search some of the web sites that cater to professional print shops to read reviews on large format printers and their associated operating costs. They will typically publish ink consumption on a defined 'standard print'. I've found my single biggest cost on a print is ink so this is an important consideration.

You should also investigate various paper suppliers and consider making bulk purchases as this can affect your paper cost by 20% or more. Stockpiling ink vats is not necessarily a good idea as they have an expiration date, as do print heads. So, these consumables are best purchased on an 'as-needed' basis. If you get involved with longer runs of prints you will also need to look at print cycle times as it can have a significant impact on your turn around time and job costing.

When I did my initial research on large format printers I discovered that not all brands have user-replaceable print heads. On some machines you need to have an expensive service call done to have print heads replaced. At a labour cost of $150 per hour or more, you'll want to keep your service calls to a minimum. I also discovered that on some machines once the print heads go…the machine is ready for the scrap heap as the print heads cannot be replaced at all.

You can also look at leasing equipment to keep your up-front cash investment low. Many companies provide managed print services where you pay on a per-print or per foot cost and basically pay for machine usage and consumable costs only. These agreements usually only make sense if you are planning to operate at very high monthly print volumes.

What flexibility will I have and what types of materials I can use?

With my business I don't get involved with printing on a wide range of materials like self-adhesives, backlits, or banners so this was not much of a concern for me. If you plan on printing on a wide range of materials make sure the model you buy can handle it whether it is roll, flexible sheets, fabrics, or solids. Wide format printers come in a variety of sizes with 17", 24" and 44" being quite common sizes. You'll need to determine the maximum size of prints that you want to do on an in-house basis. You will also need to consider how print materials are loaded into the machine (either front or rear) and how that may impact the physical space available to house the machine.

What quality can I expect from the printer?

Generally speaking the more ink vats your large format printer uses to print with, the higher the percentage of colours that it will able to accurately reproduce. This is often cited as a percentage of Pantone colours, e.g. 95%. You can also compare printers based on line accuracy, colour stability, print repeatability, and optical density. These are technical comparisons that are typically of interest to people running high-volume, professional print shops. My main consideration was colour accuracy, which will likely be the primary concern of most photographers.

Is the machine equipped to do custom calibration?

As you can imagine the way that inks interact with various papers can vary dramatically and this can have a significant impact on the colour reproduction of your prints. Most machines come with a number of pre-sets in terms of paper calibration, and most often these are limited to the paper associated with the manufacturer of the machine. Epson branded paper with Epson machines. HP branded paper on HP machines etc. Some machines do allow you to custom calibrate paper. For example, the paper I use as my standard for my poster business is 17" x 100' rolls of Epson Enhanced Matte. My HP Z3200 allows me to custom calibrate paper, without having to buy a separate calibration unit for the printer. Not all machines can do that and you may need to buy an optional calibration unit to use 'off brand' paper with your machine. A calibration unit could cost $1,000 or more depending on the machine.

Will the printer be able to communicate with my computer system?

If you have a recent Mac or PC this shouldn't be an issue. If you are running an older machine with older software it could be an expensive "Oops!" to discover after the fact. Make sure you check this out in advance of your printer purchase.

Does the printer come with a good, integrated accounting software package?

If you get involved with any larger print runs for your clients your machine will need to have a good integrated accounting software package so you can accurately estimate your costs for larger press runs. The onboard software should also be able to track the levels of current supplies, your use of various paper types and ink colours, as well as the exact amount and cost of materials used on a specific print. This will allow you to plan your inventory and accurately estimate your costs.

Is service readily available?

At some point your large format printer will need servicing. Make sure the brand you buy is represented by a good, competent dealer in your local market area. Ensure that the dealer has personnel who are certified by the manufacturer on your specific machine.
Owning a large format printer can help expand your service offerings to your clients and give you additional revenue and profit opportunities. Owning one makes sense for the majority of professional photographers.
Article and all images Copyright 2014, Thomas Stirr. All rights reserved. No use, reproduction or duplication including electronic is allowed without written consent.