What makes a good black-and-white photograph, how do I take one, and why should I try when I have this nifty hypersaturation preset that makes even my lamest photos look awesome? I'll answer the last question first – your oversharpened oversaturated photos stink. Their gaudy colors may suck the eye in, but then the eye gets stuck, realizes there's nothing more to look for in the picture and hastily moves on. When Photography Life has covered black and white photography recently, we've shown that it relies upon the concepts of form, texture, lines, contrast, tonality, and composition to engage the viewer. Without flashy colors to draw viewers in, the black-and-white photographer either masters the principles of composition or perishes. Shooting in black-and-white is a great way to improve your photography skills.
But My Eyes See in Color
True, to some extent. In bright light the "cone" photoreceptors in your eye register color information. But go into a dark room or out at night and then your "rod" photoreceptors take over – they are more sensitive in low light and primarily recognize contrast, shape and movement. So you are already programmed to see those important aspects of B&W pics – form, texture, lines and contrast. This is going to be easy. Let's get going with some examples.
Form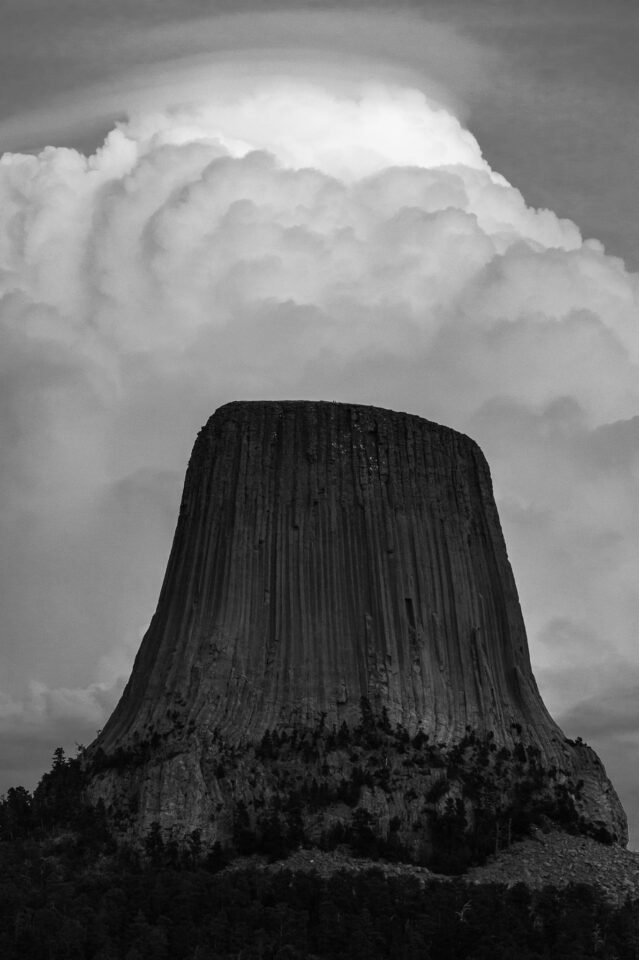 Ah, a grand landscape in the traditional style. The classic form of Devil's Tower anchors this composition. Form, or shape if you prefer to call it that, works well when you have a large/predominant composition element in your photo. The viewer recognizes the element and it pushes an emotional button. For instance, lets say I was shooting a portrait of Dolly Parton…but I digress, lets move on.
Texture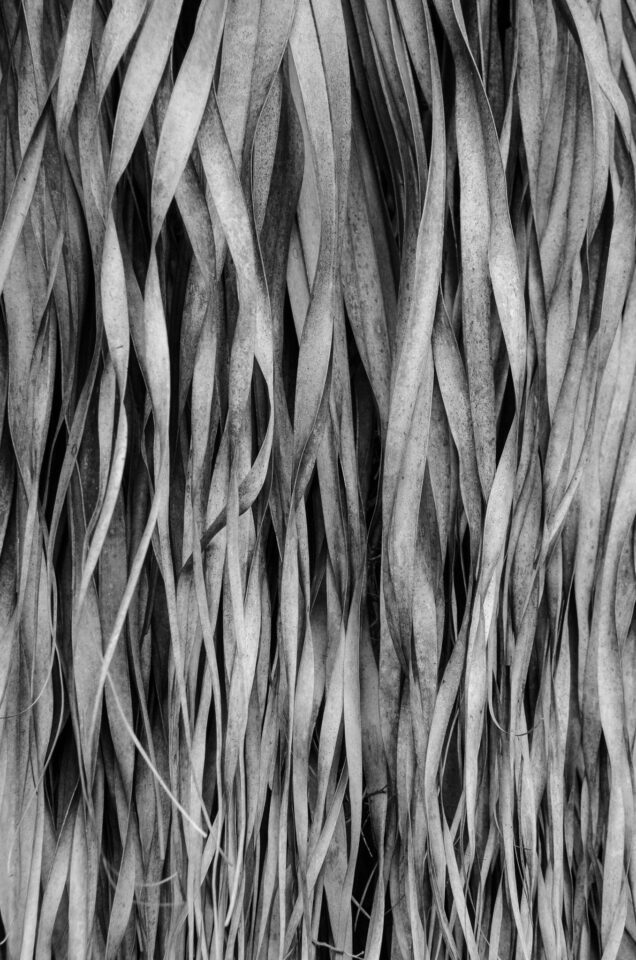 Texture is formed by contrast and tonality changes on the small scale, then repeated to create texture. Some textures we find pleasing, say a cat's fur. Others trigger the opposite response, such as cactus needles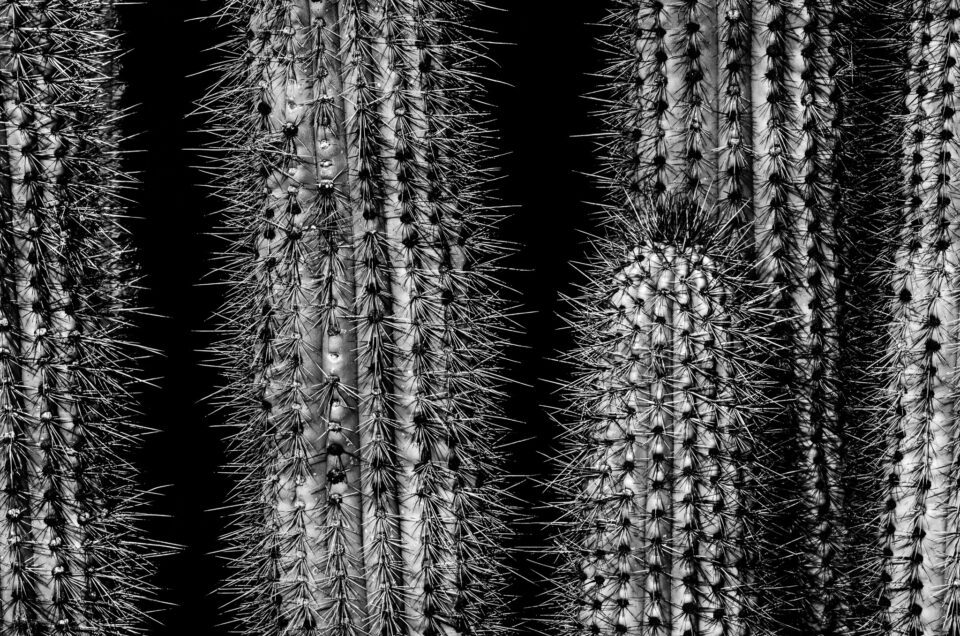 Lines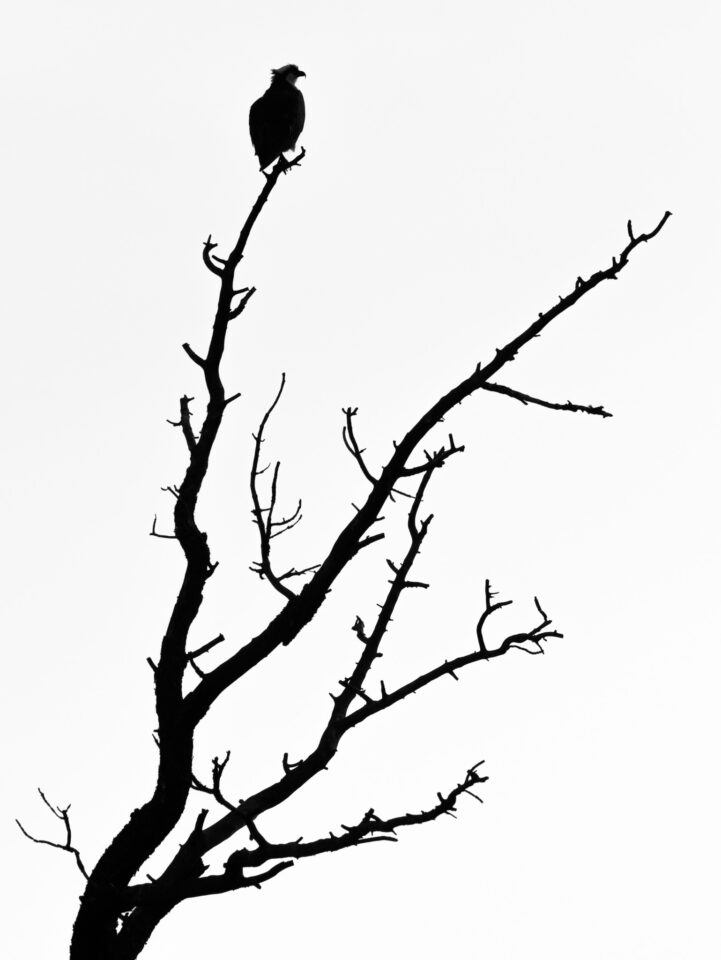 Lines lead our eye to move about the composition and not get stuck in one place. When I view this simple composition my eye first goes to the heavy thick trunk of the tree, then shoots up the branch to the perched osprey; the osprey is looking right and this moves my eye to the top to the branch to the right, from whence it travels down that branch to the trunk and right back where it started to take another loop. This takes just an instant. Mapping your eye movements is a cool way to learn about composition – look at some of your favorite pictures and track how you eye moves about the composition – on a good photo it keeps moving. On a poor composition it gets stuck as bad as a piece of legislation in DC.
If lines repeat they can form patterns and a very regular pattern can create a texture. Lines or curves coming together can create forms. I could blather on about converging lines, "V"'s and such for pages, but this is the stuff of any composition how-to. Let's move on.
Contrast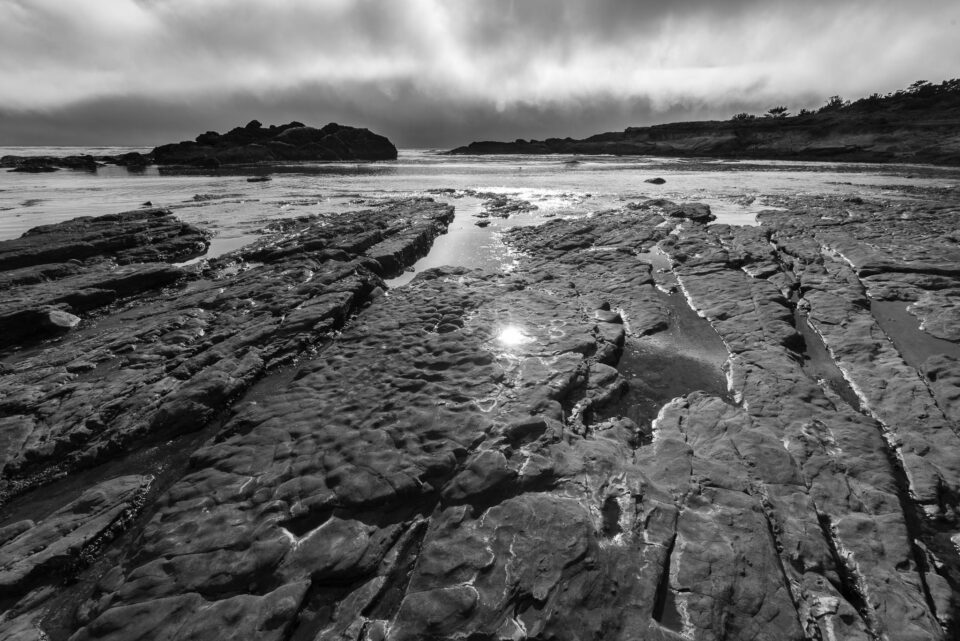 Contrast – do I need to define this? Suffice it to say high-contrast images tend to give a harsh, sometimes uneasy, feel like in the cactus shot earlier. Low-contrast images have a softer mellower impact. The above shot from Weston Beach has a rugged feel due to a fairly high-contrast rendering. Compare that with this shot of leaves on the forest floor in Kentucky.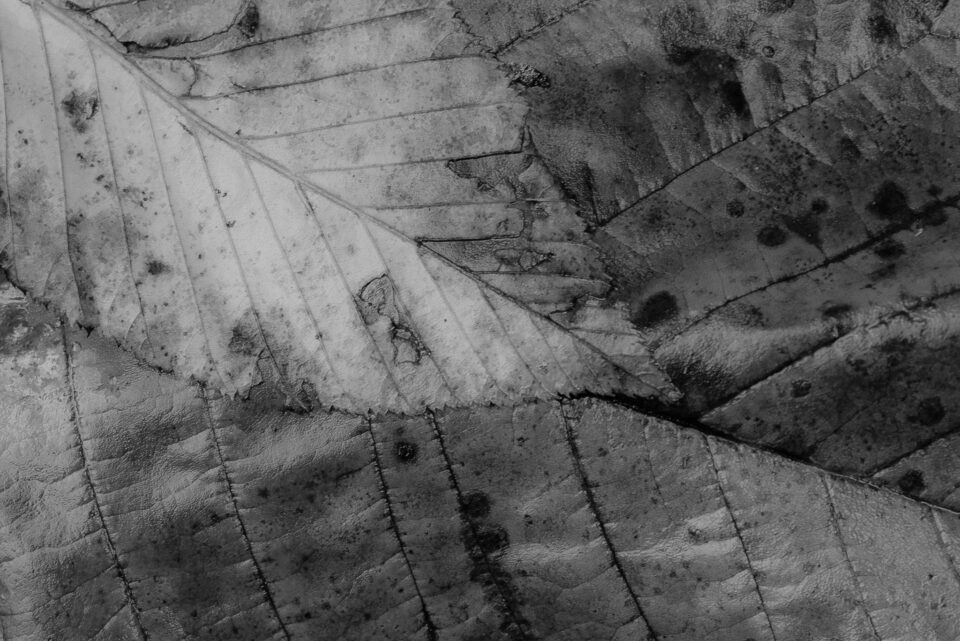 Here there's no abrupt intersections of light and dark – it looks smoother and more soothing to my eye.
Tonality
Tonality refers to the range of tones in an image – how many shades of gray there are from featureless black to featureless white. The Osprey silhouette has a very limited tonal range, just black and white. The Weston Beach shot looks contrasty due to the juxtaposition of light and dark lines, however it actually has one of the most complete tonal ranges of the shots in this post with good representation of grays all the way from black to white. The overlapping leaves actually have a lower range of tones as there are mostly dark grays and blacks and very little representation at the white end. This is not a defect, just an artistic decision on my part as to how I want the final output to look – hmmm a bit dark and depressing, maybe my team lost that day. One often hears that a good black-and-white photo contains a complete range of grays from black black to white white but this is one of those rules that once you understand how to practice it, you may feel free to disregard.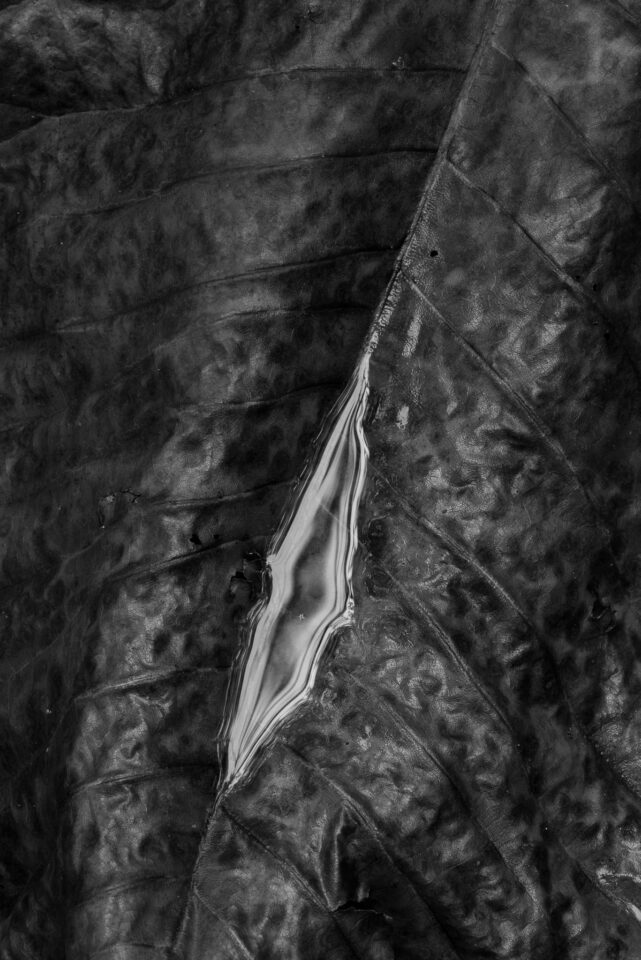 Mostly black and near black and the tiniest smattering of white (insert your own NBA joke here) – where's the light gray representation? Not needed in my estimation – I dig this. What do you think?
Composition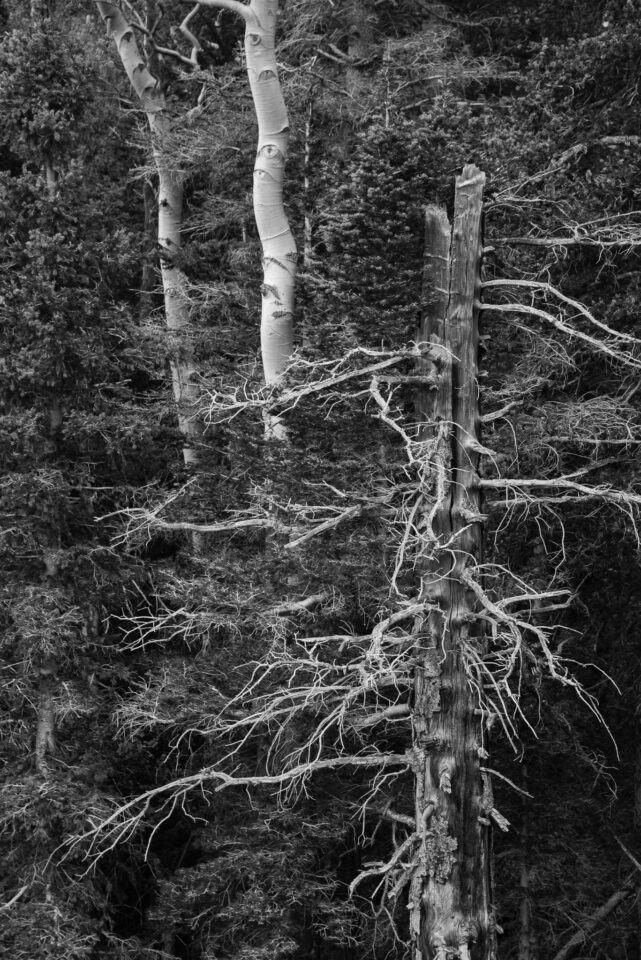 Good composition is essential to both B&W and color photography. The only difference in black and white is instead of using contrasting and/or complementing colors to balance our compositions (or unbalance if that's our goal), we have to depend on the above elements of form, texture, lines, contrast and tonality to compose our images. Let's quickly analyze the shot above. As humans, our eyes are drawn to bright objects and sharp objects first. In this case the big dead pine snag on the right and the two aspen trunks on the left, the brightest objects in the image, suck the eye in. These familiar forms create parallel lines encouraging the eye to move up and down each trunk. The horizontal dead pine branches help the eye move left to right and not get stuck on one of the three trunks. They also encourage the eye to visit the leftmost, darker tree and revel in the texture of the spruce needles. There is a full tonal range, but weighted to the dark side – however the eye doesn't register this (the histogram does) because light objects carry more psychological weight in our mind than dark ones and balance out the composition. This happens too in color photos where warm tones outweigh cold ones – for instance a small figure in a red jacket can balance out a huge blue iceberg.
Okay, that's a pretty busy shot. Let's go pine tree again, this time alive.
This is pretty minimalist. The eye doesn't have many places to go. Up and down the tree, then left and right along the dry lake and horizon, maybe back up the tree then cut across the empty sky to the right end of the horizon. The one dominant form – a lone pine tree reaching upwards – is balanced with…nothing. Ha! Negative space to the rescue. The vast empty sky to the right of the pine balances the "weight" of the tree. Yes, negative space when used correctly carries it's own weight. In this case the lack of other trees implies a sense of independence to the single majestic pine. Or one might see it as a lonely figure. Many interpretations to this one.
Good black-and-white compositions don't need all of the characteristics discussed above to work.
Your Take
Here's some sample shots you can analyze in terms of form, texture, lines, contrast, and tonality. Feel free to comment on them. Do you like them? Which ones work for you and which ones don't? Why?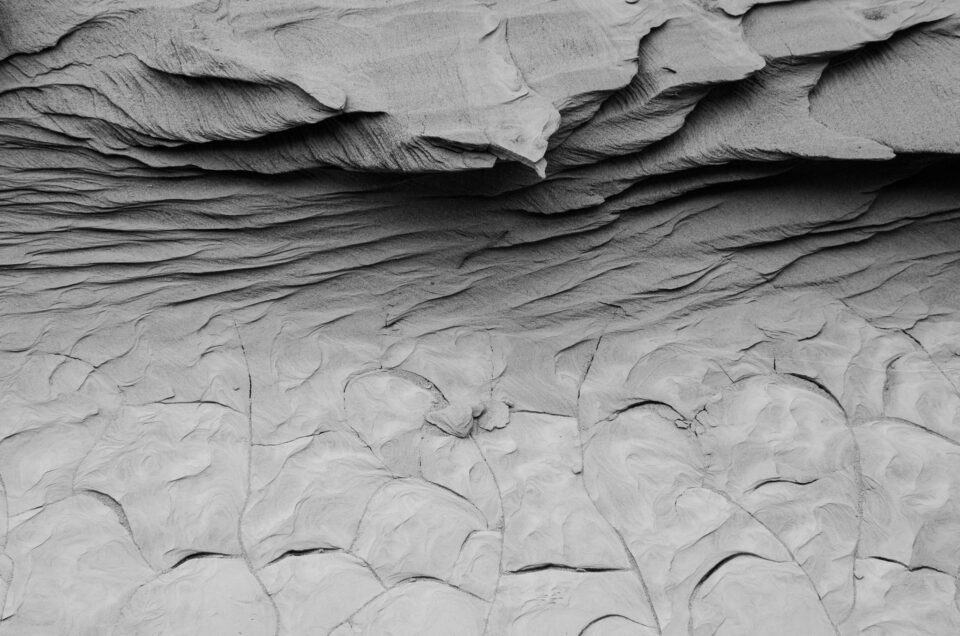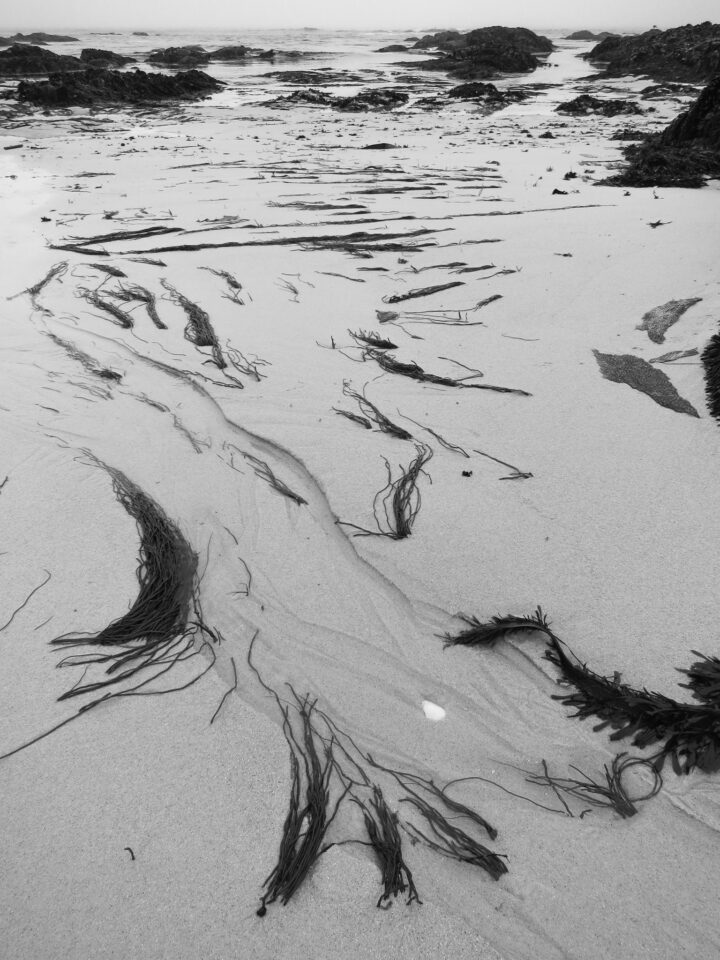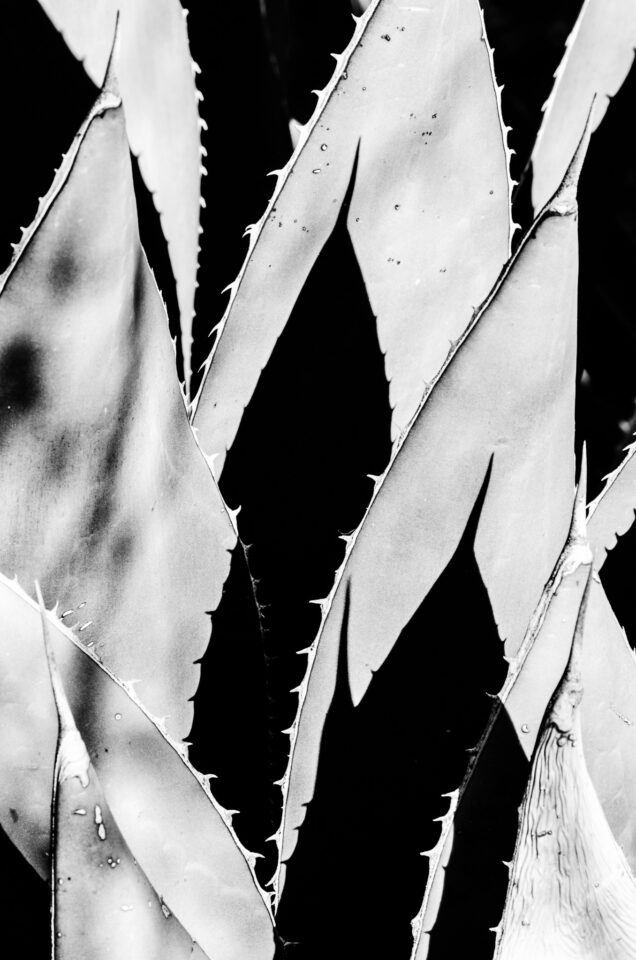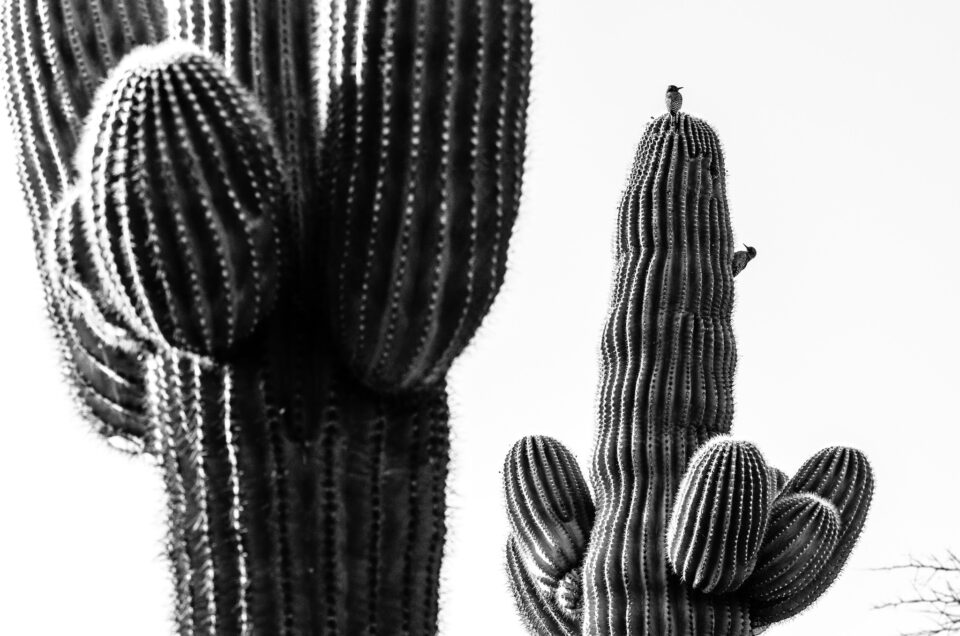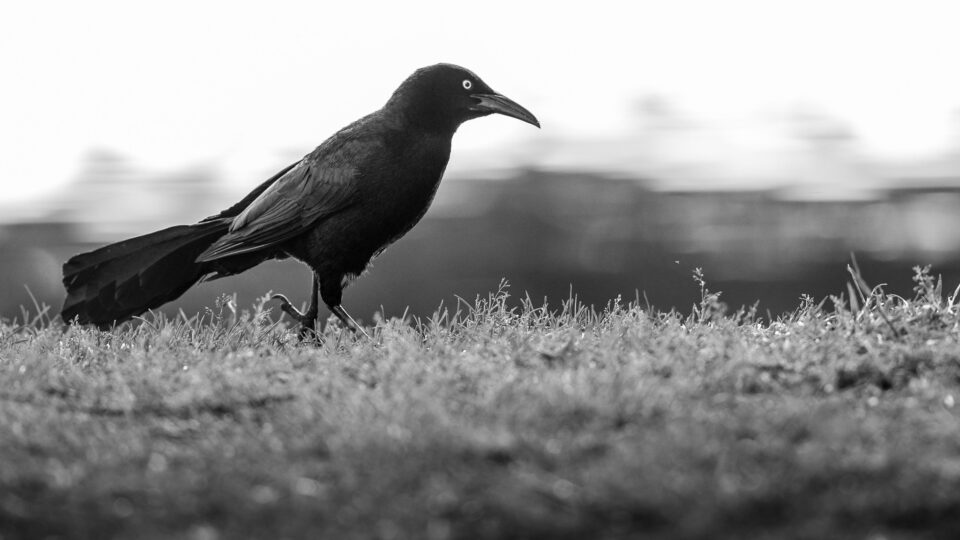 How To Get Started Shooting Black-and-White
You may have some image files already you can practice with. Any color digital image can be easily converted to black-and-white (all of the above came from RAW files which by default contain all the color information the sensor collects). In Lightroom it's as easy as selecting an image and hitting the "v" key. This gives a default B&W rendering. Each color is rendered as a particular shade of gray but can be lightened or darkened in the develop module by using sliders in the "black-and-white mix" panel or you can check out the various preset B&W filters and looks in the presets panel. When choosing a file to work with, think about lines, form, texture, etc – find a file strong in these and give it a try. If the file is weak in color or the white balance is whacked, so much the better. Alternatively you can go out and shoot your digital DSLR in monochrome mode (e.g. on my D810 I can go to the shooting menu, select picture control and select monochrome). This will give B&W views of your shots on the camera's LCD. If you shoot jpeg it will dump your color info. I recommend shooting RAW. The color info will be stored and allow more options when it comes to post-processing later, but you'll still get to see your in-camera previews in B&W while you shoot and this will help you compose. All of the images in this post were converted in Lightroom, however there are many other programs for B&W processing. Silver Efex Pro is popular and I like how the noise it creates looks more like old school B&W film grain than the more digital-looking post-processing noise in Lightroom.
Two Last Shots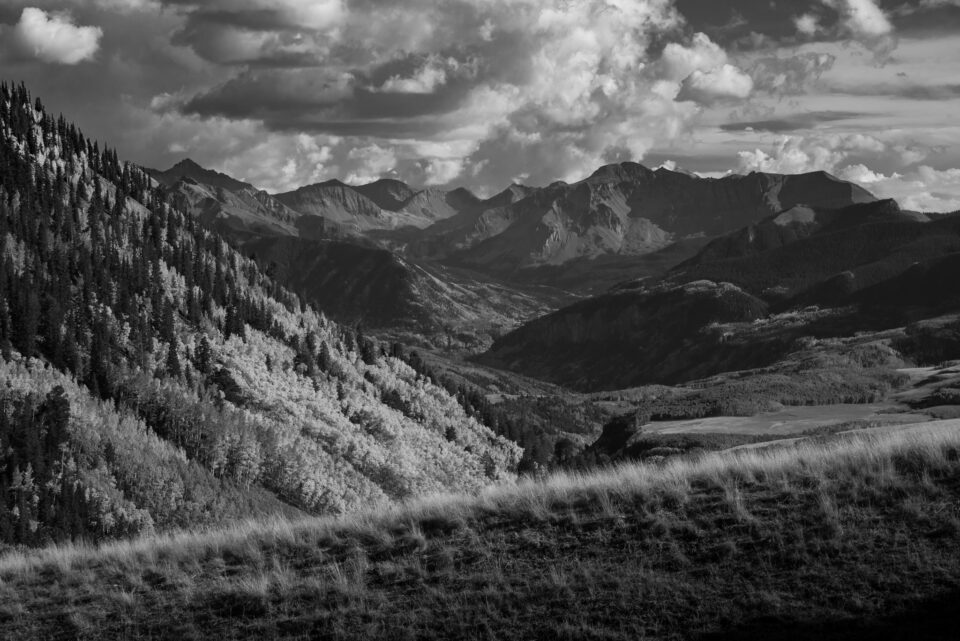 Fall colors in Black and White?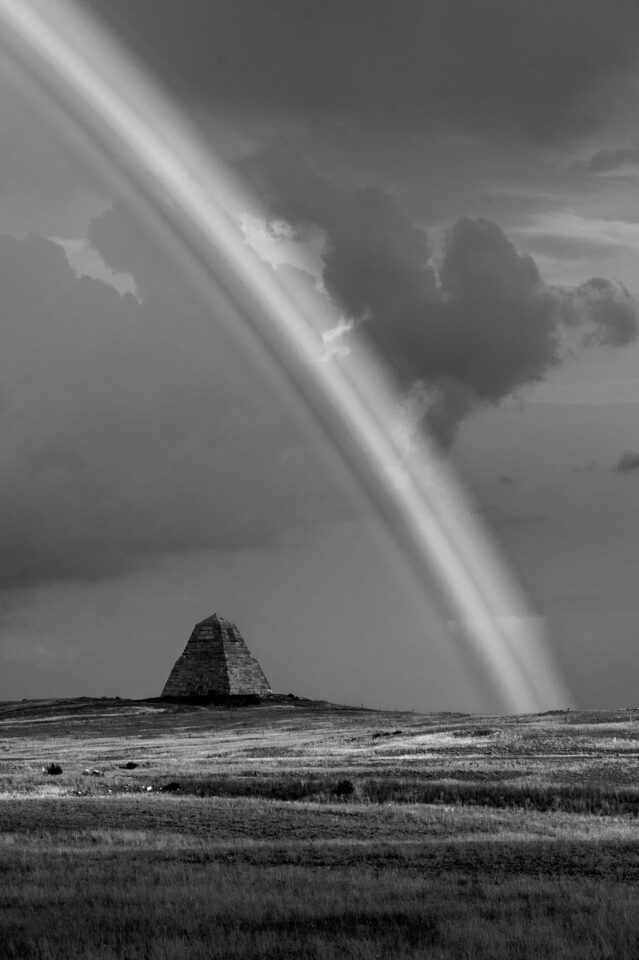 Oh, what the heck!