Olympus definitely deserves high praises for its in-body image stabilization (IBIS) system in its OM-D E-M5 II mirrorless camera to shift its sensor in order to create multiple images, then merge them together to create one super high-resolution image. Thanks to this technology, the OM-D E-M5 II, which has a native resolution of 16 MP can shoot large 40 MP images. At first, this may sound like a marketing gimmick, but if you take a close look at how Olympus accomplishes this, you will be amazed by the technology. Being able to shift the sensor opens up a lot of opportunities, and if DSLR manufacturers implement this technology (which Pentax already has, with its K-3 II) and find ways to do it quickly and smoothly, it can seriously change the way we look at resolution. Let's take a look at this technology in a little more detail and see its advantages and disadvantages.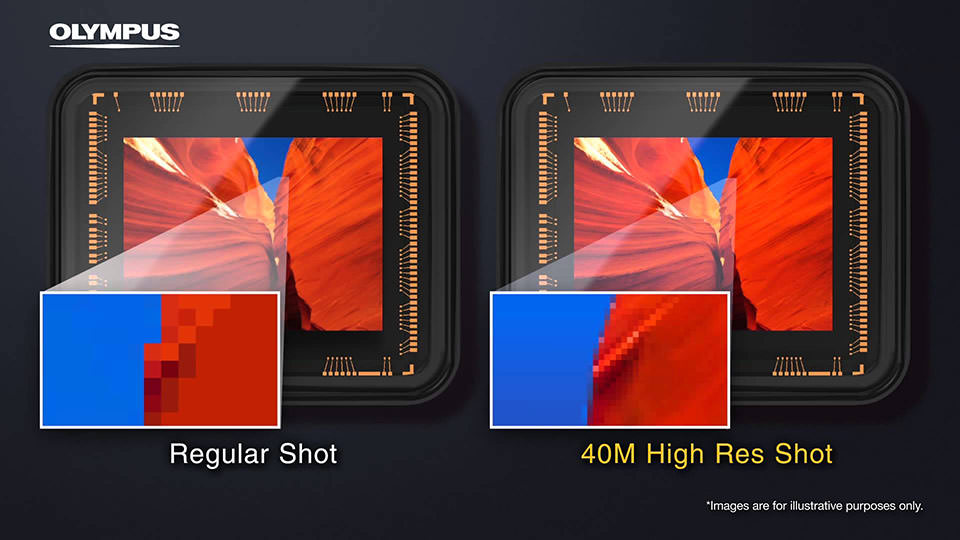 The way Olympus implemented its high resolution mode is by shifting its sensor by half a pixel in a clockwise direction, creating a total of eight 16 MP images, which it automatically captures in a sequence using its electronic shutter (you don't hear any shutter actuations in between). Those eight images are then stitched together to form a single 40 MP image. Very clever and cool technology for sure!
High Resolution Mode: More Details
Although this technique requires one to use a tripod and have a scene without much movement (or moving parts might not properly stitch afterwards), there are some serious advantages to this high resolution mode or sensor shift. First, you certainly do get more overall resolution and details. Take a look at the below image: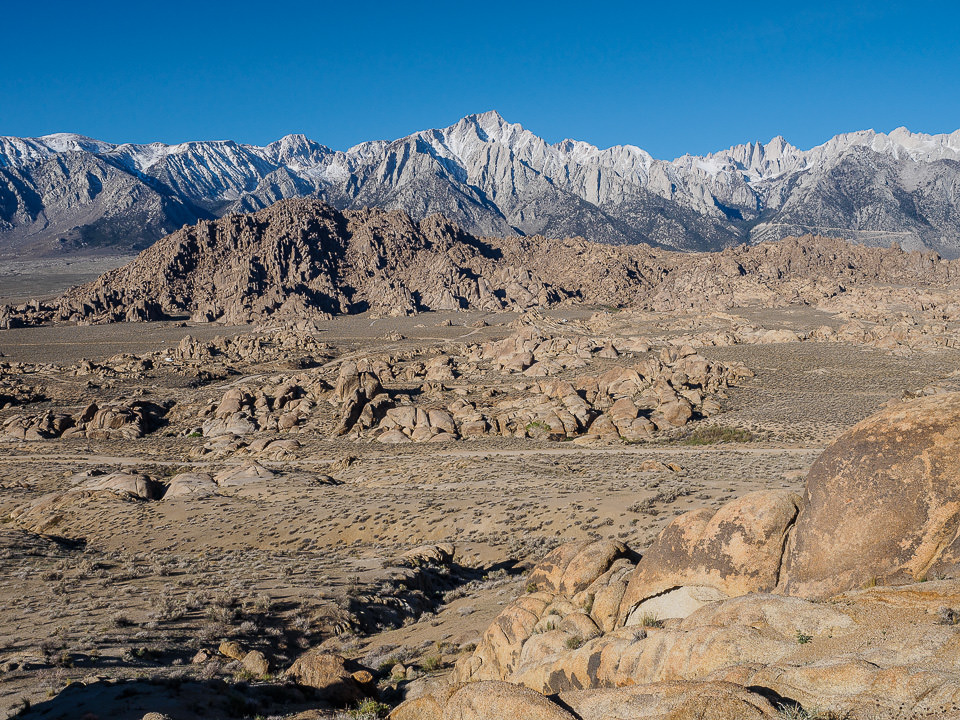 Let's now take a center crop from the image: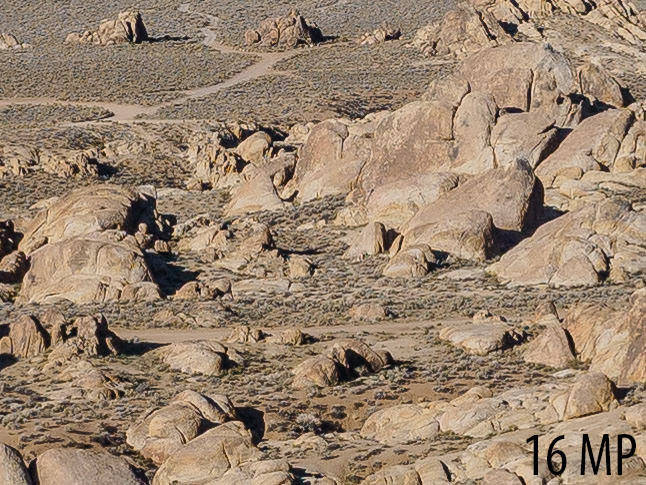 And here is the crop from the same area of the 40 MP image: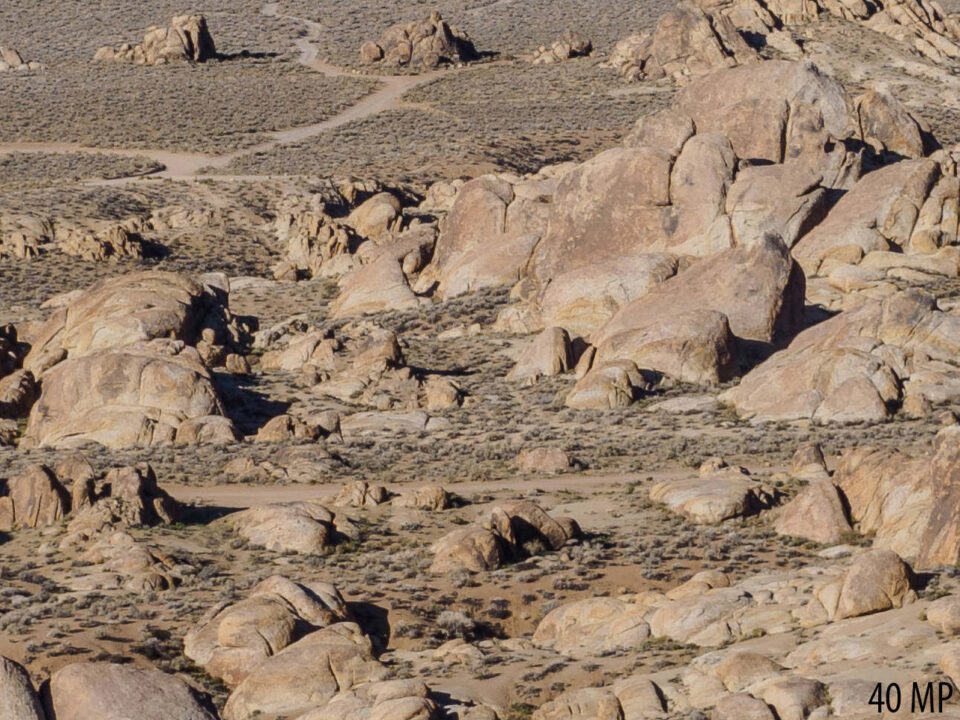 Obviously, that's a pretty big difference between the two. But the high resolution shot seems to have less detail than the normal shot. So the big question is, does it actually contain more details? What if we were to take the first crop, up-sample / resize it to match the same 40 MP resolution? Let's take a look: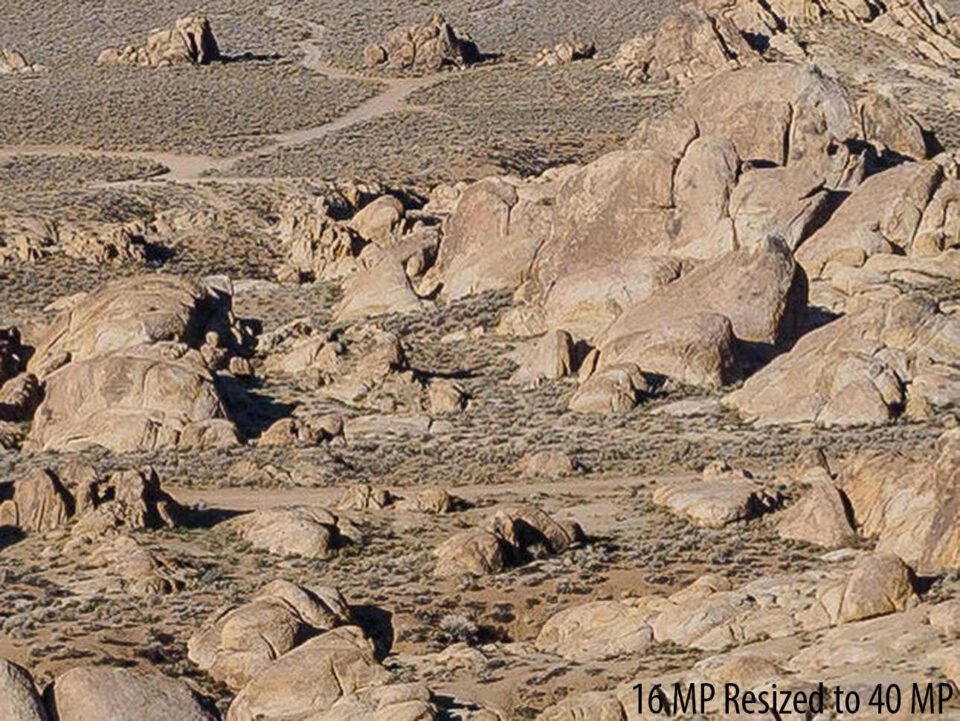 Whoops, it is pretty clear that the up-sampled image looks pretty bad in comparison – everything looks bigger and there are no fine details. So it is pretty clear that the high resolution mode is in fact giving us a lot more details!
Now what if go the other way – take the high resolution image and down-sample it to 16 MP? Let's take a look at the details: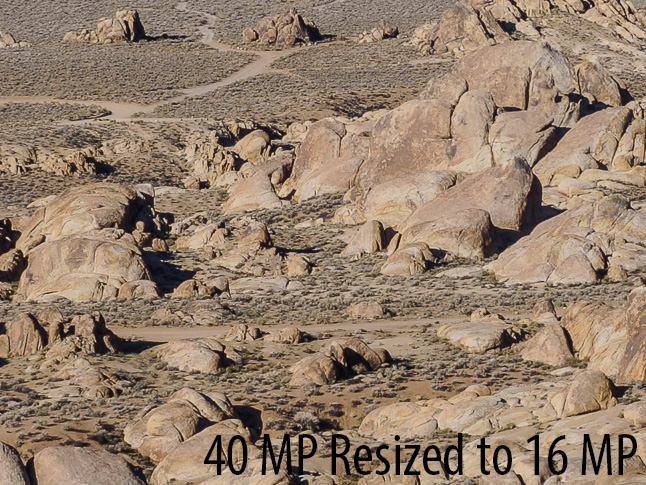 If you look really closely and compare it to the first crop, you will see more details. However, the difference is not that huge, since the camera is already doing a decent job at resolving plenty of details at its native resolution. However, down-sampling does have one huge advantage – it reduces noise.
Down-sampling High Resolution Images: Noise
What does a 40 MP resolution image look like at ISO 3200, when it is down-sampled to 16 MP and compared to a 16 MP native resolution file? Let's take a look (I intentionally made the image darker to show noise in the shadows):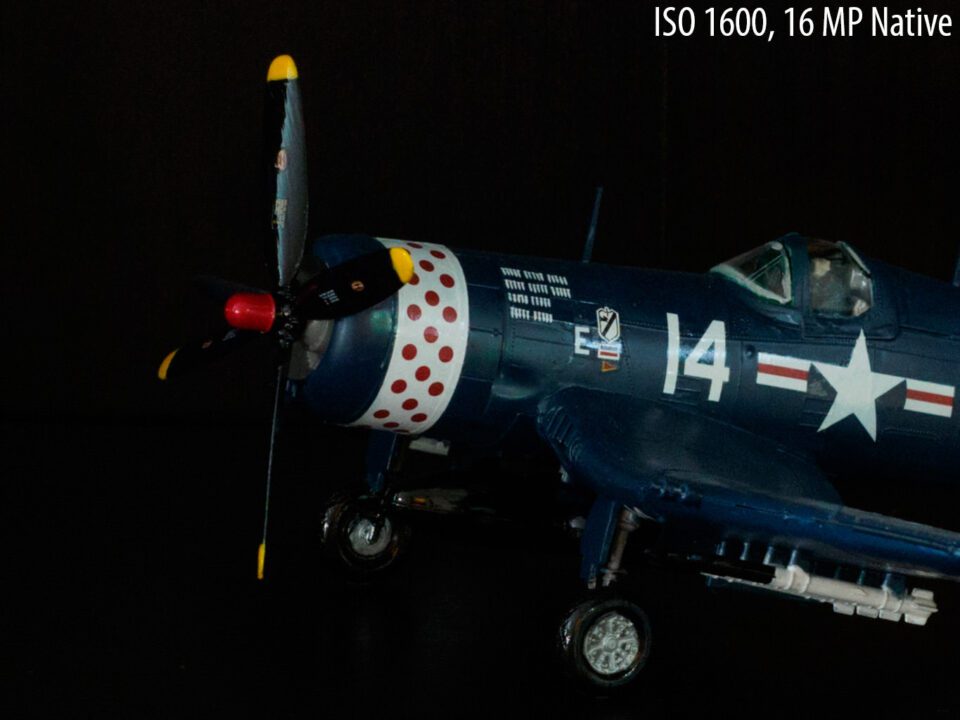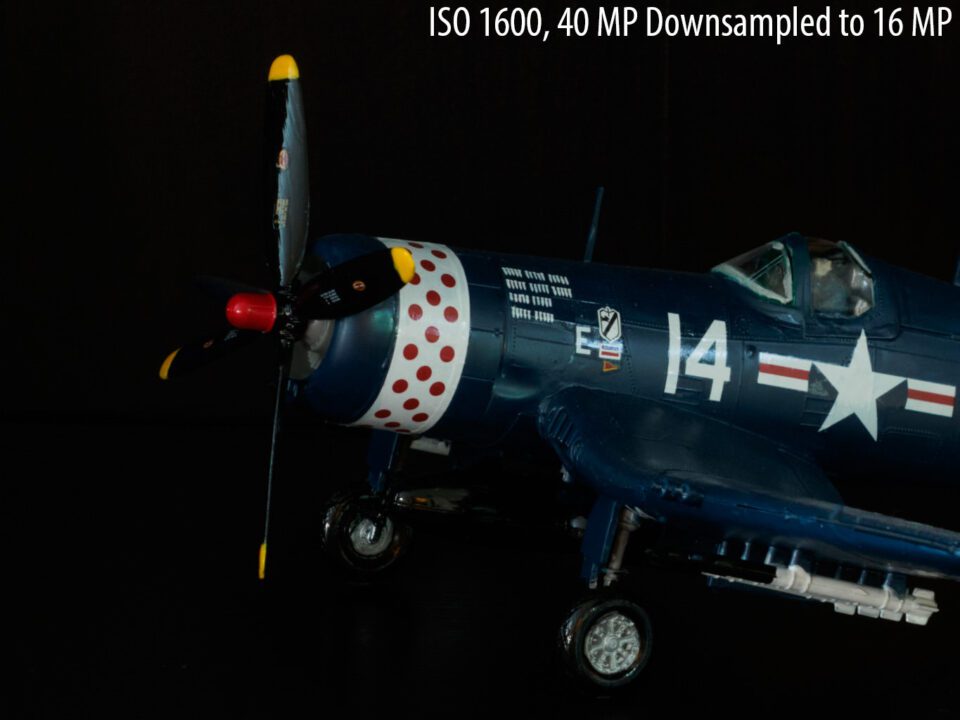 When you open the above images at 100% and view them on your computer, you will see pretty drastic differences in the way noise appears in both images. At its native resolution of 16 MP, the camera shows clear signs of noise all over the image, especially in the shadows. The second image captured at 40 MP and down-sampled to 16 MP shows a drastic difference – noise is practically absent everywhere, showing a very clean image. I cannot accurately estimate the difference between these two images in stops, but the down-sampled image at ISO 1600 looks really good, at least as good as ISO 800.
Another great advantage of this mode, is that you are not working with stitched JPEG images – the camera can capture scenes in high resolution mode using the RAW format, so you still have the full flexibility to work with those files.
Unfortunately, there is a limitation to the high resolution mode on the OM-D E-M5 – you can only go as high as ISO 1600, most likely due to noise patterns potentially affecting images and stitching issues at higher ISOs. Still, this is really impressive!
Pitfalls
As I have already mentioned above, using the sensor shift mode does require a few disciplines, some of which can be looked as pitfalls. First of all, you need to use a tripod and your setup has to be very stable. If there is any potential for camera shake, images will not stitch properly. Take a look at the below image, which I attempted to capture in high-res mode hand-held: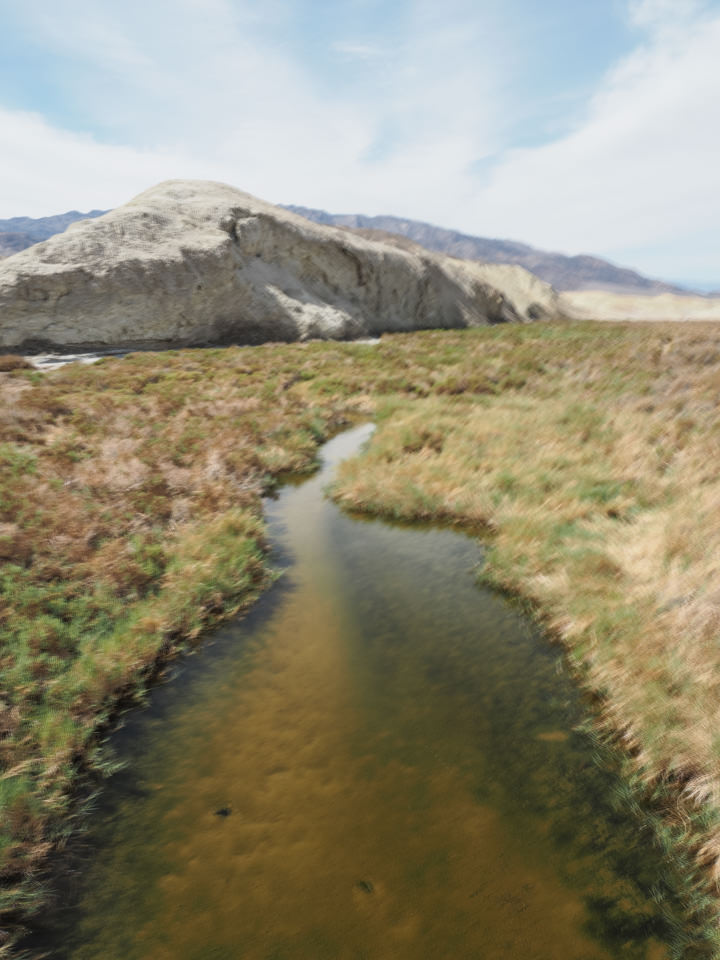 Clearly, that did not work. Another issue is potential movement in the scene while images are being captured – if you have moving trees, bushes, water, etc., the final image might not look right due to stitching errors.
Conclusion
As you can see from the above study, the new high resolution mode using sensor shift technology has a huge potential. Not only does it allow for more details in a scene, but it can also be used to potentially reduce noise at higher ISOs, thanks to the down-sampling advantages. In addition, you can control how much detail you want to see in your final images by applying some smart down-sampling and sharpening techniques.
Now think about what this would mean if Nikon implemented this on the D810 – suddenly 36 MP would look puny in comparison :)