It is great to finally be back to posting regularly on the site! It took us a while to finally wrap up our second video course, and despite my attempts to keep the site fresh with new content, things have been quite hectic, to say the least. And now that most of all that is behind us, I cannot wait to start posting great content again.
I have a lot of things lined up for this month, and next month is going to be even more exciting, because we will be hosting another guest post month, where our readers will get a chance to submit content for a chance to win a camera, in addition to getting paid for writing and sharing the content with others (we will post the announcement later this week). On top of that, a number of big reviews are coming up – with the Nikon D500 review being the first. The review is 95% done (written by our very talented team member John Lawson and co-written by Tom Redd and yours truly); I just need to add ISO comparisons and notes to finish it up. I have to say, this one is well worth the wait!
I know many of our readers have been waiting for us to review the camera and we have put a lot of time and effort into it. We did not want to review this camera without spending a lot of time in the field! Anyway, today I wanted to share an image that I captured when I visited the Great Sand Dunes NP with Spencer Cox. He has already posted an image of his own in the last "how was this picture made #10?" article, so I am posting mine. This one was interesting, as it is something I did for the first time in my life.
The answer has been posted here.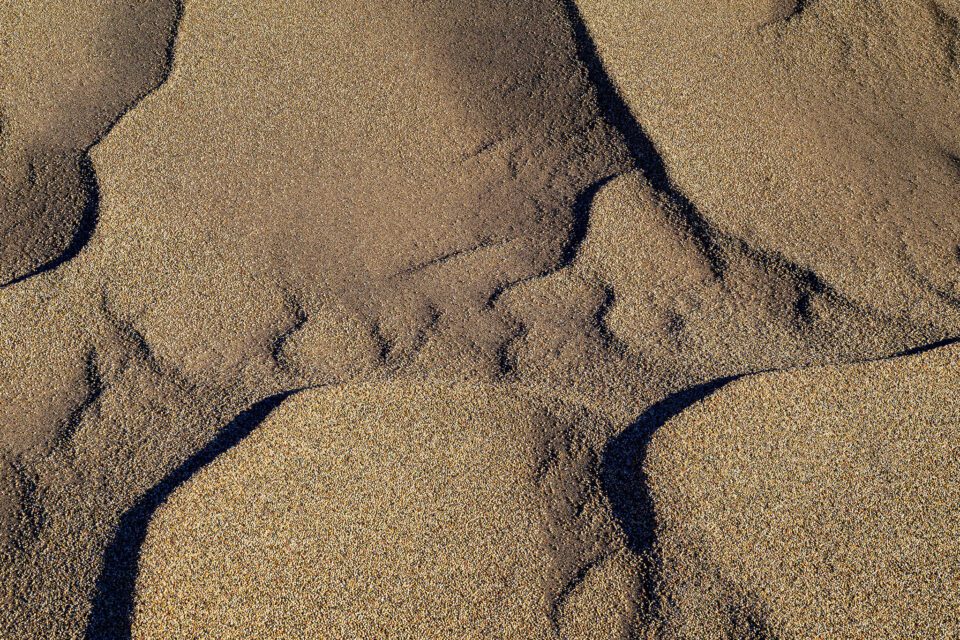 The image is massive in size and has a lot of resolution. And that's the whole point, because I wanted to capture all the detail of the little pebbles and sand that you get to see in some areas of the national park. You could be walking right over it and not even seeing all this insane detail. Spencer found out the hard way, because he was barefoot – he did not want to cross the little stream with his tennis shoes (he would have destroyed them). So after walking a little bit over these tiny rocks, he had to slow down and rest to avoid bruising his feet. Yup, they hurt for sure!
It was another boring, cloudless morning (very typical for that region), so after the sun came up, both Spencer and I worked on capturing some abstracts. I decided to focus on the detail, so I set up my tripod and shot away. The original image has around 36 MP of resolution, but it sure feels like the image was captured with a medium format camera – those details are just incredible; nothing like I have ever seen from a digital camera. Well, I already gave away plenty of information, so now I leave it up to our readers to guess how the image was captured and with what camera.
So here are the main questions to answer:
What camera was used to capture the image and why?
What lens do you think I used to capture this shot? No need to get super detailed, just approximate focal length is enough
What specific technique was used to capture the above image and why?
What kind of post-processing was done to the image?
This one will be fun, so good luck!