13) Camera stability
Nothing says amateur more than video footage that is shaky. You will definitely want a good, solid tripod and a decent quality fluid video head. This will enable you to do basic pan (side to side) and tilt (up and down) moves smoothly. Dedicated video tripods are typically engineered to hold large, professional video cameras that weigh considerably more than a DSLR and are overkill for what you will likely need. If you have a good quality camera tripod that is rated for 8 kg (17.6 lbs.) or higher you probably won't need to buy a dedicated video tripod. If you can afford carbon fiber, buy it. They will not transmit as much shake and movement to your camera. I use a Manfrotto 055CXPRO3 as my main tripod.
Video heads can be very expensive so when starting out you'll want to consider what kind of accessories you are likely to use with your DSLR, and then buy a head that is weight-rated to handle your maximum set-up. A basic video set up on a DSLR could include your camera/lens, a shotgun mic, a follow-focus, a camera slider, and perhaps a Zacuto Z-finder. You'll need to think about the weight of all of these accessories in advance of purchasing a video head or you may buy something too small for the weight of your rig.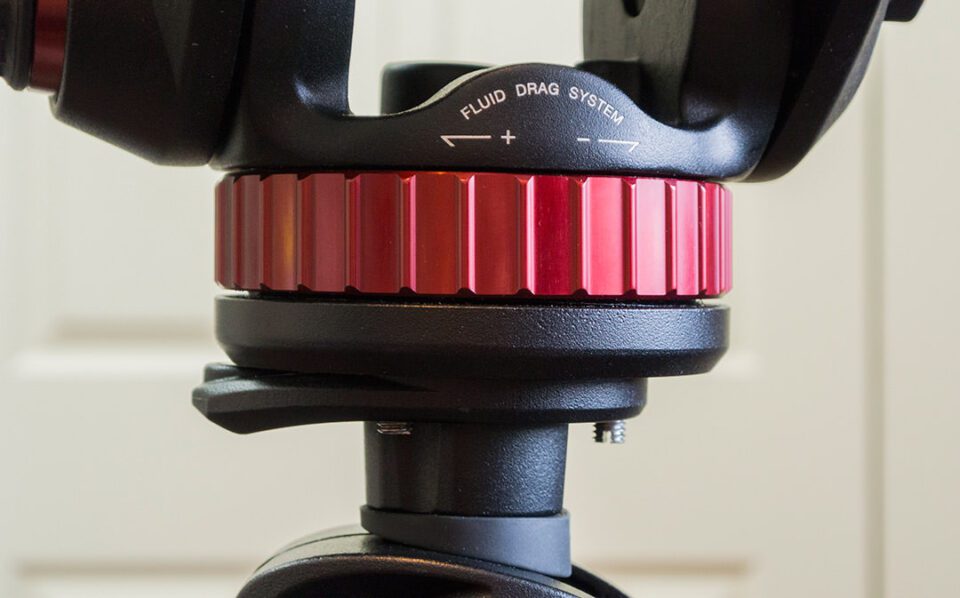 Pan adjustment ring on fluid head allows for better controlled movements.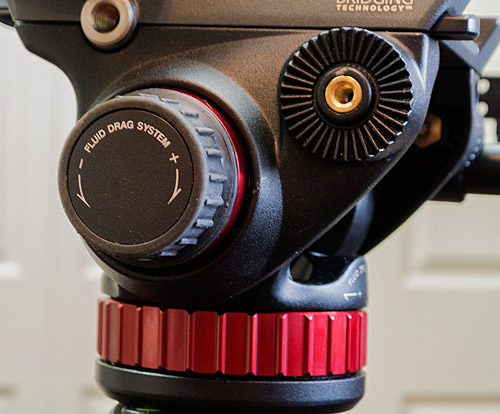 Tilt adjustment knob on fluid video head
Choose a fluid video head as they will operate much more smoothly than a simple friction head that may only have some kind of friction reducing pad like Teflon in it. Look for a head that has adjustments on the pan and tilt mechanisms so you can adjust the amount of force needed for movement, and if it has counterbalancing that is a real plus as well as it will make your overall rig more stable to operate. And, make sure it is weight-rated high enough to hold your DSLR, lens, follow-focus, camera slider, and microphone.
14) Camera movement
One of the best ways to create great videos is to learn how to use camera movement to add drama and interest to your productions. Basic pan and tilt moves are helpful…but if you want to dramatically enhance your videos invest in a camera slider. This piece of gear allows you to move your camera along a guide or track to create movement in your scene. When choosing a slider pay attention to its construction and materials.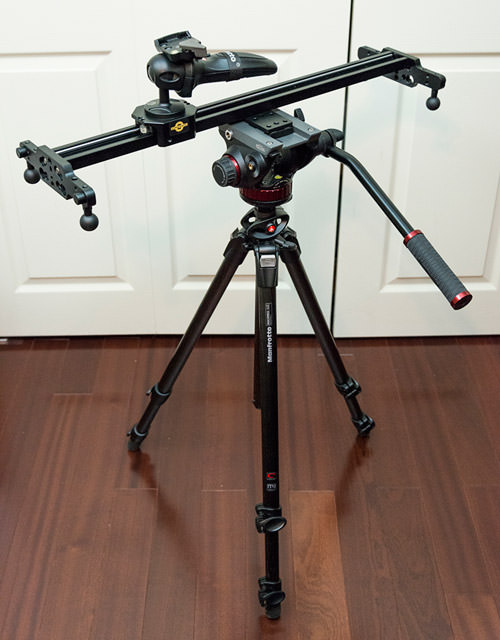 My Manfrotto 055CXPRO3 tripod with 502 fluid head, Cinevate FLT 26" camera slider, and 327RC2 pistol grip attached. This compact set-up allows me to do pans, tilts and slides with one compact and lightweight configuration.
The one I use is fairly small (26") so I can transport it easily, and the camera carriage mechanism has ball-bearings for very smooth movement. You can use the slider by itself or mounted to the video head on your tripod. You'll be amazed at how much extra creativity owning this one piece of equipment can add to your productions….you'll be able to move your camera side-to-side, forward and back, even on angles towards or away from your subject. If you plan your shots well and have something in the foreground or exiting one side of the frame, it will amplify the feeling of movement and create even more drama and interest in your footage.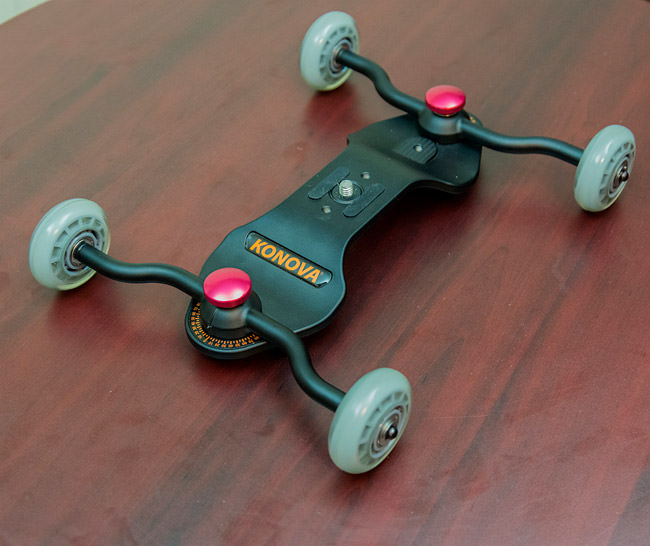 Konova skater dolly allows for close up camera motion on smooth surfaces
Another inexpensive piece of gear is a skater dolly. These are very compact and are often used for close up, moving shots done on tables or on very smooth floors. You may not use this often, but when you do clients will absolutely notice the effect. A very inexpensive way of adding longer camera moves to your videos is to buy a piece of shelving and run the skater dolly along it. Perhaps not a professional looking set up…but the effect can be visually stunning in your videos.
15) Do you want your camera to "fly"?
If you want the ultimate in camera movement you can consider getting a camera stabilizer. This piece of gear will allow you to walk with your camera virtually anywhere and get nice, smooth looking footage. Camera stabilizers vary in size and weight and are very tricky to set-up and use. Don't be fooled into buying one of the cheapo models out there. A quality camera stabilizer is a highly engineered piece of gear and the prices of good ones reflect that. It is also not a piece of gear that you can expect to take out of the box, set-up and immediately use it with any proficiency. It will likely take several weeks of practice. And, you'll need to be reasonably fit physically to use one for any length of time as they can put considerable strain on your arm, shoulder and neck muscles. Camera stabilizers can be mounted on support vests but unless you are doing a very high volume of this kind of shooting the large investment won't be justified. And, using a vest requires some specialized training.