In this article, I will show you how you can remove unused modules and sub-modules in Lightroom. Although Adobe Photoshop Lightroom comes with a lot of features, many photographers including myself, have particular modules and sub-modules that never get utilized. Instead of having such modules take up the precious space and clutter up the user interface, it might be a good idea to hide them from your view completely.
First, let's take a look at how you can remove main Lightroom modules such as Map, Book, Slideshow, Print and Web that are shown on the top of the page.
How to Remove Lightroom Modules
Aside from the Library and Develop modules, I personally never use such modules as Map, Book, Slideshow, Print and Web. Therefore, I personally choose to hide those modules completely from Lightroom, so that they don't clutter up the view. Here is how the default Lightroom view looks like with all the modules in place: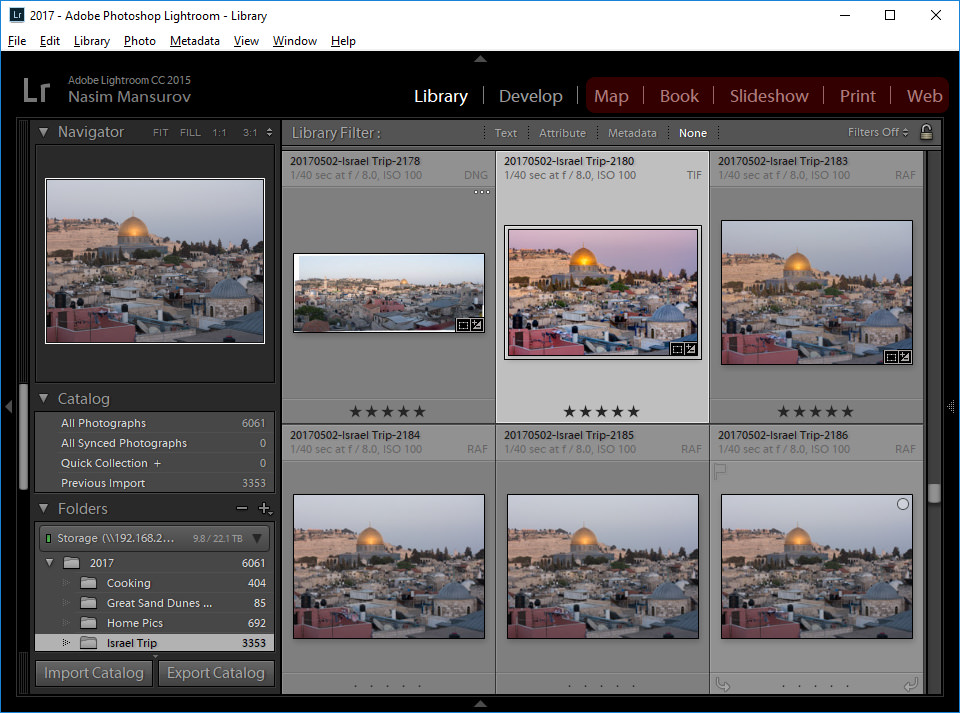 Method #1:
After installing Lightroom, my typical first step is to remove everything aside from Lightroom and Develop in that top panel. There are two ways you can do it. One way is to simply hide the modules that you are not planning to use, with the built-in feature that Lightroom provides from the user interface. All you have to do, is right-click any of the modules and you will see a drop-down window like this:

All you have to do is uncheck the modules you are not planning to use and you are all set, as in my example below:

And voila – the modules area is cleaned up.

Method #2:
The second method is not something I recommend, because it involves messing with the actual module files in your Lightroom installation folder. This method will remove Lightroom modules completely and you will not be able to bring them back into Lightroom easily using the first method mentioned above.

To use this method, navigate to your Lightroom installation folder. On a Windows computer, you will need to go to "C:\Program Files\Adobe\Adobe Lightroom". Within the folder, sort files by "Type" and scroll down until you find all files that end with an extension .lrmodule, as shown below:

The idea is to move all the unused modules into a folder, so that Lightroom does not load them in the first place. I recommend moving modules to a folder instead of deleting them, since if anything goes wrong or you want to be able to add a module back, you will be able to do so in the future by moving the files back instead of having to reinstall Lightroom.

Select the modules you are not planning to use and move them to a new folder such as "_REMOVED MODULES" (make sure to close out of Lightroom first!):

As you can see, I moved the following files: Book.lrmodule, Layout.lrmodule, Location.lrmodule, Print.lrmodule and Web.lrmodule. These will get rid of Book, Map, Print and Web modules from Lightroom. You want to make sure that you do not touch the following files, or you might break the functionality of important modules within Lightroom:

Develop.lrmodule
Export.lrmodule
Import.lrmodule
Library.lrmodule
MultipleMonitor.lrmodule

Once you do the above, re-launch Lightroom and you should only see three modules – Library, Develop and Slideshow. Unfortunately, Slideshow is not a module you can remove through files, so your only option is to right-click the module and uncheck it. While doing that, you will notice that you no longer have the options to select all the previously available modules.

If you are using a Mac, you will need to right-click the Lightroom application icon, then select "Show Package Contents". Navigate to the plugins folder and move any unwanted modules into another folder.
How to Remove Lightroom Sub-Modules
Removing Lightroom sub-modules is a very straightforward process, similar to Method #1 shown above. All you have to do is right-click a sub-module header and uncheck it to have it hidden from the menu. For example, if I want to hide the "Publish Services" sub-module from the Library module, I can right-click the header and uncheck "Publish Services", as shown below: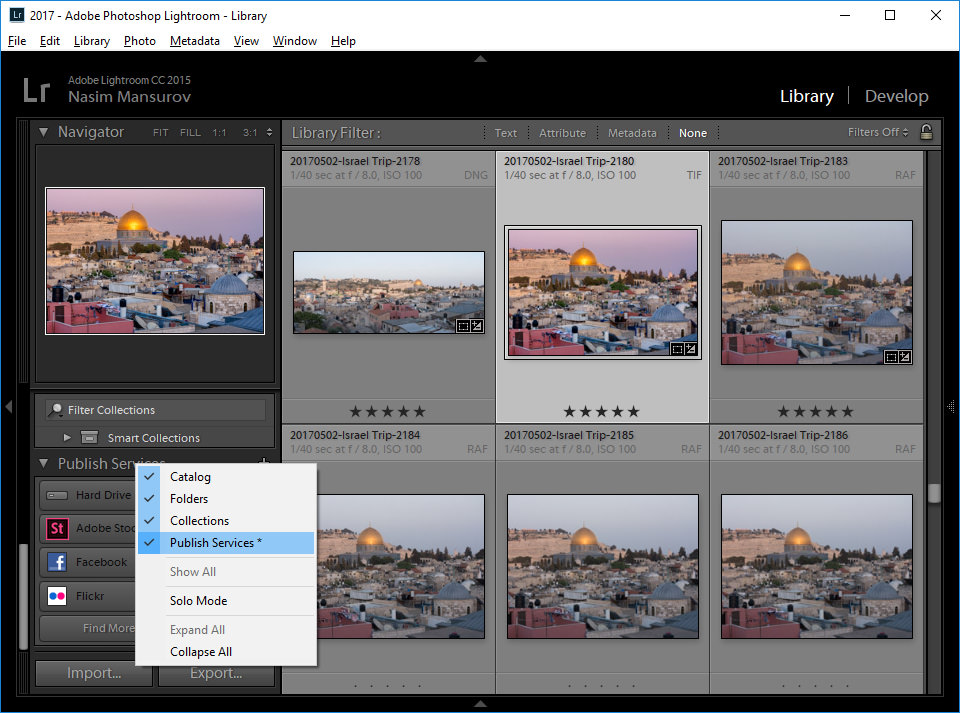 Go through all the sub-modules you never use and repeat the above step and you should have a pretty clean-looking Lightroom that only has the tools you use.
Unfortunately, temporarily hiding Lightroom modules will not improve Lightroom's overall performance. I wish there was a way to permanently remove some of the modules, so that they are never even loaded in the first place. The method #2 above certainly does remove the module functionality from Lightroom and it might improve its performance slightly, but I personally did not feel performance improvements on my desktop machine – your mileage might vary.