Capturing a stunning shot of the northern lights (or southern lights) dancing across the sky surely must be on the bucket list of many photographers out there. On a recent trip into the Arctic Circle, I was lucky enough to see the aurora borealis on several nights. What follows are some tips and recommendations on how to photograph the northern lights and come back with some stunning pictures.
My trip took me to Yllas in Lapland, a large national park in the north west of Finland near the border with Sweden. We stayed in a small log cabin in the village of Akaslompolo, which has a permanent population of about 350. The small size of the village means that light pollution levels are quite low, and this is helped by the lights on the cross country ski trails being turned off at 10:30pm each night. As a side note, I can thoroughly recommend visiting Lapland, as even during the day it presents amazing photo opportunities, such as these reindeer crossing the road.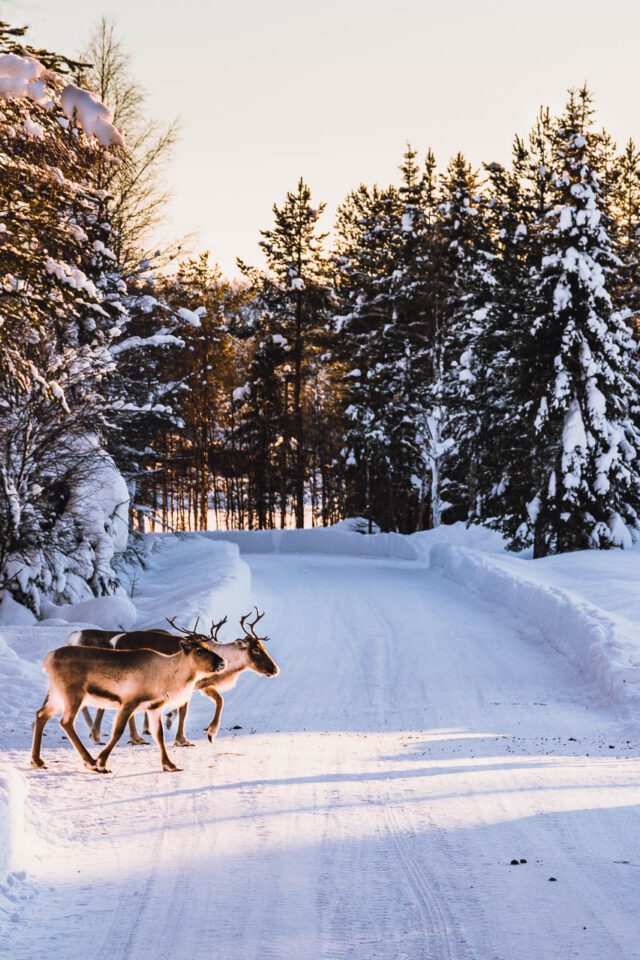 But simply being in the right location is only half the battle. Finding the aurora can in itself be very challenging. The first thing you should do is download an aurora forecast app, I would recommend "My Aurora Formats and Alerts" (available on iOS and Android). It provides weekly, daily, and hourly forecasts, including cloud cover, and is free to download. The best function is the aurora probability section, which tells you the likelihood of seeing the northern lights at any given time. You can also opt in for alerts so that you can go to bed and be awoken if the lights begin at, say, 4 AM.
Next, I would suggest trying to book a tour or activity which takes you into the wilderness. This means that light pollution will be very low, plus your guide will likely know the best spots for seeing the lights. We opted for snowmobiling and drove about 15km from the village into the dark sky region of the national park. Although we saw the aurora from the driveway of our cabin on other nights, the lack of light pollution here meant that the snowmobiling was definitely worth it.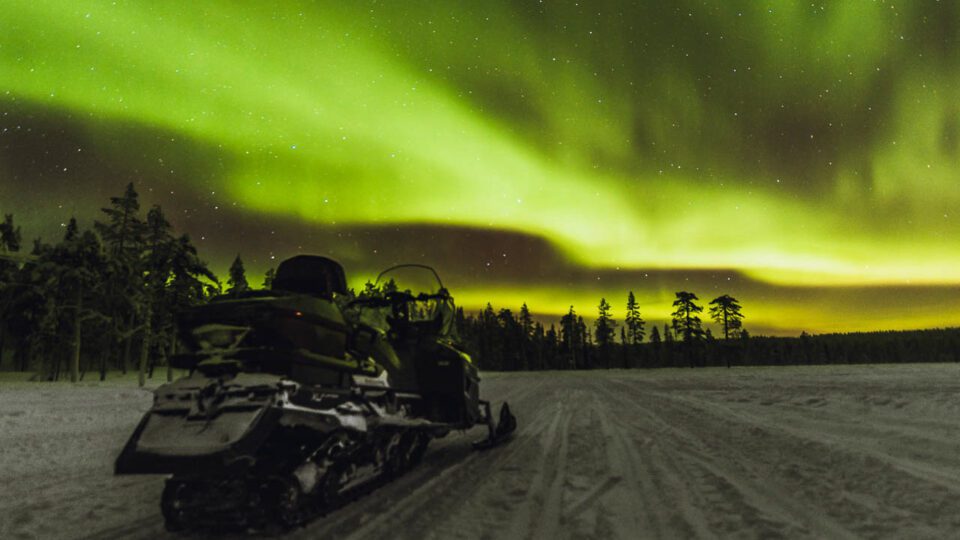 A side note on clothing: while I was in Lapland, the daytime temperatures hovered around -25 Celsius with night temperatures dropping to below -30. As such, it is vital to have the correct clothing; no photograph is worth frostbite. There are many websites which will advise on general clothing, but seeing as this is a photography guide I will suggest some hand wear. Changing camera settings in the field can be very tricky with thick gloves, so I would recommend wearing a thin pair of silk liner gloves under heavy mittens. The mittens will keep your hands warm, but when you need to use your camera you can quickly take them off and still have the protection of your liner gloves.
Now, the important part: camera settings. The first piece of advice is to set up your camera as much as possible before heading out. This will limit the amount of time you spend fumbling in the cold and dark trying to get your settings correct. As far as cameras/lenses go, you can take aurora photos with any camera or even phone capable of taking long exposures. Just make sure you have a tripod or some other method of keeping your camera steady. As for DSLRs, I would recommend:
Attach your widest angle lens so that you can capture as much sky as possible. Wide angle lenses will also reduce the effects of star trailing at longer shutter speeds. Ideally, something in the region of 24mm or wider (full frame) would be perfect.
You also want this lens to have a nice, wide aperture. Something like f/4 is a minimum, and f/2.8 or wider is better.
Put your camera in manual mode and start with settings of f/4, 15 seconds, and ISO 800. If you have an f/2.8 lens, you should be able to lower your ISO. These settings will be a good starting point from which you can adjust depending on local conditions.
Turn on mirror lock-up and any other features for reducing camera shake. Use a remote shutter release, shutter delay, or self-timer, and you are ready to go.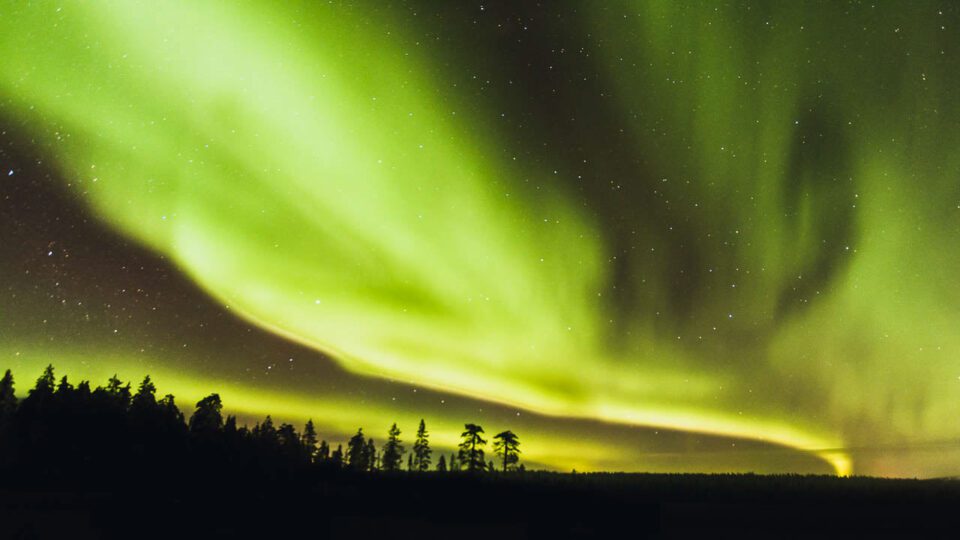 The aurora borealis moves fast and varies speed quite significantly depending on the conditions. So, the settings above are only meant to be a starting point. Once you arrive at the location, take a test shot and adjust your settings as appropriate. For example, if the northern lights are moving quickly, you may want a shutter speed faster than 15 seconds to capture as much detail as possible, which might require a higher ISO. If possible, do not use a shutter speed over 15 seconds, as this will cause the auroras to become a blurry mess.
As a side note, remember not to touch metal camera or tripod parts with your bare hands. I say thus after accidentally picking up my tripod on a -30 Celsius night, with results that were rather unpleasant.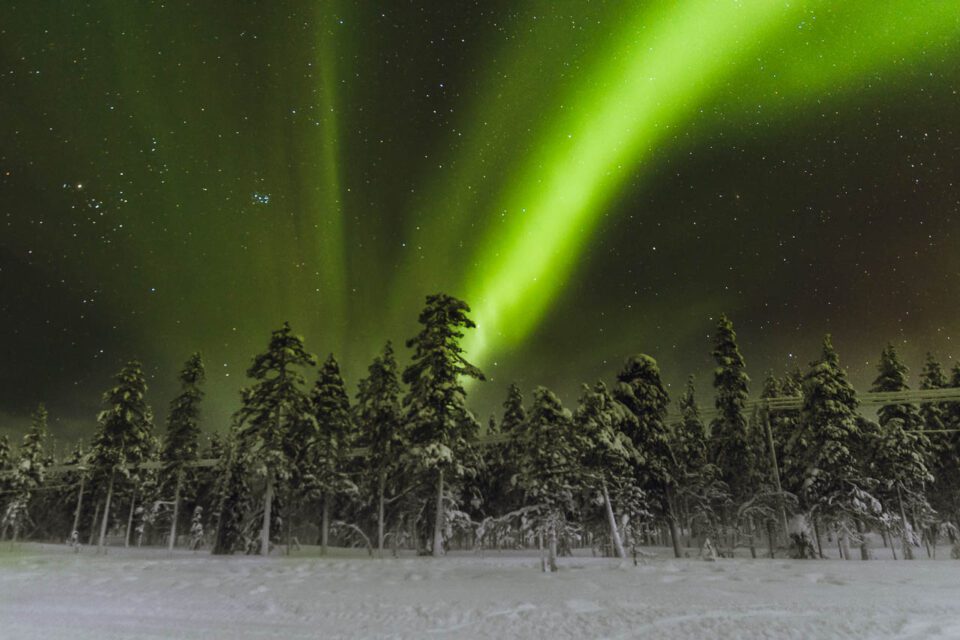 After you have snapped some pictures and returned to your accommodations, you should resist the urge to take your camera out of your bag and look at the photos. The change in temperature from outdoors to indoors can cause condensation on the electronics inside your camera – not good! It is best to wait until your bag has warmed up gradually before taking your camera out and loading your photos.
I will end this article with my most important piece of advice: Put the camera down! For most people, seeing the northern lights is a once-in-a-lifetime experience. As amazing as it is to come back with stunning photos, it is not worth spending the entire time staring at an LCD screen. So, try taking a couple of shots first – then stop, relax, and watch the magic happen.
---
Thank you to our reader Candid Llama (Richard McInnes) for contributing this guest post! You can see more of his photographs at his Instagram page as well.