If you are wondering about how to calibrate lenses, this article has detailed explanations and different methods of AF fine-tuning. Due to the nature of the phase detect autofocus system that is present on all SLR cameras, both cameras and lenses must be properly calibrated by manufacturers in order to yield sharp images. Various factors such as manufacturer defects, sample variation, insufficient quality assurance testing/tuning and improper shipping and handling can all negatively impact autofocus precision. A lot of photographers get frustrated after spending thousands of dollars on camera equipment and not being able to get anything in focus. After receiving a number of emails from our readers requesting help on how to calibrate lenses, I decided to write this tutorial on ways to properly fine-tune focus on cameras and lenses. Lens calibration is a complex topic for many, so my goal is to make this guide as simple as possible so that you could manage the process by yourself, while fully understanding the entire process. In addition, I strongly recommend following these tips every time you purchase a camera or a lens in order to identify and address any potential focusing issues. But I have to warn you – this article is NOT for beginners. If you just got your first DSLR, you might get very quickly frustrated with the calibration process.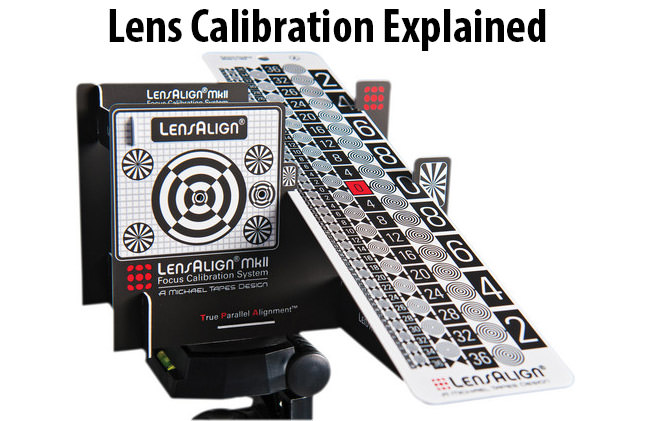 1) Why Calibrate?
Why is there a need to calibrate lenses? With the release of new, high-resolution cameras like Nikon D800, it seems like calibration is becoming an important and hot topic. Why is that? As I have explained in a number of my photography articles and reviews, while the increase of megapixels in our cameras has a number of benefits (see benefits of high-resolution cameras), it can also expose potential focus problems. A slight focus issue might not be as noticeable on a 10-12 MP sensor, but will be much more noticeable on a 25+ MP sensor (assuming both sensors are of the same size). Especially when viewed at 100%, which is what we, photographers, unfortunately, like to do too much. Hence, the need for a properly calibrated camera setup today is bigger than ever.
While landscape and architectural photographers might not care about focus issues (since they photograph at very small apertures that hide small focus issues), portrait, event and wildlife photographers are typically much more worried about focusing problems. I personally like to photograph people wide open with my lenses, which can be a challenge for obtaining perfect focus on my subjects. How frustrated would you be, if you focus on someone's eye and you get their nose or ears in focus instead? I am sure you would not want to have such problems, which is why I encourage you to test your gear and fine tune it for optimal results.
2) Camera vs Lens Calibration
The process of calibration involves going through a specific camera setting that allows fine tuning autofocus operation of lenses, which means that we will NOT be changing anything on the actual lens. Physical calibration of lenses should only be performed by manufacturers, since lenses have to be disassembled, tuned and reassembled. I would never recommend to try doing this yourself at home, unless you really know what you are doing and you are OK with voiding the warranty and potentially damaging your lens.
3) How Calibration Works
As I pointed out in the phase detection autofocus system and how to test your DSLR for autofocus issues articles, the source of autofocus problems could be an improperly calibrated camera, a lens or both. The procedure highlighted below can potentially address all three scenarios, depending on how badly misaligned the whole setup is (more on this later).
The way calibration works, is the camera has a setting, which allows compensating for either back-focus (when focus is shifted behind the focused area) or front-focus (when focus is shifted in front of the focused area). This compensation can be performed in small incremental steps (typically from 0 to -20 and +20 in steps of 1), which allows for precise fine tuning of the autofocus system. Negative numbers compensate for back focus, while positive numbers compensate for front focus problems. To put it differently, dialing a negative "-" number will move the focused point closer to the camera, while dialing a positive "+" number will move the focused point away from the camera. So what happens when you dial -5, for example? The camera tells the lens something like this: "aim at where you would normally focus, except slightly move the focused point closer to the camera". In essence, this would be needed when your camera and lens combination constantly back-focuses.
An important fact to keep in mind, is that calibration is camera and lens specific, which means that if you have multiple cameras and lenses, you have to fine tune autofocus on each camera, for each lens you own (unless you have a camera that constantly front-focuses or back-focuses by the same amount with all lenses, in which case you might need to compensate only for the camera itself). In addition, you might need to periodically re-calibrate your camera gear (more on this below).
4) Calibration Naming Convention
Unfortunately, as you may already know, there is no standard way of naming things in the camera world. All manufacturers have their own naming conventions, partly because it might be the technology they developed and patented themselves, and partly because they just want to be different. For example, Nikon calls its lens stabilization technology "Vibration Reduction" (VR), while Canon calls it "Image Stabilization" (IS) and even Tamron, being a third party lens manufacturer for both Nikon and Canon, chose a different name for the same technology – "Vibration Compensation" (VC). All three do the same thing and yet they are called differently. The same thing with lens calibration – it turns out the verbiage for the same thing is different across manufacturers:
Nikon – AF Fine Tune
Canon – AF Microadjustment
Sony – AF Micro Adjustment
Pentax – AF Adjustment
Olympus – AF Focus Adjust
So if you are looking for this feature in your camera, keep the above naming conventions in mind.
5) Calibration Feature Availability
The bad news is that this very important calibration feature is only available on higher-end DSLRs, because all manufacturers consider it to be an "advanced" feature. As of today, all entry-level, upper entry-level and some semi-professional DSLRs do not have this capability. Here is a list of current Nikon DSLRs that have the "AF Fine Tune" feature (as of 10/08/2012):
Nikon D300s
Nikon D4
I will not bother listing older/discontinued cameras and cameras by other manufacturers, because the list would be too long. You can find out if your camera has this feature in your camera manual.
6) Calibrating Prime vs Zoom Lenses
While I recommend calibrating both prime and zoom lenses, there are a few factors to consider. Most prime lenses, especially above the "standard" range of 50mm have very shallow depth of field at close distances. They are typically my first candidates for calibration, since a slight focus variation can be rather frustrating for me when I work in the field. Zoom lenses, on the other hand, are typically much more challenging, because there is typically a zoom and aperture range to work with. For example, a superzoom lens like Nikon 28-300mm f/3.5-5.6G VR can go from 28mm to 300mm and its aperture changes from f/3.5 on the short end to f/5.6 on the long end. Because calibration can only be done for a certain focal length (on some lenses with a severe case of focus shift, I would recommend to even pick a single aperture to fine tune), which focal length would one pick to fine tune? You would have to either go with a focal length somewhere in the middle of the zoom range, or pick the most commonly used focal length to fine tune. For example, when I fine tune my Nikon 200-400mm f/4G VR lens, I always pick 400mm at f/4 for fine tuning, because that's the focal length and aperture I use most of the time. Whereas, for a prime lens like Nikon 85mm f/1.8G, I would fine tune at f/1.8, since that's the aperture I typically use the most on that lens. More on this below.
7) Calibration Tools
There are a number of free and commercial tools for calibrating / fine tuning lenses. I have tried a number of different methods and I have identified which ones work and which ones are unreliable. One of the free/DYI methods involves printing a bunch of lines on a piece of paper, then setting up your camera at a 45 degree angle and taking pictures. I started out with this method about 4 years ago and quickly found it to be very unreliable. With high resolution cameras like D800, using this method can yield unpredictable results, since fine tuning has to be very precise to get accurate results. Another free/DYI method is to use your monitor screen with a test chart image, which again can be problematic for proper testing. The second method is to get a commercial tool like LensAlign by Michael Tapes Design, which is what I have been doing for the last 3+ years and find it to be much more reliable and precise than the free method. The third method is to use an automated/semi automated software calibration tool that can save you time and possibly yield better results. Here is a quick summary with pros and cons of each method:
DYI Method – Pros: Free, can work if done right. Cons: Precision/accuracy problems, requires a lot of time to setup correctly, does not work well with high-resolution cameras.
LensAlign – Pros: Works with any camera/lens combination, can be very precise. Cons: Costs money, requires time for manual adjustments and fine tuning.
Calibration Software – Pros: Automated/semi automated calibration process, high precision, saves time. Cons: Costly and only works well with supported cameras.
8) Calibration Steps
I recommend to take a number of steps for proper and accurate camera calibration. First, you should identify if there is a focus problem. Second, you should try calibrating your camera/lens. The last step is to verify if your calibrated setup works reliably at different distances.
8.1) Identify Focus Problems
If you are an advanced DSLR user, you will typically know right away when there is a focus problem. However, in many cases it is the end-user fault or an issue with camera technique that yields soft images, so I always recommend to use proper ways to identify focus problems. My recommended approach to identify focus issues is highlighted in my "how to test your DSLR for autofocus issues" article I wrote a while ago. While this approach works quite well, it does not point out if you have front or back focus problems. That's where a tool like LensAlign can come in handy – you will not only know right away if there is a problem, but you will also determine if the focus problem is related to back-focus or front-focus.
8.2) LensAlign: Manual Calibration
The process of manual lens calibration using LensAlign is pretty straightforward, once you understand what to do and do it a few times:
You should be in an environment where there is a lot of ambient light, so preferably, do this outdoors in daytime. If that's not an option, you will have to setup powerful lights to properly expose the LensAlign tool, since a single light bulb in your room will not be sufficient for accurate focus (when doing this indoors, I have four dedicated 100W lamps that I point right at LensAlign).
Set up the LensAlign tool on a light stand or a flat surface, then mount your camera on a tripod and properly level it. Thanks to the patented leveling method that Michael Tapes developed, leveling your camera is easy – you just align the red dots on the back of LensAlign with the holes on the front, so that it looks like this:

Place your camera at a certain distance, depending on the focal length of the lens. Michael Tapes has a neat "Distance Tool" on his website that you can use to calculate the proper distance. For example, for the Nikon 50mm f/1.4G lens, the recommended distance between LensAlign and the camera is roughly 4 feet. Personally, I do not rely on any distance tools, because I roughly set it up to what my typical focusing distance is when photographing subjects. But if you don't know where to start, the distance tool can be quite helpful.
Set the AF adjustment on your camera to "0" (Setup Menu->AF Fine Tune on Nikon DSLRs) or just turn it off. We will need to start from zero initially and go from there.
Focus on the circular pattern on the left side of the ruler with your center focus point looking through the viewfinder and take a series of pictures. In between each exposure, you should rack the focus ring, so that everything looks blurry before you start. That way, you force the AF system to reacquire focus each time.
Do this at least 3 times, then analyze each image on your camera (you can take it to your computer for analysis, but it takes a long time to go back and forth, so I prefer to do it on my camera instead). If you choose to do it on your camera and you have a Nikon DSLR, here is a quick tip – zoom in to 100%, then rotate the rear dial – it will jump from one picture to another, still keeping the zoom level. Here is a sample image that I got with a badly calibrated lens:

As you can see, there is a rather severe problem with autofocus here – the left side of the LensAlign tool is out of focus and by looking at the right side, you can tell that my setup is backfocusing quite a bit. Instead of showing 0 in focus, it is far off somewhere at 12 in the middle section of the ruler.

Next, you have to turn AF Fine Tune / Microadjustment on and set a value to compensate for the focus problem. Since it is a backfocus situation in this example, I know that I have to compensate by dialing a negative number. I always start off with an extreme number at -20 or +20, to see how much I need to come down. So in this case, I set it to -20, which turned out to be too much and my focus moved to the front (front focus). Generally, I decrease the number in increments of 5 first, then do additional fine tuning if necessary. For this lens to land perfectly in focus, I had to dial -12.
The painful part of this process is that there is a lot of going back and forth, since you have to rack the focus ring 3 or more times each time you change the AF adjustment value. The reason why you want to do this, is because Phase Detection Autofocus is often not consistently accurate if you just rely on one exposure. Here is an example of a properly tuned setup using the Nikon 85mm f/1.4G lens (no sharpening was added to the image):

As you can see, the left side of the LensAlign tool is in perfect focus and the ruler on the right side confirms this – the focus point is right number 0.

Once you get consistently good results using a particular AF adjustment setting, take your camera for a real test. Take some pictures outdoors at different distances and see if things look good. If they don't, then go back and try the same test at a different distance and see what you get. If you find that you have to dial vastly different numbers at different distances and focal lengths, then you might be better off by turning AF Fine Tune off completely. See some of the additional notes on calibration below.
I am aware of the fact that there are other tools similar to LensAlign. However, Michael Tapes was the original inventor of this tool, so I consider all other lookalikes as "knockoffs" of LensAlign. None of them have the built-in alignment tool, because Michael patented it. In addition, Michael operates a small business right here in the US and our team at Photography Life is all about supporting him instead of big corporations.
8.3) FoCal: Automated Calibration
The process with automated lens calibration is a little different. Currently, Reikan FoCal seems to be the leader in automated calibration software, which not only performs automated/semi-automated calibration (depending on what camera is used/supported), but also comes with pretty advanced reporting capabilities and testing of each individual focus point. The software became increasingly popular on Nikon cameras lately, thanks to the whole Nikon D800 Asymmetric Focus Fiasco, because it can clearly show which focus points are accurate and which ones are not, as shown in the below image: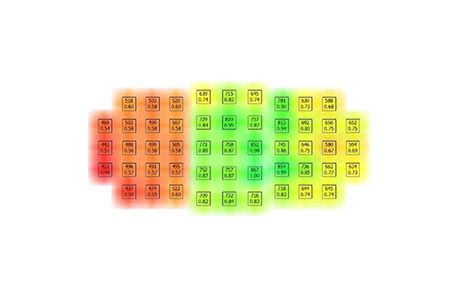 Here is the process of calibration using FoCal Pro (the software package we recommend):
You will need a PC or a laptop (preferably, due to potential proximity issues) for the fully automated calibration. PC/Mac requirements, along with supported cameras are highlighted here. Connect your camera to your computer using the supplied USB cable, power it on and install camera drivers first (if necessary). Once drivers are installed and configured, install the FoCal software. Once everything is tested, turn the camera off and disconnect the cable (for now, until the setup is complete).
Make sure that the camera is recognized by the software. Test and make sure that everything is operational.
Again, you should be in an environment where there is a lot of ambient light, for autofocus to work properly. If that's not an option, you will have to setup powerful lights to properly expose the focus chart, since a single light bulb in your room will not be sufficient for accurate focus.
Print out the PDF test chart that comes with FoCal software. You can print it on a regular letter-size paper. A high-quality inkjet printer is recommended.
Mount the test chart on a flat surface. A straight indoor wall will do.
Mount your camera on a tripod and place it at a certain distance right across from the chart, depending on the focal length of the lens. The developer recommends to aim for between about 25x – 50x the focal length of the lens in millimeters, so if you are calibrating a 50mm lens, you should test at around 1.25m to 2.5m. Make sure that the chart is parallel to your camera and that nothing is titled. The software will automatically guide you on how to properly align/rotate the setup.
Connect the USB cable to the camera and your PC/laptop. Start up live view and let the software guide you on how to move/align the test target.
Once the software shows you a green checkmark, start the automated test process (Canon DSLRs only). It will take a while for the camera to take pictures and adjust the focus. Here is how the process looks like:

If you have a Nikon DSLR, you will have to use the Manual Setting Change (MSC) mode, where the software will tell you what to change on the camera and you will have to dial the values manually (until Nikon DSLR support becomes available in a future release), as shown in the following image:

The software will analyze each image and tell you which AF adjustment value works best.
Similar to the LensAlign process highlighted above, I strongly recommend to take your camera for a real test after the calibration process. Test it at different distances and see if you are getting consistently good results or not.
The cool thing about the FoCal Pro edition, is that it allows you to also find out what aperture is the sharpest on your lens and as I have already pointed out above, it can also analyze each focus point of your camera for precision.
9) Calibration Distance
One big catch with the calibration process, is that it may vary by distance. I have done a number of tests to show examples of this behavior (will be posted in a separate article later). What it means, is that if you compensate your camera for a back-focus problem at a certain distance, if the distance between the camera and the subject changes, the focus might be off again. For example, a 50mm f/1.4 lens at 4 feet might require a -5 adjustment. Moving the lens to 6 feet might require a different adjustment, say -8. And then taking the lens and focusing at infinity might require no adjustment. This happens due to a number of different factors. First of all, phase detect sensors in DSLRs require a lot of light, which is the reason why all lenses focus wide open, no matter what aperture you set the lens to. So a bunch of variables kick in right away – chosen aperture, focus shift, focus distance, etc. On top of that, fine adjustments at very close distances are much more granular than at longer distances. Well, the AF fine tuning system is not that smart to be able to cope with all these variables and therefore calibration values might have to be different at various focal lengths, apertures and camera to subject distances. However, this varies by lenses. On some lenses, the difference is very noticeable, while on other lenses differences are too minor to notice.
10) AF Fine Tune Observations
I found out a couple of interesting things while studying AF calibration on various Nikon DSLRs (for uber geeks only!). When testing cameras with autofocus problems (with perfectly calibrated lenses), dialing a value for "AF Fine Tune" would often work for any distance, whether close or far. So if I had a camera that required -10 for every lens, which means a camera phase detect issue, keeping AF Fine Tune at -10 at all times would typically work great at any aperture, distance and focal length. However, if a camera was perfectly calibrated and a lens had a focusing issue, then AF Fine Tune would not work so well at various distances. The worst problems were when both a camera and a lens had issues – that's when trying to calibrate the setup could yield strange/inconsistent results. This is my observation, although more in-depth testing would have to be carried out to confirm this. Also, I do not know if other manufacturers have similar implementation of Nikon's AF Fine Tune and results might vary by brand.
This is not to say that I would rather have a camera with badly aligned AF sensor than a badly calibrated lens. In fact, it is the other way around. My camera bodies stay the same for several years, while I might use a number of different lenses on them. I would not want to have issues with all lenses out there, just because my camera is faulty. If the camera has a slight issue, it would not bother me, since I could dial one setting for all lenses. But if it is anything extreme (my D800E was really bad and required -20 and higher to work with my lenses), then I will surely either exchange the camera, or send it to manufacturer for tuning. That's the reason why I like to find out what the source of the autofocus problems is. Is it the camera, is it the lens or both? Unfortunately, this one is tough to figure out for most people out there, because it requires at least one properly calibrated camera and lens. I have a number of lenses that work perfectly fine on my Nikon D600, D700 and D3s camera bodies and I also know that these camera bodies are properly calibrated, because most lenses I mount on them do not require any fine tuning. Knowing this, if I receive a faulty camera, I know if there is a problem right away. The same goes for lenses…
11) The Usefulness/Uselessness of Camera Calibration
Another observation that I have after a number of years working with cameras and lenses, is that camera calibration only works reliably well at small adjustments, when it is not extreme. A while ago, one of our readers asked me "how come we only get -20 to +20 for AF Fine Tune, why doesn't Nikon allow much bigger values like -50 to +50?". It was an interesting question that I could not answer at the time, because I did not have a camera/lens combination that required extreme calibration values. While testing various Nikon DSLRs during the last few years, I came across a couple of camera bodies and lenses that had severe back/front focus issues, where something like -20 adjustment had to be dialed during the calibration process. In cases where a camera body was at fault, the impact of an extreme adjustment did not seem to be so bad (although it was still not very reliable), while when a lens was at fault, dialing above -10 or +10 (especially above ±15) yielded very inconsistent results. Hence, my conclusion is that if you find that your camera/lens setup requires high adjustment values (negative or positive), you might not want to mess with the whole thing and send your gear to the manufacturer for proper tuning instead. That's probably why none of the current DSLR manufacturers allow calibration for higher values than 20.
12) Calibration Tolerance
So, what tolerance levels for calibration are acceptable? For me, anything below ±10 for a camera or lens is acceptable. Ideally, I want to stay in the ±5 range, but if fine tuning takes care of the problem, I do not bother sending my gear to manufacturer for tuning. If a new camera I buy requires -5 to -10 with all of my lenses, I will just take care of it with AF Fine Tune. If it is anything above that, I will send it to Nikon for tuning. The same thing goes for lenses.
13) Calibration is a Continuous Process
Whether you like it or not, autofocus precision of your cameras and lenses can change overtime. There are many different factors that could influence precision – everything from drastic changes in temperatures, to physical abuse and normal wear and tear. Some people take it very seriously and perform calibration as often as a few times per month. I personally do it a couple of times before and during the wedding season, to make sure that the gear works as expected. The goal of my tests is to make sure that the gear I use operates normally. If I see any drastic changes in autofocus behavior and AF adjustment does not work consistently anymore, I contact Nikon and send my gear in for repair. Yes, this process is rather painful and can get costly, but it is worth it, because our clients get the very best quality work from us.
14) Summary
As you can see from this article, calibration is a complex topic. Unfortunately, a number of photographers and online resources blindly recommend taking different approaches to lens calibration without fully understanding how autofocus system works, which leads to more frustration and unhappiness from end users. In my opinion, it is important to know and understand all the details of the process, including possible outcomes before deciding to touch this feature. Despite all challenges, I still highly recommend to play with the AF adjustment feature on your camera and learn how to properly calibrate your camera gear. At the end of the day, you want to get the best out of your equipment.
I apologize if the article is too long. Good luck and please let me know if you have any questions in the comments section below.