If you want to buy a laptop for portable photography editing, one of the best choices to consider is an Apple MacBook. However, between the recent shift to ARM architecture chips and the wide range of models and features, there's a lot to consider when choosing a MacBook. In today's guide, I'll give an overview of each of the current MacBook models, and I'll identify some of the configurations I recommend.
While I've always used a Windows computer for desktop editing, Apple's lineup is my favorite for portable hardware. With the M1 and now M2 chips, which are designed by Apple and offer record-setting performance on a per-watt basis, the MacBook line is a better choice than ever for a portable editing workstation.
The biggest distinction in Apple's laptop lineup is the difference between the MacBook Air and the MacBook Pro, but there are also three separate MacBook Pros of 13″, 14″, and 16″. Then there's the choice between M1 and M2 chips – and further options within those chips.
For a photographer who is just trying to find a solid Apple laptop, all these choices might be overwhelming and confusing. So, if you are wondering about which one to pick, this article is here to help.
Overview
Before I get into the individual product lines, I want to quickly touch on the Mx architecture. The processors that previously powered the MacBook line over the last two decades or so were Intel chips. These chips, particularly at the i7 and i9 level, were powerful, but very power hungry. This meant a shorter battery life and a hotter laptop.
Around the same time, Apple's semiconductor design experience had grown rapidly. Their collaboration with TSMC – the company that actually made their chips – opened the door to better and better nodes (the actual manufacturing process used for the chips).
With Intel's chips stagnating, Apple saw an opportunity to design their own chips, starting from a blank slate, so to speak. The result of this design process was the M1 chip, a notable departure from Intel's x86/x64 ISA. By moving to an ARM ISA, Apple was able to make a number of optimizations, and even align their operating systems for macOS and iPadOS.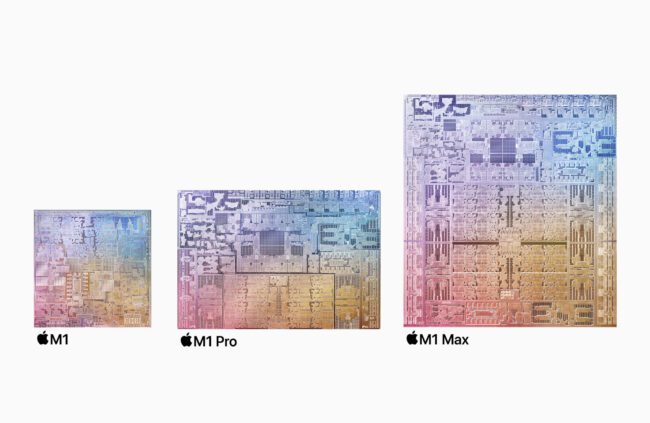 For photographers and videographers, this shift had a number of benefits, as well as some major risks. The biggest benefit was immediately apparent when performance testing the new MacBooks, with their performance far exceeding that of older Intel MacBooks, particularly on a per-watt basis.
Even without the "per-watt" qualifier, however, Mx MacBooks are the fastest MacBooks Apple has created. And they also come with phenomenal battery life, with Apple listing 17+ hours of battery life for the entire lineup.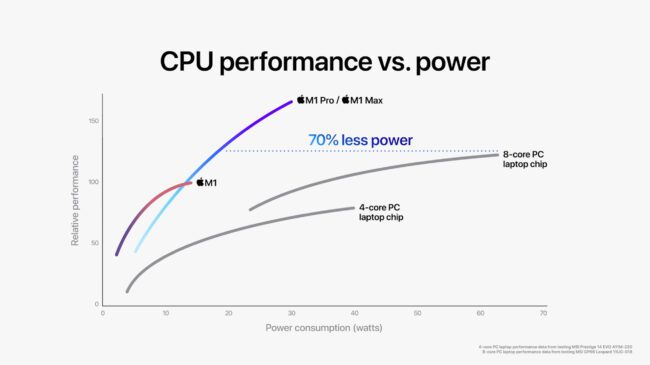 The new ISA means that all your software written for x86 has to be translated into ARM code, however. While Apple's software for performing this translation, called Rosetta 2, usually does a seamless job at performing this task, there is the potential for issues with small, old, or niche programs not performing well. I personally have had zero issues with any software on my M1 MacBook, especially as most major software tools like Photoshop, Lightroom, Premiere, and Resolve are available with native ARM binaries.
M1 and M2 Chip Options
At this point, every MacBook in Apple's lineup – the MacBook Air, as well as the three MacBook Pro sizes – is offered with the option for the M2 chip . However, you can still easily find MacBooks with the older M1 chip available, begging the question: is it worth paying more for the newer M2 chip?
On one hand, there are performance improvements with the M2 chip, as expected. There are also minor battery life improvements on some of the M2 versions of these laptops. For example, the 14″ and 16″ M2 MacBook Pros have about one hour of additional battery life compared to the 2021 MacBook Pros with the M1 chips.
That said, even though the CPU is "up to 20% faster" with M2 according to Apple, benchmarks show that these gains are heavily tilted towards multi-core tasks (think rendering video), rather than single core operations. It won't make much of a difference when editing photos with most post-processing software, although some tasks like rendering previews may be a bit faster.
What about the differences within the chips, specifically the Pro vs Max versions? Even though there is a difference between the number of CPU cores on the Pro and Max chips – ranging from an 8-core option on the M1 Pro to a 12-core option on the M2 Max – this isn't a big deal for most photographers, since most photo editing software cannot make full use of multiple cores.
That said, for GPU-heavy tasks, the Max (and M2) will definitely offer a higher level of performance. Considering that machine-learning and artificial intelligence editing software (like photo upsampling and noise reduction software) tends to be GPU-heavy, it could make a difference if you rely on this sort of software.
Even so, I wouldn't consider the M2 chip or the Max versions to be must-haves for photography. Whether it's worth the extra money depends on the sorts of software you use, as well as your budget.
What You Need to Know About the MacBook Air
The Intel-based MacBook Air was previously an ultra-portable laptop unsuitable for most photo editing operations. Although I had one and basically just used it to back up my memory cards, it would choke even opening an image in Photoshop.
All that changed with the M1 version of the Air. Now, editing images and 1080p video is easy, even with multitasking. For that reason, if you're looking for the most portable MacBook available for photography, the Air is definitely a viable option. A few members of our team at Photography Life, including Spencer and Nasim, use the Air nowadays for lightweight and international travel.
The recent introduction of the M2 Air brings even more power to the same package, retaining the amazing 18 hours of battery life, expanding the GPU core count as an option, and expanding the memory capacity as well. It still wouldn't be a great choice for editing 4K video or stitching huge panoramas, but for ordinary photographic work, the Air is definitely fast enough.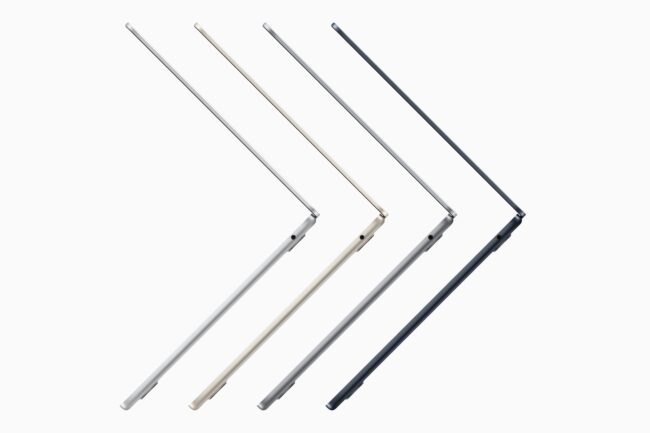 Part of what makes the MacBook Air a good device for photography is the wonderful display, which is a pleasant surprise on an ultra-portable laptop. The display is an 2560 x 1600 IPS LED, with support for the wide P3 color gamut. While not on the same level as the XDR display on the 14 and 16" Pros, it's still well suited for field editing.
The MacBook Air does come with a few concessions, however. For example, the Air only offers two Thunderbolt 3 ports. This means having to rely on a hub, or plugging things in and out just to offload cameras while charging or using a mouse. The Air also is limited in terms of display outputs, with the computer only being capable of driving one external display. That means no getting home and hooking up to a multi-monitor display.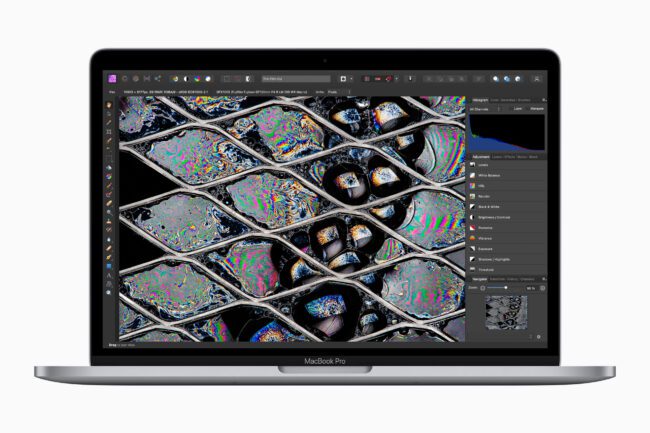 If you're trying to get into the portable Mx ecosystem at the most affordable price-point, the M1 MacBook is a solid option. At $999, it's the cheapest MacBook available today, and it still has good performance.
That said, if your budget has some flexibility, consider stepping up to the M2-equipped Air. At $1,199, it is slightly more expensive than the M1 version, but it adds a slightly larger, brighter display, has more performance, and supports a faster GPU and more memory (as upgrades). It also has a better 1080P webcam and a better speaker setup if you intend to use it for video conferencing.
For the M2 version, I like the base configuration. Apple's upgrade options tend to be a very expensive proposition, and while 8GB of RAM and 256GB of SSD storage is suboptimal, I don't know if either need to be upgraded, given the intended use of the Air. RAM on the Mx series is less of a consideration than on older systems, thanks to the SSD allowing for incredibly fast swap operations. Additionally, I don't see using the Air for huge, multi-layer PSDs or complex multi-tasking, or really any situation where the extra RAM would come in handy.
For storage, I'd suggest looking at a pair of USB-C or Thunderbolt SSDs. Having a pair makes it easy to follow good backup practices, while the speed of the interface makes it practical to edit off them, instead of the internal drive. For the $400 Apple wants to upgrade to a 1TB SSD, you could pick up three separate 1TB portable SSDs.
What You Need to Know About the MacBook Pro 13"
The 13 inch MacBook Pro is in a really weird place. Since it has also received the M2 upgrade, it might seem like a good option – but in reality, it offers very little over the less expensive, M2-equipped MacBook Air.
The Air got an upgraded display, speakers, webcam, and a new chassis, while the Pro basically got just the new chip. This leaves the only real advantages of the Pro over the Air being a slightly larger battery and active cooling (generally an unnecessary feature for the expected workloads of these laptops, especially for photography).
It's not that the MacBook Pro 13″ is a bad machine, but the MacBook Air 13″ simply makes more sense considering the price. If you have the budget for the 13″ Pro, you'd probably be better-served speccing up an Air with more memory or a larger SSD.
What You Need to Know About the MacBook Pro 14″ and 16"
I've lumped the 14 and 16 inch MacBook Pros together because they are essentially the same computer with two different sizes of screen. Whichever you choose, you'll be getting incredible performance, a gorgeous display, an excellent trackpad and keyboard experience, and high-quality speakers.
With these MacBook Pros, you have a choice between the M1 chips (found in the 2021 MacBook Pros) versus the newer M2 chips released in early 2023. As I mentioned before, I think you could safely go with an older MacBook Pro with the M1 chip to save money as a photographer, but it all depends on your situation. Videographers will appreciate the M2 options, and so will photographers who rely heavily on machine-learning post-processing software.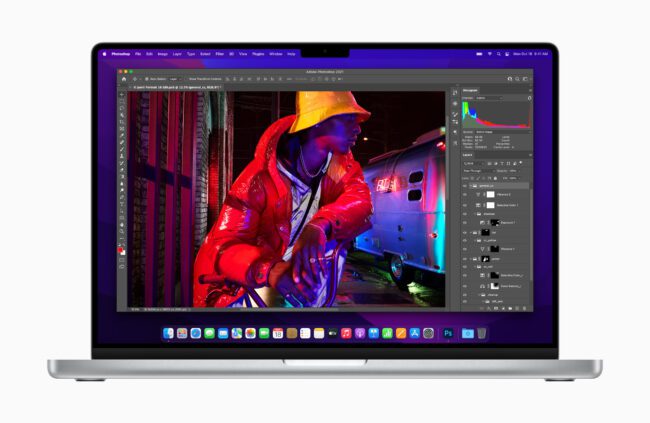 On both the 14″ and 16″ sizes, you get 3 Thunderbolt ports, instead of 2 on the Air. On the Pro chip, you can run 2 external displays, while the Max can run 4. Each also comes with an HDMI port, SDXC reader, MagSafe 3 charging port, and a headphone jack. This set of ports means fewer adapters and greatly improved usability compared to the Air.
Together with the huge performance potential of the laptop, these added ports make the MacBook Pro a suitable desktop replacement. Hooking into a Thunderbolt hub could let you use the same computer for editing at home and in the field, simplifying file management and saving you money over separate computer builds.
When it comes to the build, a lot of my same advice applies to Pro as it does to the Air: Consider which upgrades are necessary, versus nice to have. Fortunately, the base model Pros come with a more reasonable 16GB of RAM and 512GB of storage, meaning you already have a well-equipped machine at the base level.
Considering the higher workload that I'd expect to put on a Pro compared to an Air, however, some upgrades could make sense if they're in your budget. Upgrading the RAM to 32GB is expensive, but – along with the faster CPU option – is something that has no substitute for an after-purchase upgrade, unlike storage.
The CPU upgrade options primarily improve video editing performance (with higher GPU counts, better support for media decode and encode, and support for 64GB of RAM). If you are working with large 6K or 8K video timelines, consider upgrading to the M2 Max chip. For most photographers, though, the Pro versions of the M1 or M2 chip will be more than sufficient.
Whichever set of upgrades you choose, I'd still strongly suggest getting a pair of external USB-C or Thunderbolt SSDs for bulk storage. I'd also suggest a USB-C hub, particularly if you still have a number of USB-A devices. While more devices are moving over to USB-C, I've still got a number of low-bandwidth devices that are perfect to hook up to a hub.
Recommendations and Conclusion
Considering all of these different options, what do I actually recommend to photographers who want to buy a MacBook as of 2023?
My answer to this question would be an M1 version of the MacBook Pro, probably the 14-inch size. This isn't just a hypothetical answer, it's what I bought for myself after comparing all the options, and I am very happy with it today. (You can read my full review here.)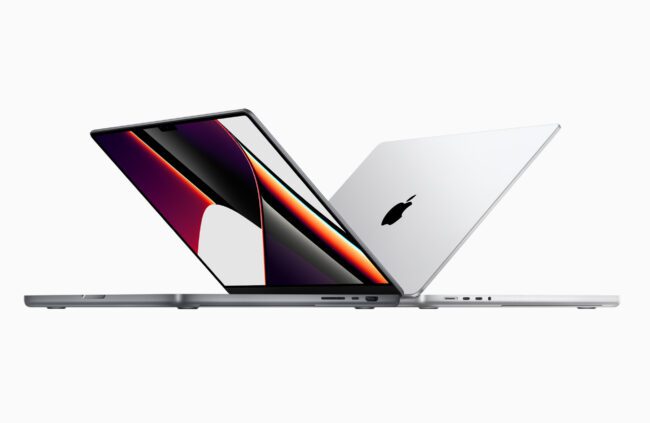 I looked closely at the 16 inch MacBook Pro, but I decided against it, as it really was starting to brush up against too big for easy use on the road. Meanwhile, the 14-inch size was perfect for use on a plane, and the insane battery life is enough to use for a full day of photo editing without needing to recharge. That said, I definitely recommend look at them in person, as I imagine you'll find one size is a better fit for you than the other.
Why didn't I go with the M2? Even though it wasn't out when I bought my M1 MacBook Pro, everyone knew it was on the horizon, so I could have waited if I thought it made sense. But considering the photo editing that I do, the higher-core CPU options weren't really necessary, and the single-thread performance didn't improve substantially enough to matter for me. Nor do the other improvements (like higher RAM options, 1 hour longer battery, and HDMI 2.1 instead of 2.0) matter much as a photographer.
With that in mind, I'd highly recommend that fellow photographers look towards the 2021 M1 Pro or Max models, while they're still available. Retailers like B&H have new stock of these left, and they're available at a significant discount. That means you can pick up a storage or RAM upgrade, or just bank a couple hundred dollars, all while getting virtually the same computing experience as the M2. Unless you need an absolutely top-spec machine, I'd continue to recommend the M1 Pro MacBook Pro for photographers and intermediate-level video users.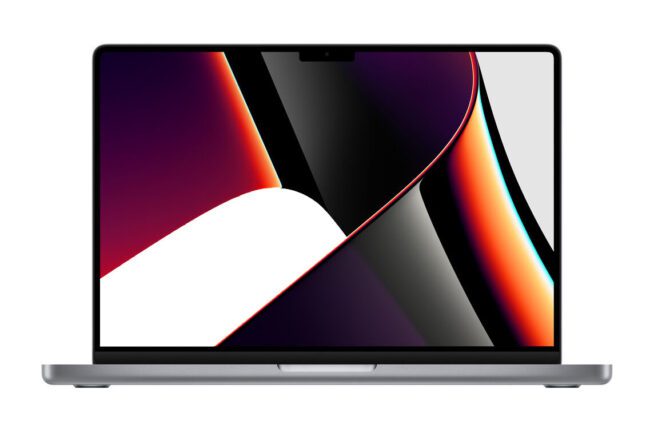 Meanwhile, if you're not looking to edit heavy files on the road, and instead need a (still powerful) machine for importing photos, doing ordinary edits, and passing time on the flight to your next photo destination, the MacBook Air M1 is a wonderful option. Ultraportable options always carried a number of compromises in the past, and while the Air still has some small downsides like the number of ports and weak external display support, I believe it's the best option for a compact laptop on the market today. The M2 version's improvements are also worth considering.
Overall, the Mx series of chips have turned Apple's MacBook line from a series of good laptops, to the best laptops in their category, and the go-to option for all but the most particular workflows. I hope this article helped you understand the differences between them for photography needs. Please let me know if you have any questions!