Purchasing camera gear can be a frustrating experience. Camera companies and big outlets highlight the importance of buying from authorized channels due to service, support and warranty issues, whereas many Internet-based websites and some small photography shops offer gray market products at very appealing prices, sometimes with significant enough discounts to make photographers seriously consider them. And then there are regional pricing differences. When a product is launched, manufacturers point out product's MSRP, which can vary greatly between different markets. In this article, I want to bring out the issues I see with gray market products, as well as issues related to inconsistent product pricing, which can make the shopping experience rather frustrating.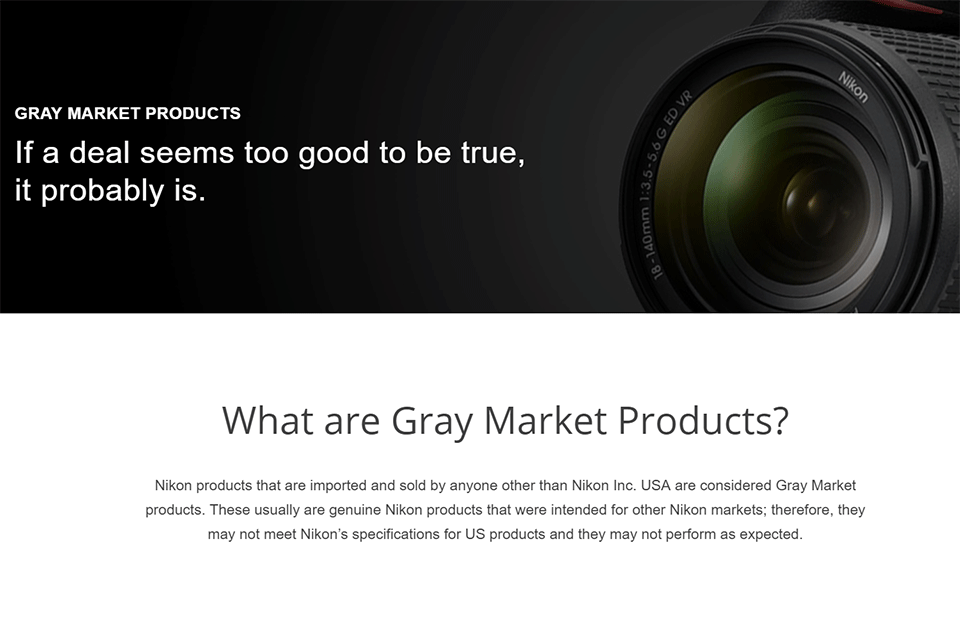 What is a Gray Market Product?
Simply put, a gray market product is a product that is imported and sold by any party other than the manufacturer. Most of the time, gray market products are no different compared to their retail counterparts – they are genuine products made by the same manufacturer, only packaged and intended for other markets. Therefore, they might contain product manuals in other languages, or perhaps have chargers and accessories that only work in a specific country. However, there are also cases where gray market products are completely fake, where refurbished products are resold as "new", or even used / returned products are repackaged and resold as new at a lower gray market price. There is no way for the manufacturer to be able to fully control the import of its products to the markets where it already has direct distribution channels, so there are certainly risks associated with buying gray market products.
Manufacturers do not like gray market products competing with properly imported retail versions of the same product for a number of reasons. First, gray market products are often cheaper than their retail counterparts, sometimes by a huge margin. This is a big problem for the manufacturer, because its own product sold by unauthorized parties competes in terms of price with the properly imported retail version that is sold at the same MSRP (Manufacturer Suggested Retail Price) across all resellers. Whereas the MSRP can be tightly controlled by the manufacturer through its channels, the price of gray market products fluctuates all the time for different reasons, one of which is currency exchange rates. Basically, when exchange rates are favorable, gray market products are sold for less. In comparison, manufacturers often compensate for favorable differences in exchange rates by providing limited time bundles, promotions and rebates. Other than that, the price of properly imported retail product typically stays the same. Second, as I have already stated, the manufacturer cannot guarantee that the gray market product works as intended, because the product or its accessories (such as chargers and batteries) could have been modified, replaced or adapted to be compatible, so the importer could be opening up boxes and replacing adapters, batteries, product manuals, warranty cards, etc. And lastly, the product itself could have been modified or sold in a condition other than new and there is no way for the manufacturer to guarantee that it is a genuine product. That's why there is a "gray market" label attached to these products, as you might not know for sure what you are getting. It is not quite black market, but it is not a manufacturer-backed retail product either – it is somewhere in between.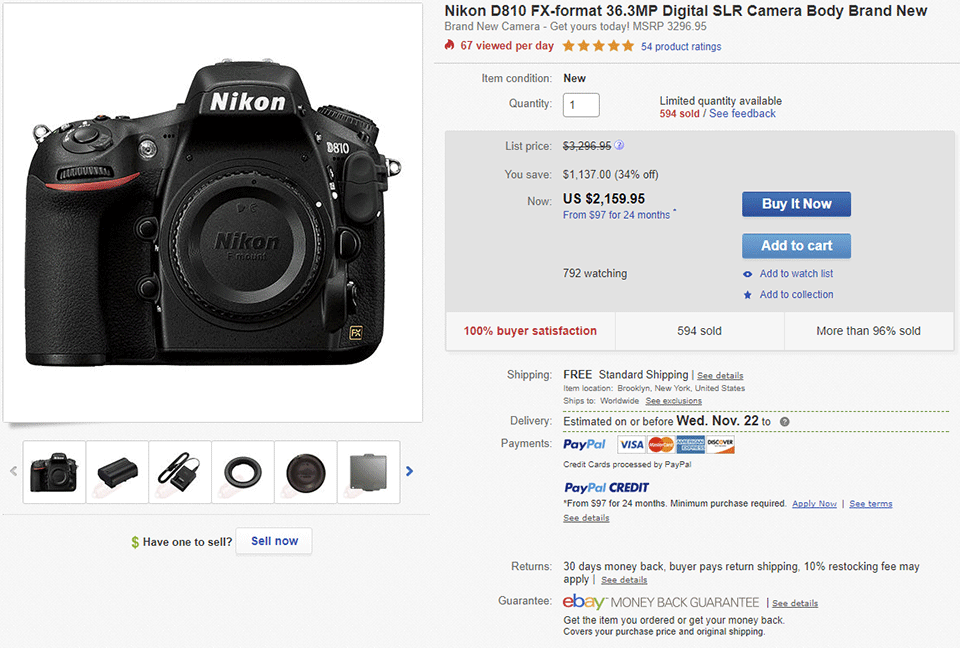 Why Gray Market Products are Cheaper
You might be wondering why the MSRP of a properly imported product by the manufacturer is higher compared to gray market pricing. Keep in mind that the price of a product is comprised of a number of different costs such as the cost of manufacturing, transportation, distribution, marketing efforts and import fees. In addition, there are many other costs and risks that have to be taken into account as well when pricing out a product, such as product support, returns / exchanges, recalls and warranty repair work through authorized service centers. These can be very costly for the manufacturer due to high labor costs, training, extra parts, etc. and these costs can vary greatly by region / country. Even warranties can differ, with some countries offering longer extended warranties, while limiting others to much shorter warranty periods. Because of all this, some countries might have lower costs compared to others, making them favorable for the purpose of buying and reselling in different countries.
For example, a lot of gray market Nikon and Canon cameras imported into the United States by third parties typically come from Asia. Since cameras are priced lower in that region due to lower transportation, distribution, support and warranty costs, buying and importing expensive camera gear can be a profitable business. When a gray market product is priced significantly lower than its properly imported counterpart, it creates a strong market demand in countries such as the USA. And with the rise of popularity of Internet-based shops and auction sites, selling such products has become easier than ever, which is why the gray market has only been flourishing in the recent years. As a result, companies such as Nikon and Canon end up dumping a large number of camera gear to the Asian market, understanding that perhaps a large portion of camera gear gets exported by non-authorized parties. It is a double-edged sword for camera manufacturers – on one hand, they sell a boatload of cameras in those markets, often exceeding their sales forecast goals, and on the other hand, they end up with a lot of gray market products directly competing with their own.
Now if you are wondering how big of a difference there is in price between a gray market and a properly imported product by the manufacturer, let's take a look at a couple of examples. The Nikon D750 is priced at $1,996.95 at B&H Photo Video (authorized Nikon seller) – that's the current MSRP of the camera. If one were to look at places such as eBay.com where it is possible to buy a gray version of the same camera, it is easy to come across much more appealing prices. For example, one of the highly rated sellers of the camera on eBay offers the D750 at just $1,359.99 – that's a whopping 32% discount, or $637 difference in pricing between the two. Currently, Nikon USA is running an end of the year promotion on this particular camera model, giving an instant rebate of $200, so the price difference is much smaller at $437, but still, even then it is still 25% lower – a large enough incentive for a potential customer to go for a gray market deal. The same can be seen on products from other manufacturers. The Canon 5D Mark IV normally retails for $3,599 at B&H Photo Video (currently on a $200 rebate), but one can easily find a gray market version for around $2900 – a nice $400 to $600 difference.
Gray Market vs Manufacturer Import Differences
Interestingly, camera manufacturers also sometimes sell their products to third parties while being fully aware of the fact that they will most likely end up in foreign markets. That's understandable, because they can dump a large number of cameras to gray market buyers, move inventory and meet sales forecasts. At the same time, manufacturers surely do not want any of their dealers to be angry about other sellers undercutting them either, which is why prices are dictated at MSRP level, and gray market products are treated completely differently when it comes to support, warranty and service. In fact, manufacturers such as Nikon and Canon clearly state that they will provide zero support and warranty on any gray market products. That's because a rather significant part of the product price (arguably the difference between gray market price and the properly imported product price) in fact lies in providing such support and warranty services through various service centers, as well as salaries of all marketing and sales efforts in that region.
Now when it comes to the product itself, there is no difference between a gray market camera and a manufacturer-imported camera. Both are made in the same factory, both went through the same manufacturer QA processes and tolerances. The only difference is the targeted market. Because of this, there can be differences in included manuals and accessories, as previously stated. However, since there is no direct involvement of the manufacturer or its distribution partners in the gray market product sales, nothing could technically stop a seller from selling a fake product as a "gray market" in the same price category.
Below are some of the reasons why Nikon USA strongly advocates against buying gray market products:
No Warranty: Gray Market products may contain a limited warranty from the seller, but they are not covered by a Nikon USA warranty.
Non-genuine accessories: May include counterfeit or third party accessories that could damage Nikon equipment.
Fake software: The software included often is either copied or counterfeit.
Wrong power cord: May include an incorrect power cord or adapter not designated for use in the USA.
Not eligible for repair service: Not eligible for Nikon USA repair service, even if you want to pay for it.
Missing user manuals: User manuals are often missing, incomplete or photocopied, and they may even be in a foreign language.
May not be as expected: Since Gray Market products were not designed for sale in the USA, they may not meet your expectations.
Not eligible for rebates: Gray Market products are not eligible for Nikon USA promotions or instant rebates.
Canon has similar wording on their gray market warning page.
While a lot of the above is certainly true, there are a few statements here that rarely ever happen. Accessories are typically a non-issue, since there are practically no differences there across various regions. Fake software should not be an issue either. Not only because most of the provided software can be obtained for free anyway, but also because the same basic viewing and conversion software would most likely be distributed in all markets (there are exceptions, such as when a product is bundled with a third party commercial software license). The same goes for missing manuals – one can easily download a full manual in PDF format from the same manufacturer for free.
Gray Market Product Buyer Confusion
One of the biggest issues with gray market vs authorized products is that it confuses a lot of potential buyers. People are used to shopping for the best deal and when they see pictures of cameras and lenses that look genuine and there are descriptions such as "Brand New", "USA Seller Warranty", etc., they do not feel they are doing anything wrong by buying it from a small camera shop or from an online auction. They don't understand that the product is priced lower for a good reason being a gray market import – they think they just found themselves a sweet deal. Gray market products also created upselling opportunities, where a poorly educated customer is tricked by pushy salesmen into believing that the product they bought was incomplete and that they need to pay extra to get its full functionality, or pay extra for accessories such as batteries and chargers. Those who are unaware of gray market vs properly imported product differences learn the hard way that they have no place to go in case their expensive camera gear needs to be serviced. If they are lucky, they might be able to find qualified technicians in third party camera repair shops that might be able to service their equipment.
Gray Market Products and Their Impact on Service Centers
One main reason why it is a good idea to buy the properly imported version of the product instead of gray market is the potential for poor customer experience when dealing with service centers. If everyone buys gray market and the manufacturer has a hard time selling imported gear through its distribution channels, there is going to be little to no financial support for the existence of national and regional service centers that can handle issues when they arise. Service centers handle a lot of work – everything from warranty repair and customer support all the way to product recalls and exchanges. By buying or encouraging others to buy gray market products, we literally cut service center budgets, which in turn could end up in staff reductions or insufficiently trained personnel, resulting in poor service experience.
Should You Buy Gray Market Products?
There is absolutely nothing wrong with buying a gray market product. It is not illegal and if it saves you a lot of your hard earned money and you are fully aware of all the risks and lack of warranty and service options, then by all means go for it. However, as stated above, keep in mind that by buying gray market products you are also cutting financial support of the manufacturer-provided service centers. Once resources are cut and support is reduced, it is hard to bring those back. And if the manufacturer ever chooses to outsource its support and service to a third party, that's pretty much the end of good customer experience. Consider some of the newer players on the market who started out by outsourcing their service centers to a third party and listen to some of the customer experiences to see why it is important to have proper and fully functional service centers. In short, if you want to have a peace of mind when it comes to service and warranty work, and if you want to support your camera manufacturer, you should not buy gray market products.
Personally, I have purchased gray market products only twice. The first was an inexpensive Nikon 1.7x teleconverter that I purchased to pair up with my telephoto lens for birding. Unlike lenses and cameras, teleconverters are simple by design, so I assessed the likelihood of the teleconverter needing to be serviced in the future before buying the product. The only chance of needing service would be if I were to drop it, which I would have to pay to get repaired anyway. I chose to go gray market, because if anything happened to the teleconverter, I would most likely replace it with a new one. The second gray market product that I purchased was a Nikon D750, which I bought to pair up with my other D750 (purchased via authorized seller) for recording video projects. I had a limited budget for the second video camera, so when I saw that a gray market version was available for $800 less than the retail version, I went for it. For me, it was too big of a price gap between the two to justify spending so much money on warranty and service that I did not need or care about for occasional video work. Other than these two, I have never gone the gray market route.
Regional Pricing Differences
One of the biggest frustrations of potential buyers is the big variances in pricing between different regions. When a product is announced, we get complaints all the time from our readers and I can fully understand their frustration with such pricing disparities. Let's take a look at a real example. The recently announced Nikon D850 is priced at $3,299 MSRP in the USA. The same camera is priced at €3,749 in some of the European countries like Italy, which is roughly equivalent to $4,380 in USD. In the UK, the same camera is sold for £3,499 MSRP, which is about $4,590 in USD. In Australia, the Nikon D850 is priced at $5,299 AUD, which translates to about $4,045 USD. In almost every case, the price difference is very significant – from $750 to $1300.
If you are wondering why the same product is priced so differently in different markets, you should take into account a few important points. First, there are major differences in import fees and taxes between different countries. Second, the size of the market and its relative upkeep for service centers and employee salaries also add up quickly. Third, some countries require higher levels of warranty coverage than others, which also raises the long term costs for the manufacturer. And lastly, other government-enforced regulations and employee benefits also add to the mix, increasing the cost of camera distribution partners in those markets. That's why there are such large pricing differences between different markets.
While it might be tempting to travel to another country in order to purchase cheaper camera gear, whatever you bring with you could automatically be considered gray market import by the manufacturer's service centers in your country and they could refuse to perform service on it. That's understandable, as you would be bypassing the upkeep of all those infrastructures put in place by the manufacturer and its regional distribution partners. Why would they help someone who is refusing to pay their salaries? Check out Robert Andersen's excellent article on why you should buy from authorized dealers for more information on this (and don't forget to read the comments section as well).
At the same time, considering that we live in a global economy today, the idea of a gray market product sounds ridiculous to many, including myself. Why can't I go on a vacation to another country, buy camera gear there and then come back and be able to get support and warranty for it? Why shouldn't I be able to get support and warranty if my camera breaks down in a different country, or perhaps I move to another country to live? Why should it matter which country the camera was purchased in the first place, provided that it is genuine and it was bought from an authorized seller? Perhaps it is time for manufacturers to reconsider their regional pricing strategies, gray market imports and service centers and come up with a way to make it simpler and easier for their customers to buy their products, on a global level.
Do you buy gray market camera gear? Let me know your thoughts in the comments section below!