The title of this article closely resembles a Tarantino movie (and I originally wrote this close to Halloween weekend), but this is another story. It is a story that speaks of lenses, filters and the people behind them. And it describes the difficulties of doing a review when time and the weather aren't cooperating with you. What you will read is not like a classic review of the new IRIX 15mm f/2.4, but something slightly different. It may deviate from a "normal" technical review, but I think you'll still get a really good idea of what I think about the lens.
At the end of October I spent a few days in New York for the PhotoPlus Expo. This was my first visit to New York since 2008 and, I must admit, I was definitely missing this city a little bit. The PhotoPlus Expo was a fantastic excuse to go back, enjoy the streets of Manhattan, meet new acquaintances and make new friendships… in addition to getting immersed in the world of photography and being part of a great show focused on the American photography market for nearly four consecutive days. Unfortunately, this year I had to give up Photokina — I had to be happy with just New York and the PhotoPlus Expo!
As soon as I arrived, my first stop was the booth of IRIX, a new company producing wide-angle lenses headquartered in Switzerland (lenses are made in Korea). I had heard a lot of talk about this brand and earlier this year, so I tried to get in touch with them as I was eager to try their 15mm lens. I sent an email, but no one seems to have noticed.
I do not give up easily, so I decided to introduce myself and ask to try the lens during PhotoPlus. I met a nice guy named Marcin and left a business card, but they told me they still did not have a distributor in the US and couldn't lend me one of the lenses. Too bad… I would have really liked to test it, even for only a short time — from dusk till dawn, to have at least two opportunities for typical landscape photo shoots. I left the IRIX booth and continued my exploration (with a pinch of sadness in my heart).
After a few minutes, while I was talking a representative at another booth, I felt a tap on my shoulder. I turned around and I found myself in front of one of the IRIX guys, who said, "We have a lens for you, please stop by our both later today."
Awesome! I could finally try it out in the field! But all of a sudden I had another problem to solve — the diameter of the front lens element of the IRIX 15mm f/2.4 is 95mm, which is pretty darned big. My NiSi V5 filter kit covers the diameter of 82mm, at most. I would need a 150mm kit, or even a 180mm one, to cover such a large field of view without vignetting!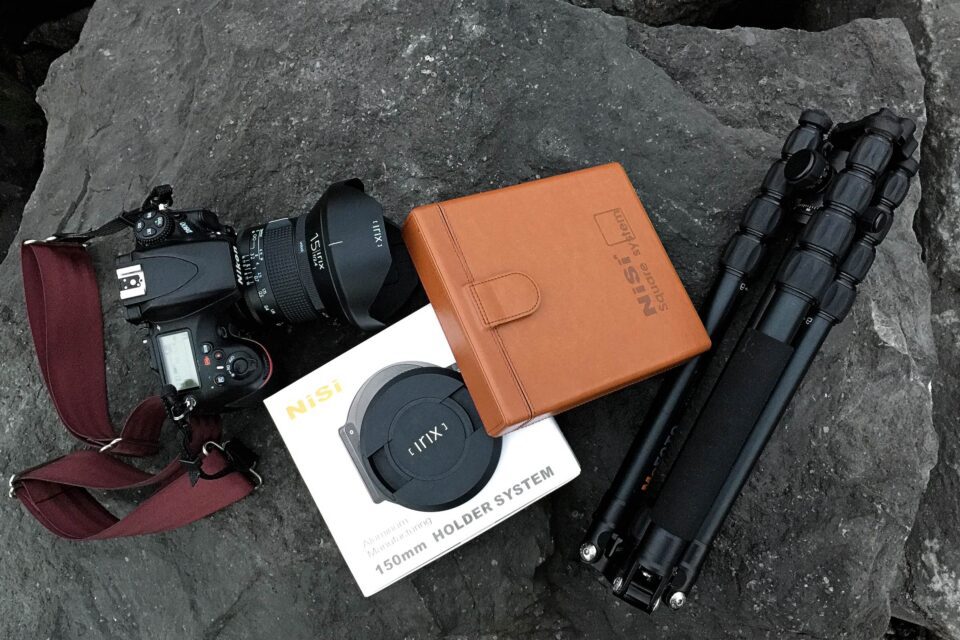 1) Using Filters with the IRIX 15mm f/2.4
Here in the US I've noticed something: marketing people are so much better than in Italy! Most of all, they are a lot more helpful and better at listening to customer needs. The amazing thing is that even companies not actually based in the USA, when they land in the country, assume this same behavior, almost magically! Therefore it is much easier to gain access to information, and there is a great willingness to help — much more than what I have experienced in Italy! (Nevertheless, there are also cases where the opposite is true). Anyhow, I learned to ask and, I've found in general, the answer is yes, and the yes is usually very enthusiastic!
I didn't have the filters for the lens. What should I try to get out of the impasse? Why not ask for help at the NiSi booth? At the NiSi booth, I met Daisy and Tony, who were super helpful. They were happy to lend me either one 150mm or one 180mm kit to do my tests. The problem was the filter holder, as they told me they didn't have screw adapters as big as 95mm in diameter with them. They did not think it would have been necessary to use them, since there are not that many lenses with a 95mm front element! What could I do, then?
The IRIX 15mm f/2.4, unlike many lenses in its category, features a removable tulip lens hood. Personally, I consider this feature of great convenience, and this very specific characteristic gave me a chance to make a McGyver-like hack to attach to the lens the filters I needed. With a little bit of gaffer tape, it looked like I could attach them directly to the lens.
Even though it might not have been the most technically advanced solution in the world, it would have worked. However, it likely would have been a very unstable solution. They asked me to come back when I had the lens in my hands to see if they could help me figure something else out.
2) Build Quality Impressions
In the late afternoon, I went back to the IRIX booth to get the 15mm f/2.4. Hubert told me that I could have until the next morning to play with the "Firefly" version of the lens with Nikon bayonet mount.
The IRIX lenses are currently available with Canon and Nikon mounts. (I've been told that Pentax will be soon supported as well, while for Sony you can use one of the n-thousand adapters on the market!) Although the optical design and optical performance are completely identical, IRIX lenses are distributed in two different packaging "flavors": Firefly and Blackstone.
The Firefly version has a plastic barrel (aluminum construction internally), and the focus ring is made of anti-slip grooved rubber, while the Blackstone version has a magnesium alloy barrel, and the focus ring is knurled metal — also, all the markings and engravings on the barrel are covered with UV sensitive varnish (for "night vision"). Despite the Firefly version coming supplied with a soft bag, they gave me the typical hard lens pouch standard for the Blackstone model, which is absolutely more cool!
Holding the lens gave me an idea of sturdiness, and the build quality looks great. Despite the generous size of front glass element, the lens is quite voluminous but not gigantic, and still appears manageable. Mounted on my DSLR, it feels well balanced. The only cheap, unstable detail is the rear lens cap, which appears very precarious and does not stay with a tight fit to the lens.
The focus ring is nice and smooth, which allows optimal control and precise focus accuracy. Between the focus ring and lens hood, there's a thin ring. If rotated, it allows you to lock the focus mechanism in a precise position, preventing any further rotation. This is a very nice feature, and it's useful when you might be tinkering with the filters and holder, and you want to make sure the focus will remain exactly where you set it earlier.
On the barrel there are engraved marks for the hyperfocal distance at f/8, f/11 and f/16: for landscape photography you usually do not need any other reference and they are definitely very useful in the field!
Part of the gear sold by IRIX are also filters, both circular screw-on and square. At the PhotoPlus Expo they did not bring any square filters and of course no filter holder either, but I received the circular ND1000 filter as part of the "kit" for my tests when I left their booth.
If the ND alone could solve the challenge of the long exposure, it did not solve the issue caused by the difference in brightness between sky and foreground. The beautiful day that I enjoyed in the morning, was then shifting to a cloudy and eventually misty and dreary afternoon. I foresaw a sunset without sun, but I still preferred to check to see if NiSi could help me any further. I had no idea at that point if I would be more lucky with the dawn the next day!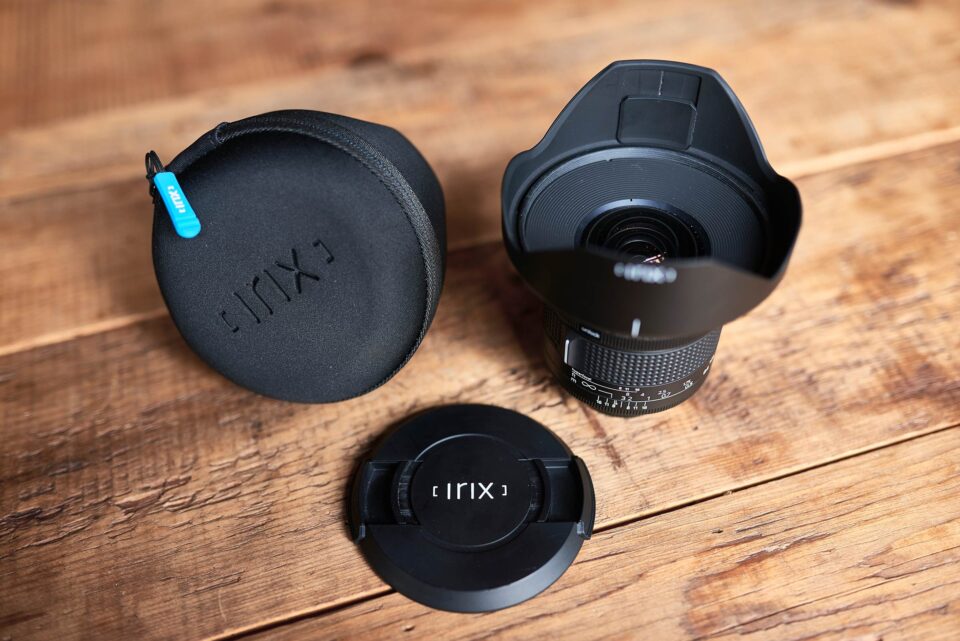 3) Using Filters (Part Two)
At the NiSi booth we tried all possible solutions, but none seemed to work properly: the 95mm adapter was the key… and it was unfortunately missing!
Tony, one of the NiSi engineers, told me, "I'm an engineer, I find solutions, and I fix things!"
What a fantastic attitude! And… well, he did it!
He began to remove a NiSi holder for 150mm filters made for the Tamron 15-30mm, but he realized that it was not perfect for what he had pictured in his mind, so dismantled another one suited to Tokina AT-X 16-28mm f/2.8 Pro and began to tinker with adhesive neoprene. In about half an hour, Tony had created a holder for 150mm square filters suitable for the IRIX 15mm f/2.4 lens. Eventually Daisy took a picture of Tony and me together to commemorate this masterpiece of "instant engineering." It was definitely a sort of extreme-McGyver session, but the result was much better than what I could have done with gaffer tape and far beyond what I imagined could have been created! Stable, easy to remove, transportable, easy to handle and, above all, it allowed me to rotate the GND filter in the exact position I needed.
At that point I had all the gear and the time needed (well, more or less) to test the lens: from dusk till dawn! I had to hurry up.
4) Capturing the Photos
The sunset was approaching quickly, and, since it seemed it could start raining any second, I could not waste time! Usually I love to carefully plan before taking any landscape picture, but in this case I had no time at all. I took the subway heading to a classic shot: the skyline of Manhattan from Brooklyn Bridge Park. During my subway ride, with a $470 IRIX lens and about $500 worth of NiSi gear packed on my back, I thought:
"These two companies are awesome! I just asked them to try out their gear and, in a blink of an eye, I was granted the opportunity to do this… without them asking for anything in return! Companies like these have very, very amazing people behind them!"
As soon I arrived in Brooklyn, the weather was pretty horrible: flat dull light, and even the clouds in the sky looked very uninteresting. On top of that, I didn't have the precious polarizer filter… I felt slightly sad about this. The results were not super interesting, even if I went for a long exposure with silky water, but at least I had the opportunity to do some tests.
For one, the marks for the hyperfocal distance revealed themselves to not to be very precise. They usually aren't, I know — this is also the case with the high priced Zeiss lenses, but I'm spoiled by having the luck to have my 20mm where they are very precise. The manual focusing was quick and easy. My special "Tony Edition" filter holder made it impossible to use the focus lock feature, as the area on the lens was blocked. But there was virtually no need for this at all because the focus ring stays in place very firmly.
One thing I like on this lens is the low distortion. Of course, there is distortion because we are talking about a very wide-angle lens for a full frame 35mm camera, but looking at the skyline in front of me I could see the straightness of lines without obvious distortion. Even the horizon is pleasantly horizontal. In the end, I decided to take a vertical panorama, which eliminated the pier to my left and other distracting elements included in the wide 110° field of view of the lens.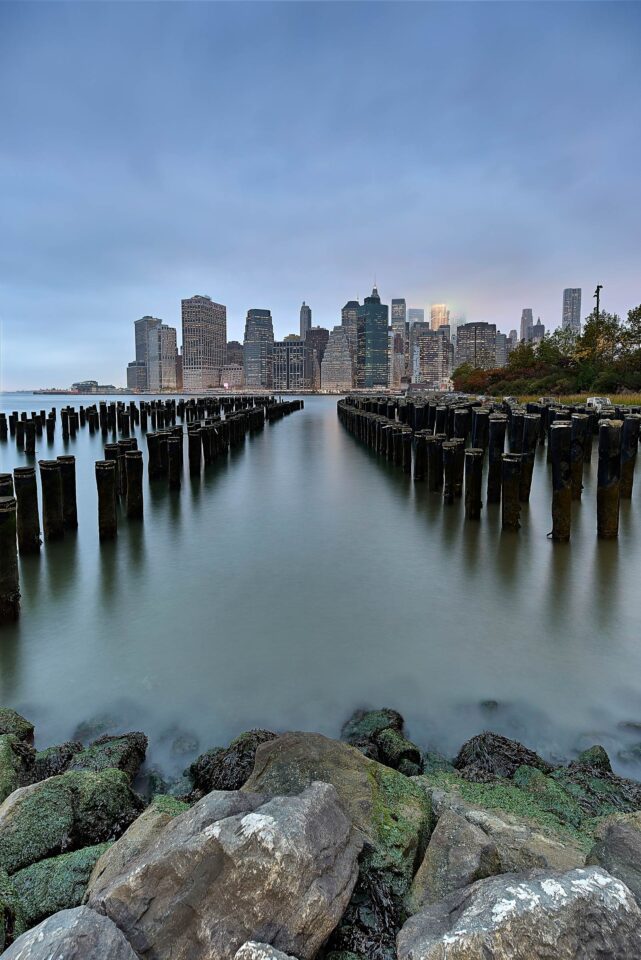 I'm not used dealing with 150mm square filters and they are really big. Since they are made of glass (at least NiSi filters are!), if they fall, they break. It's a nice "price" to pay for having exceptional optical quality, but I had to be very careful.
To carry them in my backpack, Daisy gave me a NiSi hard case: it is definitely convenient and it safely protects the filters from the bumps in everyday life and small accidental falls. Its latching mechanism did not satisfy me, though. I think it could definitely be improved: too easy to be opened accidentally, putting the contents of the case at risk.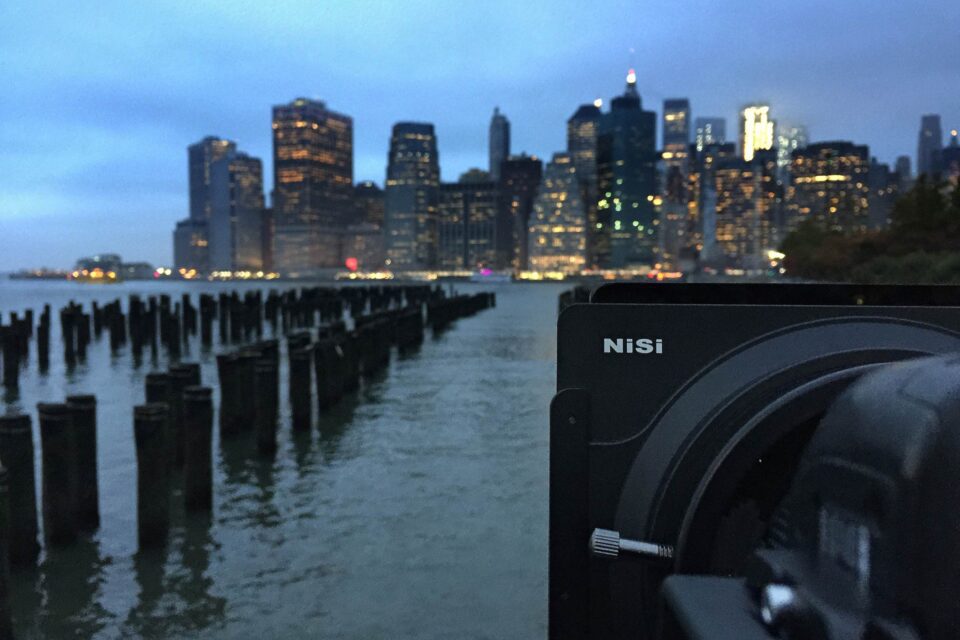 In the field and while showing the pictures to Nasim during our dinner together that night, I was not particularly "dazzled" by the resolving power of the IRIX lens when looking at the jpeg files on the DSLR display. But when I checked again during the editing process, everything looked sharp and clearly in focus.
When the light was almost all gone (with all those clouds eating up a lot of the golden hour), I decided to take one last shot from the promenade that was within walking distance from where I was. It was the perfect test to see how the IRIX 15mm f/2.4 would render the lights.
In the end it really fit my taste. It created the sort of classic "star" effect, but there was no trace of flare, strange reflections or particular aberrations whatsoever.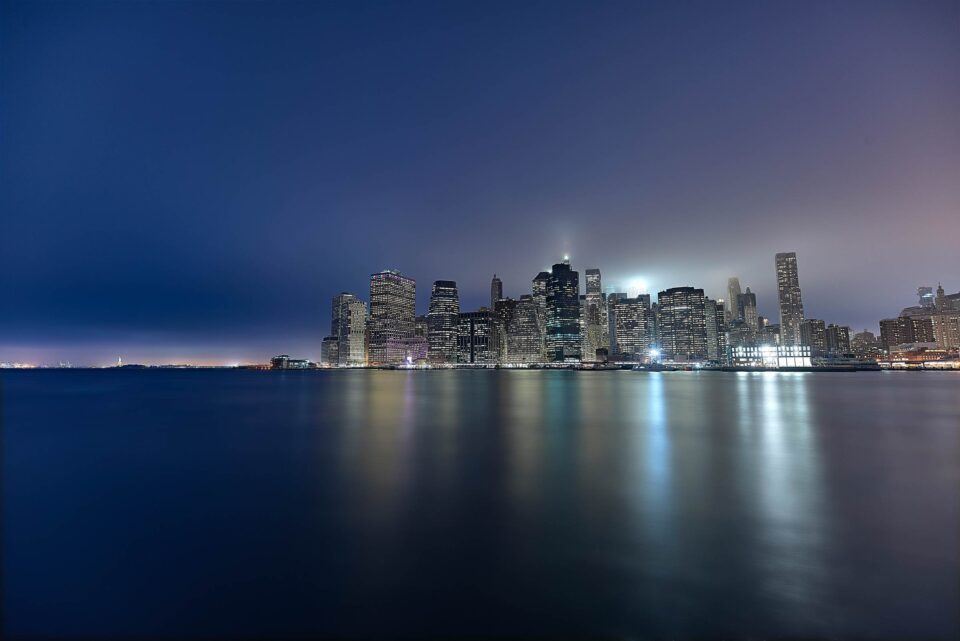 By then, it was late. The sunset (what sunset? Clouds and haze made it impossible to see the sun setting!) was gone and it was time to meet Nasim and John for dinner at what turned out to be an amazing Turkish restaurant (but that's another story!). After that, I needed to get ready for shooting at dawn the next day. The weather forecast did not look very promising, but at least no rain was expected: a very shy sun until early afternoon. Therefore the dawn should give me more chances for other tests.
5) The Next Morning
The location I picked was the Williamsburg Bridge (every time I look at NY pictures I only see photos of the Brooklyn Bridge and the Manhattan Bridge, right?). Before bed, I had the chance to check the shots on the bigger display of my MacBook Pro 15" and the resolving power of the IRIX lens, which did not seem to be optimal looking at Jpegs, looked really tack sharp. Definitely spot on! With a little touch of "clarity" and "structure" in Capture One it is much better than my usual Nikon lens. I definitely had much more disappointing experiences (thinking about resolving power) when I rented a Zeiss Distagon T * 18mm f/3.5 ZF and it tested on my Nikon D800.
The next morning, I decided not to use any public transportation and walk to my destination. It was still dark and the sky was streaked with clouds. My walk was very quiet, and in about half an hour I was there. I had to hurry — the morning was approaching, and the IRIX 15mm f/2.4 was waiting for its morning chance to surprise.
Under the Williamsburg Bridge, there were people running and walking their dogs. New York never sleeps! That side of the promenade facing the river cannot be reached by public transportation or by any car — only maybe by bicycle. I do not mind walking and it looked like the weather forecast was pretty accurate that morning: it was overcast, but at least it was not raining!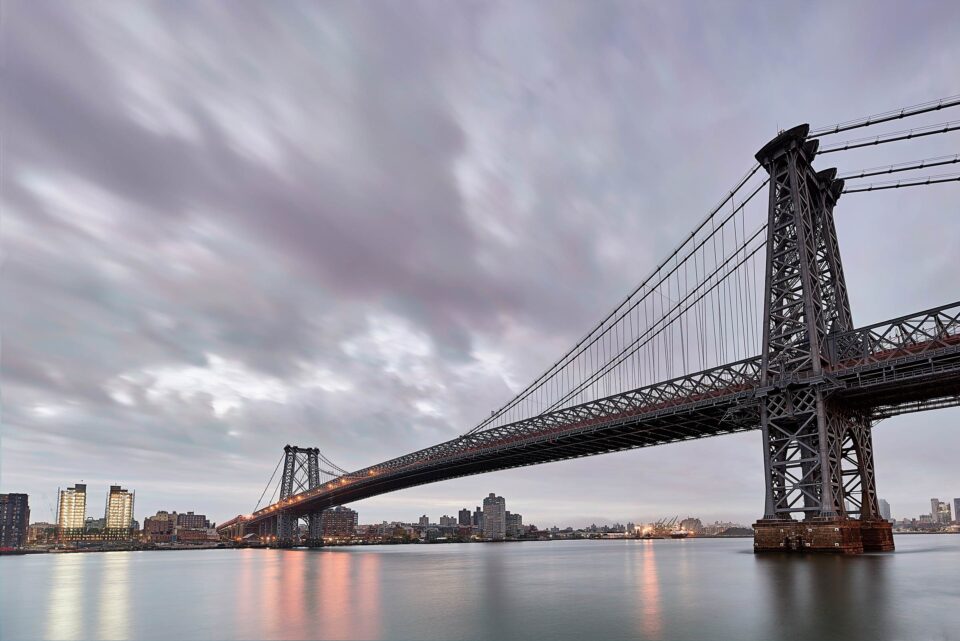 I then decided to try a more central and symmetrical perspective. I said to myself: "Let's see how this lens behaves with lines! The clouds are looking more threatening. I'm not that sure any more the rain will come this afternoon — maybe much sooner?"
Under the bridge, there was a lot of noise. The metro trains as they pass they make a great clatter. The sun has already risen, but no one sees it because there was a huge blanket of cloud. I decided to burn the background and just focus my attention on shapes. I was sure it could turn out to be a beautiful black and white during the retouching phase.
Looking at the sky, the difference in EVs between highlights and shadows under the bridge was far too big. Once again, the NiSi GND filter came to rescue me reducing 3 EVs of light (soft grad). With a myriad of details, rivets, bolts and grates from one end to the other, this shot offered itself as a great benchmarking opportunity to appreciate just how good the resolving power of the lens is.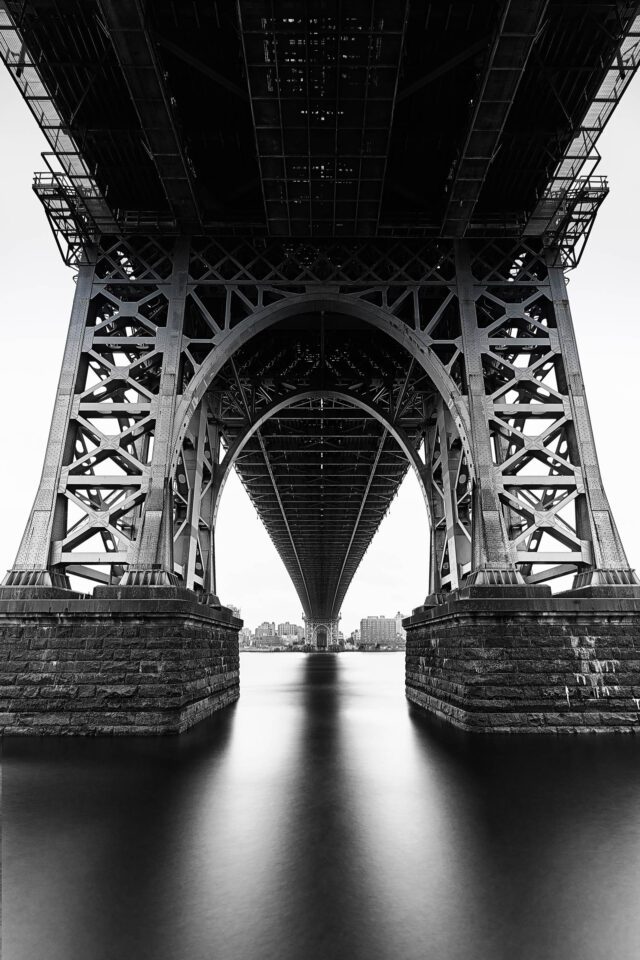 A few drops started to fall, but I thought under the bridge I would have shelter! The IRIX 15mm f/2.4 is weather sealed in virtually all key points. (The only weak point of the Firefly is close to the ring of focus lock, while the Blackstone is perfectly sealed.) At that time, I did not take that much notice of the very light rain beginning to fall… well, little did I know what was about to come!
6) A Flare Problem?
After these shots, I started to gather everything back into the backpack, but before leaving that spot I took a couple of shots with my phone, already thinking about the review you are now reading. More drops started to fall, and I grew worried. I discovered at my expense that it also rains under the bridge!
I could not request a Lyft, an Uber or a taxi because reaching the first road open to traffic would require at least five minutes of quick walking. In this downpour, I felt that I could have drowned in the pools on the sidewalk, so five minutes was a long time! I moved under a walkway where the rain was less intense and while I was waiting I started texting with my friend Francesco Gola: what perfect timing! I sent him the video you can see above, and his answer was: "Wow, nice weather!"
I would have probably added… yep, nice *HORRIBLE* weather! We started texting about the IRIX 15mm f/2.4, and he asked me about a possible circular flare issue he had read about. He told me, "There are reports of a pronounced problem when the sun or a light source is placed exactly at the center of the shot."
I didn't know anything about this problem, and of course I had no way to test it in those weather conditions, but I started to think about how to recreate that test case. Meanwhile he sent me a photo he found on the web: sun in the center of the frame behind the branches of a tree and a beautiful (so to speak) circular flare on the extreme edge of the frame.
After I found a way to rescue myself from the rain, I went back to dry myself off and change clothes. I used my iPhone with its LED light as my tool of choice to challenge the IRIX lens to verify the flare problem.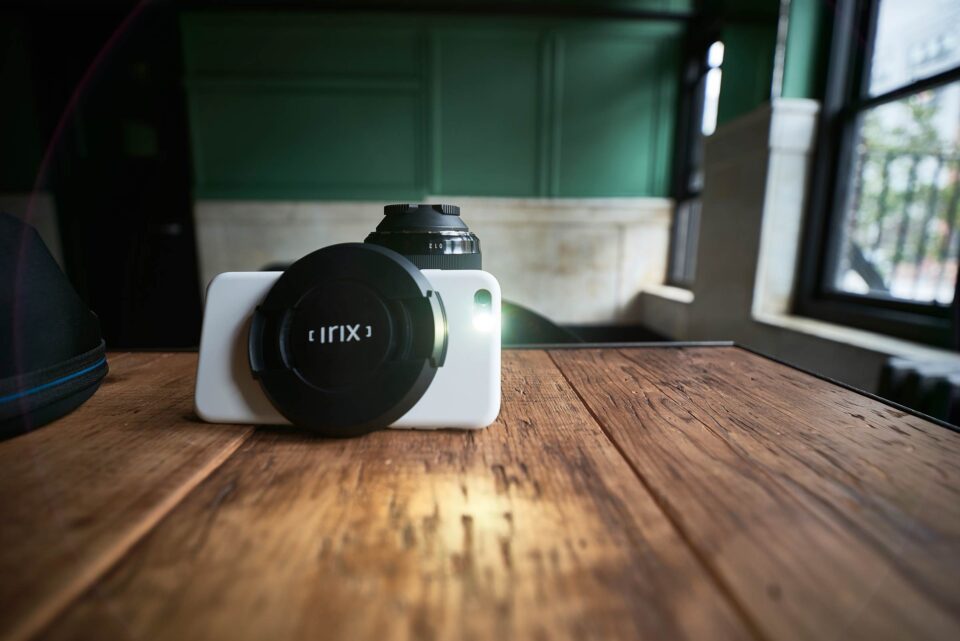 The problem of the circular flare was there, crystal clear, as you can see in the picture above.
Surely it is less pronounced than with the sun, but the sun was not available for me, and I had to settle for a simple LED light! From my point of view, it's not so bad, as it is a behavior occurring only in edgy conditions. Doing some more tests, I found out it is sufficient to vary the angle of incidence of light very slightly and the problem goes away while maintaining the light source in the scene and very close to the center. Sometimes there might be a slight (much more controllable!) lateral flare like what you see to the right of the lens case near the blue hinge in the image below: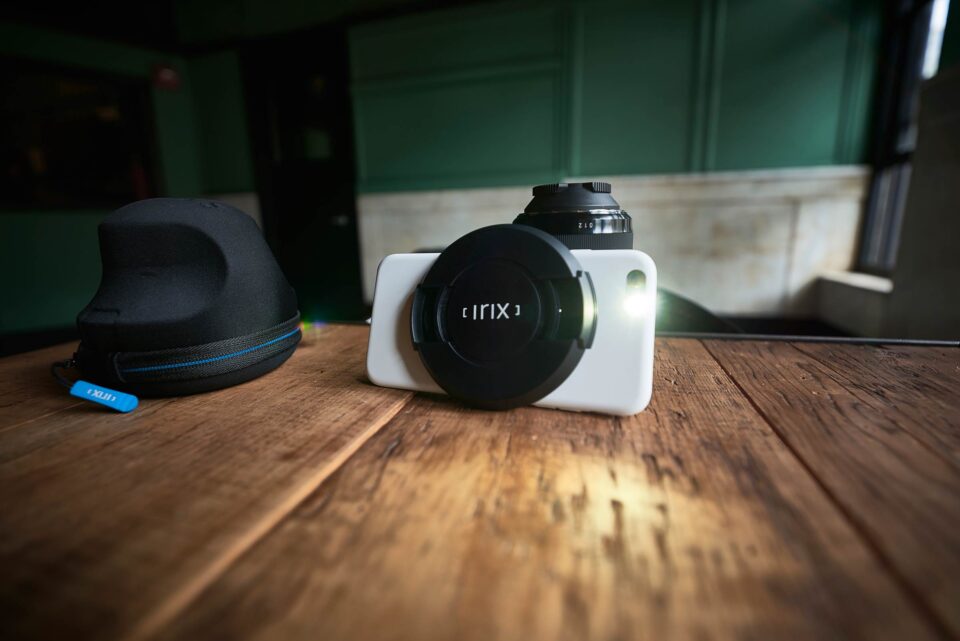 Back at Photo Plus, I specifically asked Hubert (from the IRIX crew) if they had problems with lens flare. I avoided saying that I experienced it, as I wanted to understand what would their propensity for honesty be in talking about real world behavior of their lens. Hubert was totally open and sincere in admitting that on a sunny day and in edgy conditions at the center of the shot there may be some flare. He also added that it is a physical problem that other manufacturers of the most famous and well-known brands are facing in their own products. It is something occurring only on ultra wide-angle lenses (and now I'm also curious to see how it will behave their upcoming 11mm lens!).
7) Conclusion
I think, for being a wide-angle lens costing a rather small amount of money (something like $470 for the Firefly version and $700 for the Blackstone), it performed pretty exceptionally.
Excellent optical definition stated to resolve up to 50+ megapixels (the d800 has "only" 36… but on a Canon 5Dsr it should have no trouble). I saw a couple of shots taken with a Sony A7rII (42 megapixel without anti-aliasing filter) and they were definitely tack sharp!
The 10 EVs ND filter made by IRIX performed well and proved to be at the same level of NiSi quality (both for build quality and absence of any color cast) which, in my opinion, is now the highest available on the market.
I was really sorry to have to return both the lens and 150mm filter kit. Unfortunately, neither IRIX, nor NiSi offer equipment for free! Between the Firefly and the Blackstone, I'd probably prefer to buy the Blackstone, but I think they are both worthy of a place in my gear bag.
All in all, I think the best part of this whole experience was working with the people. Hubert and the other guys of the IRIX crew were open, honest (even speaking openly of the quirks of their products) and super helpful. The Staff at the NiSi Filters booth did their best (in fact, they performed magic!) to give me a holder and ND/GND filters that enabled me to write this post. I don't know if they would do it for everyone, but, in any case, I owe a big thank you to Tony and Daisy for allowing me to work in a way that was so much better than expected!
As always in my articles for the specs I'll redirect you straight to the source on the IRIX Lens website. You can probably find prices slightly lower than those I reported if you buy through Amazon. The same might happen for the NiSi Filter kits.
If you have questions and curiosity about this lens, please do not keep them to yourself! Share them below in the comments and, if I can, I will be happy to answer based on my experience.
I hope you enjoyed the unusual review (sorry Nasim, I know it's not as technical as you like it to be!) and see you out there hanging off some cliffs taking amazing pictures!
Simone Conti