Sport and Action Photography
Topic starter
May 22, 2023 12:26 pm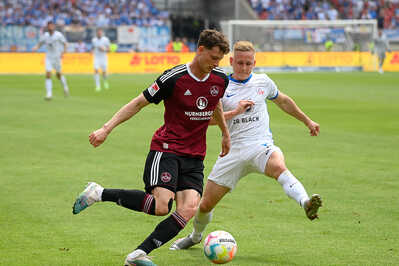 So far I have never taken soccer in my hole photographic life, Last week end I was invited to take photos at the second German soccer league in Nuremberg, where I live, So I had a little clue how to take soccer photos. On the field I started lightning-fast learning and raised shutter speed from a 1/800s (I was thinking this should be enough) to 1/2500s (which was enough). I used a Nikon D6 and the Nikon 200-500/f5.6 with f5.6. ISO was automatically. This is one picture I took (Nuremberg is red-black shirt).
Not bad for your first time out.
Soccer was my favorite sport to shoot when I was a professional news and sports photographer. Many sports photographers consider it to be one of the more difficult sports to shoot.
As with other sports, if you want to be come good at covering it, it's best to study the sport and learn as much as you can about it. That's doesn't mean you have to memorize the rule book but it helps to have general knowledge of the sport. A lot can be learned just by watching it.
Below are some of my favorite shots from local events. Some of these are from professional events and others from local amateur leagues. A common misconception is that you can only make good pictures at professional events but local amateur events can be just as exciting as well as a great way to practice covering professional leagues.
One of the most desirable shots in soccer coverage is the head shot -- especially if you can get the ball at the moment of contact with the player. The majority of head shots I see usually aren't at the moment of contact.
I can tell you from experience that while having a camera with a fast frame rate is helpful for covering sports, you'll have far more luck capturing this moment with anticipation and proper timing rather than just relaying on the speed of your camera.
When I regularly shot soccer I would usually nail this shot on the first frame of a sequence and have had more success using this technique this than "spraying and praying," hoping the speed of the camera would make up for lack of anticipation or bad timing. Each of the head shots above were the first frame of a sequence. I believe that the shot of the player with the ball touching the tip of his foot was also the first and only frame I made of that particular situation.
I hope this is helpful.
Good luck!
I was looking through some my other images and found another sample of a highly-prized event in soccer: the bicycle kick.
The bicycle kick is kind of a back-flip where the player kicks tha ball over their shoulder in the opposite direction from where they're facing. 
IMHO this is even more desirable than the head shot as it really doesn't happen all that often.