Topic starter
May 8, 2023 2:48 pm
Slap Veliki Kozjak is one of Slovenia's hidden secrets (well not really, it is a well-known waterfall and it can be reached by foot relatively easy). Throughout the years the waterfall hollowed out this underground hall with a beautiful turquoise coloured pool.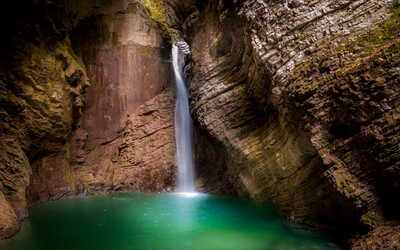 Although the image is taken from the most common view point and I'm not entirely satisfied with the sharpness (unfortunately a re-shoot is a bit difficult as I live 1000km away), I do like the layered rock structure, the low(er) light conditions and the fact that it was a very serene location with only a few other tourists :)
Photo taken in 2012 with a Panasonic GH2 @ 14mm - f/6.3 - 2.5s - IS0 160
Love the lighting. It really brings out the color of the water…like a spotlight. The reflection of the falling water is very nice as well.
Topic starter
May 9, 2023 1:14 am
@photofan thanks! yes, I edited the image to try to emphasize the color of the water and the surrounding rocks. Glad you like it :)
This is beautiful. Never been to Slovenia though.