Ideas for remotely releasing the shutter
Camera, Lens, and Equipment Buying Advice
Topic starter
September 17, 2023 1:37 am
I keep trying new things with my camera - a Nikon Z7ii. One feature I've used from time to time is Snap Bridge to do "remote photography". It works pretty well trying to take shots of the milky way, landscapes and anything else that is slow moving. Unfortunately I'm having more frustration using the same solution for fater moving wildlife - like this little humming bird. (I swear that little guy is saying "ha ha" in that photo!)
Here is my question: given the camera I'm using, what would others suggest I consider to have better control over the sutter.
The only limitation is I don't want a huge "kit". Right now I can keep most of what I need in a small(ish) backpack - including a few water bottles for my wife and I.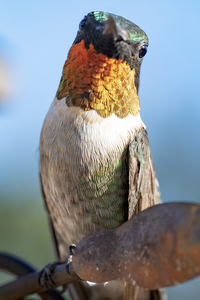 September 17, 2023 7:27 pm
You've got a few options. You can go wired with a Nikon MC-DC2 or similar compatible third party remote release, or you can go wireless with the Nikon ML-L7 or a similar compatible third party remote.
In both cases it's small, but you'll want to pack more batteries since the camera likes to go to sleep quite quickly in photo mode and you'll want it to wait longer before doing so (at least for the wireless remote).
Topic starter
September 17, 2023 8:51 pm
Looks like the ML-L7 uses bluetooth - that would be easy enough to setup... with the battery issues you note.
Question: any delay in the sutter release with the bluetooth option? I think SnapBridge is sluggish due to all the overhead of the app - hoping that is the case as that bluetooth option might be the way to go- thanks!
September 18, 2023 11:07 am
Is there a particular reason you're trying to photograph wildlife such as hummingbirds remotely?
I can understand if you want to be unobtrusive and not disturb the animals, but this can often be accomplished by using a long lens or blind. I've been regularly photographing birds -- including hummingbirds -- foxes, otters and other mammals for the past seven years without remotes.
Obviously, you may need to use remotes to photograph species which are extremely shy or nocturnal, but based on my experience, they're definitely not needed for common species of hummingbirds.
I know that wildlife photographer George Lepp has used the CamRanger product to remotely control his cameras with an iPad.
CamRanger Mini Wireless Transmitter 1020 B&H Photo Video (bhphotovideo.com)
Nikon also makes an app called Camera Control Pro 2. It requires the use of a wired connection or one of Nikon's wireless transmitters, so this solution would be more expensive because you'd have to purchase the software and a transmitter.
Camera Control Pro 2 - Full version (Digital download) | Nikon (nikonusa.com)
Topic starter
September 19, 2023 8:44 pm
@kwongphotographyhotmail-com I'm still learning - not a pro. Just a nights and weekends photographer. Interesting suggestions to try!
I agree that the humming birds are pretty receptive to getting close - within limits. The Sigma 150-600 has been my go-to lens for most shots like this. However, that lens has limits with my goal to get even more detail. (And try new things. Or maybe I'm just wierd.)
Before buying an even longer lens, I'm trying a different route by stydying the creature habits, using the Nikon 105 MC Z mount and releaseing the shutter remotely. It actually works pretty well! The difficulty with Snap Bridge is you poke the little button on the app and a few seconds later the shutter releases - an eternity in humming bird years.
The post was to see what people might be using and your feedback actually helps confirm what I would like to purchase long term: Nikon Z 400mm f/2.8. But I'm only budgeted for the Nikon Z 180-600 I've had on order for months. That will replace the Sigma with (I'm hoping) a few more options - but I don't expect to be totally blown away as the Sigma is a pretty good lens. 
Anyway, I'm trying the "zoom with my feet" option and hopefully add another set of tricks that might come in useful.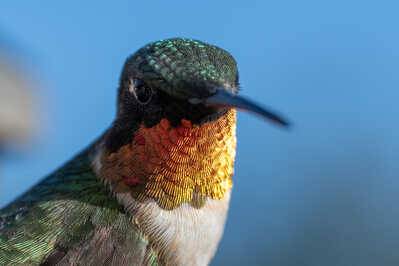 This post was modified 3 months ago by
Bhoward
September 19, 2023 10:17 pm
In all honesty, it doesn't matter if you're a professional or not, because good technique is always required to make compelling pictures. Photography isn't about what equipment you use -- it's about how you use what you have. Cameras and lenses don't make pictures -- people do.
I applaud you for looking into new techniques, but I think there are a few things you may be overlooking:
1. While it's said that the "genius is in the details" people don't really scrutinize pictures like they're editing them at 100% view in Photoshop -- at least not anyone who really knows anything about pictures. Only pixel peepers do this.
In nearly 40 years of making images, I've yet to meet a pixel peeper who can consistently make compelling images. If you make a really strong image, no one is going to worry about the "details" (sharpness, accuity, etc.). As one online photography writer is fond of saying "sharpness is one of the most overrated" aspects of lens performance. Lens sharpness has little to do with making sharp pictures. Your technique will have far more influence on this than what lens you choose.
2. If you want to make pictures which are tighter, APS-C is a really much better way to go than shooting FX for several reasons: (1) You can use smaller, lighter, less expensive lenses lenses many of which have faster maximum apertures since the 1.5 crop factor gives you ore reach. (2) The 1.5x crop factor allows you to avoid cropping or keep cropping to a minimum while allowing you to stay further away from your subject (helpful with shy subjects or when you don't want to disrupt their behavior). (3) When using FX lenses on DX bodies, you're using the sharpest parts of the lens. (4) Extension tubes can be used with supertelephoto lenses on DX without vignetting -- while reducing the minimum focusing distance.
3. A telecoverter can get you closer while not maintaining your lens' minimum focusing distance. A lot of people will try to persuade you NOT to use teleconverters because you "lose sharpness." However, teleconverters -- in particular 1.4 -- are wildlife and sports photographers' secret weapon for getting closer. Also, as Spencer pointed out, using a teleconverter produces better results than cropping, as it puts more pixels on the subject.
Obviously Nikon hasn't made a high performance Z-line APS-C body yet, but when they do eventually, it may be something you might want to consider purchasing. If you look in the samples forum, you'll see several hummingbird images I posted recently. None of them was shot with an FX camera. All of them were shot on APS-C with little to no cropping. In fact, thanks to the crop factor -- in addition to the trust I've gained working with my subjects -- I was able to make some really nice close-ups with an inexpensive 300mm lens.
Aso, if you plan on doing a lot of birding and/or don't need to shoot at f/2.8 that often, you may want to look at one of the older F-Line 500mm or 600mm primes instead of the Z 400mm f/2.8 -- especially if you're going to continue shooting FX and are on a budget. As I commented in Libor's review of the 180-600mm lens, many of these older primes are currently a steal on the used market -- even on dealer web sites. Some of these lenses can be found for not much more than a new 180-600mm.
Topic starter
September 20, 2023 8:57 pm
Good information!
Totally agreed on composition and details. (I beat myself up on composition all the time.)
I like your point that APS-C would be a good way to get the effect with less money. I'm also concerned about weight!
I did get a nice hand held shot of one of the humming birds with that 105mm. It is amazing how trusing they are (Hummer). Now the local fox i've been wanting a shot of ... still trying to figure out where and when to setup.
I'm within 10 years of retirement and the Z system is happening at a good time to build the glass I own. The 180-600 is a good fit for the backpack my wife and I take on hikes locally and when on vacation. The larger glass is a bit of a "maybe" right now - I'm in no hurry. For now I'm getting to know local photographers and reading more online - like this site - to learn more and just see where that leads me. Not 100% sure about focusing on bird photography. As one local photographer I talk to says, "I'm not taking picutures of birds, I'm taking picutres of sticks!"
I do have a question on the primes larger than 400mm though: is it hard to "aim" the lens? Or do you get used to it? The Sigma 150-600 allows me to "zoom to" the bird if in a tree and it seems having a long prime would make that rather challenging.
September 21, 2023 2:40 am
That's a great photo, @bhoward!
I find that up to about 800mm, it's easy to point at the right subject almost all the time with a prime lens. The exception is when the scene is pretty uniform, like a field with a lot of the same birds, and there's one particular bird you're trying to point at. Still doable, just harder. As soon as I add a 1.4x or especially 2x TC to an 800mm lens, it starts to be a much tougher process, at least for me. But the level of difficulty depends heavily upon how much variation there is in the scene.
Topic starter
September 21, 2023 9:28 pm
Thanks for the feedback. (And all the good articles!)
Much to consider.
September 22, 2023 5:24 am
This post was modified 2 months ago by
OnlyNorth
September 22, 2023 9:58 am
@bhoward I'd like to start by saying that by no means should you take anything I say as gospel. As with anything you read in a forum, this should be taken with a grain of salt, as what works for you may be different.
It can definitely be difficult to "aim" a long lens -- i.e. identify and frame the subject. While it sounds like I am contradicting what Spencer has said above, it's important to qualify our statements.
In other words, it depends on the situation. Spencer identified one -- where the scene is very uniform.
It's important to note that my style and method of shooting is VERY different than Spencer. From what I've seen of Spencer's bird photography, I tend to frame much tighter. I like to bring my audience right into the heart of the action as if they're right there flying with the subject. It's also my goal to produce an image that's as close to the final product as possible, which means using extremely long lenses, getting in close to the subject and cropping very little. Many of the hummingbird shots I've produced over the last year are uncropped, meaning that what you see displayed is exactly what I saw in the viewfinder.
With hummingbirds, I am usually watching several trees and bushes which occupy an area between seven and ten square yards, and I am not looking through the camera. As such, I experience a parallax between what I see with my eyes and what I see through the camera. The longer the lens or lens combination I use, the greater the parallax. The closer I am to the subject and more extreme the angle of view (relative to the camera) also make this problem worse.
The primary lens combination I use to photograph hummingbirds is either a 500mm prime lens, a 500mm lens with a 1.4x teleconverter or a 600mm prime lens on a D500. Sometimes I will use an extension tube with the 600mm lens to reduce its minimum focusing distance. This means I have a field of view which is the FX equivalent of a 1050mm lens or 900mm lens. I am also working at or near minimum focusing distance.
For me, the challenge is to spot, frame and photograph an extremely fast-moving bird which is about two inches in size. The bird may only be in front of me for a few seconds. It's not uncommon for me to miss a shot because a bird zips in and out of my field of view.
Keep in mind that to get the framing I want, I don't always stick to using the center AF sensor, as the bird is often off to one side of the frame, so I am required to use the joystick to select the appropriate AF sensor. The AF-On + AF Mode feature makes this possible. It takes a lot of forethought and planning to pull this off on the fly.
While it's true that the center sensor is the most sensitive and accurate, I've found that the peripheral sensors in the D500 are more than capable of giving me the results I want. As long as I do my part – i.e. properly configure and point the AF sensor -- it rarely lets me down. If the camera fails to get the subject in focus, it's usually MY fault.
Here are two examples of uncropped images:
I hope this is helpful.
Good luck!
September 22, 2023 10:05 am
P.S. -- My apologies to Spencer for posting the first image more than once. I had intended to post something else, but I didn't have time to find another uncropped image.
Topic starter
September 22, 2023 8:44 pm
Very nice photos!
You did confirm with the post another question I did not know how to ask: minimum focusing distance. Basically how to get past the magnification ratio. Some of those long lenses will get you closer, but if the subject is a small bird you are again standing further away to satisfy the limits of the lens. I never knew (or thought) extension tubes would be used on a long lens. Interesting!
(I did rent a copy of the Z 100-400mm and that would be useful with the humming birds due to the close focusing distance. For some reason I just can't sell myself on that lens.)
That Phottix looks to be an interesting option- thanks!
September 23, 2023 10:36 am
About tubes
I used my Tamron 100-400 mm f/4.5-6.3 on my D850 with two tubes 12mm+20mm at the minimum distance(1.5 m) of the lens and 400 mm: for a sharp image, I got closer to the subject at about 90 cm
At 100mm with the same two tubes I got closer to the subject at about 30 cm.
As You can see the corners are dark.Images have not edited,only transfer from NEF to JEPG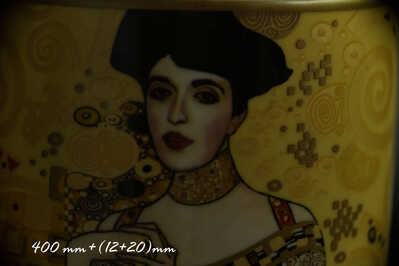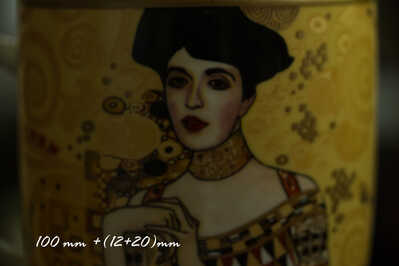 September 23, 2023 10:50 am
Other mode to use tubes is to shot at another distance .I shot at 400 mm and about 2.5 m without tube and at the same distance with 36 mm tube.Images have not edited to see the influence of the tube on the exposure.Of course You will observe the same dark corners. The use of tubes means manual focus !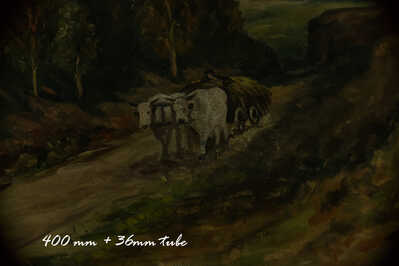 Success!!!!!
This post was modified 2 months ago 2 times by
OnlyNorth