When it comes to choosing flash units for Nikon cameras, there are plenty of great choices available on the market – from cheap flashes with limited functionality for beginners, to advanced speedlights with complex features for demanding professionals. Choosing the right flash can be an overwhelming task for beginners, especially for those who are just getting into flash photography. In this article, I will go through different options (both low-budget and high-demand) that are available today and provide my recommendations.
1) Why you need an external flash
I remember when I purchased my first DSLR, I expected it to be a world better than my old point and shoot that I used for years. It certainly was much better when taking pictures on a sunny day outside, but not that great for taking pictures indoors with flash. To my disappointment, the images from my DSLR looked almost as flat as images from my point and shoot camera and I could not figure out if it was me doing something wrong or the camera that had limitations for taking pictures indoors. Next, I read about low-light photography and using on-camera pop-up flash and while my images did get a little better overtime, they still looked flat due to the harsh direct light. The shadows on my subjects looked even worse.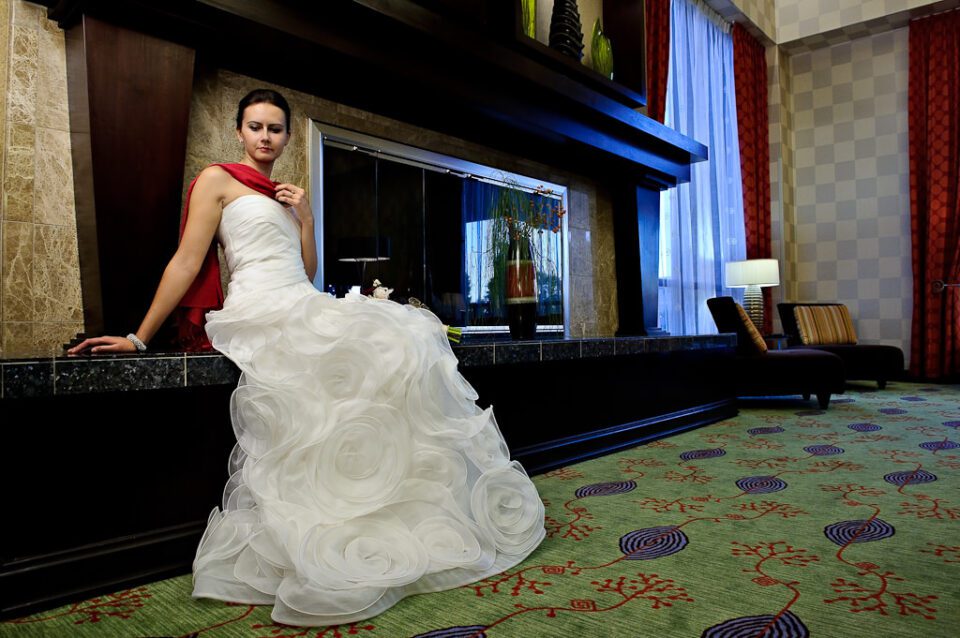 Does this sound familiar to you? Are you relating to this story? If you have only been using your on-camera pop-up flash, I am sure you feel exactly the same way I felt back then. And now you are looking for a solution to the problem and don't know where to start.
If you want your indoors pictures to look better, you will need something more capable and more powerful than your pop-up flash. You need to invest in a dedicated external flash, also known as a "speedlight" in the Nikon world. A speedlight will help you overcome your problems with indoors portraits and will open up new opportunities to take great professional-looking pictures with your DSLR. Let me show you why external flashes are so much better than pop-up flash:
External flashes are much more powerful. With more power, you get more range, so you can can illuminate a larger area and reach your subjects. More power also means that you can diffuse the light without worrying much about losing power, to get a much softer, more natural-looking light.
External flashes do not drain your camera battery. Pop-up flashes operate off your camera battery and external flashes rely on a different set of batteries that are used just for flash operation.
They are a larger source of light. Compare the size of the flash area on your pop-up flash with the flash area on an external flash and you will quickly realize that the latter is much bigger. Bigger light always means softer light in photography.
They are versatile. Many of the external flashes allow you to tilt the flash head in many different directions in order for you to be able to bounce the light off different surfaces.
They recycle faster. Whether you are firing very little light or plenty of it, external flashes recycle and recover quickly for you to be able to take many pictures sequentially.
They can be used off-camera. Some of the more-advanced flashes allow you to take them off-camera for creative flash photography.
They reduce red-eye. Red eye happens when flash fires from a very close distance to the camera lens. External flashes are typically tall, which helps with reducing the effect of red eye. You can even get special accessories/holders that lift external flashes even higher, which will completely eliminate red eye.
They can be grouped with other flashes. Some of the more expensive external flashes can be grouped with other flashes for more power or be used in different configurations.
Lots of accessories for external flashes. You can get lots of different accessories for an external flash, from various gels, bounce cards and light shaping tools to battery packs and radio control units.
As you can see, external flashes have a lot of great advantages. I am sure I missed some other advantages, but you get the idea…
2) Which flash is right for you?
Now that you know that you need an external flash for your Nikon DSLR, you are probably wondering about which one you should go with. Well you opened a can of worms, because there is no easy answer! There are a couple of questions to consider when choosing a flash. Let's go over those one by one:
What is your budget? Budget is certainly the biggest factor when choosing a flash. With flash units, you almost always get what you pay for. If you cannot spend more than $100 on a flash, expect to buy a third party unit from companies like Vivitar, Bower, Nissin and Sunpak that all have external flashes for under $100. If you do not have budget limitations, then the best flashes are going to be the most expensive ones from Nikon and Quantum.
i-TTL or Manual? Unless you have taken pictures with a strobe before and know what you are doing, I highly recommend getting a flash unit that can use Nikon's i-TTL (intelligent Through The Lens) system. Think of i-TTL as an "Auto" mode for flash that lets you shoot pictures without worrying about underexposing or overexposing your images – a great way to get started.
Do you want to use your flash off-camera? I personally would not buy a flash that does not let me shoot off-camera. Unless you are absolutely positive that you would always shoot flash on top of your camera, you should try to get one that at least allows you to use it as a slave. Watch the third video on my "how to get the best out of your pop-up flash" article on using a speedlight as a slave together with pop-up camera flash as a commander.
Don't worry about all other questions for now – the above three are the most important ones to start with. In terms of the budget, I know that some people are ready to pay for a good flash, as long as it gives them great results. If you are in such a situation, then simply skip over to questions #2 and #3 about whether you want to have TTL (and you do) and whether you want to be able to use flash as a slave for off-camera flash.
Oh and what about that slave mode and off-camera flash? Wondering what it is and why you might possibly need it? Let me give you a couple of examples. Here is a shot of Lola that was taken with an external flash mounted on top of the camera: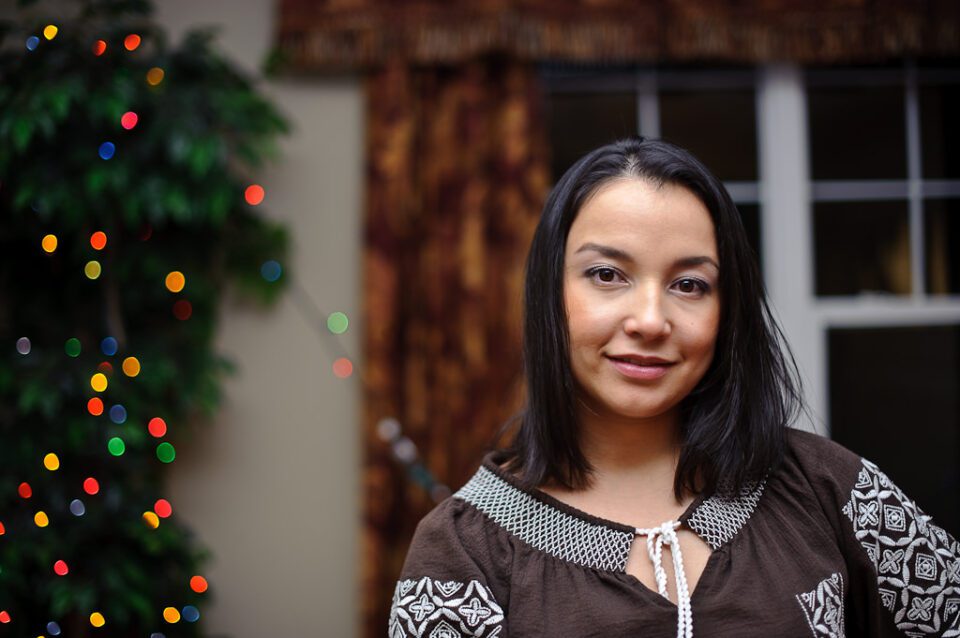 I used a Nikon external flash (speedlight) and bounced the light off the ceiling. If you look at the catch-light in Lola's eyes, you can see that the source of light is the ceiling. The light quality is pretty good and the shadows are soft and nice. When you bounce the light like that, it illuminates the whole room and your subject from all angles. Now let's take a look at another shot of Lola, except this time I moved the speedlight off the camera to a stand, shooting through an umbrella: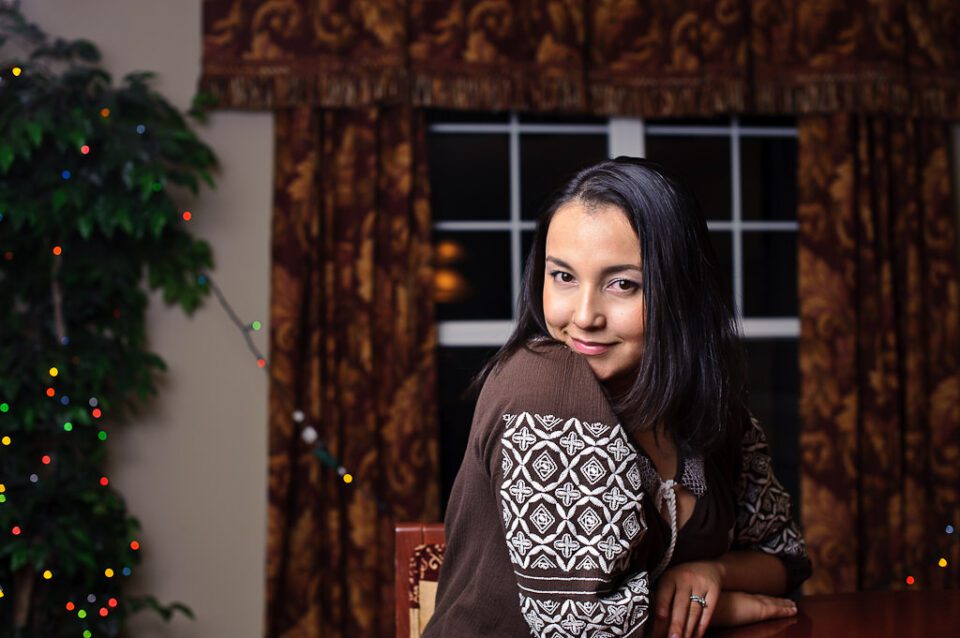 Pay close attention to the light in this second image – it is coming from the side and the shadows look even more natural and soft. The catch-light in Lola's eyes is round and beautiful. She is lit only from the direction of the light and the right side of her (left arm) is only getting a very limited amount of reflected light. It would be extremely difficult, if not impossible, to get a similar look with the flash mounted on top of the camera. If you like the way the second image came out, then you certainly want a flash unit that can be used off-camera.
3) External flash recommendations
So, which flashes would I recommend? Unless your budget is the limiting factor, I would highly recommend to buy the Nikon speedlights. Not only because they are of high quality, but because they are designed to work with Nikon cameras and therefore have many features specific to Nikon cameras. Nikon's flash system is called CLS (Creative Lighting System) and all Nikon cameras and speedlights are optimized to work with each other. For example, you could increase or decrease the flash power, feature known as "flash exposure compensation" by simply using the camera button instead of touching the flash. When the flash power is good, you could lock the flash exposure by also pressing a button on your camera. You could trigger a Nikon speedlight through the camera, or if you have multiple speedlights, you could set them up in a master and slave configuration. In addition, Nikon CLS comes with other extra features such as "high speed synchronization" to be used in situations where you need to shoot flash at faster than 1/250th of a second (for example in broad daylight). Unfortunately, you cannot do all of the above with a cheap third party flash.
If cost is the biggest dilemma for you, then here are some third party flashes that fully support i-TTL under $100:
Bower SFD728N – the cheapest external flash under $50, with a flexible head to bounce light. Don't expect much out of this unit, since you get what you pay for. It does not come with a diffuser dome and cannot be used as a slave.
Bower SFD35N – a better version than the above SFD728N, comes with an Auto Focus assist function, which will help you focus better in low-light environments. Cannot be used as a slave.
Bower SFD926N – a nice flash with plenty of features such as flash zoom based on camera focal length. It also comes with a built-in diffuser and also supports slave mode for off-camera setup.
There are plenty of other flashes at similar price range from various companies.
If you can spend more than $100 on a flash, but want to stay at around $200 price range, then here is what I recommend:
Nikon SB-700 – for the money, the Nikon SB-700 is your best buy. It comes packed with all kinds of great features such as Auto Focus assist, high-speed sync, full i-TTL support and it works great with all Nikon DSLRs. It can be used as both a master and a slave.
Why am I recommending just one flash? Because at this price range, I believe you would be better off with a Nikon speedlight. While other flashes might sound like a good deal, Nikon's flashes fully support all CLS features and are designed to work best on Nikon DSLRs. On top of that, if you purchase another flash unit from Nikon in the future, the SB-600 would be fully compatible with it. If you are not scared to buy used equipment, then you can get an older Nikon SB-600 for less than $200. If you are not afraid to shoot in manual mode without TTL, the older Nikon speedlights such as SB-26 and SB-28 are also of great value and you can snatch those used for less than $100.
If budget is not a big issue for you and you just want to get a good flash, the list of flashes to recommend is based on features they offer:
Nikon SB-700 – a great value for the money. It can work as a master and a slave, has a newly designed user interface that is very intuitive when compared to the older SB-600, comes with a very useful diffusion dome plus two filters/gels for indoors shots and much more. It will certainly be a very popular flash among photo enthusiasts.
Nikon SB-5000 – the Mercedes-Benz of Nikon speedlights, the SB-5000 is a high-end speedlight designed for enthusiasts and professionals that need the most features for demanding applications. Priced at $550, the SB-5000 can be used both as a master and a slave, has a similar intuitive user interface as the SB-700, comes with plenty of accessories such as diffuser dome, filter set and flash stand, has an automatic flash zoom head that can zoom in and out based on the focal length you are using and more. The biggest two advantages of the Nikon SB-5000 over SB-700 is that it has a PC/sync cord for connecting external flash units such as PocketWizard and ability to use powerful battery packs.
Quantum Qflash TRIO – an expensive top-of-the-line flash that has an ultra-fast recycle time and lots of power. Unlike Nikon speedlights, it has a large reflector on the front which diffuses the light coming out of the flash for better quality images and softer shadows. It can work as a master or a slave with additional modules.
Three other flashes that did not make it to the list, because they are now discontinued, are the Nikon SB-800, SB-900, and SB-910. If you can find them new in a local camera store or get them used, these are superb flashes that can do almost everything SB-5000 can.
So, which one should you buy? As you can see, it all depends on how much you are willing to spend and what you will be using it for. If you shoot corporate events and weddings, you certainly want to get the SB-5000 or the Quantum Qflash. You will need all the power and reliability these flashes can provide. If you are going to be using a flash on-camera or off-camera and you need to trigger flashes, then I would go with the SB-700. If you are shooting with an entry-level Nikon DSLR such as Nikon D3500/D5600 or older cameras like D3200/D5200 that do not have a commander mode to trigger slave flashes, then you will need to get two flashes – one that could be used as a master and one that could be used as a slave. You can get an SB-700 to serve as a master and a used Nikon SB-600 as a slave for those situations.
Hope this helps! Let me know if you have any questions. My next article is going to be specifically about Nikon Speedlights and differences between them.