Like many other photographers I enjoy letting my mind wander, seeing if it will lead me to some kind of new photographic experiment that I haven't tried in the past. The idea of photographing flowers with a prime lens and an extension tube fell out of my old, porous brain this week. So, for a couple of mornings I grabbed one of my Nikon 1 J5s, my 1 Nikon 32mm f/1.2 prime lens (efov 86.4mm) and a 10mm Vello Deluxe extension tube, then headed out for my daily 5km early morning walk. This article shares some images created while experimenting with flower photography at f/1.2. Except for the last image in this article, all photographs are displayed as 100% captures without any cropping.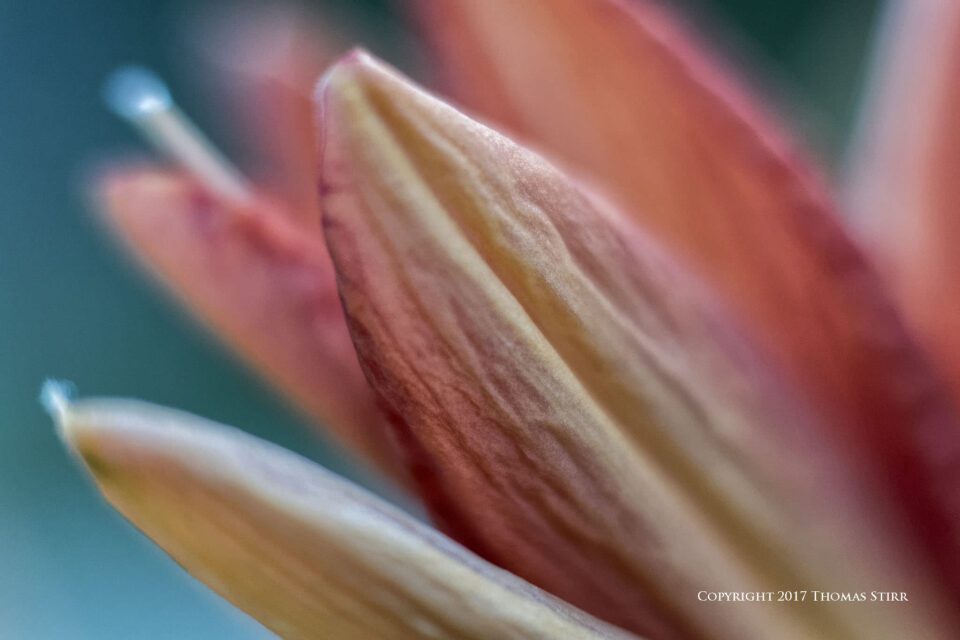 I started off with some fairly typical flower images using the 32mm without an extension tube. What made these images 'experimental' for me was that I had almost never used my 1 Nikon 32mm f/1.2 prime lens for any still photography in the past. My three 1 Nikon primes are my 'go to' lenses for my client video work, but collect dust when it comes to still photography. I'm just a 'zoom kinda guy' when it comes to still photography. Over the past three and a half years I've written almost 400 photography-related articles that have appeared on my photography blog, here at Photography Life, or on a couple other photography sites. In all of those articles I can only remember sharing with readers, two still images captured with the 1 Nikon 32mm f/1.2 prime lens.
To help me understand how much depth-of-field the 1 Nikon 32mm f/1.2 would create when shot wide open at f/1.2, I looked for groupings of flowers and shot from various angles and focusing distances. I also captured a few images at f/2.8 from the same distances and angles. This helped me get a practical understanding of the difference in depth-of-field produced. I discovered that I quite liked the additional latitude the 32mm f/1.2 gave me for specific types of flower photography compositions. I usually photograph flowers using the 1 Nikon 10-100mm f/4-5.6 zoom or the 30-110mm f/3.8-5.6 zoom with extension tubes. Based on this initial experiment I'll definitely be adding the 1 Nikon 32mm f/1.2 prime lens as a regular component to my flower photography kit.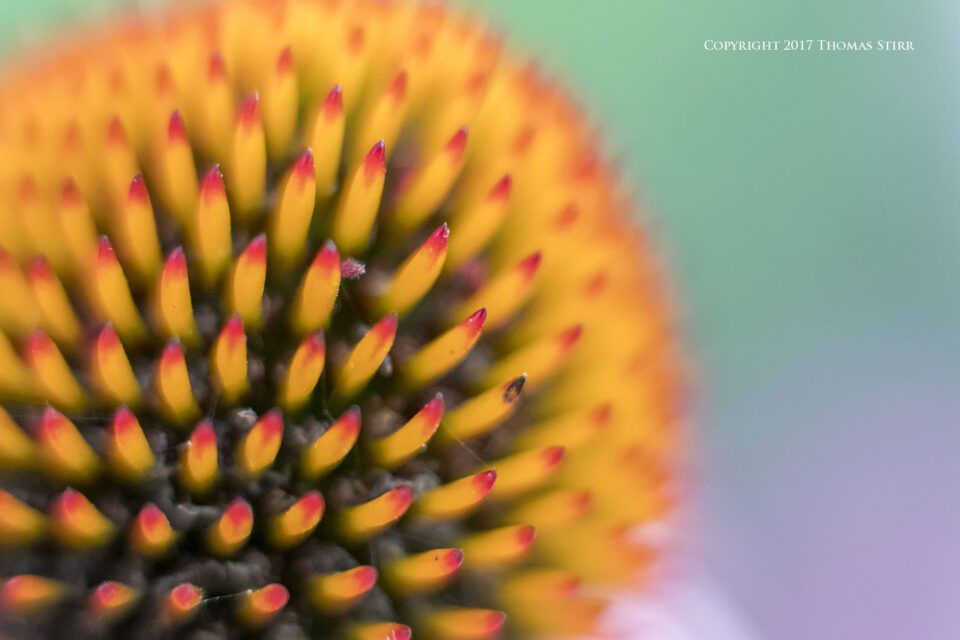 As noted in some of my previous articles, and by a number of readers in their comments, it is more challenging to try to create shallow depth-of-field when using a smaller sensor camera system like Nikon 1. To try to achieve as much shallow depth-of-field as possible I captured the vast majority of my images at f/1.2. I also used a 10mm Vello Deluxe extension tube for all of the images in this article. This allowed me to shorten the minimum focusing distance to the subjects in my photographs, helping to create a magnification effect.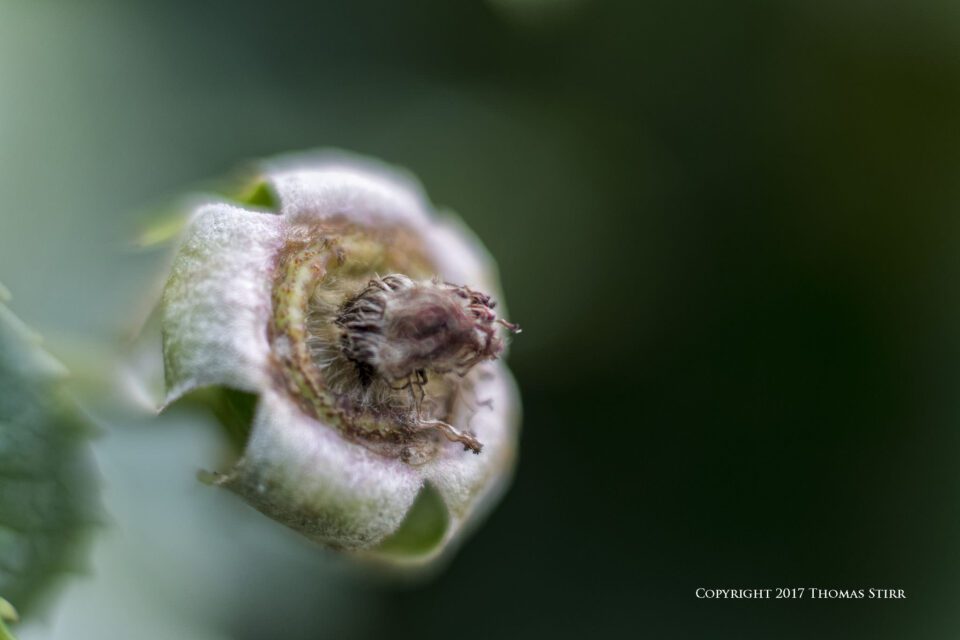 As I walked past familiar sights I would stop whenever my eye was attracted to a particular flower bud, flower grouping, or some appealing lighting. I was also intrigued by combinations of colours.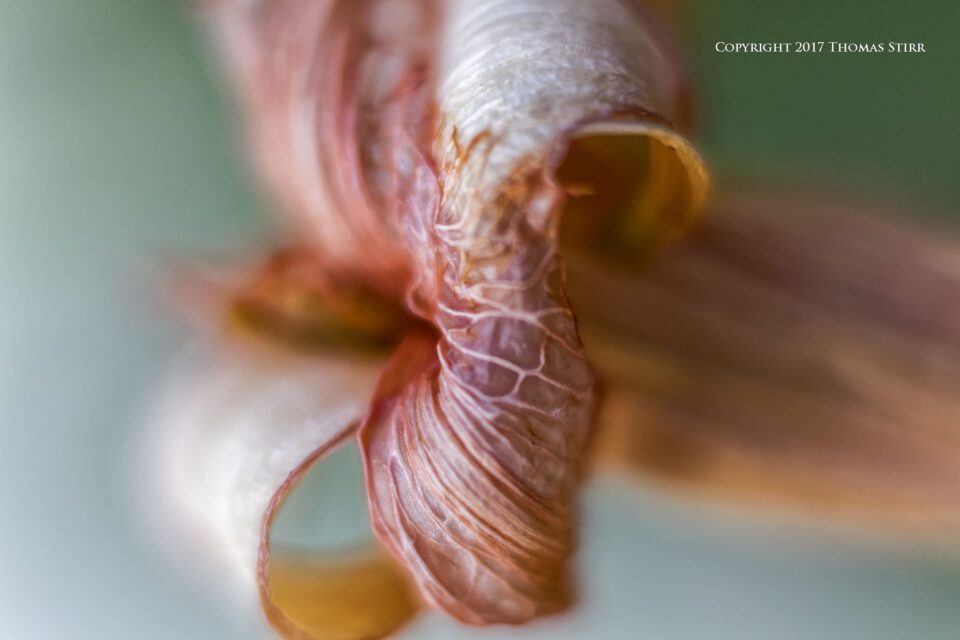 I shot in aperture priority using single point auto-focus. Being able to adjust the J5's single AF point anywhere on the rear screen I wanted, was very helpful when composing these hand-held images. It allowed me to more easily control depth-of-field in the photographs.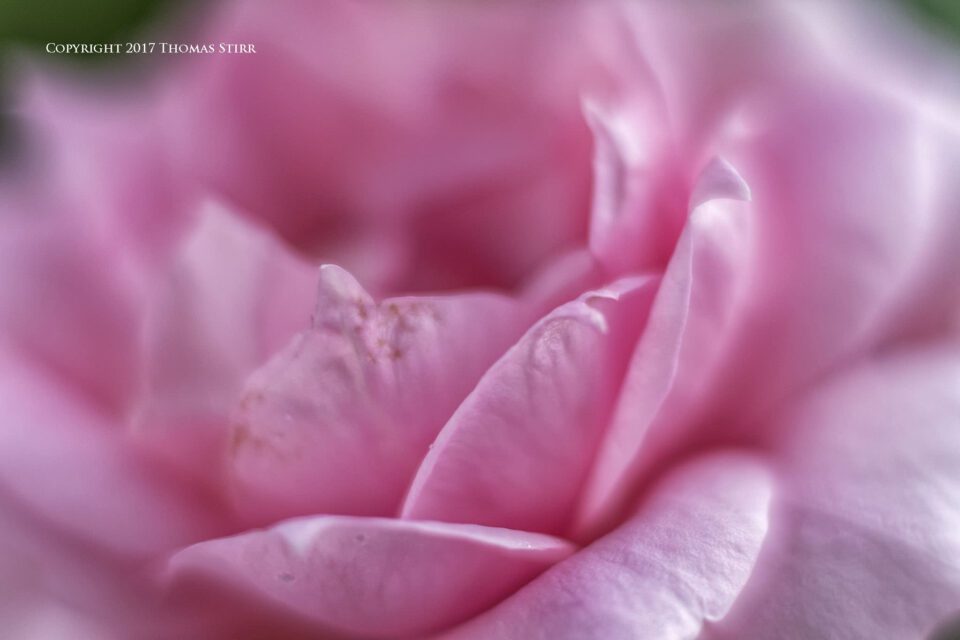 I shot at ISO-160 most of the time, adjusting the ISO higher when windy conditions necessitated faster shutter speeds.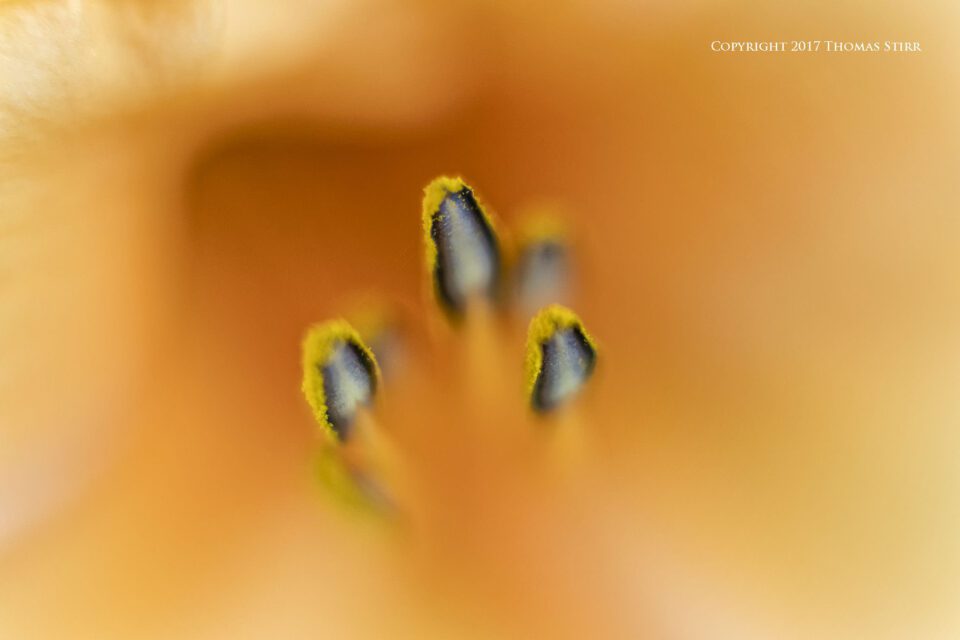 I captured a number of photographs looking down into flowers to accentuate the shallow depth-of-field as much as possible. This helped created more of a dreamy, surreal feel to many of the images.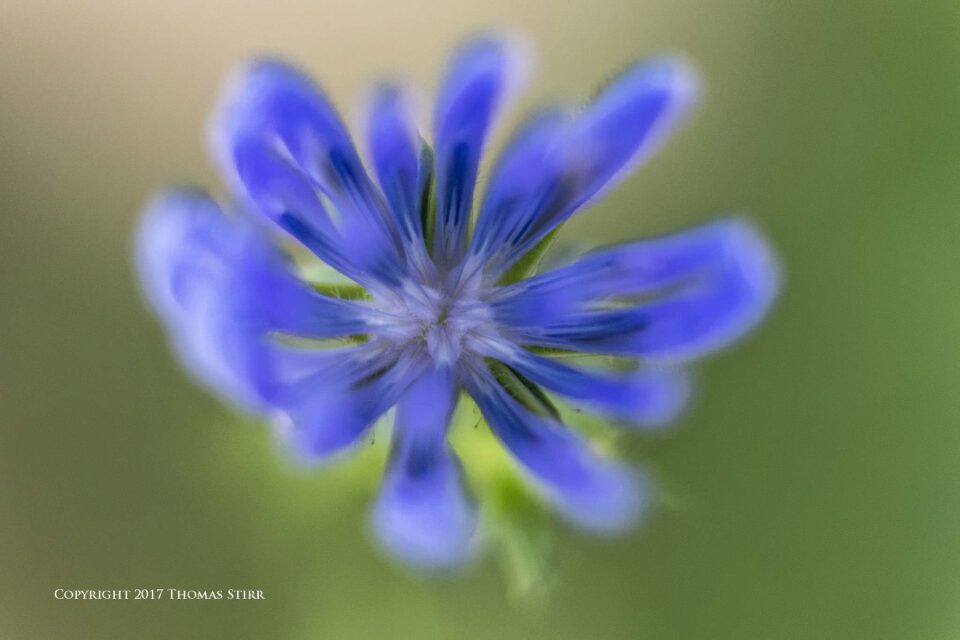 I captured a number of profile images as well. Often doing so when that shooting angle gave me a view of repeating shapes that I could soften using a shallower depth-of-field.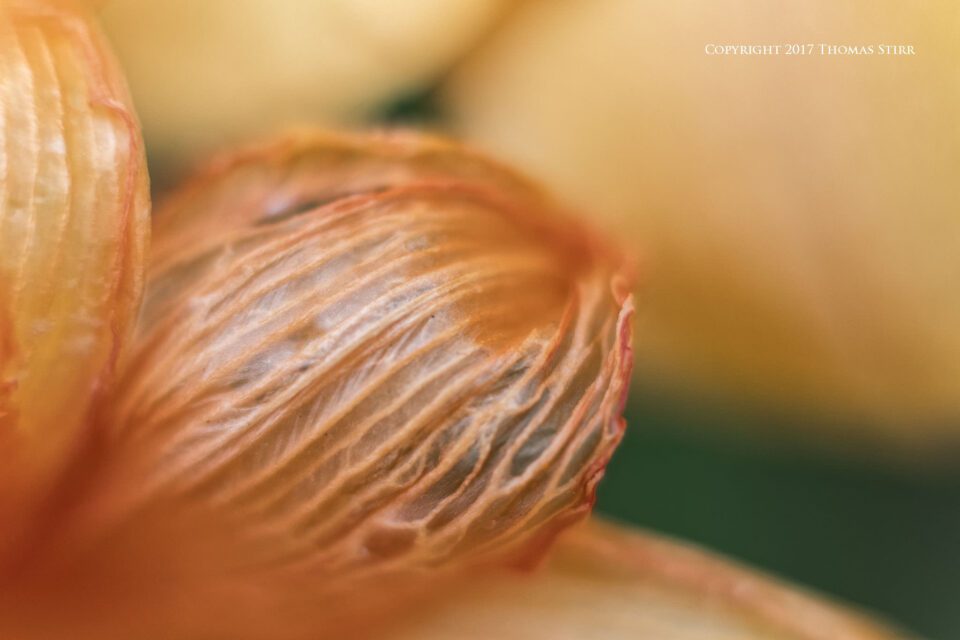 Using the 1 Nikon 32mm f/1.2 with a 10mm Vello Deluxe extension tube was an enjoyable creative experience. I loved getting in closer to image subjects as this sometimes created the opportunity to better capitalize on dramatic lighting while still having the potential for shallower depth-of-field.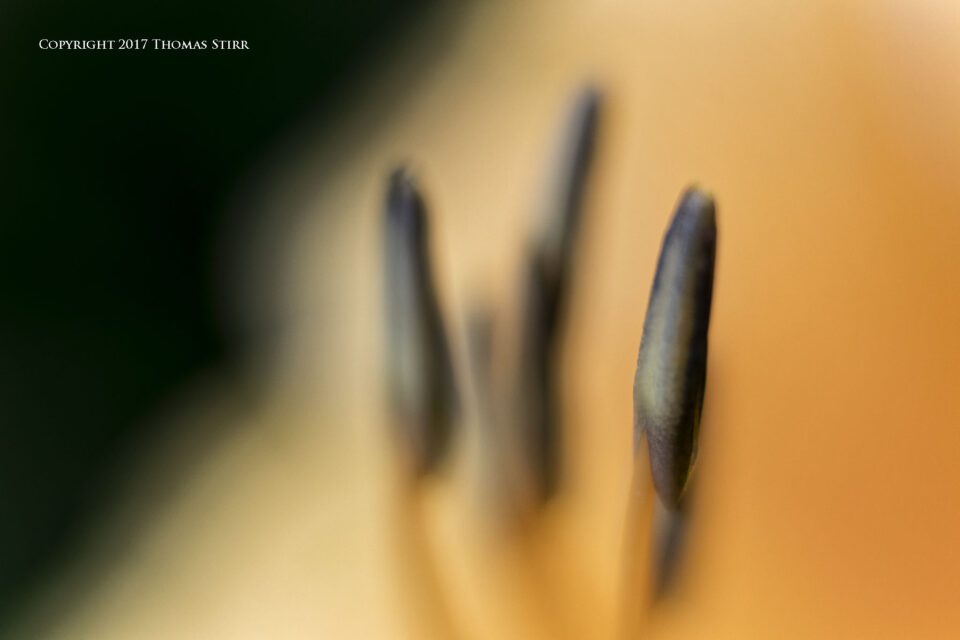 When photographing flower details using extension tubes with the 1 Nikon 30-110mm f/3.8-5.6 zoom I most often try to position myself at right angles (i.e. a profile angle) to my subject. I also typically choose monochromatic backgrounds that are a fair distance away from my flower subject. This approach allows me to get reasonable depth-of-field on my subject flower while still achieving separation from the background. It does somewhat limit subject matter. Using a profile angle when shooting with the 32mm f/1.2 wide open, creates a very different visual feel as subject elements rapidly go out of focus and background details disappear quickly as in the photograph above.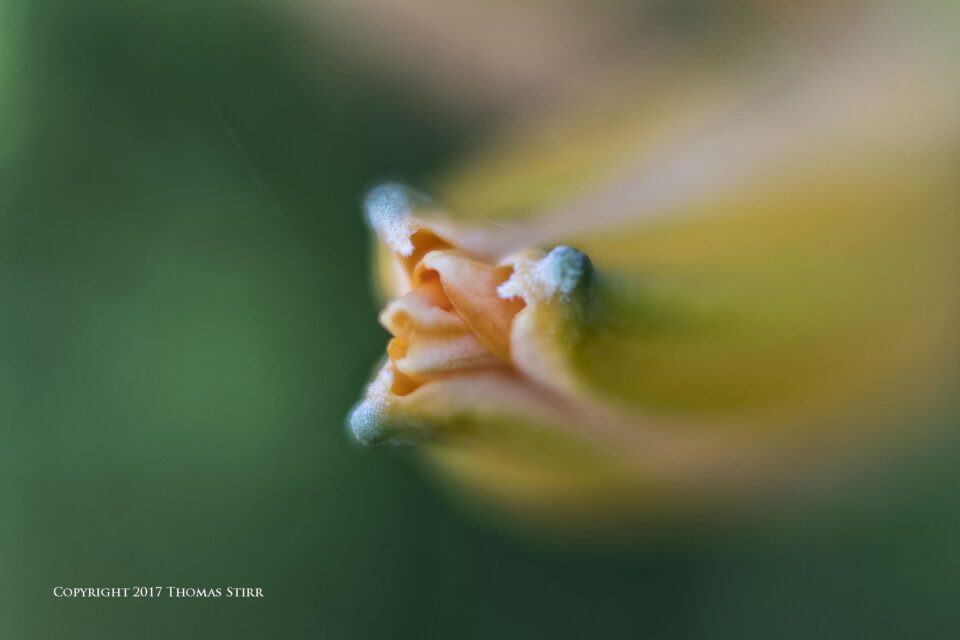 Rather than use my typical profile shooting angle, I often used one that allowed me to shoot down the length of a subject element. This shift in composition angle helps to accentuate the shallow depth-of-field as you can see in the image above.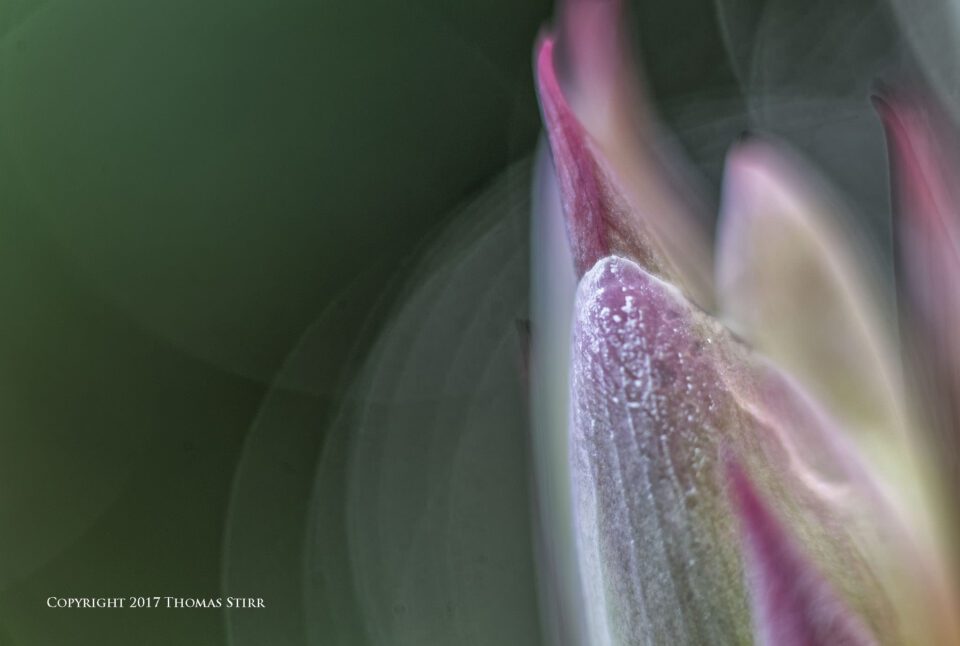 Many photographers use prime lenses extensively as their everyday, 'bread and butter' gear. For me, prime lenses will always be 'specialty gear' that I use in very specific situations. Without question experimenting with flower photography using the 1 Nikon 32mm f/1.2 prime has deepened my appreciation of this particular lens significantly. It will now find its way into my camera bag when I'm out photographing flowers, rather than only for my client video work.
Technical Note:
All images in this article were captured hand-held using a Nikon 1 J5 and a 1 Nikon 32mm f/1.2 prime lens. All images in this article (except for the last photograph) are shown as 100% captures without any cropping. All photographs were produced from RAW files using my standard process of DxO OpticsPro 11, CS6 and the Nik Collection.
Article and all images are Copyright 2017 Thomas Stirr. All rights reserved. No use, duplication or reproduction of any kind including electronic or digital is allowed without written permission. Photography Life is the only approved user of this article and if you see it reproduced anywhere else it is an unauthorized and illegal use. Readers who call out offending websites that steal intellectual property by posting comments on those offending websites are always appreciated!