Now that the Nikon D850 has been officially announced, it is time to take a closer look at the camera's features. Nikon has introduced a number of great features with the D850 that we have never seen on other Nikon DSLR before, so I thought it would be a good idea to write a separate article that highlights these in detail. The Nikon D850 combines the power of a high-speed camera with a high-resolution sensor and in many ways represents something many Nikon shooters have been asking for – a true Nikon D700 replacement. Let's see what the D850 has to offer and why you might want to consider moving up to it.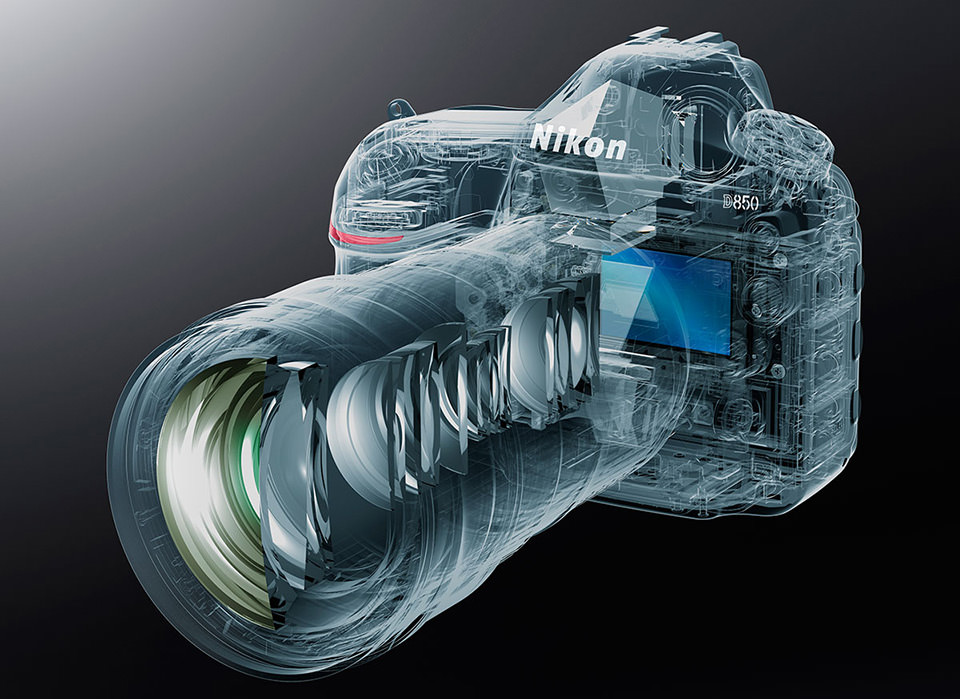 1) Nikon D850 Shoots Up to 9 FPS
Despite its super high resolution 45.7 MP sensor and the resulting massive RAW images, the Nikon D850 can shoot continuously at 7 fps. That's a drastic change from the 5 fps continuous shooting speed of the Nikon D810. Granted you will have to use a fast UHS-II SD memory card, or preferably, an XQD memory card to sustain such speeds for longer periods of time (see the camera buffer section below for more details), but that's a given, considering how much data the camera will be dealing with. Action photographers will appreciate the fact that the continuous shooting speed of the Nikon D850 can be increased to a whopping 9 fps, once the MB-D18 battery grip with the high power EN-EL18B battery is connected to the camera. At 9 fps, the D850 might not be as fast as the Nikon D5, but it is pretty darn close to what the Nikon D500 is capable of. With such a high resolution sensor, sports and wildlife photographers will have a lot of megapixels to work with, which gives plenty of additional room for extreme cropping.
2) No Low-Pass / Antialiasing Filter
Just like the D810, the Nikon D850 has no optical low-pass filter in order to deliver maximum detail in every shot. With a 45.7 MP sensor, the D850 will deliver superb sharpness and take a full advantage of modern lenses that can deliver plenty of resolving power for the camera. However, due to not having a low-pass filter, the Nikon D850 might introduce some moire when photographing repeating patterns.
3) Nikon's First BSI CMOS Sensor
Instead of using a Sony-developed sensor, Nikon decided to design the sensor for the D850 on its own and have it produced by a different manufacturer, as it has done a number of times in the past in cameras like Nikon D3 and D700. The 45.7 MP sensor on the D850 is Nikon's first backlight-illuminated (BSI) sensor, which will yield better image quality than the D810 – Nikon claims up to a full stop of improvement in noise performance, thanks to this new BSI design. This also explains why the native ISO range has been extended by a full stop (the native ISO range of the camera is 64 – 25,600).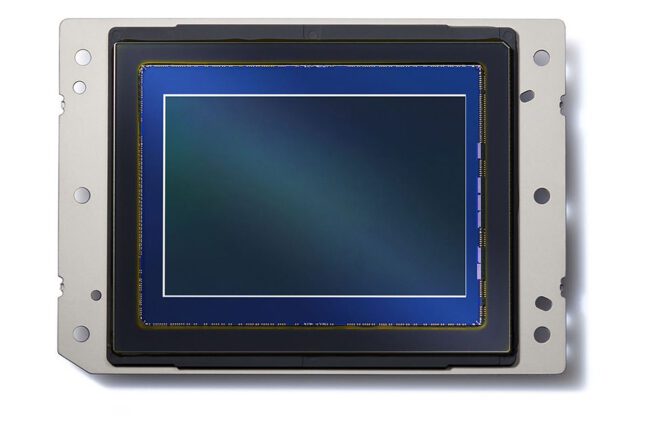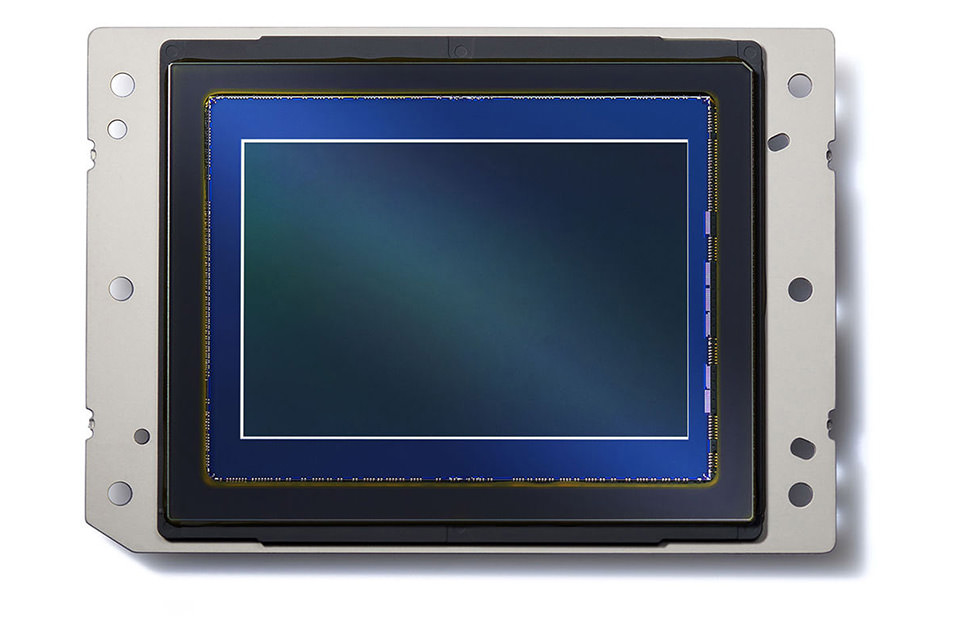 Additionally, the Nikon D850 will have as good, if not better dynamic range than the D810 at base ISO 64, as well as some higher ISOs due to better sensor efficiency.
4) Same Autofocus System as the Nikon D5
The Nikon D850 has the same robust Multi-Cam 20K autofocus system as the Nikon D5, with a total of 153 focus points, 99 of which are cross-type. The 15 focus points around the center of the camera are sensitive to f/8 maximum aperture, which means that you can attach a 2x teleconverter to an f/4 lens (which results in f/8 maximum aperture) and still be able to easily acquire focus on targets. The camera is also sensitive down to -4 EV, allowing the autofocus system to function even in extremely low light conditions. It is important to note that the Nikon D810 was sensitive down to -2 EV, so there are two stops of improvement on the D850 over its predecessor.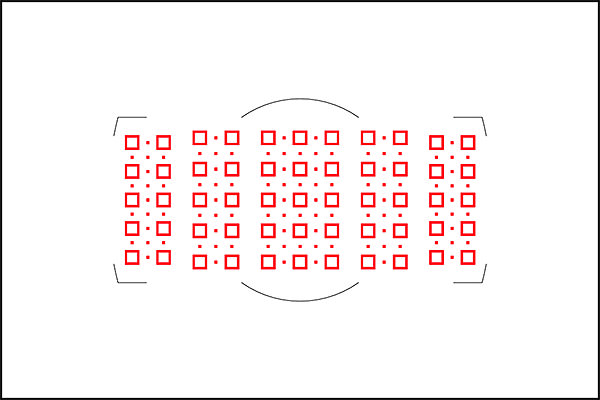 Additionally, the camera's outer focus points will be able to function at -3 EV, which is better than what the Nikon D810 could do in the middle of the frame!
5) Dedicated AF Engine
The Nikon D850 has a dedicated AF engine, similar to what we have seen on the D5 and D500 DSLRs, which allows the camera to achieve much faster and more precise focusing with all 153 focus points. Because of the dedicated AF engine, the camera is able to perform fast calculations using all focus points, so if you chose too shoot in auto-area AF mode, the camera will be able to acquire focus on the moving target and keep it there, even if you end up changing the framing.
6) Same AF Fine-Tune Features as Nikon D5
Just like the latest generation Nikon DSLRs like D500 and D5, the Nikon D850 also features auto AF fine-tune feature that allows for easy calibration of lenses. Although the feature is limited to only one focal length and distance setting, it is nice that the process of calibrating lenses is getting easier on DSLR cameras.
7) A Huge Camera Buffer
Considering how big the 45.7 MP RAW files will be, the Nikon D850 has a very large buffer for the camera. When shooting continuously, the camera can fit up to 51 14-bit lossless compressed RAW files, which should allow the camera to shoot continuously for over 7 seconds with the EN-EL15 / EN-EL15a battery at 7 fps and almost 6 seconds when shooting at 9 fps with the larger EN-EL18a / EN-EL18b battery. In comparison, the Nikon D810 can only get up to 28 14-bit lossless compressed images and that's with a lower resolution sensor. If you are willing to sacrifice 14-bit for 12-bit RAW, the camera will be able to shoot up to 170 frames of lossless compressed RAW before the buffer fills up, which is insane! That's over 18 seconds of continuous shooting at 9 fps. Take a look at the below buffer size comparison between the Nikon D850, D810 and D800 / D800E to see how big of an improvement the buffer on the D850 presents over its predecessors:
| RAW Type | Nikon D850 | Nikon D810 | Nikon D800 / D800E |
| --- | --- | --- | --- |
| NEF (RAW), Lossless Compressed, 12-bit | 170 | 47 | 21 |
| NEF (RAW), Lossless Compressed, 14-bit | 51 | 28 | 17 |
This is a very impressive achievement on behalf of Nikon – considering that the 45.7 MP sensor will only yield larger files when compared to 36 MP, Nikon had to make the buffer on the D850 at least twice the capacity, probably more. Coupled with a fast XQD card that can quickly offload all that data from the buffer, it is possible to shoot continuously for a very long time. And if you choose JPEG as your file format, you can bet that you will be able to shoot non-stop until the memory card fills up! This should be very exciting for all sports and wildlife photographers.
8) Nikon D850 Does Not Have a Built-in Flash
Unlike the Nikon D810, the D850 does not have a built-in flash. Nikon decided to make the D850 as rugged as possible and make it very similar to the Nikon D500 in terms of button layout and weather sealing (more on that next). While some photographers might be disappointed with this change, as the built-in flash can work nicely as either fill flash or a flash commander for other speedlights, I personally think it is better to trade the built-in flash for improved weather sealing. Many photographers never use the built-in flash and those who do are better off getting a dedicated flash trigger anyway, especially considering how affordable third party options have gotten over the past few years.
9) Improved Weather Sealing
Just like its predecessor, the Nikon D850 has a full magnesium alloy shell and it is weather sealed to be able to withstand extreme temperatures and rough weather conditions. Since Nikon has eliminated the built-in flash, it was able to improve the weather sealing of the camera even further, making the D850 a perfect outdoor companion. The camera is sealed in many spots, including all the buttons, dials and switches from front to back, as shown below:

10) New Focus Stacking Feature
The D850 is the first Nikon DSLR to feature a built-in focus stacking feature that allows capturing up to 300 shots at different focus points. Those shots can later be merged together into a single image using third party post-processing software, allowing photographers to achieve maximum depth of field for macro and landscape photography. The D850 will offer shutter release intervals of 0 to 30 seconds, with 10 levels of focus steps and continuous shooting at approximately 5 frames per second. I am personally very excited about this feature, since it eliminates the headache of trying to focus at different areas of the scene when shooting in the field.
11) Fast EXPEED 5 Processor
Similar to the Nikon D5 and D500 DSLRs, the Nikon D850 features a faster EXPEED 5 processor that is capable of not only handling a lot of image and video throughput, but also accelerating the autofocus capabilities of the camera. Because of this, the camera is able to achieve such high continuous shooting rates and able to record 4K video using the whole sensor, something other Nikon DSLRs could not handle in the past.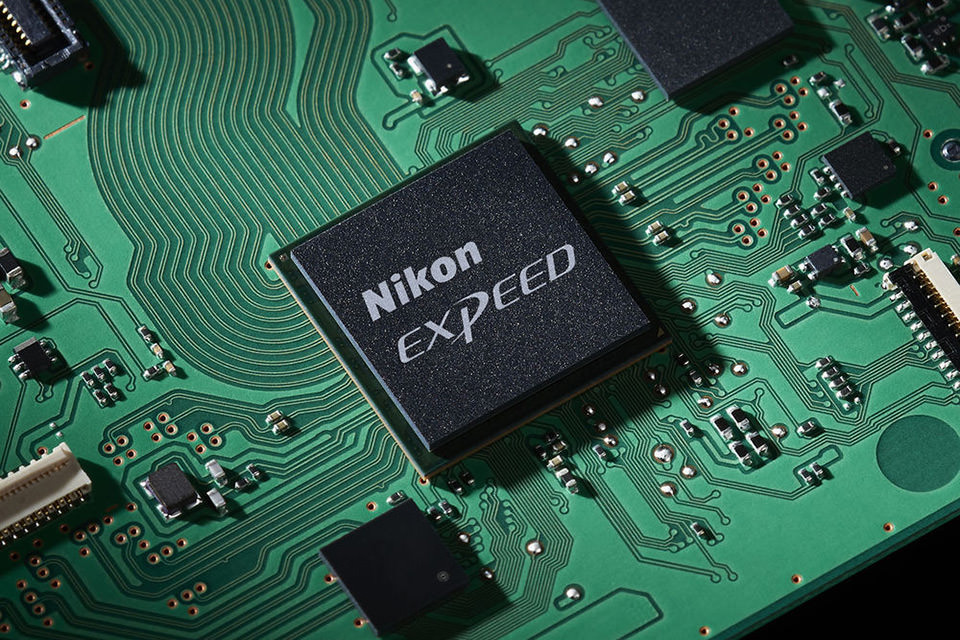 Additionally, a faster processor allows the camera to handle images faster and more efficiently, which improves on the battery life (next).
12) Older Nikon EN-EL15 Batteries Are Compatible
Although the Nikon D850 will come with the new EN-EL15a batteries, you can continue to use your older EN-EL15 batteries from your D800 / D800E / D810 and other cameras with the D850, which is great news, since you do not have to spend money buying all new batteries again. This is a huge plus for someone who wants to shoot with two camera bodies like Nikon D850 and D810, since you can can carry the same battery charger and share batteries between cameras.
13) Longer Battery Life
Since the built-in flash is eliminated and the camera now utilizes a much faster EXPEED 5 processor, the camera is able to shoot up to 1,840 still images from a single charge when using the provided EN-EL15a battery. Those who will be getting the MB-D18 battery pack, along with the EN-EL18b battery to increase the continuous shooting speed to 9 fps will be happy to find out that the battery life will increase significantly with that setup – one can shoot up to 5,140 images on a single charge!
14) Large 0.75x Viewfinder
The Nikon D850 features a large viewfinder with a 0.75x magnification, which is larger than any other viewfinder Nikon has made in the past. Nikon was able to update the optical viewfinder with an aspherical lens and a new condenser lens to make it very bright and sharp, bringing an even more realistic viewing and shooting experience. The large and bright viewfinder should make it easier for photographers to confirm focus on their subjects, especially when manually focusing their lenses.
15) 180K Pixel RGB Metering Sensor
Similar to the D5 and D500 DSLRs, the Nikon D850 has a 180K Pixel RGB metering sensor, which is capable of metering down to -3 EV. This metering sensor has a built-in flicker detection function and its accuracy has been significantly improved when shooting in such autofocus modes as Auto-Area AF and 3D-Tracking when compared to the Nikon D810. Additionally, the Nikon D850 now comes with a new "Highlight-weighted metering" mode that works much better than Matrix Metering in complex lighting situations where highlight information might be getting clipped. It works by prioritizing the brightest portions of the scene and thus fully retains all the important data in an image.
16) Electronic Front-Curtain Shutter
The Nikon D850 retains the same Electronic Front-Curtain Shutter (EFCS) mode that is also available on the Nikon D810, which should allow one to take images without introducing camera shake. While EFCS still works in Mirror Up mode, Nikon has also extended the EFCS feature to both quiet and quiet continuous shooting modes, which is great! This means that when using the silent shooting mode in live view mode, taking a picture will not trigger the shutter mechanism and cause vibrations. This was one of my biggest complaints with the D810 and I am very happy to see that it has been finally addressed by Nikon!
17) Silent Shutter Mode
Nikon has introduced a new "Silent Shutter" mode to the D850, which allows the camera to take advantage of the electronic shutter when using the camera in live view mode. What's great about this mode, is that it not only completely eliminates any kind of shutter (since the mirror is raised and the shutter is open), but also allows photographers to stay discreet when shooting wildlife or when taking pictures during a wedding ceremony in a church. When shooting continuously, the Nikon D850 can capture up to 6 fps at full 45.7 MP resolution and if one switches to high speed mode, it is possible to reach up to 30 fps at 8.8 MP in DX crop.
18) Three RAW Size Options
The Nikon D850 features three RAW size options: full RAW at 45.7 MP, medium RAW (mRAW) at 25.5 MP and small RAW (sRAW) at 11.3 MP. I am happy to report that Nikon has completely changed the way mRAW / sRAW option is implemented on the D850. Instead of dealing with a flat 12-bit losslessly compressed file, we now have images that look like they utilize true pixel binning, which is a huge upgrade over the D810 and everything else we have seen from Nikon and other manufacturers so far. This makes the D850 a truly versatile camera, because it is possible to recover as much shadow and highlight detail as on full size RAW images!
19) Nikon D850 Can Scan Film with the "ES-2 Digitizing Adapter"
Film photographers will love the Nikon D850, because it has an optional accessory that allows one to take high-resolution images of 35mm film. With the ES-2 Digitizing Adapter accessory, along with a macro lens like the Nikon 60mm f/2.8G ED you will be able to create negative and positive scans of 35mm film (slides or negatives). The Nikon D850 will be able to convert negatives to positives directly in-camera using JPEG file format, which is amazing! The ES-2 Digitizing Accessory will retail for $150, which is not a bad price to pay for the convenience.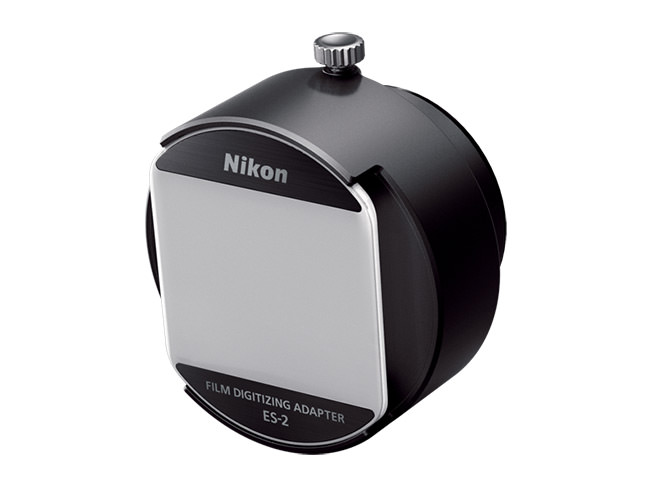 20) XQD and UHS-II Compatible SD Memory Card Slots
As I have already highlighted in my Understanding Memory Cards article, CF has no future due to its bus speed limits and XQD is clearly the memory card format of the future, thanks to its robust architecture and its PCI Express architecture. Nikon has done a great job with integrating XQD memory card slots into its latest cameras and the Nikon D850 also gains one, which is definitely good news, since that's how the camera is able to sustain such great continuous shooting speeds. It is also great to see that Nikon was able to put a UHS-II compatible SD card slot into the camera, since UHS-II memory cards are much faster when compared to their older UHS-I counterparts. While I am happy to see Nikon switch its pro cameras from CF to XQD, I personally do not favor two different memory card slots. Instead of fiddling with both XQD and SD card slots, Nikon should have just gone with two XQD card slots, as it has done on the Nikon D5.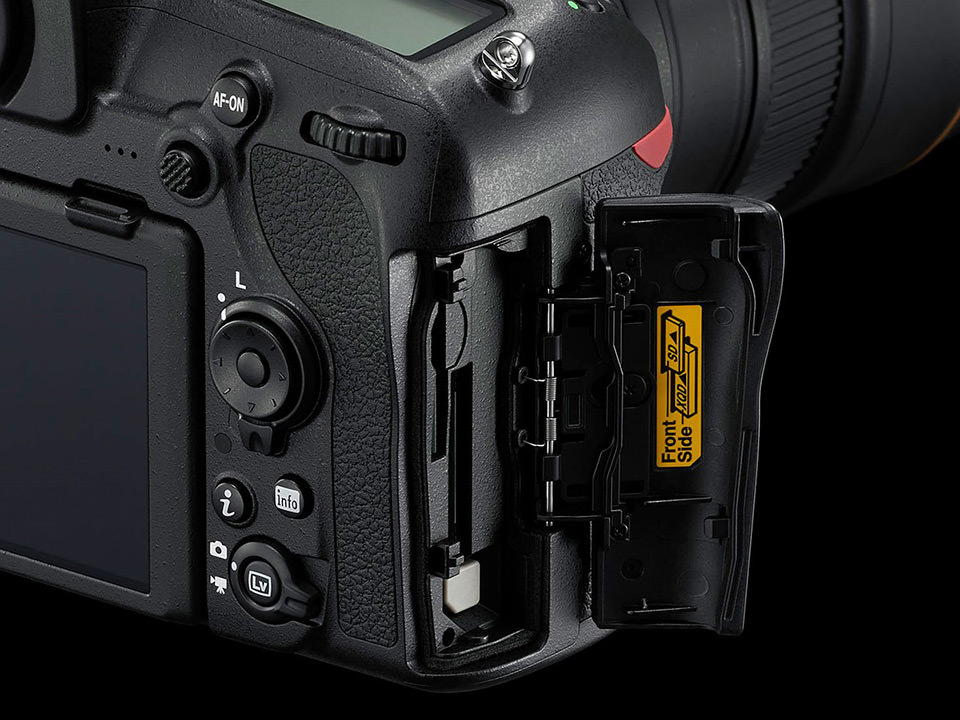 21) Nikon D850 Can Shoot 4K and 8K Timelapses
Nikon D850 is the first DSLR that is capable of shooting both 4K and 8K timelapses. What's nice about the new timelapse feature, is that the camera can shoot electronically in live view mode without ever triggering the shutter mechanism, which reduces the mechanical wear of the shutter. This "silent interval timer" feature also creates no sound or vibration when capturing images, which should eliminate any potential for camera shake. The silent interval timer function will allow shooting up to 9,999 images total. There are two limitations though – when shooting in program or shutter priority modes, the change of aperture might introduce some sound and due to the readout of the sensor in electronic mode, one might encounter rolling shutter issues when there is fast motion in the scene. Lastly, the Nikon D850 also offers a minimum interval setting of 0.5 seconds, which will allow photographers to capture very smooth timelapses.
Just like the Nikon D5 and D500 DSLRs, the Nikon D850 features illuminated buttons, which are extremely useful when shooting in dark conditions. By moving the shutter release switch to illumination mode, one can get both the top LCD and the camera buttons to light up, making it easy to see them at night. This is a must-have feature for landscape and timelapse photography and I am very happy to see that Nikon has decided to incorporate it to the D850.
23) Tilting, Touch-Enabled LCD Screen with 2,359K dots
While the Nikon D810 has the same size 3.2″ LCD screen, the D850 takes it to a whole new level. First of all, the LCD screen on the D850 is tilting (finally), which is great when shooting at high or low shooting positions, as it allows one to look at the camera LCD screen much more easily. I wish Nikon made the LCD screen a bit more versatile by allowing it to also swing sideways like we have seen on a number of other modern cameras, so that the tilting feature would be useful when shooting vertically, but it is not a critical feature – I will still take a tilt screen any time over a non-tilting screen, because it makes using the camera in the field much more convenient.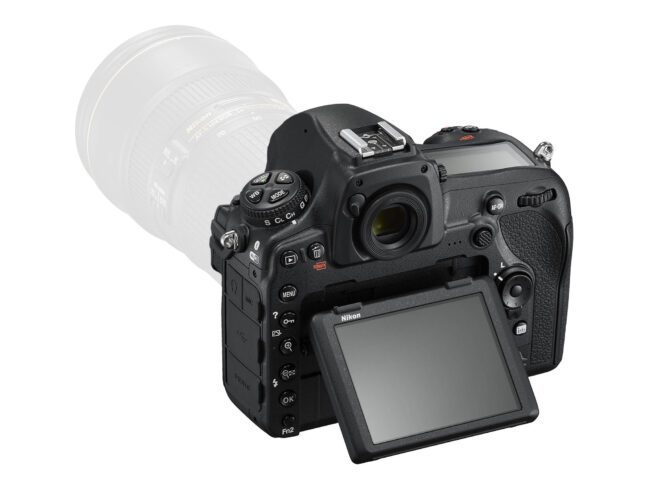 In addition to this, the LCD screen on the D850 is also touch-enabled, which makes it easy to review images by swiping through them or zooming into them, in addition to being able to quickly navigate through the camera menu. And lastly, the LCD screen on the D850 has far more resolution with a total of 2,359K dots (the Nikon D810 only has a 1,229k dot LCD).
24) 4K UHD Video Recording
The D850 is the first Nikon DSLR to feature 4K UHD video recording that can take advantage of the whole image sensor. This is very important, because the camera will be able to take a full advantage of the full-frame sensor to produce beautiful videos with very little noise in them. In addition, you will be able to use wide-angle lenses as they were intended to be used on a full-frame sensor, since there is no cropping involved. Those who want to get a bit closer to the action will be able to switch to DX mode and shoot 4K video, which will be close to super 35mm size. Similar to previous generation Nikon DSLRs, the D850 will be able to output uncompressed 4:2:2 8-bit footage through its HDMI port and record it via external recorders. In addition to the MOV video format, Nikon has also added the MP4 video format to the Nikon D850.
25) x4 and x5 Slow Motion Video in Full HD
Those who want to record slow motion video will be able to do so in full HD format using the new in-camera slow-motion video feature, which can generate both x4 (120/100p footage at 30/25p) and x5 (120p at 24p) slow-motion videos. Unfortunately, slow motion video will be limited to DX crop and AF-area modes will also be limited to normal-area and wide-area AF. It will also be impossible to record audio in slow-motion videos.
26) Focus Peaking
Nikon has also integrated focus peaking into the Nikon D850, which is great for those who desire this feature when using live view mode. Focus peaking will make it easier to focus on subjects, since it will highlight the areas of contrast using a particular color like red, white, yellow or blue. This feature should be particularly good to use with manual focus lenses. However, I wish Nikon offered an EVF option with the D850, since it would have made focus peaking much more useful when utilizing the viewfinder, rather than the LCD screen of the camera.
27) Built-in WiFi and Bluetooth
The Nikon D850 comes with a built-in WiFi and Bluetooth chips to drive Nikon's SnapBridge App. While many photographers were not happy with Nikon's SnapBridge implementation, it has gotten a bit better after firmware and software updates and hopefully by the time the D850 ships, it will be stable enough to use reliably in the field.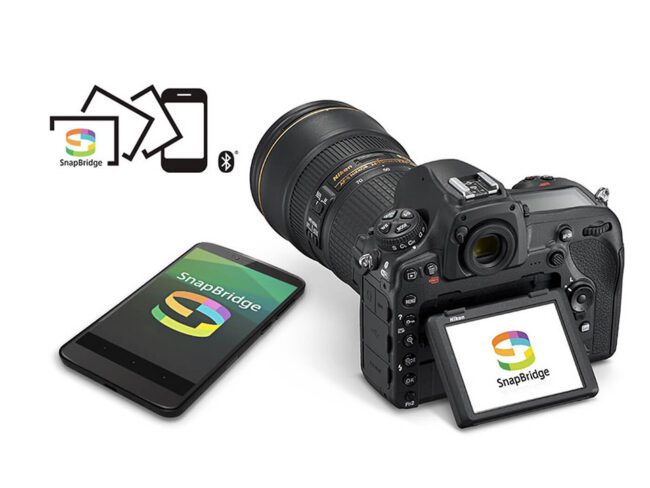 28) Wireless Speedlight Control
The Nikon D850 will be able to control the new SB-5000 speedlight from its camera menu, but it will require the external WR-A10/R10 transceiver. While it would have been great for Nikon to integrate a radio chip into the D850, it could introduce interference and have signal troubles when sitting behind the magnesium alloy shell. The WR-A10/R10 transceiver is fairly small and connects directly into the front port of the D850, as shown in the picture below: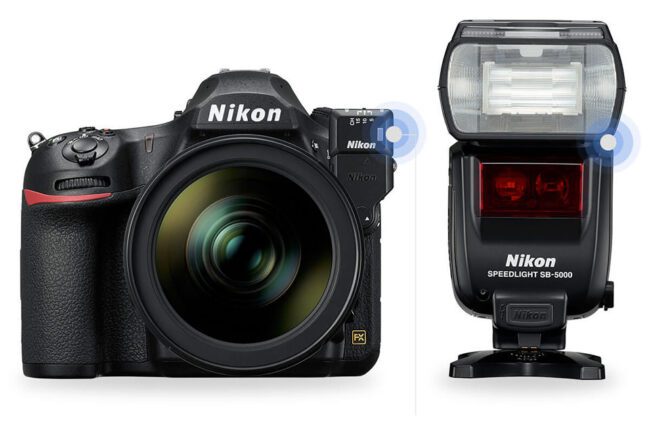 29) Nikon D850 Does Not Have Built-in GPS
One feature where the D850 loses to the Canon 5D Mark IV (and probably the only one) is built-in GPS. I don't know why Nikon has been forcing its customers to use an external GP-1A GPS adapter, because it is a horrible solution, as it takes up the flash socket and requires a cable connection to one of the ports on the front of the camera. I have seen the GP-1A used in the field once by another photographer and I cannot see how I could ever rely on such a setup! It does not fit my camera bag and I know for sure that I would end up damaging the cables and the connection ends. Why can't Nikon integrate a GPS chip into its DSLRs? Many other manufacturers have done it successfully and Nikon is still refusing to add such a basic camera feature. GPS is great to have on a DSLR for travel or landscape photographers, because we can see exactly where we captured a photograph. I really hope that Nikon adds built-in GPS to its cameras in the future.
30) Nikon D850 Targets Many Different Types of Photography
While the Nikon D810 was a specialized camera for landscape, architecture, macro and studio photographers who prefer resolution over speed, the Nikon D850 is made to appeal a much wider audience. In fact, with the D850, Nikon is targeting pretty much all types of photographers, including landscape, macro, sports, wildlife, fashion, wedding / portraiture and timelapse. That's because for the first time, the camera features both a high-resolution sensor and fast continuous shooting speed, as explained above. And with the 4K video recording capability, Nikon is also aiming to attract videographers as well.
31) Nikon D850 Has The Same MSRP as the Nikon D810 at Introduction
Without a doubt, Nikon is pricing the D850 aggressively in the US Market. With its MSRP of $3,300, the camera is priced at exactly the same level as the Nikon D810 when it was introduced a few years back. And if you factor in the inflation, that makes the Nikon D850 cheaper than the D810! The Nikon D850 will be a very popular camera and if Nikon has not prepared enough units for shipment, we could have many months of delays as we had previously experienced with the Nikon D800 when it was introduced. If you want to get a hold of the Nikon D850 when it becomes available on September 7th, I would highly recommend to place your pre-order as soon as possible. If you are an NPS member, I highly recommend that you submit this web form as soon as possible, so that Nikon prioritizes your order.