We have so many different camera systems available today, that it is getting tougher and tougher to choose between them, especially for those who are just starting out. With mirrorless systems on the rise and advancing at a much faster pace than DSLRs in terms of technology, one might wonder which mirrorless systems are worth a serious consideration. In this article, I want to go over the different mirrorless systems and give my subjective take on each system, stating which ones are the best and the worst, by my order of preference. All of the information presented in the article is based on not only my personal observation and experience, but also the feedback I have been gathering from other sources, including our PL readers.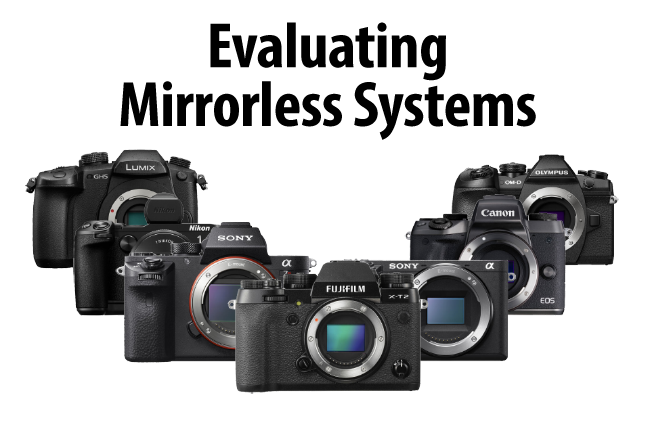 1) Overview
During the past few years, I have been shooting with a variety of different camera systems. While I keep Nikon as my primary DSLR camera system, I have been fortunate to shoot with everything from small point-and-shoot cameras all the way to medium format digital cameras. I have reviewed a number of the cameras I have used, but many I have not had a chance to review yet, or never had any plans to review in the first place – sometimes due to time constraints and other times due to other commitments. To get an idea of the cameras that we have reviewed so far on this site, check out the camera reviews section of this website. In addition to the various reviews, I have been writing about camera gear for a while now and I have been participating in discussions with not only many different industry experts, but also directly with photography professionals, some of whom happen to be long-time PL readers. Hence, my conclusions stated in this article have been shaped up from a number of different sources – not just personal opinion. I have been doing my best to avoid direct communication with manufacturers, since I do not want to be influenced by any particular brand. My goal has always been to keep PL neutral to all brands and systems. None of the PL team members have ever accepted payments from any company to positively review their products and our opinions are solely based on our experiences.
Now that we have all that cleared out, let's talk about things that really do matter. The photography community talks so much about high ISO performance, dynamic range, color rendition, image stabilization, ergonomics and other camera features, that it often seems like those are the most important criteria we should be judging each system on. In reality, there are far more variables involved at play; some of them are obvious and others, not so much. In this article, I would like to expand the discussion beyond just camera specifications – I will add topics such as product support, professional support and lens quality – topics that are often overlooked by many.
1.1) Sensor vs System Size
Sensor size is frequently discussed to death by many, including myself. While sensor size certainly does matter, it is not the biggest factor when it comes to system choice. System size is typically closely proportional to sensor size, so it is commonly accepted that the smaller the sensor, the smaller the overall footprint of a system is (with some exceptions). For example, those who shoot with Nikon's CX or Micro Four Thirds cameras often choose them for their compactness and versatility – cameras, lenses and accessories are designed to be lightweight and compact, which is why people love using them.
At the same time, a lens such as the 24-70mm f/2.8 zoom for a full-frame camera tends to be about the same size and weight, irrespective of the camera mount it is designed for. Sony wants us to believe that their full-frame mirrorless cameras are lighter than their DSLR counterparts, and yet when we look at the second generation A7-series cameras, they are just a tad lighter compared to their full-frame counterparts (for example, the Sony A7 II is 556 grams, whereas the Nikon D750 is 750 grams). Toss in a few batteries at 60 grams to have similar battery life on each and the weight differences become even more negligible. Bob Vishneski already compared the two in his Debunking the Mirrorless Hype article he posted a while ago, where he went into greater detail about why we should not believe that a mirrorless camera always translates to lower weight when compared to a DSLR with the same size sensor. Physics are physics, and while some lens designs definitely work better for short flange distances, other lens designs might require extensions to lenses, as we have seen from some of the recent lens releases for mirrorless cameras. For example, if we compare the size and weight of Sony's new 24-70mm f/2.8 GM lens, we can see that the lens size measures 136mm in length, while weighing a total of 886 grams. In comparison, Canon's 24-70mm f/2.8L II USM measures 113mm in length, while being lighter at 805 grams. The same goes for the Nikon 24-70mm f/2.8G that measures 132mm in length, weighing a tad heavier at 900 grams. The Sony's 70-200mm f/2.8 GM OSS is not smaller or lighter than the Nikon and Canon counterparts either. Less weight for a camera body can also be disadvantageous in terms of handling, as it makes the setup too front-heavy, due to cameras being significantly lighter than the lenses.
Hence, at the end of the day, the advantage of mirrorless systems over DSLRs is not necessarily in their lesser weight, but more in newer technology (EVF vs OVF, on-sensor focusing vs phase detection, in-body image stabilization, etc), which is no doubt very important. Still, the question of sensor size becomes more important only for those who truly need it – a larger sensor does yield better overall image quality, but that is only relevant to those who can and know how to take advantage of it. If one does not need wall-sized prints or extremely shallow depth of field, a camera system with a smaller sensor would be adequate, whereas those of us wanting the "best of the best" would probably be looking at full-frame or even medium format digital cameras, even if that comes with significant weight, size and cost considerations…
1.2) Sensor Size vs Cost
For many years, we have been told that larger sensors cost more to manufacture. Hence, a larger sensor camera should technically cost more, whereas a camera with a smaller sensor should come at a lower cost, right? And since mirrorless cameras do not have the complicated mirror mechanisms, we assume that they should be cheaper to make and sell than their DSLR counterparts. Well, it turns out that's not really the case. In fact, in some cases, it actually can cost more to own a smaller camera system compared to a bulkier DSLR – new technology and camera innovations definitely seem to come with a higher price tag attached to them. While I won't get into the details why mirrorless cameras often tend to be expensive compared to DSLRs, as there are lots of reasons that involve R&D, marketing and other factors, just taking a look at some of the higher-end offerings of different cameras is enough to understand that there can be little to no correlation between sensor size vs cost. Take a look at the below table:
| Camera | Sensor Size | Resolution | MSRP / Current Price |
| --- | --- | --- | --- |
| Nikon 1 V3 + 10-30mm Lens | 1″ Sensor | 18.4 MP | $1,199 / $1,199 |
| Olympus OM-D E-M1 Mark II | Micro Four Thirds | 20.4 MP | $1,999 / $1,999 |
| Panasonic Lumix DC-GH5 | Micro Four Thirds | 20.3 MP | $1,999 / $1,999 |
| Fuji X-T2 | APS-C Sensor | 24.3 MP | $1,599 / $1,599 |
| Sony A6500 | APS-C Sensor | 24.2 MP | $1,399 / $1,399 |
| Canon EOS M5 | APS-C Sensor | 24.2 MP | $979 / $979 |
| Nikon D500 DSLR | APS-C Sensor | 20.9 MP | $1,999 / $1,999 |
| Sony A7 II | Full-Frame | 24.3 MP | $1,699 / $1,699 |
| Nikon D750 DSLR | Full-Frame | 24.3 MP | $2,299 / $1,899 |
One could spend under $2K on a full-frame camera, while spending the same amount of money on a camera with a much smaller Micro Four Thirds sensor. While one could certainly argue that the cameras above cannot be compared directly due to having vastly different features and target markets, if one were to invest in a high-end camera from each system with around the same resolution, they would probably be looking at similar options. Let's now take a look at mid-range cameras that offer the most value from each system:
We can see that lower-end full-frame cameras are definitely more expensive than the mid-range options with smaller sensors and that's where we can say that the size of the sensor might be at play here. 1″ / CX costs the least amount of money at under $500 MSRP, with Micro Four Thirds being under $700, APS-C ranging from $800 to $1,200 and full-frame starting at $1700.
Therefore, it is important to keep in mind that cost is not always directly correlated to sensor size. Unless one looks at lower-end to mid-range options, the cost of owning a higher-end camera from any system can be significant, irrespective of the sensor size.
Keep in mind that I did not include other important factors such as size, weight and lens selection. If you have any interest in looking at a bigger picture, especially in terms of lenses, I recommend checking out the Camera System Comparison article and the rest of this article, where everything is analyzed in much greater detail, including overall size and cost of lenses for different camera systems.
1.3) Lens Considerations
One of the most important criteria for choosing a camera system is lenses. In fact, when evaluating a camera system, one should always first evaluate availability, quality and reliability of lenses for that particular system and see if such lenses would satisfy their needs. Pretty much every mirrorless system on the market today has a 50mm full-frame equivalent lens to shoot with. But once we look at general specifications such as size, weight, price, maximum aperture and other features such as weather sealing, we will start seeing differences rather quickly. Add other variables such as sharpness, contrast and bokeh performance at large apertures, sample variation, quality control and professional support, and suddenly your options are looking quite different. Therefore, before considering investing in any new system, one should carefully evaluate their lens needs and see if the target system would be able to accommodate them.
In the charts presented below, I will be evaluating different lens options for each mirrorless system and providing my ranking, based on my experience with those lenses.
1.4) Product Support
Based on what we have seen in the past few years, many newly-announced mirrorless cameras often ship with a slew of software issues and bugs, thanks to all the new technology we see in them. While most software issues and bugs are typically addressed via firmware updates, it is important to look at how quickly such issues are resolved and whether the fixes truly address the problems. I have seen cases where firmware updates don't do much to fully address all the problems and some firmware updates have been even known to cause other serious problems to cameras, requiring customers to send their cameras to the manufacturer's service centers for repairs. While such situations are rather rare nowadays, if a company has a track record of issuing bad or unreliable firmware updates, one should definitely take that into consideration. In addition, camera manufacturers rarely go back and add more features to existing cameras, since they want their customers to spend their money on the latest camera model instead. Why would they make their older cameras better and thus potentially take away their current model camera sales, right? Actually, we have seen such behavior from Fuji, which is known for adding new features to existing, sometimes rather old cameras through continuous firmware updates. Such service commitment should not be ignored, as it translates to a lot of long-term value to photographers. It is especially annoying to buy a camera, only to realize that a newer camera mostly has firmware tweaks and upgrades that could have been easily implemented on the older camera body. We have also witnessed manufacturers releasing camera updates too quickly in order to address serious problems, or make their cameras more competitive. Nikon has tarnished its reputation with the Nikon D610, which replaced the faulty D600, whereas it took Sony only eight months to make the Sony A6500, which is what the A6300 should have been in the first place. And Sony never properly addressed the overheating issues with these cameras when recording 4K video, something many regard as unacceptable.
1.5) Professional Support
Companies like Nikon and Canon are known for their excellent professional support. I have been an Nikon Professional Services (NPS) member for a while now and I know that if anything goes wrong with my Nikon cameras or lenses when working in the field or even traveling, I can fully rely on Nikon providing assistance and loaners while my equipment is getting repaired. This type of service is invaluable for professionals like me, as it gives us peace of mind when working on important projects, especially when working with paying clients. Unfortunately, most mirrorless camera manufacturers today are too new to offer reliable professional support. Some, only recently started their professional services worldwide, and others have only been rumored to announce professional services, with nothing to offer at the moment.
It is also important to consider potential costs for professional services. For example, Olympus charges $100 per year for its Pro Advantage professional services and so does Sony for its Sony Imaging PRO, while my NPS membership is completely free year after year.
2) Lens Selection
Before we take a look at the big picture, let's take a look at some of the lens options from each camera system. I will be looking at a number of primes, along with a few higher-end zooms, since photographers usually build their systems based on a range of different lenses. Please note that I decided not to list any of the discontinued / dead mirrorless systems from Samsung and Pentax. The Leica and other medium format mirrorless mounts have also been excluded, since they do not compete directly with any of the mirrorless systems in terms of price.
2.1) Nikon 1 / CX
Here is the lens selection for the Nikon 1 / CX system:
Aside from the 32mm f/1.2 and 70-300mm lenses, Nikon has not released any pro-grade lenses for the Nikon 1 system, so I did not categorize any of the above into professional and enthusiast grade lenses. As you can see, Nikon has not done a very good job with providing lenses for the Nikon 1 line – there are many gaps to fill and pretty much all zoom lenses are slow f/3.5-5.6 variable aperture lenses. Optically, most Nikon 1 lenses are quite good though and they resolve enough details for 1″ Nikon 1 sensors. Sample variation is not something to worry about – most samples I have tested personally were quite solid, with few issues. And price-wise, all Nikon 1 lenses are quite affordable, with 32mm f/1.2 and 70-300mm being the most expensive lenses for the system.
2.2) Canon EF-M / APS-C
Let's take a look at how many lenses are available for Canon's EF-M mirrorless mount:
We see exactly the same pattern for the Canon EOS M lenses as Nikon 1. Although some of the holes are plugged with third party lenses, those are all manual focus lenses and Canon clearly has not concentrated enough on the EF-M mount to make fast, good quality lenses. All zoom lenses are also slow, variable aperture lenses. On the positive side, the cost of lenses is fairly low and sample variation is pretty good as well. If Canon pushed more high-quality lenses for the M mount, this could be a very promising mirrorless system.
2.3) Micro Four Thirds Lens Selection
Out of all mirrorless camera manufacturers, Micro Four Thirds definitely has the largest selection of lenses available. This is not just because Micro Four Thirds has been out for a long time, but also because both Olympus and Panasonic continuously develop lenses for the same mount. And thanks to the popularity, a number of third party lens manufacturers have also been making lenses for a few years now, bringing the total number of available lenses for the system to almost 100 – an impressive achievement for sure. Let's take a look at what options there are available for Micro Four Thirds from both Panasonic and Olympus:
As you can see, Micro Four Thirds has a variety of both enthusiast-grade and professional-grade lenses. While I have not had a chance to use all of the lenses in the above table, the pro-grade lenses from both Olympus and Panasonic I have used in the past were optically strong, had superb build and had very little sample variation. In fact, when it comes to build quality and sample variation, the Olympus PRO lenses I have previously tested were very comparable to Zeiss, which is impressive. Pro-grade lenses for Micro Four Thirds are rather expensive, but their quality is often worth the high price tag.
2.4) Fujifilm X
Since launching the X mount, Fuji has done a tremendous job with its system by developing a superb set of lenses that includes both primes and zooms. Due to the popularity of the system, even third party manufacturers have been actively developing lenses, bringing a total of available lenses for the X mount to around 60 – an impressive number, given that the Fuji X system is less than 5 years old (at the time of writing this article). Let's take a look at the different lens options for different needs:
The lens line-up is not as complete as Micro Four Thirds, but it is still great to see mostly Fuji lenses in the above table. What's great about Fuji lenses is their optical performance – most of the lenses, even enthusiast-grade ones, excel on Fuji X lenses and are capable of resolving quite a bit of detail. Fuji engineers definitely deserve all the credit for making such a superb line-up for the X mount. I have also found Fuji lenses to be very reliable, built to high standards and with very little sample variation; I would say as good as Micro Four Thirds lenses. I am not a fan of cheap zoom Fuji X lenses, since those can be iffy in terms of optical quality, build quality and sample variation, but the primes and the higher-end zooms are really excellent.
2.5) Sony E
Although the Sony E mount has been in existence since 2010, it seems that Sony has focused more on production of cameras, rather than lenses. Just like Nikon and Canon, ever since the company launched its full-frame A7-series cameras, it has been mostly making lenses for the full-frame FE mount, grossly neglecting its original E mount. Hence, despite being in existence for 7 years, the number and more importantly, the quality of the lenses for the mount is much inferior compared to both Micro Four Thirds and Fuji X. Let's take a look at what's available for the mount from both Sony and third party manufacturers:
While one could argue that all of the FE lenses listed below would also work for the E mount and hence the tables should be merged, I have several arguments against that. First, the E mount lenses would not properly work on full-frame cameras, since the image circle is not large enough (only a small portion of the image would be available for use, which diminishes the resolution of the image). So merging the two mounts does not make sense from this standpoint. Second, lenses developed specifically for full-frame cameras are larger and more expensive, thus completely losing the size and cost the advantages of the E mount, making them incomparable to lenses for Micro Four Thirds and Fuji X-series cameras. In addition, unnecessarily large and heavy lenses would result in ergonomic issues, making the setup too front-heavy on such lightweight camera bodies such as the Sony A6000/A6300/A6500. For these reasons, I decided to keep two separate tables – one for APS-C E mount lenses and one for full-frame FE mount lenses.
Based on my rather extensive experience with the E mount (I have reviewed and tested pretty much every Sony NEX and A-series cameras), I would think twice before investing in Sony E mount lenses, since I saw all kinds of problems with them in the past. Generally, they are not that great optically, but the worst part is their poor build quality and sample variation. Over the years, I have used many copies of lenses such as the 10-18mm f/4 OSS and 24mm f/1.8 and I was very disappointed to find so much variation in optical performance between the different samples. Many demonstrated heavy decentering issues and when testing them in a lab environment, exhibited very inconsistent optical results – not something one should be experiencing from a premium lens. I had to go through a couple of 24mm f/1.8 lenses before I was able to get my hands on a stellar copy.
2.6) Sony FE
Without a doubt, the Sony FE system has become very popular among many photographers, thanks to Sony's excellent full-frame camera bodies such as the Sony A7 II, Sony A7S II and Sony A7R II. With Sony producing most of the camera sensors on the market today, it certainly passes the best of its sensor technology advancements to the A7-series cameras first, making them stand out in terms of dynamic range, color and ISO performance. This explains why Sony has been primarily working on FE lenses instead of E series lenses, as it sees more demand from professional and enthusiast photographers – there is a great deal of potential there. In addition, Sony has another advantage – a very close partnership with Zeiss, which has also been releasing a number of superb lenses for the FE mount. As a result, the company has quickly built up a great line-up of lenses in a relatively short period of time, bringing the total of available lenses from Sony, Zeiss and other third party manufacturers to over 60. Let's take a look at the different options we have today for the Sony FE mount:
| Lens Class | Lens Name | 35mm Equiv Focal Length | Price |
| --- | --- | --- | --- |
| Fisheye (PRO) | N/A | N/A | N/A |
| Fisheye (ENT) | Rokinon 12mm f/2.8 | 12mm | $499 |
| 24mm Equivalent (PRO) | Zeiss Batis 25mm f/2 | 25mm | $1,299 |
| 24mm Equivalent (ENT) | N/A | N/A | N/A |
| 35mm Equivalent (PRO) | Sony 35mm f/1.4 | 35mm | $1,599 |
| 35mm Equivalent (ENT) | Sony 35mm f/2.8 | 35mm | $599 |
| 50mm Equivalent (PRO) | Sony 50mm f/1.4 | 50mm | $1,499 |
| 50mm Equivalent (ENT) | Sony 50mm f/1.8 | 50mm | $249 |
| 85mm Equivalent (PRO) | Sony 85mmm f/1.4 GM | 85mm | $1,799 |
| 85mm Equivalent (ENT) | Sony 85mm f/1.8 | 85mm | $599 |
| Telephoto Macro | Sony 90mm f/2.8 Macro | 90mm | $1,099 |
| 105mm Equivalent | Sony 100mm f/2.8 OSS | 100mm | $1,499 |
| 14-24mm Equivalent (PRO) | N/A | N/A | N/A |
| 14-24mm Equivalent (ENT) | N/A | N/A | N/A |
| 16-35mm Equivalent (PRO) | N/A | N/A | N/A |
| 16-35mm Equivalent (ENT) | Sony 16-35mm f/4 | 16-35mm | $1,099 |
| 24-70mm Equivalent (PRO) | Sony 24-70mm f/2.8 GM | 24-70mm | $2,199 |
| 24-70mm Equivalent (ENT) | Sony 24-70mm f/4 | 27-70mm | $1,199 |
| 70-200mm Equivalent (PRO) | Sony 70-200mm f/2.8 GM | 70-200mm | $2,599 |
| 70-200mm Equivalent (ENT) | Sony 70-200mm f/4 G | 70-200mm | $1,149 |
| 300mm+ Prime Telephoto Equivalent (PRO/ENT) | N/A | N/A | N/A |
| 300mm+ Zoom Telephoto Equivalent (PRO/ENT) | Sony 70-300mm f/4.5-5.6 OSS | 70-300mm | $1,199 |
Unlike Fuji, Sony did not start out great in terms of a solid line-up of prime and zoom lenses when it launched the FE mount. Aside from the excellent 55mm f/1.8 ZA, most other lenses were rather disappointing in terms of optical quality and build. The 24-70mm f/4 OSS should have never had the Zeiss name on it, as it was a pretty poor performer even when compared to the cheaper 28-70mm kit lenses. Since the announcement, I tried out a few samples of the 24-70mm f/4 OSS and I could never find a good one – each sample showed heavy distortion and poor overall performance, exhibiting pronounced decentering issues in different corners. I detailed my initial experience in my "best and worst Sony lenses" article with some frustrating facts and I had a chance to retest a couple of more samples, after which I gave up. Let's get one thing straight – even if a Sony lens has a Zeiss name on it, one should not assume that the lens was designed or made by Zeiss. The Zeiss name is more of an endorsement. Zeiss-labeled Sony lenses are designed by Sony engineers. Once the design is reviewed and approved by Zeiss, Sony simply slaps on that name for marketing reasons. The Zeiss-branded lenses for the Sony E and FE mounts (Touit, Loxia and Batis) are the ones that are designed and manufactured by Zeiss engineers (most Zeiss manufacturing is outsourced to Japan).
Sony definitely made a come-back after releasing a few high-quality primes and zooms, especially the "G" master series lenses – those turned out to be on a whole different level in comparison. Much less optical issues, solid performance and build quality and sample variation seems to be better as well. So far I have tested a couple of copies of the 85mm f/1.4 GM and 24-70mm f/2.8 GM lenses and they did not disappoint. The same goes for Zeiss Loxia and Batis lenses – truly superb and well worth the investment. The Sony FE system is definitely looking a lot more promising today, thanks to these lens releases.
3) Mirrorless Camera Systems Comparison
Let's now go ahead and compile all the information together and see what we get. Please note that the table presented below has been gathered from a number of different sources. Some of the provided information and analysis is subjective, based on my personal experience with the system.
3.1) Lenses
Let's take a look at the lenses first:
| Camera System | Total Native Lenses | Third Party Lenses | Total Lenses | Lens Selection | Lens Quality | Sample Variation | Lens Score |
| --- | --- | --- | --- | --- | --- | --- | --- |
| Nikon 1 | 11 | 0 | 11 | 3 | 4 | 4 | 11 |
| Canon EF-M | 6 | 13 | 19 | 2 | 4 | 4 | 10 |
| Micro Four Thirds | 57 | 42 | 99 | 5 | 5 | 5 | 15 |
| Fujifilm X | 21 | 38 | 59 | 5 | 5 | 5 | 15 |
| Sony E | 13 | 27 | 40 | 3 | 3 | 3 | 9 |
| Sony FE | 22 | 42 | 64 | 5 | 4 | 4 | 13 |
Based on all the information I provided so far, you can see that when it comes to lenses, my preference lies with Micro Four Thirds, Fujifilm X and Sony FE systems. Neither Nikon, nor Canon have developed enough high quality lenses, so they take a hit when it comes to lens selection. Sony E mount takes a hit for sample variation due to the reasons stated earlier in the article, earning it the "least preferred" status lens-wise, while both Micro Four Thirds and Fuji score the highest, thanks to having superb lenses.
3.2) Cameras
Let's take a look at the cameras now:
| Camera System | Entry-Level Cameras | Enthusiast Cameras | Professional Cameras | Image Quality | Stabilization | Ease of Use | AF Performance |
| --- | --- | --- | --- | --- | --- | --- | --- |
| Nikon 1 | Yes | Yes | No | 2 | Lens | 5 | 5 |
| Canon EF-M | No | Yes | No | 4 | Lens | 5 | 4 |
| Micro Four Thirds | Yes | Yes | Yes | 3 | Body & Lens | 5 | 5 |
| Fujifilm X | Yes | Yes | Yes | 4 | Lens | 5 | 5 |
| Sony E | Yes | Yes | No | 4 | Body & Lens | 4 | 5 |
| Sony FE | No | Yes | No | 5 | Body & Lens | 4 | 5 |
Since there are so many different criteria for evaluating cameras, it is hard to put all that information in a single table and provide proper weights and scores to each criterion. Here, I mostly based my assessment on image quality, stabilization differences and ease of use, although that's obviously a very limiting way to assess cameras. The main factor, in my opinion is image quality and that's obviously where size matters – generally, the larger the sensor, the better the image quality. Stabilization is also getting more and more important nowadays. With camera systems now offering both body and lens-based stabilization, it is making the systems more versatile, especially because such amazing features as pixel shift can be implemented. Therefore, I gave two points to any system that offers both body and lens-based stabilization. Ease of use is also important and that's where Nikon, Canon and Fuji score the highest, thanks to their excellent menu systems, intuitive dials, controls and buttons. I ranked Sony lower, because the menus are either unnecessarily complex or badly organized. And to hell with those stupid Sony PlayMemories apps! It is ridiculous to think that one needs to spend more money on apps that deliver extra functionality to cameras. And anyone who dealt with them in the past knows how unstable and poorly implemented they are.
The first three columns give a good indication of how complete a system is. Micro Four Thirds and Fujifilm offer a number of different camera levels – from inexpensive entry-level, to high-end professional-level cameras. Nikon started out quite good with its V1 and V2 series cameras, but after it moved EVF as an optional accessory and switched to MicroSD, I think we can qualify the V-series at best as "enthusiast" cameras for Nikon 1. And while many will disagree with me, I cannot categorize Sony's A7-series cameras as "professional" – I don't think a camera with a single memory card slot could ever qualify to be a professional camera. Still, I did not include this data as part of the ranking.
In terms of autofocus performance, most high-end mirrorless cameras today do really good there, with some being slightly better or worse in particular situations. Once again, please note that I did not include many other camera features in the above table, such as resolution, dynamic range, EVF / LCD quality / refresh rate, battery life, dynamic range, video recording, and many other features that are also quite important. Therefore, please look at the above table for information purposes only, not as a way to rank a particular camera system.
3.3) Mirrorless System
Let's now take a look at the overall "System Score", based on other important criteria such as reliability, system size and cost:
| Camera System | Stability and Reliability | Firmware Updates | Professional Support | Sensor Size | System Size | System Cost | System Score |
| --- | --- | --- | --- | --- | --- | --- | --- |
| Nikon 1 | 5 | 3 | No | 2 | 5 | Low | 15 / 26 |
| Canon EF-M | 4 | 3 | No | 4 | 4 | Low | 14 / 24 |
| Micro Four Thirds | 5 | 4 | Yes | 3 | 5 | High | 18 / 33 |
| Fujifilm X | 5 | 5 | No | 4 | 4 | High | 18 / 33 |
| Sony E | 4 | 3 | No | 4 | 4 | Low | 15 / 24 |
| Sony FE | 4 | 3 | Yes | 5 | 3 | High | 16 / 29 |
Most of the mirrorless systems have already matured, so their stability and reliability are quite good nowadays. When it comes to firmware updates though, we can clearly see the ones that stand out – Fuji and Micro Four Thirds. I ranked Fuji the highest, because it is the only company that goes back and adds more features to its older cameras. Until recently, neither Panasonic nor Olympus provided feature upgrades via firmware, but with the announcement of the OM-D E-M1 II, Olympus is now saying that they will be adding more features via firmware updates, which is encouraging to hear. I am not sure if that alone deserves a +1 for firmware updates for all of Micro Four Thirds, but it is still better compared to others who just don't seem to care. In terms of Professional Support, Micro Four Thirds and Sony FE are the only two systems that you can get pro support for, although both require annual payment. Sensor size-wise, I started at 2 for Nikon 1 for its small CX sensor and gave a 5 to full-frame, which basically matches the previous table's Image Quality column. In terms of system size, Nikon 1 and Micro Four Thirds scored the highest, since the footprint of these systems is indeed very small when compared to APS-C and especially full-frame cameras. The System Cost column takes into account the best cameras and lenses for a particular system, so Nikon 1, Canon EF-M and Sony E are going to cost the least, whereas the cost of Micro Four Thirds, Fujifilm and Sony FE systems can get quite costly.
Lastly, if we take into account the lens scores and combine them with the system scores, we get the overall "System Score", which is the bold number in the last column. The previous number is the sum of all columns, minus system cost.
4) Conclusion
Putting it all together, you can see that the systems I personally prefer over others are Micro Four Thirds and Fujifilm X. In my opinion, these two systems are currently the most complete out of all mirrorless systems in terms of lens and camera selection and they have earned very high praises for their compact size, overall performance and reliability. Unfortunately, neither Nikon, nor Canon have taken mirrorless seriously and it really shows: Nikon has not had a single announcement for its Nikon 1 line for over a year now, making its future questionable, while Canon seems to have only experimented with the M. Neither have done anything serious to make compelling lens choices for serious enthusiasts and professionals. The same goes for Sony, which has been sadly neglecting its E mount, mostly concentrating on releasing FE lenses nowadays. Understandable, but not good for someone who wants to stay compact with an APS-C system. The Sony FE system offers the best image quality when compared to everything else, but until recently, lenses have been lacking in terms of selection, sample variation and quality. Sony FE is also the largest in terms of system size and the most expensive, especially if you buy "G-Master" or Zeiss lenses. I would love to see Sony make full-frame cameras specifically targeted at professionals, with larger batteries, improved ergonomics, dual memory card slots, better reliability, no overheating issues, improved menu system and highly desirable features such as pixel shift.
If you are evaluating different mirrorless systems, I hope you will find the above information useful. If you have any feedback or comments, please feel free to share in the comments section below.