It seems that the continuous increase of megapixels in our digital cameras is inevitable. Year after year, camera sensors are getting better, image resolution is increasing and file sizes are getting bigger. If just several years ago 10 megapixels was plenty for a DSLR, that number has grown way higher lately, thanks to such fine tools as the Nikon D800. This increase of resolution and file sizes clearly puts a load on our quickly aging computers as well. Larger files require more storage and post-processing images in Lightroom and Photoshop is taking longer due to insufficient computing power and resources, dramatically slowing down our photography workflow process. While upgrading your computer could speed things up quite a bit, it is often a costly proposition. Instead of spending money on more gear, revisiting your workflow process and perhaps even revising it might significantly reduce the amount of time you spend editing images. In this article, I will show you a very efficient Lightroom workflow for high resolution images, which my wife and I adopted after acquiring the Nikon D800.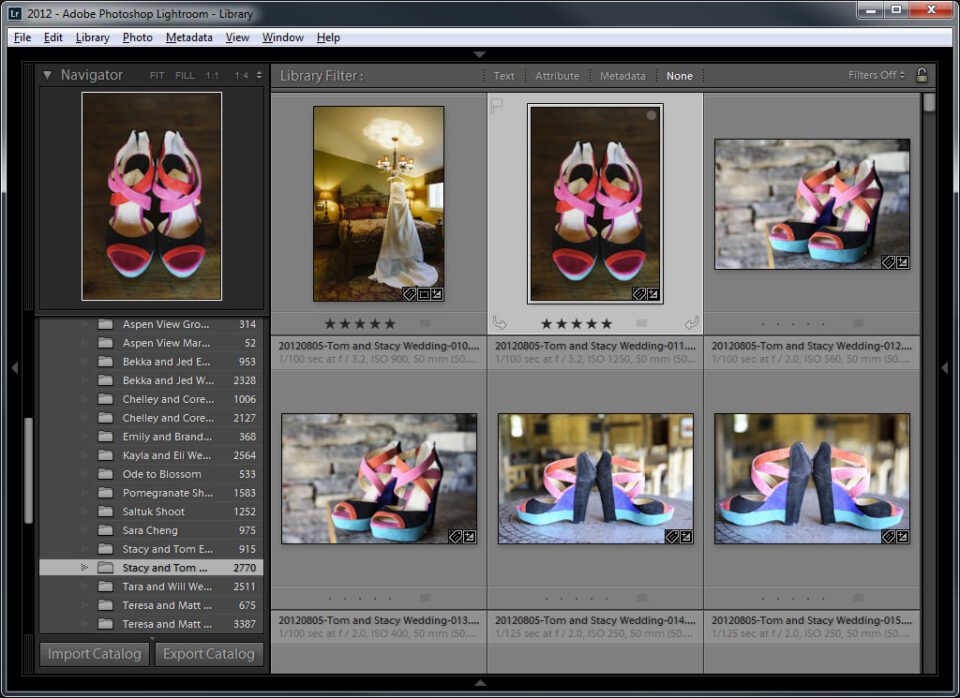 1) Why I changed my Lightroom Workflow
On average, my wife Lola and I shoot about 20-30 thousand images a year. It sure sounds like a lot, but if you factor in all wedding and portrait work we do, where a single wedding day could yield over a thousand images, it is actually not that big of a number. Since it was extremely slow and inefficient to keep all images in a single Lightroom catalog, I started organizing catalogs by year about 3 years ago. Since then, I was quite happy with my Lightroom workflow. At the beginning of each year, I would move my primary catalog for the previous year to slower archival storage and create a new one. Everything was working well, although towards the end of the year Lightroom would get a little sluggish. But it was tolerable…Until Lola and I bought the Nikon D800.
While we were both extremely happy with the quality of images we were getting from the D800 (which very quickly became our favorite DSLR), our post-processing workflow turned out to be inefficient. Lola was quite frustrated when working on images from the D800, since they opened so much slower than images from the D700 or the D3s. So I had to find a quick solution. I knew that her PC was good enough and did not require upgrading, since I built a PC last year with the Intel Core i7 processor, 16 GB of RAM, an SSD drive and two fast drives in RAID 1 (mirror) configuration for photo storage. The issue was with our Lightroom Workflow – storing 30 thousand RAW photos in one Lightroom catalog was a bad idea. After experimenting a little, I came up with a much faster process, which made Lola happy again and she was able to work through all recent weddings quickly.
2) Export Images to a Separate Catalog
The reason why Lightroom gets slow overtime, is because of the large number of objects and associated metadata stored in a single catalog. The first thing I recommend to do, is take the content you will be editing out of your current catalog into a separate one. By doing that, you will be editing a single event with no other photographs in it. Here is an example of how Lola's Lightroom folder structure looks like: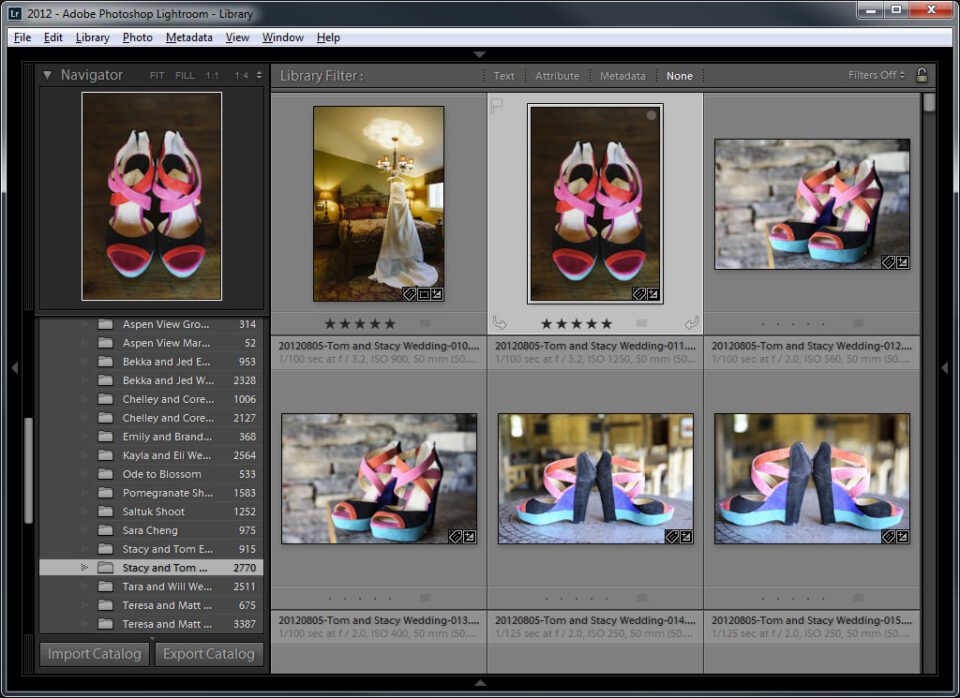 As an example, I chose a single wedding (Stacy and Tom) by clicking on the folder in the Library module, which contains 2770 images (if you store your images differently in the file system, you can also select a range of images by clicking the first image, then pressing the SHIFT key and clicking the last one).
Now what you need to do, is export the entire folder into a different catalog. In this case, I will be exporting 2770 images to a separate catalog. You can do this by either pressing the "ALT" button on your keyboard and clicking the "Export Catalog" button on the bottom or by going to "File"->"Export as Catalog". When you do that, you will be presented with the "Export As Catalog" window: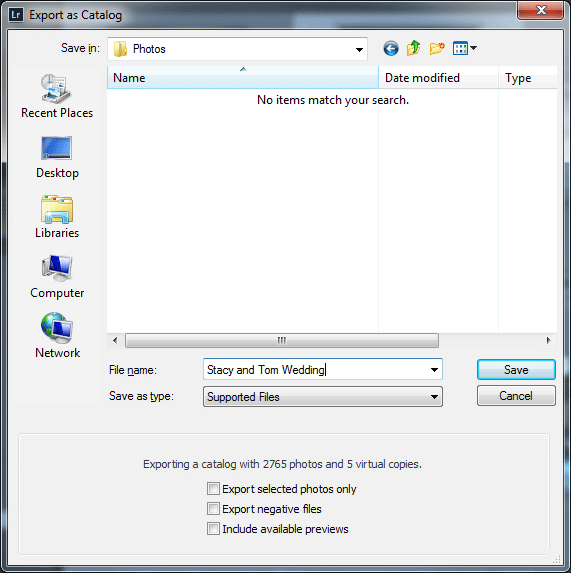 Now you need to select the folder where you will store the new catalog. I highly recommend using a folder in your fastest hard drive. For example, if you have an SSD drive as your primary hard drive (C: Drive), then create a folder in the main folder like "Photos" or "Lightroom". Once you create a folder, type the file name of your catalog. As you can see from the above image, I typed "Stacy and Tom Wedding" and I am storing it in a folder called "Photos". Now here is the important part – make sure that the bottom of the window states the correct number of images you will be exporting and all three boxes are unchecked. If you hand-picked the photos you want to export, then only the first box "Export selected photos only" should be checked. You definitely do not want to check "Export negative files", because it will duplicate your RAW files in the location you picked. Including available previews is not needed, since we will be re-rendering them (see below). Click "Save" to begin the export process: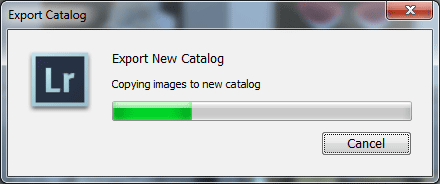 2) Open the New Catalog
Once the export is complete, you will receive a message that the export was successful. Next, navigate to "File"->"Open Recent" and pick the catalog that Lightroom just created for you. In my case, it is "Stacy and Tom.lrcat". When you click the file name, the following message will come up:
This means that Lightroom is about to close your current catalog and open the new one. Just click "Relaunch" and the new catalog will come up: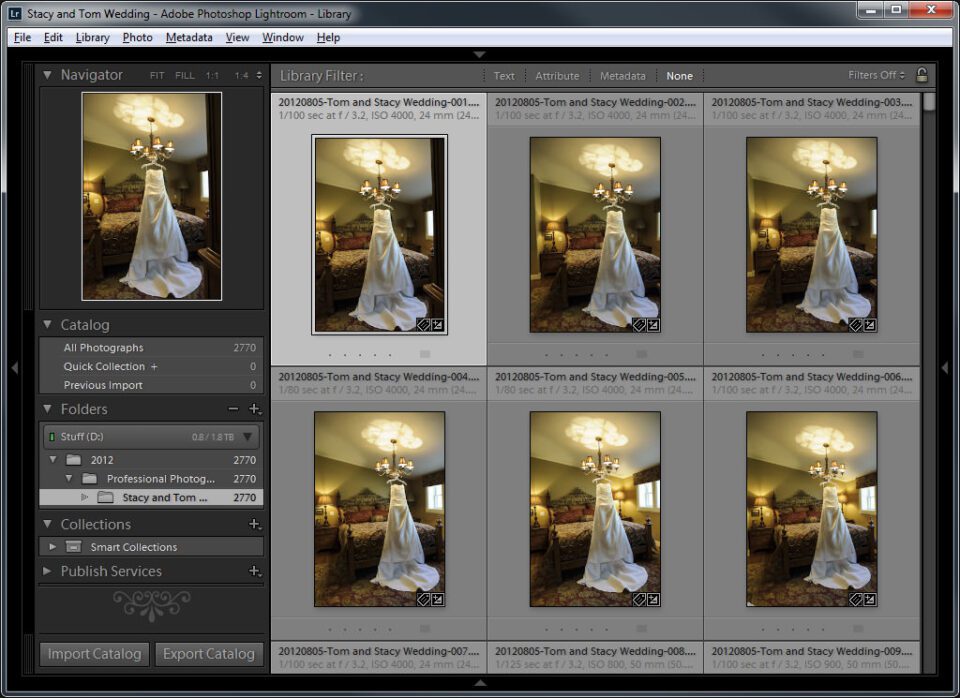 As you can see, only the current folder is visible in the new catalog – no other photos have been exported. Lightroom should already be much faster, but there is one issue – none of the images you see have been rendered by Lightroom yet. This means that if you start scrolling down or trying to open each image, it will take a while for Lightroom to generate all the thumbnails and display the full size image. In the next step below, we will make Lightroom render each image separately, which will speed it up even more.
3) Render 1:1 Previews
The reason why those 36 MP files from the Nikon D800 take so long to open up when you zoom into them, is because Lightroom has to read the RAW file, then render a full size JPEG image out of it. This takes a while, which adds to frustration when you have to go through hundreds of images and check for sharpness and other issues. To avoid this time-consuming process, you can render each image before you start editing, which will speed things up significantly when going from one image to the next. But this process takes a long time – it might take hours to finish, depending on how many images you want Lightroom to render.
To do this, navigate to "Library"->"Previews"->"Render 1:1 Previews" as shown below: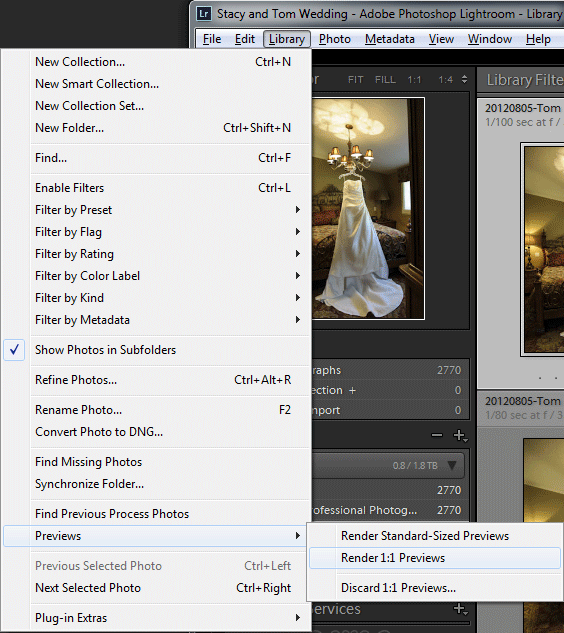 The following message will pop-up, asking you to confirm if you want to build previews for a single image or all images: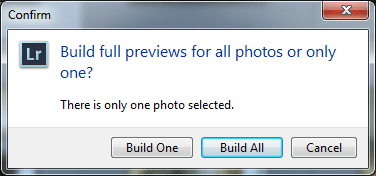 Click "Build All" and the rendering process will start. You can monitor the progress of image rendering on the top side of Lightroom, similar to how you monitor the export process.
Once all the images are rendered, try to edit a couple of images and zoom in/out – everything should be much faster now!
4) How to Get Back to Your Old Catalog
So you worked through your images, made modifications, exported them and now you are done. How do you get back to your old Lightroom catalog? It is simple, just like you switched to this one, just navigate once more to "File"->"Open Recent" and click the name of your old catalog. Lightroom will again ask you if you want to Relaunch the catalog, so just click "Relaunch" and you will be taken to your old catalog.
Now here is something important to keep in mind. All image edits that you have performed in the newly created catalog will NOT be replicated back to your old catalog. When I had to do this for a number of different weddings, I kept them all separate and deleted them from my main catalog. If you choose to clean up your old catalog by deleting the exported photos, absolutely make sure NOT to delete the actual photos from your file system, since the exported catalog above references the images in the same location. When deleting files, Lightroom will ask you this: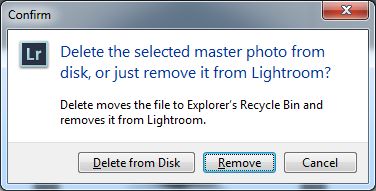 Only click "Remove" and NOT "Delete from Disk". By removing the image, you are removing it from your Lightroom catalog, but the actual photo in your file system is preserved. If you click "Delete from Disk", then the RAW file will be deleted as well, which will break your other Lightroom catalog that you exported.
If you want to synchronize the photos back to your main Lightroom catalog after editing, you can easily do it by going to "File"->"Import from Another Catalog…". In the import screen, choose "Metadata and develop settings only" under "Changed Existing Photos" and resolve other potential issues with missing files and click Import. Now all the changes should be synchronized back to your main catalog.
5) Modify Your Current Import Workflow
If the above process works out for you and you find it to be efficient for editing photographs, I would recommend to change your import workflow process. Instead of putting all photographs into the same catalog, why don't you start creating catalogs for each major import? That way, you do not have to export photographs and import them again to sync the catalogs every time. Now if you still want to have one main catalog that contains all of your photographs, then you would be better off creating a separate catalog, importing images into it, editing images and then importing the small catalog into your main one.
Hope this helps, let me know if you have any questions!