Should you use DNG or Raw format? This is one of the most important questions that you as a photographer need to ask because it will affect your digital photography workflow. Every photographer has their own opinion on DNG or Raw, but it is important to know the key differences between the two, along with their advantages and disadvantages. In this article, I will provide as much information as I can about both formats, in addition to my opinion and workflow. If you are looking for more information about how Raw images compare to JPEG images, then please read my "Raw vs JPEG" article.
1. What is Raw?
Raw images, also known as "digital negatives" are truly "raw", meaning they are almost unprocessed data coming directly from the camera sensor. Unlike JPEG files that can be easily opened, viewed and printed by most image-viewing and editing programs, Raw is a proprietary format that is tied to the camera manufacturer and sensor, and therefore is not supported by all software products. Raw files preserve the most amount of information about an image and generally contain more colors and dynamic range than other formats.
1.1. Advantages of Raw Format
Raw files contain full JPEG Previews that were processed by the camera, using the camera settings you chose when you shot the image.
In addition to basic exposure information, Raw files also store other camera-specific data such as focus point, picture controls, etc.
Raw files are fully supported by their manufacturers and therefore work with camera-specific software packages such as Nikon Capture NX.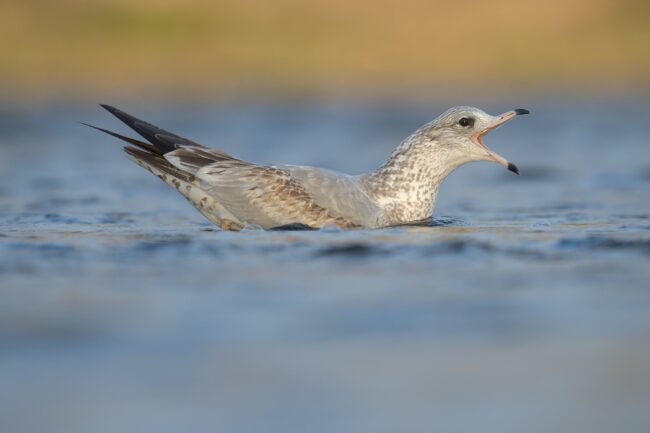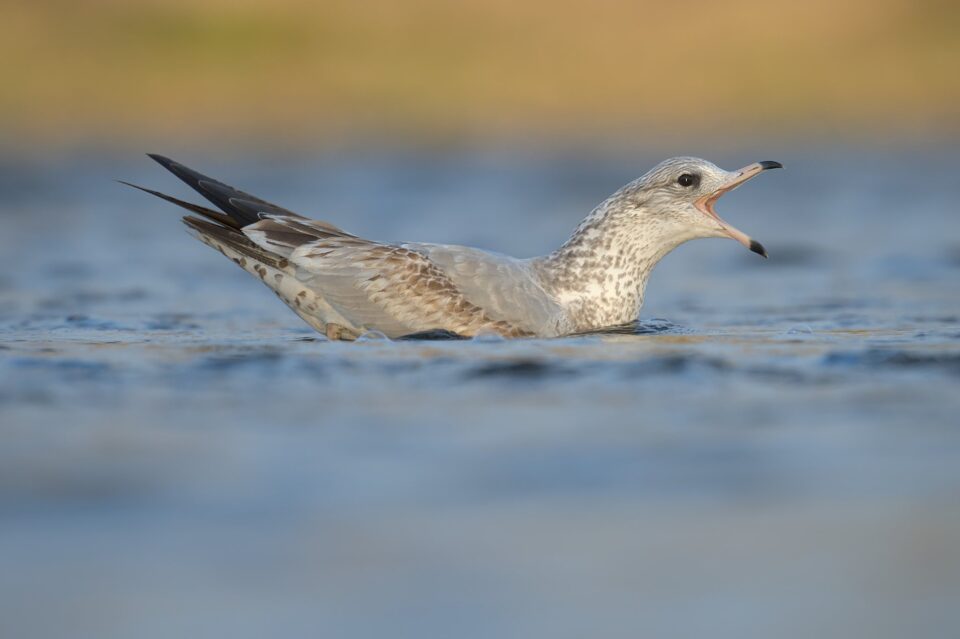 1.2. Disadvantages of Raw format
Not all software packages can open Raw files. If you have a brand new camera that just got released, you might need to wait for a while for software companies to catch up and update their software so that your Raw files could be opened and worked on, even on the most popular image-editing products such as Lightroom.
Because Raw files cannot be modified by third-party software, your settings will have to be stored in a separate sidecar (XMP) file, which means more storage and tougher file management.
2. What is DNG?
DNG is also considered to be a Raw image file. It is Adobe's image standard that was created in 2004 to store image data in a generic, highly-compatible format, unlike Raw files that have specific formats based on manufacturer and camera type.
Adobe's DNG standard is based on TIFF, another image format you've probably heard of. The TIFF standard was made an ANSI standard in 1993, and they are very widely used and supported by nearly all image processing programs. Photographers often used TIFF files as an intermediate step in processing because, unlike JPEG files, they are lossless.
Although Adobe's DNG format is published and available to anyone, in practice, a large number of tools required to work with DNG are developed by Adobe and require Adobe to support them. If you look hard enough, there are a few third-party Raw to DNG converters available as well.
2.1. What are the Advantages of DNG format?
No need to be worried about proprietary camera Raw formats – once a Raw file is converted to DNG, it will work with any software that can properly read the DNG format.
DNG files can be made smaller than Raw files if minimal or no JPEG Preview is stored within the file.
Changes to images can be written directly into DNG files without having to create separate sidecar XMP files to store this data. This simplifies file management.
DNG files are capable of storing full original Raw files and these Raw files can be later be manually extracted, if needed (note: this will significantly increase DNG file size).
Adobe provides many ways to automatically convert Raw images to DNG format in such programs as Lightroom.
Unlike Raw files, the DNG format includes checksum information in the file to detect and prevent file corruption.
Adobe continues to work on the DNG format, enhancing it year after year and adding more functionality and features.
2.2. What are the Disadvantages of DNG format?
Conversion from Raw to DNG takes extra time during the import process. This can be significant when converting high-resolution images.
DNG does not work with most manufacturer image-processing programs. For example, it doesn't work with Nikon's Capture NX software.
DNG strips out most of the unrecognized metadata (such as Active D-Lighting, Picture Controls, Focus Point, etc) from Raw files, making it impossible to retrieve this data from DNG in the future.
Because all changes are written into the DNG file, you need to back up the entire DNG file every time you make changes to it. (However, you can still configure many Raw editors to just use sidecar XMP files so this is not always necessary.)
Although DNG is a standard, in practice it requires software to convert Raw files into DNG, and it also requires that other software developers continue to support DNG. If Adobe stopped supporting DNG (for example, if they stopped developing and releasing utilities to support it) then other software developers could stop supporting it in their Raw processors
3. How can you use DNG files?
Although DNG was invented by Adobe and is supported in all Adobe applications, other camera manufacturers such as Leica, Hasselblad and Pentax can output Raw files directly. For some types of cameras like Pentax, you need to select DNG as the output in the menu, over Pentax's proprietary PEF file.
Some phones such as the iPhone 12 or later and the Samsung Galaxy S22 support Raw output in the form of DNG as well, although you must select this option in their menus as well.
Even if your camera does not output DNG directly, you can also download Adobe's official utility that can convert Raw files from over 600 different cameras into DNG files.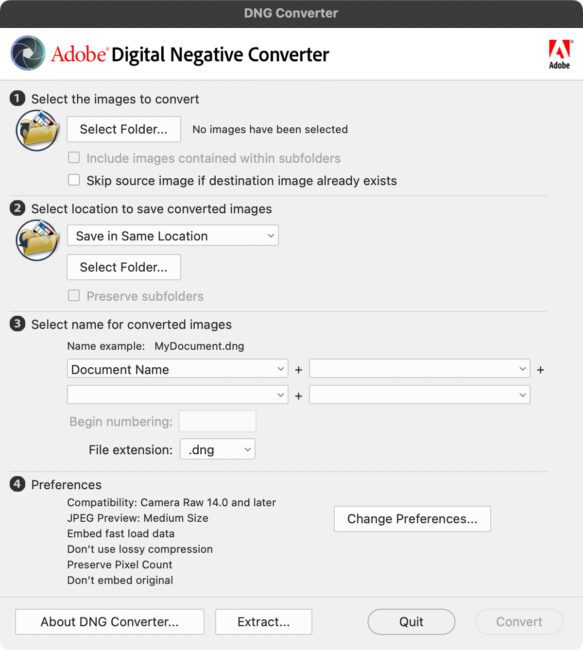 4. Should You Use DNG or Raw?
There was a time in the past when I used to convert all of my images from Raw to DNG format. I stopped this practice after a few years because I realized that DNG was not becoming a wide standard among all manufacturers and it was not as open and documented as I thought it would be.
Most software other than Adobe's had issues reading the DNG format and the loss of some potentially important metadata was not something I was comfortable with. I wrote my thoughts in a comprehensive article titled "Why I No Longer Convert Raw Files to DNG" and I recommend that you give it a read since there is quite a bit of information there.
Another reason not to convert to DNG format is that the DNG tools made by Adobe only run on Windows and MacOS. Thus, if you are a photographer who uses Linux, it makes no sense to convert to DNG.
Due to the plethora of Raw processing programs and cameras out there and the fact that camera manufacturers have supported their Raw formats for decades, it seems wiser to just use the default format that your camera outputs. Perhaps your camera's Raw format will cease to be supported, but it's also possible that your favorite Raw editor will have some problem with DNG as well.
On the other hand, the problem of reading file formats is almost as old as the computer itself. Thus, I suggest keeping an eye out and if your file format ceases to be supported, you could always start converting your Raw files to DNG if you get worried.
Please let me know if you have any questions or feedback in the comments section below.