The Lightroom import dialog is one of the most essential components of the software, not just because that's how one gets images into Lightroom, but also because with the proper use of the import dialog, it is possible to properly organize images and apply specific presets that can potentially save quite a bit of time when post-processing images. In this article, I will go over the import dialog and cover its settings to hopefully help our readers in understanding its use and advantages.
To bring up the import screen, you can either click on File->Import Photos, or press CTRL + SHIFT + I (CMD + SHIFT + I on Mac) on your keyboard. Once the import screen comes up, it will look like the following: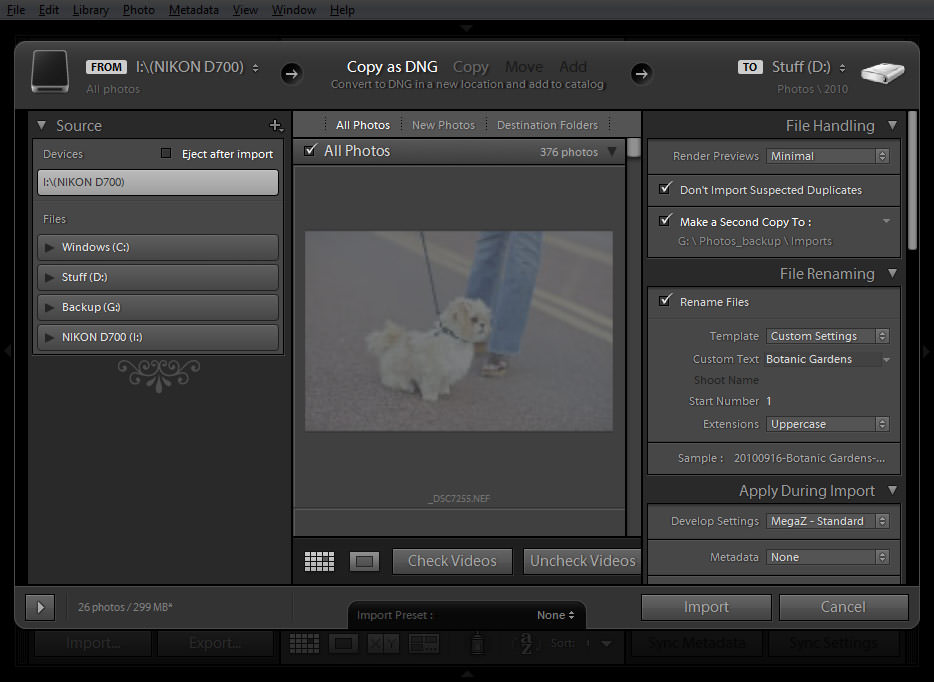 The top panel with "From" and "To" sections allow you to choose the source and destination of the photographs you will be importing. The entire import screen is organized very similarly to Lightroom itself, the left side being the location where you will be grabbing the files from, while the right side serves as the destination side, along with import settings. The middle section shows images to be imported. Lightroom is able to differentiate between permanent storage, your camera or card reader, and if you happen to plug in your camera or insert a memory card, the screen will refresh and show it under "Devices".
The right menu consists of several sections: File Handling, File Renaming, Apply During Import and Destination. Let's take a look at the first two sections – File Handling and File Renaming: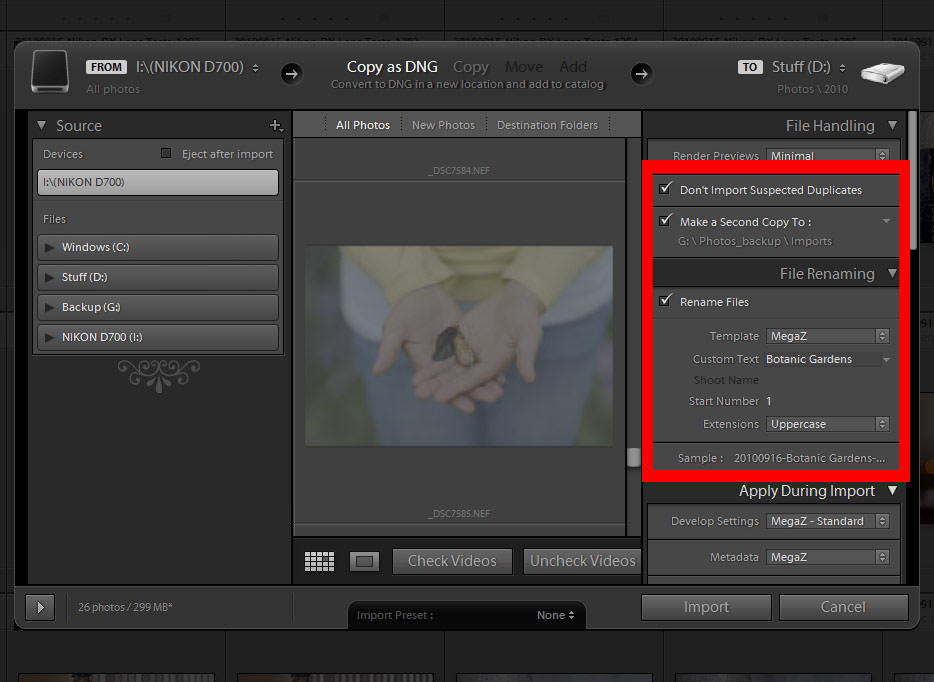 File Handling Section
The File Handling section consists of three choices – "Render Previews", "Don't Import Suspected Duplicates" and "Make a Second Copy To". Unless I need to work on images right away, I typically leave the render previews on "Minimal", but always keep "Don't Import Suspected Duplicates" checked to make sure that I don't accidentally import the same images into my catalog. Although the "Make a Second Copy" field can be useful for making the exact copy of the memory card contents, I personally never have it checked. Since I use the import dialog to properly organize images and rename them on import, I do not want to duplicate unorganized memory card images in my storage. Ideally, you want to back up your images as part of your post-processing workflow anyway – and I prefer to do it after I am done organizing and editing images. It is important to note, however, that I do not format my memory cards after the first backup is complete.
File Renaming Section
The File Renaming section consists of variables that are used for renaming you files. I always rename my files to the following format: "YYYYMMDD-Custom Text-Sequence Number.EXT". The first part is the file date, for example "20100916", which stands for September 16, 2010. Then a dash is followed with a custom text that I type during each import, which is then followed by an incremented sequence number. I like renaming my photos, because I do not like to keep photo names like "DSC_1000.NEF" that mean nothing and get duplicated over time. By renaming the photos, I know that I could simply take all images from all folders and put them all into a single folder without running into duplicate file names. I highly recommend taking the same or a similar approach and uniquely identify every image you import.
If you have not already created a rename template, take a look at the following: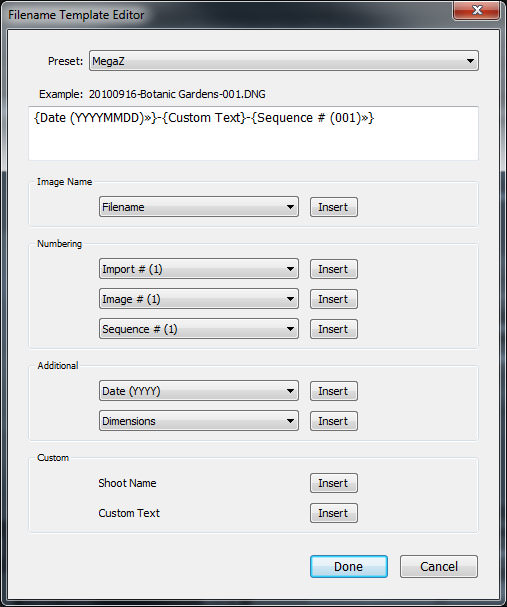 Create a similar template, then save it as a Preset and click "Done". Then simply select your preset under the "Template" dropdown.
The next field under "File Renaming" is Custom Text – the text you can type to identify images. For this example, I used "Botanic Gardens" as custom text, which means that my first file will be named like "20100916-Botanic Gardens-001.DNG". The "Start Number" field lets you type the first number that the system will use, so if you type "500", your first file name will have a sequence number of 500 and all consecutive numbers will be incremented by one. This is very useful during multiple imports into the same folder structure – I simply look at the total number of photographs in my memory card and put the number in that field. I always leave the extension in Uppercase.
Apply During Import Section
This section is another important one, since it lets you choose an import preset with your Lightroom settings, write Metadata and Keywords into each image as it gets imported. I have already made some changes to the way I import files and being able to choose what you want before the import process starts is a great idea, because it saves tons of time for me during the image editing process. Once you make changes to an image and save the preset, it will immediately show up on this screen.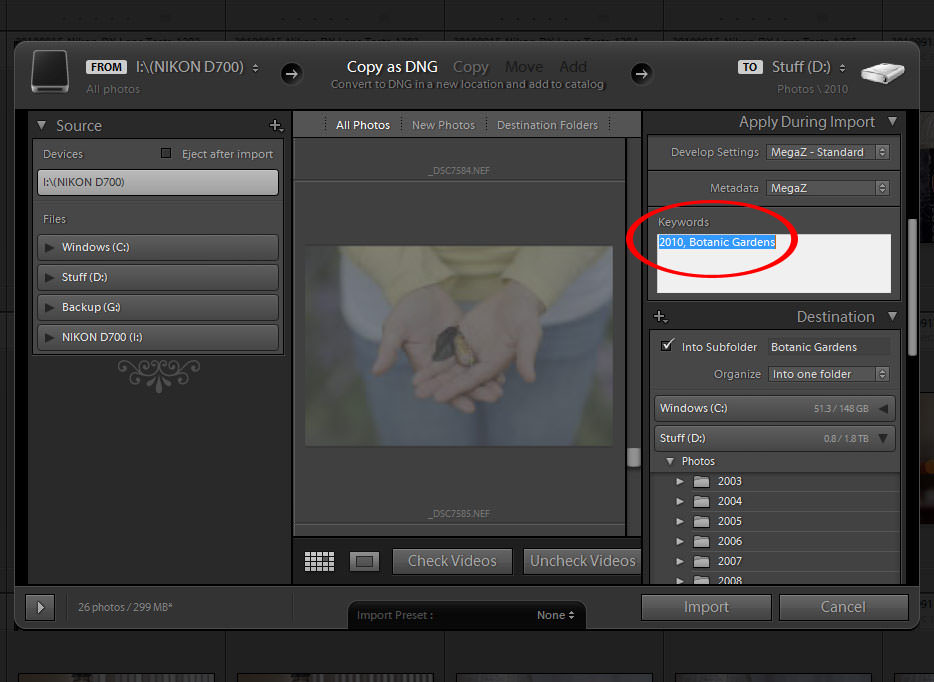 The next field is called "Metadata" and it is used for writing additional data into each imported file. For example, if I wanted to include my copyright text in every image (do not confuse this with a watermark), I would need to create a new Metadata preset and make some changes: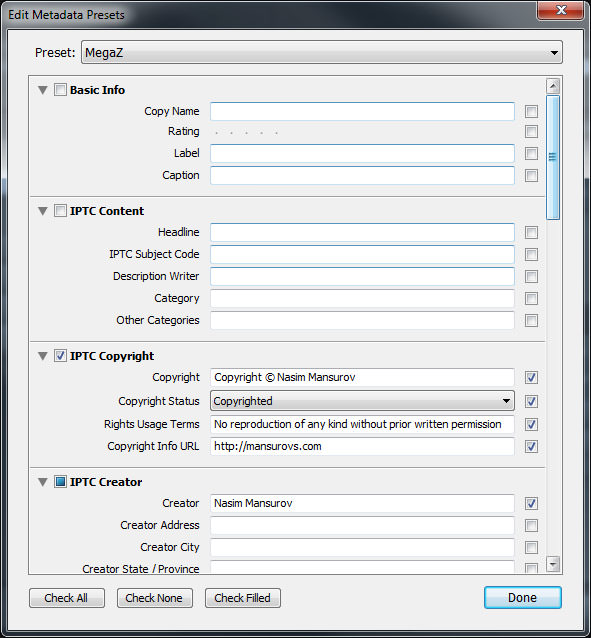 I wouldn't waste time by filling out every single field and only pay closer attention to IPTC Copyright and IPTC Creator fields, where you can provide your name and contact information.
The last field is Keywords and I always type two keywords on every import – the year when the image was taken and the name of the event (for sorting purposes). For example, for the above example I used "2010, Botanic Gardens", which adds these keywords to each file and Lightroom database.
Destination Section
The last section identifies the location of where the import process will store files. The first field is called "Into Subfolder", which I always leave checked, since I do want Lightroom to create subfolders for me. The next field is a drop-down with two options: Organize by Date and Organize Into one Folder. If you select "Organize by Date", you will get an additional field called "Date Format", where you can specify the format of the subfolders that will be created by Lightroom. Since I already have a folder for each year and my file names already contain the full date, I do not feel the need to create subfolders for year, month and day. Instead, I like to keep everything simple and organized, instead of having many different subfolders in the system. Therefore, I always choose "Organize Into one Folder" and then type the name of the subfolder: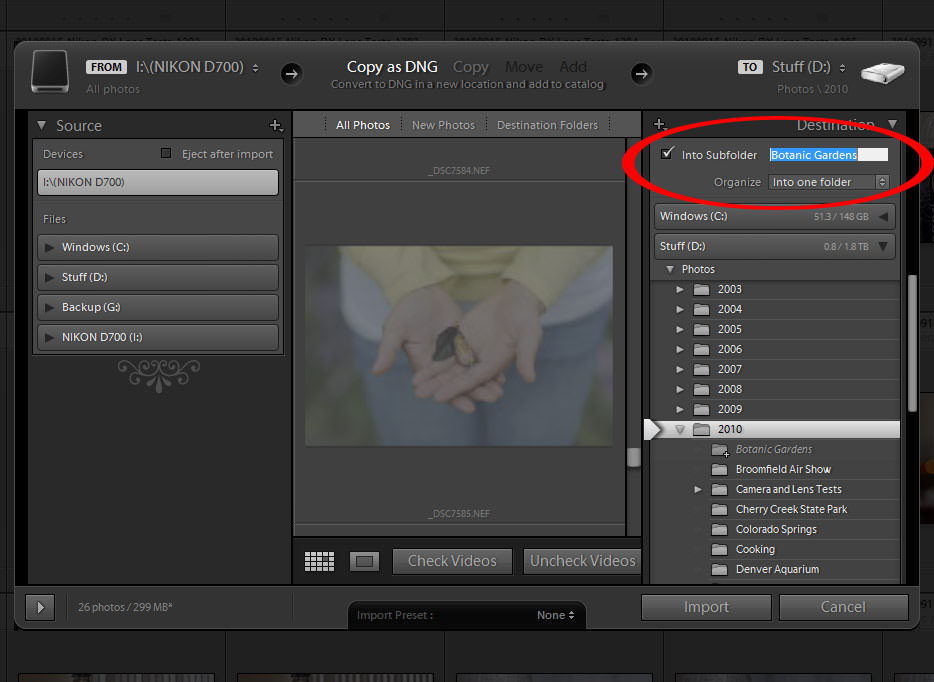 Since I store all of my images in a master folder called "Photos" and then subfolders by year, I simply select the year under "Photos", as shown below: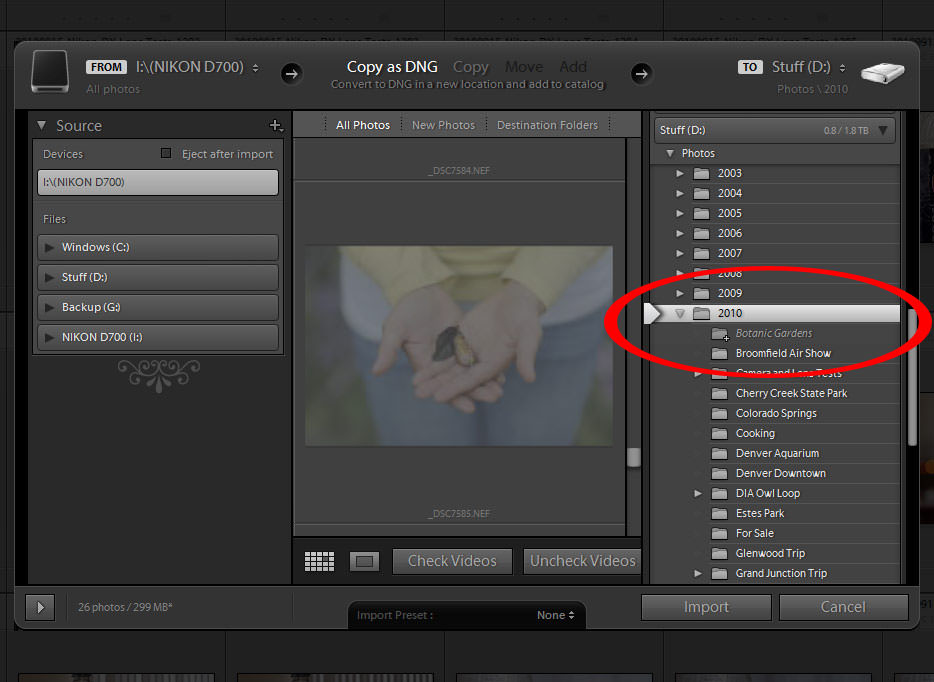 As you can see, the system is set to create a folder under "D:\Photos2010" called "Botanic Gardens", where I store all images related to Botanic Gardens. If I pay another visit to Botanic Gardens, I will choose the same folder and the system will create files with a different date, so I won't ever run into any problems with duplicate file names.
Once you choose the destination folder, simply click the "Import" button to start importing your images! As for sorting selected images, I always sort by "Capture Time".