From street to landscape, from portrait to travel – the 35mm is an all-around lens, and it can be used for shooting basically anything. But what about concert photography, where a zoom lens is the norm? Is it any good there as well? This article covers some practical suggestions for photographing concerts with a 35mm lens, along with broader concert photography tips in general.
From what I've noticed, most concert photographers stick to zooms. Usually, that means a 24-70 or 70-200, although they might go outside that range depending upon the venue.
There is no doubt that zoom lenses are convenient when it comes to events, but I don't like to think of a concert as an event. Instead, I prefer to think about the music, passion, emotion, and light from the perspective of the people in front of the stage.
As a hobbyist musician and a music listener, the first thing I want to see is the vibe of the concert. From what I've seen – and it's my personal opinion – 70-200 on concert shots is like documenting something for the sake of having it documented. It looks kind of sterile. Yes, there are times that a tele lens is needed, but it tends to be in a big hall or a stadium.
So, in short, yes! The 35mm focal length is great for concert photography, although only if the venue is small to medium and lets you get close enough to the stage. If you end up in a huge hall or a stadium where you have to stand farther back, you'd definitely miss your tele zoom lenses. Almost all of the photos in this article were taken with a 35mm.
Here is what you have to take into consideration before shooting a live concert, particularly with a prime lens:
Know the Venue
Knowing the venue is essential and will make your time shooting a show a lot easier. This is especially true if you plan to photograph the concert mainly or entirely with a prime lens, where you will have less leeway in where you should stand to capture a workable composition.
Get in early, and get familiar with the space. Try finding the sure compositions – a terrace to shoot from, a space somewhere in front of the stage, some stairs to get a high vantage point, and so on. There are usually a few shots you can plan out ahead of time simply by having a good understanding of the venue.
Know the Performer
Knowing the performer or performers is essential when shooting shows. What are their most popular songs? Do they do a performance other than playing? Most big performers have some kind of quirks during shows to help them catch their breath. It might be a short speech, or perhaps a brief story explaining the next song. These moments are perfect for getting a strong hero-like shot.
Still, although it is nice, this step isn't totally necessary.
The Style of Music Matters
Which type of show are you photographing? It can make a big difference. For instance, if you are shooting jazz, it will probably be a mellow, chill crowd, so you'd be able to pass through people easily. Many of the shows I shoot are hardcore/punk, underground ones, with a lot of pushing, kicking and punching, so you'd have to keep yourself and your equipment safe. It goes without saying that this is crucial information to know ahead of time!
Acknowledge the Lighting
This section is the most important one. Light, or the lack of it, is what makes an image.
Most venues have decent lighting setups, and you shouldn't have any troubleshooting. Of course, there are exceptions. I've had the pleasure to experience and shoot a grand audio-visual performance in a venue with an awful stage and lighting (shown below). This is when I started appreciating the person behind the lighting mixer, who, in this case, had a lot of experience. There is a huge difference.
Most performers will bring their own lighting setup and/or fog machine. I've seen a lot of DIY light sources like construction lights, theatre lights, and so on. Do not be upset by this – with a little effort, they can lead to quite satisfying results.
It is very important to train your eye to know how an image will look with the light you have at the exact moment. This may vary if the music is fast because the stage lighting almost always mimics it.
Harsh color sources can be a major problem. In particular, beware of red and blue. These two colors are a pain for the sensor to process, and you'd have to pray you can fix it in post. There are exceptions, of course, when some shots you thought came out wrong can be brought back to life with little tinkering in post (see below). But, if all else fails, converting to black and white usually works very well.
And in this case, a bit of editing helped bring back some of the washed-out colors (and eliminate some distractions):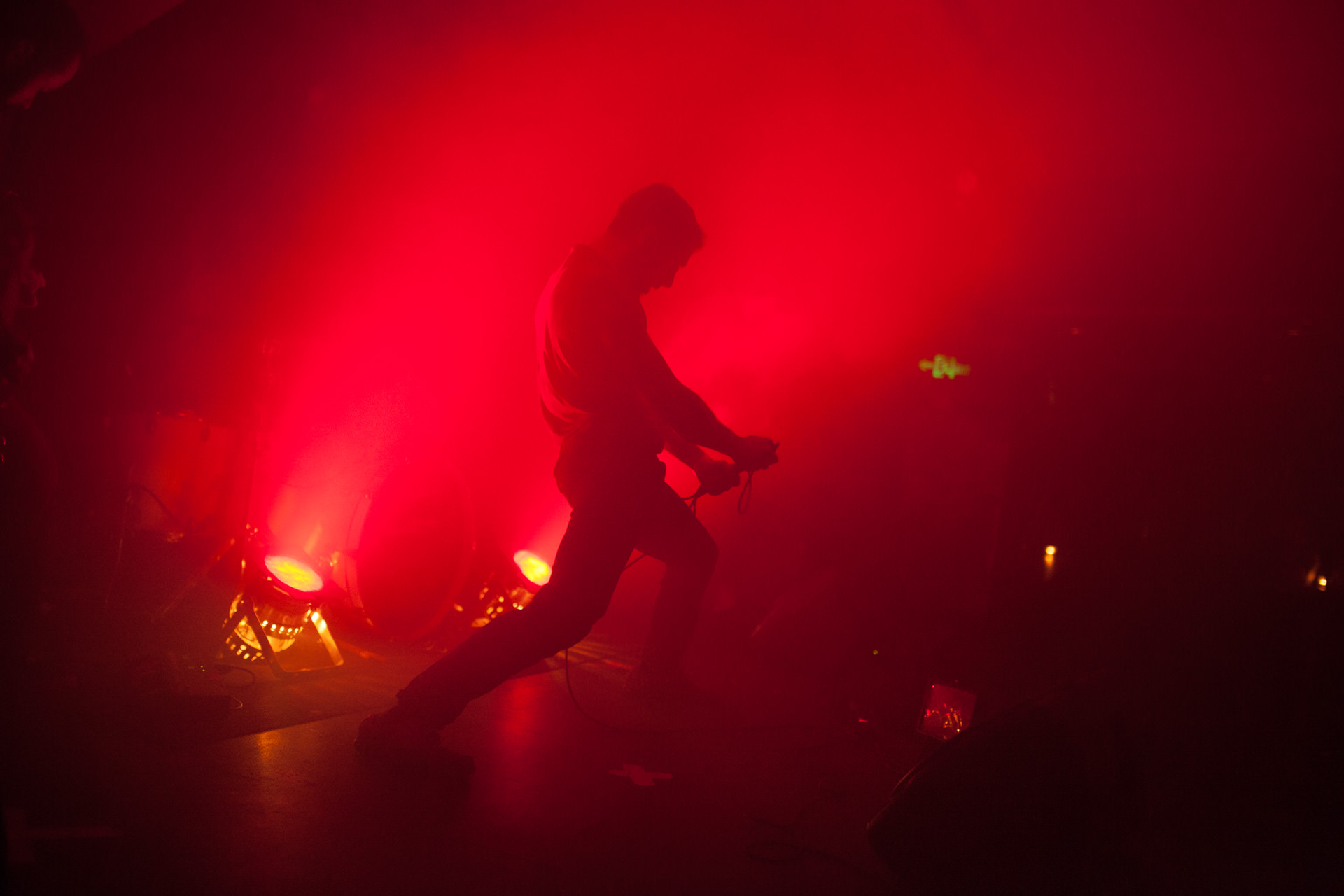 Pay close attention to harsh, spontaneous backlighting. It is strong and fast, which makes it hard to expose – but if you manage to do it, the result can be brilliant.
And if you are using a prime lens, including a 35mm, you will have to pay even more attention to how you are composing your photo and using the light, since the only way to change your composition is to move your camera around. But this challenge is a good thing, often leading to more creative and thoughtful images as a result.
Using Practical Effects
Practicals (practical effects) are great, including for concert photography. If security allow you to bring in a small object to use in your photography – something like a prism or a little mirror – go ahead and experiment with it. It can make dull lighting seem a bit more interesting.
Know Your Equipment
Shooting concerts is not an easy task. If you know the limitations of your equipment, that's a big plus. What is the highest ISO that results in a decent image? Is your lens fast enough to shoot a concert in low levels of light? As I mentioned, some small venues lack decent lighting or haven't got any at all. Then it's all about your creativity.
Most of the time, you will want to freeze motion if possible. Bump up the ISO, use a wider aperture, and make sure your shutter speed doesn't lead to motion blur. With a 35mm prime lens, you will likely be able to use a much larger aperture than with a zoom, helping out in lower light conditions.
Flash
Avoid it! (Just joking!) I am not one to speak of flash photography as I never really found it interesting, but if the performer and the venue allow it, it certainly is an option. I would recommend experimenting with long shutter speeds, rear curtain sync, flash modifiers, and/or bouncing from walls or ceiling in order to get a motion effect – where your subject leaves a trail of blur, followed by a sharp form due to the flash.
Anticipate the Shot
Music is repetitive, so it is often possible to predict the artist's next move. Anticipate the shot. All performers have their own quirks – a gesture, a move, a pose, and so on. Do not shoot pointlessly. Wait for something interesting: interaction with the crowd, an expression, or anything out of the ordinary.
Anticipation really is what concert photography is all about – and it is an especially important skill if you are using a 35mm prime lens, since you have a stricter window to capture the performer's next move correctly.
---
Thank you to reader Ivaylo Svetlozarov Totev from Bulgaria for this great guest post and concert photos! You can see more of his work at iamhrb.com. This article was written as part of the 2018 Photography Life guest post contest.