Thanks to the recent Fujifilm rebates, I have been able to expand my lens line-up for the Fuji GFX 50S that I have had the pleasure of shooting with ever since it came out. I am very impressed by the Fuji medium format system, especially its lens line-up, and I consider it to be ahead of its competition in a number of ways, as highlighted in my review. However, having gone through multiple lens samples of different lenses (which I will be reviewing in the next few weeks), I wanted to warn our readers of potential issues they should watch out for. While I am generally happy about lens variation of GF lenses and I am especially happy with their excellent performance, I am not a big fan of Fujifilm's QA processes. It seems to me that Fuji is almost rushing with the GF lenses, trying to deliver as many units as possible to try to match the demand, while paying less attention to its manufacturing processes. I have already gone through multiple samples of a number of lenses, including the Fuji GF 63mm f/2.8 and Fuji GF 110mm f/2 and I have found debris between lens elements that is impossible to shake off or remove without having to send the lens to a Fuji service center.
As with any lens, you should always inspect every lens you purchase, no matter what source and manufacturer it comes from. One of the basic inspections, even on a brand new lens, is to make sure that it looks new (so that you are not dealing with a previously returned lens), does not have any physical imperfections and that the lens elements are free of large, easy to see particles. And that's where I have found issues with Fuji GF lenses in particular, which is rather annoying. First, it was the Fuji 63mm f/2.8 that had a large black spot between lens elements – it was very easy to see and it wouldn't go anywhere, requiring disassembly, removal of debris and reassembly. I didn't want to deal with the issue, so I sent it back to B&H Photo Video for a replacement. The new copy didn't have the same problems and turned out to be excellent optically. However, I have not been as lucky with the Fuji GF 110mm f/2. I have now gone through three copies of that lens to see if I can obtain a debris-free copy of this lens. While I don't mind small dust specks between lens elements (and those are perfectly normal to see even on a brand new lens), the stuff I have been finding within GF series lenses is not something that would qualify as "dust specks" – those are more like large plastic particles sitting between lens elements. Take a look at the last copy of the brand new GF 110mm f/2 that I had to return: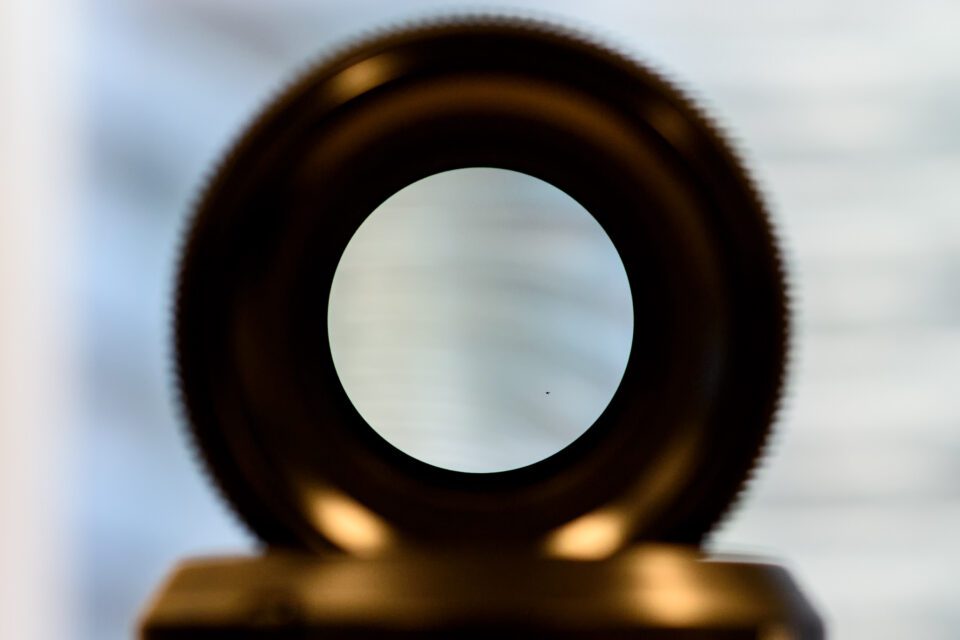 See the size of that thing? And that's not the first time I see it either. The previous copy of the 110mm f/2 had a piece of thick hair, or perhaps a thinly sliced piece of plastic, that was stuck between one of the rear lens elements. While small dust specks will never make their way into images, much larger pieces like this are potentially going to cause more flare, visible dots in lens bokeh and other potential issues. And let's not forget about the damage they do to resale value, since nobody wants a lens with a piece of something large stuck in it.
Here is what the third replacement looked like: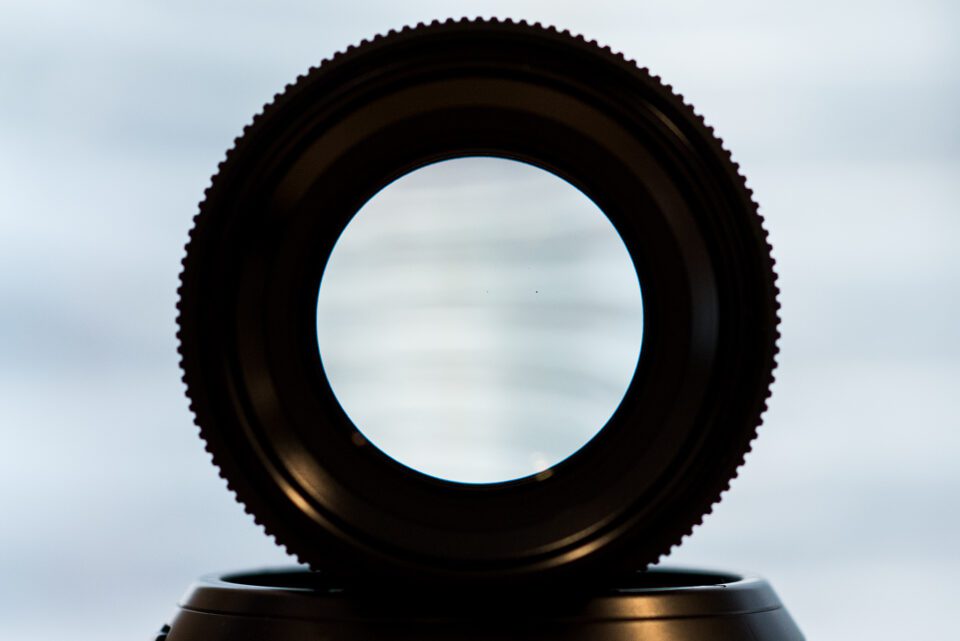 Not as bad as the previous one, but those 3+ specks looked like pieces of metal that fell off from the side of the lens, most likely got knocked off during transportation.
I called Fujifilm USA about this issue and expressed my frustration. The customer representative I talked to had a conversation with service manager and they had a couple of options for me. The first option was to send the lens back to B&H for another replacement or refund, and the second option was to send the lens to Fujifilm USA service center (after filling out this repair form), so that they can disassemble the lens, remove the dust and reassemble it. Unfortunately, I would have to pay for shipping to get it serviced with Fujifilm USA – they only cover return shipping.
I go through a lot of new lenses and I always inspect them, even if they are loaners, to make sure that I test good copies for reviews. The QA issues I see on GF lenses are a bit concerning to me, as I have seen this issue a number of times now, something I normally rarely come across when testing lenses from Nikon, Canon, Sony and even other third party manufacturers. I really hope Fuji ups its QA game and does more thorough inspections before sending lenses to its distribution channels. Big thanks to B&H Photo Video for willing to exchange every bad copy of Fuji lenses.
Lens variation is generally good, but you also have to watch out for potential issues with lens decentering and overall performance. Lenses such as the GF 23mm f/4, 110mm f/2, 120mm f/4 have all been stellar (tested at least two samples of each), but cheaper lenses like the GF 45mm f/2.8 and GF 63mm f/2.8 have shown more variation than I would like to see. The lens to watch out is the GF 32-64mm f/4. While it is a pretty solid performer overall, the samples I have tested so far had uneven corner to corner performance, indicating poor assembly / decentering issues. So if you want to own the zoom, make sure that you test it out thoroughly.
If you are considering the Fuji GFX system, please be aware of these issues and make sure to thoroughly check every lens you receive to make sure that it does not have any problems. And if you already own the GFX system, please let us know if you have similar concerns in the comments section below. I am trying to find out if I have been simply unlucky, or perhaps more Fuji owners are having the same problems out there.