The Sony A7 III has been one of the market's highest-selling full-frame cameras in recent months, thanks in large part to its combination of impressive features and low price tag. But there's some competition in town – the Nikon Z6, another 24 megapixel full-frame mirrorless camera making waves as Nikon's first attempt at full-frame mirrorless (along with the higher-resolution Z7). Although both the Nikon Z6 and Sony A7 III have a $2000 price tag, there are some important feature differences between them, too. We'll compare them in detail below.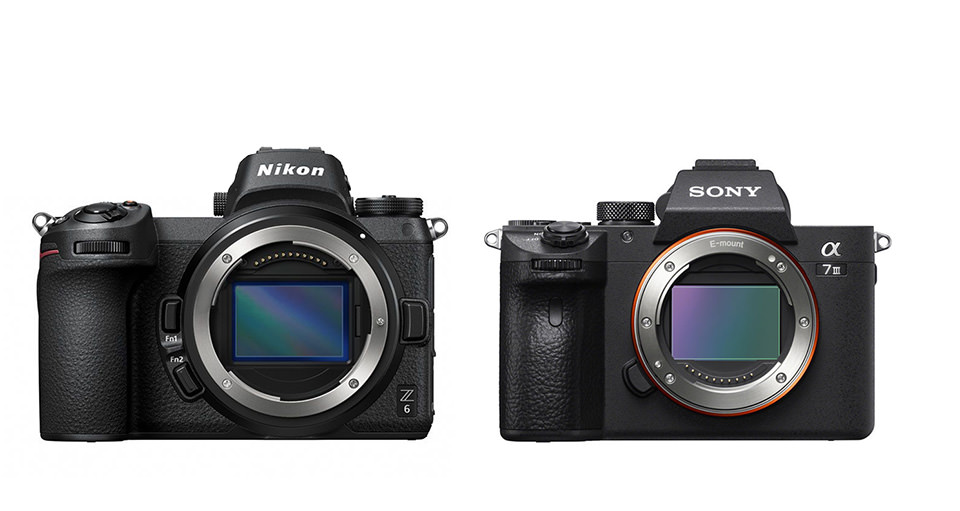 Sony A7 III and Nikon Z6 Specifications Comparison
On balance, the Sony A7 III and Nikon Z6 are relatively well-matched in their specifications. Taking a surface-level view, they're especially similar: 24 MP full-frame mirrorless cameras with in-body image stabilization and a tilting LCD screen. It's also quite true that Nikon took some ergonomic inspiration from the Sony A7-series cameras, with the two having surprisingly similar layouts.
Still, the nitty-gritty details of these two cameras betray quite a bit of back-and-forth jockeying, with each camera coming out ahead in some ways over the other. Here are the most important specifications:
Camera Feature
Nikon Z6
Sony A7 III
Sensor Resolution
24.5 million
24.2 million
Low-Pass Filter
Yes
Yes
Sensor Type
BSI CMOS
BSI CMOS
Sensor Size
35.9 x 23.9 mm
35.6 x 23.8 mm
Image Size
6048 x 4024
6000 x 4000
Image Processor
EXPEED 6
BIONZ X
Viewfinder
Electronic / EVF
Electronic / EVF
Viewfinder Type / Resolution
VGA OLED / 3,690,000 dots
XGA OLED / 2,359,296 dots
Viewfinder Coverage
100%
100%
Viewfinder Magnification
0.8x
0.78x
Built-in Flash
No
No
Flash Sync Speed
1/200
1/250
Storage Media
1x XQD
2x SD
Continuous Shooting Speed
12 FPS
10 FPS
Max Shutter Speed
1/8000 to 30 sec, Bulb, Time
1/8000 to 30 sec, Bulb
Electronic Front-Curtain Shutter
Yes
Yes
Exposure Metering Sensor
TTL exposure metering using main image sensor
1200-Zone
Meter Detection Range
-4 EV to 17 EV
-3 EV to 20 EV
Base ISO
ISO 100
ISO 100
Native ISO Sensitivity
ISO 100-51,200
ISO 100-51,200
Boosted ISO Sensitivity
ISO 50-204,800
ISO 50-204,800
Autofocus System
Hybrid AF (phase-detection AF / contrast-dection AF)
Hybrid AF (phase-detection AF / contrast-dection AF)
Focus Points
273 points
693 points (phase-detection AF), 425 points (contrast-detection AF)
Video Compression
AVCHD / MP4 Compression with 4:2:0 sampling, 10-bit via HDMI with 4:2:2 sampling
AVCHD / MP4 Compression with 4:2:0 sampling, 8-bit via HDMI with 4:2:2 sampling
Video Maximum Resolution
3840 x 2160 (4K) up to 30p, 1920 x 1080 (FHD) up to 120p
3840 x 2160 (4K) up to 30p, 1920 x 1080 (FHD) up to 120p
Audio Recording
Built-in stereo microphone
External stereo microphone (optional)
Built-in stereo microphone
External stereo microphone (optional)
Articulating LCD
Yes, tilting
Yes, tilting
LCD Size
3.2″ diagonal LCD
3.0″ diagonal LCD
Touchscreen
Yes
Yes
LCD Resolution
2,100,000 dots
921,600 dots
Built-in GPS
No
No
Wi-Fi Functionality
Built-in
Built-in
Battery
EN-EL 15b
NP-FZ100 Rechargeable Battery
Battery Life
310 shots
610 shots (viewfinder), 710 shots (rear LCD)
Weather Sealed Body
Yes, Dust and Moisture Resistant
Yes, Dust and Moisture Resistant
USB Version
3.1
3.0
Weight (with battery and memory card)
675 g (23.8 oz)
650 g (23.0 ounces)
Dimensions
134 x 100.5 x 67.5 mm (5.3 x 4.0 x 2.7″)
126.9 x 95.6 x 73.7 mm (5.0 x 3.8 x 2.9″)
MSRP Price
$1997 as introduced (check price and pre-order status)
$1998 as introduced (check price)
As you can see, the Sony A7 III and Nikon Z6 make for good competition! Depending upon the specification you care about the most, you can convince yourself that either camera has the advantage.
Specifically, the Sony A7 III has more autofocus points – 693 phase-detect points (and 425 contrast-detect points) compared to the Nikon's 273 hybrid autofocus points. Although it's true that the number of autofocus points doesn't always mean the system is better at things like speed and tracking, it is at least a sign in that direction. And, in practice, the Nikon Z6 has some issues with continuous autofocus tracking in cases where the Sony succeeds – although AF-S (single servo) autofocus is excellent on both cameras, and better on the Z6 based on our testing.
The Sony is ahead in its battery life – 610 vs 310 viewfinder shots – and the fact that it has dual card slots. Although it is true that XQD cards are faster than SD, and arguably are the card choice of the future, that doesn't mean one XQD card is better than two SD cards, at least for most users. I can see this being a major drawback for some photographers who use the Z6, especially wedding shooters.
However, Nikon has some tricks up its sleeve as well. Its maximum frame rate is 12 FPS, two higher than the Sony's maximum of 10 FPS. The Z6 also comes out ahead in terms of its LCD, which is larger and higher in resolution. It also has a higher-resolution, higher-magnification viewfinder – certainly a welcome sight.
As for video, the Sony A7 III is an amazing camera, with 4K resolution and 1080p HD at 120 frames per second. The Nikon, not one to go down quietly, also has 4K video and 120 frames per second – and then it ups the game by including 10-bit video at 4:2:2 sampling via HDMI, compared to the Sony's 8bit with 4:2:2 sampling. Beyond that, Nikon has announced a firmware update to be released later in 2019 that adds RAW video and 12-bit color to the Nikon Z6 (and Z7) for filming over HDMI, clearly ahead of the Sony A7 III.
It is also worth pointing out the handling differences between these two cameras. The two cameras have surprisingly similar button layouts, although the labels on the buttons are different. The grip on the Nikon is a bit deeper, while the Sony has an extra programmable button and a dedicated exposure compensation dial (rather than the button + dial arrangement on the Nikon). Both cameras heavily favor right-hand operation.

From a usability standpoint, many photographers have criticized Sony's long and often confusing menu options, while Nikon's menu system is definitely more mature. However, at least to a degree, this is something you'll get used to over time – particularly if you only tend to change a few menu options day-to-day.
That fact – that you'll get used to any menu oddities you encounter – is just as true as a general comment on the ergonomics of the two cameras. Aside from things like the comfort of the grip, you'll generally grow accustomed to using whatever camera you have, so it's hard to say whether one camera or the other is more "intuitive." Most likely, if you're a Nikon shooter, you'll find the Nikon to handle more naturally; if you're a Sony shooter, you'll prefer the A7 III's ergonomics instead.
Beyond the Specifications
It goes without saying that these are both excellent cameras, particularly considering their prices. Since both come in at $2000, they are each priced extremely well for the features they offer.
If you're trying to decide between the Z6 and the A7 III, another factor you should consider is the current lens lineup of each system. Although Nikon is certainly rushing to develop as many Z-mount lenses as possible, the fact today is that they've only announced three lenses at this point, while Sony has a huge collection. On the other hand, by all indications, Nikon is about to go all-in with their investment in the Z-mount. Based on Nikon's lens lineup, we are going to see new Z lenses released at a rapid pace; Nikon is playing a game of catch-up, and it needs to move quickly.
It's also important to mention that you can buy an F-mount adapter (the FTZ adapter) to use with the Z6, which means that Nikon users with existing lenses have a good reason to stick with their current system. If you have a large set of F-mount lenses, they'll adapt much better to the Z6 than to the A7 III. Our tests show you don't lose any sharpness with the FTZ adapter (as shown in our Z7 review), and autofocus works fairly well, although both the Z6 and Z7 autofocus more quickly and in darker conditions with native lenses.
Which Camera Should You Get?
So, which camera should you choose? Looking at just the specifications above, it is a very balanced comparison, with the Sony arguably a bit ahead, largely due to the existing lens lineup. Then again, if Nikon's higher-specification viewfinder, 10-bit video performance, or 12 FPS matter more to you than dual card slots and extra battery life, the Z6 could very well be the way to go.
If you're still unsure which one will be better for your needs, I encourage you to make your decision based on more than just the two cameras in question. The Z6 and A7 III are Nikon and Sony's current forays into the full-frame mirrorless realm, but which system would you rather buy into in the long run? Sony's pace of innovation has been remarkable, and its lens system is already quite fleshed-out. Nikon, on the other hand, has decades of proven results in the realm of professional cameras, and the company is betting hard on the new (and very large) Z-mount, with an encouraging Nikon Z lens roadmap for the next few years.
I know that more Photography Life readers are Nikon shooters than Sony, and perhaps that's the answer: Stick with the brand you have unless you're worried about the decisions it's making. Personally, I've already upgraded my workhorse D800e to Nikon's mirrorless system, and I have high hopes for where these cameras will go – but you certainly can't go wrong either way.
The bottom line is that the Sony A7 III and the Nikon Z6 are both at the pinnacle of what a well-priced full-frame camera can be. Although fanboys and anti-fanboys will find it easy to dismiss one camera in favor of the other, both have more than enough features for any reasonable uses. It's a pretty good time to be a photographer.