While the new Nikon Z7 is turning heads with its 45 megapixel sensor and impressive specifications, you may have heard that there's another high-resolution full-frame mirrorless camera out there, too – the Sony A7R III. Sony has been refreshing their lineup at a rapid pace, and the A7R III is less than a year old. So, naturally, it has a lot of similarities with the new Nikon. But which one comes out ahead? Here's what you should know.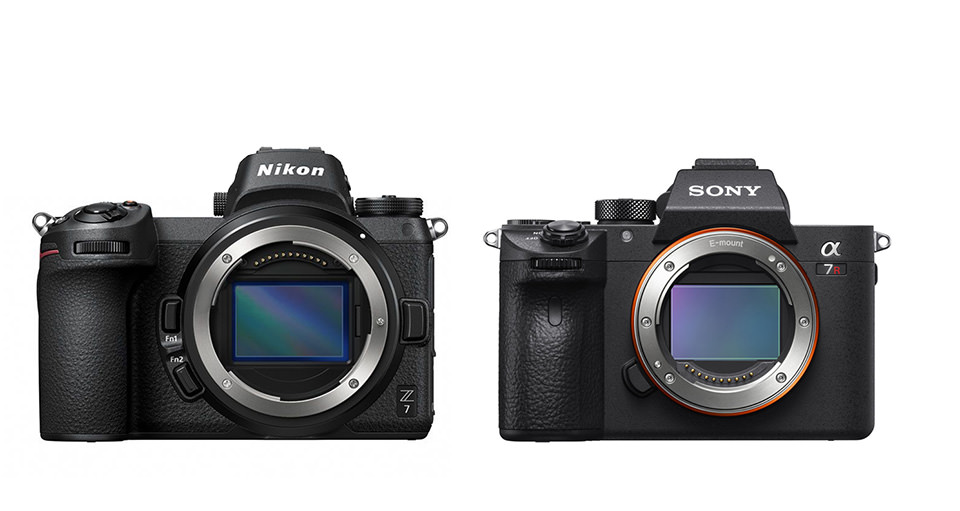 Nikon Z7 and Sony A7R III Specifications Comparison
In terms of specifications, the Z7 and A7R III are quite well-matched – no doubt because Nikon watched Sony's successes and failures very carefully before launching their own mirrorless lineup. Most of the differences tilt slightly in Nikon's favor, likely for the same reason. Nikon did not want to look inferior on their first mirrorless launch, especially since theirs is arriving about a year after Sony's.
Here is a list of the most important specifications for each camera:
Camera Feature
Nikon Z7
Sony A7R III
Sensor Resolution
45.7 Million
42.4 Million
Mount
Nikon Z
Sony E
AA Filter
No
No
Sensor Type
BSI CMOS
BSI CMOS
In-Body Image Stabilization
Yes, 5 axis
Yes, 5 axis
Sensor Size
35.9 x 23.9 mm
35.9 x 24 mm
Image Size
8256 x 5504
7952 x 5304
Image Processor
EXPEED 6
BIONZ X
Lossless Compressed RAW Option
Yes
No/td>
Viewfinder
Electronic / EVF
Electronic / EVF
Viewfinder Type / Resolution
Quad-VGA OLED / 3,690,000
Quad-VGA OLED / 3,686,400 dots
Viewfinder Coverage
100%
100%
Viewfinder Magnification
0.8x
0.78x
Built-in Flash
No
No
Flash Sync Speed
1/200
1/250
Storage Media
1x XQD
2x SD
Continuous Shooting Speed
9 FPS
10 FPS
Max Shutter Speed
1/8000 to 30 sec, Bulb, Time
1/8000 to 30 sec, Bulb
Electronic Front-Curtain Shutter
Yes
Yes
Exposure Metering Sensor
TTL exposure metering using main image sensor
1200-Zone
Meter Range
-4 to 17 EV
-3 EV to 20 EV
Base ISO
64
ISO 100
Native ISO Sensitivity
64-25,600
ISO 100-32,000
Boosted ISO Sensitivity
ISO 32-102,400
ISO 50-102,400
Autofocus System
Hybrid AF (phase-detection AF / contrast-dection AF)
Hybrid AF (phase-detection AF / contrast-dection AF)
Focus Points
493
399 points (phase-detection AF), 425 points (contrast-detection AF)
Video Compression
AVCHD / MP4 Compression with 4:2:0 sampling, 10-bit via HDMI with 4:2:2 sampling
AVCHD / MP4 Compression with 4:2:0 sampling, 8-bit via HDMI with 4:2:2 sampling
Video Maximum Resolution
3840 x 2160 (4K) up to 30p, 1920 x 1080 (FHD) up to 120p
3840 x 2160 (4K) up to 30p, 1920 x 1080 (FHD) up to 120p
Audio Recording
Built-in stereo microphone
External stereo microphone (optional)
Built-in stereo microphone
External stereo microphone (optional)
Articulating LCD
Yes, tilting
Yes, tilting
Touchscreen
Yes
Yes
LCD Size
3.2″ diagonal LCD
3.0″ diagonal LCD
LCD Resolution
2,100,000 dots
1,440,000 dots
Built-in GPS
No
No
Wi-Fi Functionality
Built-in
Built-in
Bluetooth
Yes
Yes
Battery
EN-EL15b
NP-FZ100 Rechargeable Battery
Battery Life
330 shots
530 shots (viewfinder), 650 shots (rear LCD)
Weather Sealed Body
Yes, Dust and Moisture Resistant
Yes, Dust and Moisture Resistant
USB Version
3.1
3.0
Weight (with battery and memory card)
675 g (23.8 oz)
657 g (23.2 oz)
Dimensions
134 x 100.5 x 67.5 mm (5.3 x 4.0 x 2.7″)
126.9 x 95.6 x 73.7 mm (5.0 x 3.8 x 2.9″)
MSRP Price
$3397 (introduced – check price and pre-order status)
$3198 (introduced), $2998 as of August 2018 (check price)
Clearly, the two cameras are very similar on paper, although there are some areas where each has an advantage. The Sony A7R III has two SD cards to the Nikon's one XQD. It also has better battery life (530 shots via the viewfinder versus 330 for the Nikon, according to specifications) as well as two SD card slots rather than one XQD slot. Couple that with a slightly higher top frame rate of 10 FPS versus 9 FPS, and the Sony A7R III is an impressive machine.
Nikon, however, also has some major features backing up the Z7. It has a lower base ISO of 64, which translates to a potentially greater dynamic range in those images. It also manages more autofocus points (493 hybrid versus 399 phase detection on the Sony), which many photographers did not expect. And certain smaller features also lean in Nikon's favor, such as the size and resolution of their rear LCD, as well as the introduction of Time exposure mode and a higher-magnification viewfinder.
From a video perspective, the Sony is pretty incredible, with 4K capture and 120 FPS at 1080p resolution. It also allows uncompressed video output via the HDMI port at 4:2:2 subsampling. However, the Nikon manages to one-up the Sony by offering all this and 10-bit output via HDMI. Well done to both cameras!
Aside from that, the other specifications mostly involve trading punches. The Sony weighs slightly less and is smaller, while the Nikon can shoot losslessly compressed RAW files and the Sony cannot (lossy compressed or uncompressed only). The Z7 also can shoot built-in 8K timelapses, while the A7R III cannot. All the other differences are even more minor, such as slight differences in metering range and USB version.
Beyond Specifications
The differences also run deeper than the specifications alone. Sony already has a large lineup of native lenses, while the Z7 has to rely on existing F-mount lenses with an adapter (unless your needs are covered by the Z mount lenses Nikon has announced so far).
In terms of ergonomics and camera design, the grip on the Z7 looks noticeably deeper than that of the A7R III, although we haven't yet tested them side-by-side to see which one is more comfortable. From an ergonomics standpoint, it is natural that long-time Nikon users will be more comfortable with the Z7's layout, and long-time Sony users will prefer the A7R III's. With a bit of practice, I suspect most people will be able to adjust to either without a problem.
However, from a menu standpoint, Sony cameras often have been pegged as more confusing, with some odd layout choices. Nikon, which has been refining their menus for far longer, is at least more mature in this regard. Just compare our recommended settings articles for the Sony A7R III and the Nikon D850 – the difference in complexity is night and day. Yes, this is the sort of thing you will get used to overtime. But if you're just starting out with one of these cameras, I suspect you will find Nikon's menu system to be more intuitive initially.
Let's also not forget that the Nikon Z-mount is significantly larger than Sony's, which is important for future-proofing this camera system and allowing for more specialized lenses. Nikon has already said they are going to release a 58mm f/0.95 lens, presumably with autofocus – as one of its first products for the Z-mount. If that interests you, the Z7 is clearly the way to go for now, since such a lens would be much harder to design for Sony's comparatively smaller mount.
Which Camera Should You Get?
Both the Z7 and the A7R III have top-of-the-line specifications, particularly for genres of photography that demand the highest possible resolution. And, with prices of $3400 for the Nikon and $3000 for the Sony, they're playing into a very similar spot on the market. So, which one should you get?
At the moment, since no one online has done lab tests of the Nikon Z7, it is a bit of a wild card. We know that Nikon has been on a roll with their camera sensor performance recently, with the D850 dominating every test thrown at it. But is the Z7 – which also has a 45.7 MP sensor – going to be better, worse, or the same? If it does show some improvements, it could very well be the highest-quality full-frame sensor on the market.
We also don't know how the Z7 will perform in other critical areas, such as handling and weatherproofness. The Sony A7R III has been criticized for using minimal waterproofing near the base of the camera, but the rest of the camera is well-sealed. If the Nikon Z7 is better or worse in this regard, it could tip the scales for some users.
The same is true for other known problems with the Sony mirrorless lineup, such as the much-reported "star eater" issue. Although that problem – where Sony cameras can mask over some stars in nighttime images – has been improved (and it was always a bit overblown), I suspect that the Z7 will be a step up in this regard.
From a battery life perspective, on paper, the Sony seems noticeably ahead, but this could be different in real-world use. One tester has already stated he got more than 1500 shots per charge on the Z7, which is far above what the CIPA numbers suggest. The same goes for Nikon's decision to ship the Z7 with a single XQD memory card rather than two SD cards for the Sony, which can be a dealbreaker for some users. Then again, XQD arguably is the future, allowing for faster read and write speeds than traditional SD cards. So, Nikon is going down the right path with XQD, but I certainly wish they had implemented two of them rather than a single card.
Conclusion
What we know so far is that these two cameras are very similar in their specifications, and it is unlikely that testing the Nikon Z7 will reveal it to be vastly better or worse than the A7R III. I have no doubt that some photographers will be swayed in either direction by one feature or another, but it's more likely that you should make your decision based upon the brand itself. Are you interested in the Z-mount lenses and upcoming Nikon investment in the mirrorless arena? Or, do you want to buy into a more developed system that already has many native lenses?
Only you can answer these questions, but they are more important than the low-level specifications differences you see above. Sony has been innovating its mirrorless system like crazy and has a relatively mature product already; Nikon has a long, tested history of making professional cameras, and it's about to go all-in on the same market. In my opinion, that difference is where you should make your purchase decision, not on any specs you see on today's particular cameras.
To sum it up, the specific cameras in the Nikon Z-series and Sony A7-series seem destined to leapfrog one another over the years, or match the other's efforts almost one-to-one. That's certainly what the Z7 and A7R III do, based upon the specifications above. If you're deciding between them, the key is to which system you feel more comfortable buying into over the long run.
In that respect, both the Z7 and the Sony A7R III are top-notch choices.