If current excitement levels mean anything, the newly announced Nikon Z6 mirrorless camera looks like it will be a huge hit for Nikon. Indeed, it almost appears to be a "mirrorless successor" to the Nikon D750, released four years ago to glowing reviews. That's partly due to the shared 24 MP resolution and somewhat similar ergonomics (a PASM dial with user-configurable modes). However, considering that Nikon launched the D750 at $2,300 MSRP and the Z6 at just $1,999, it is clear that Nikon is decreasing its price point for this level camera in order to be competitive with the Sony A7 III. Let's take a look at the Nikon Z 6 and D750 in detail and see how the two cameras compare in terms of features and specifications.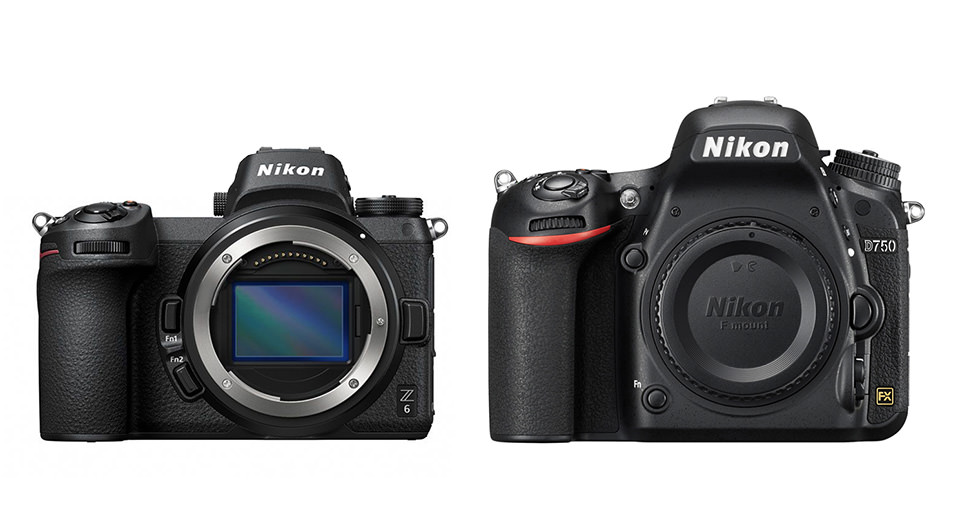 Nikon Z6 and D750 Specifications Comparison
As you can see by the specifications, the Nikon Z6 has some major advantages over the older D750:
Camera Feature
Nikon Z6
Nikon D750
Sensor Resolution
24.5 MP
24.3 MP
Sensor Type
BSI CMOS
CMOS
Sensor Size
35.9 x 23.9mm
35.9 x 24.0mm
Sensor Pixel Size
5.9µ
5.9µ
Low Pass Filter
Yes
Yes
In-Body Image Stabilization
Yes
No
Dust Reduction / Sensor Cleaning
Yes
Yes
Image Size
6,048 x 4,024
6,016 x 4,016
Base ISO
ISO 100
ISO 100
Native ISO Sensitivity
ISO 100-51,200
ISO 100-12,800
Boosted ISO Sensitivity
ISO 100-204,800
ISO 50, ISO 25,600-51,200
Image Processor
EXPEED 6
EXPEED 4
sRAW File Support
No
No
Viewfinder Type
Electronic / EVF
Pentaprism
Viewfinder Coverage
100%, 0.8x
100%, 0.70x
Viewfinder Eyepoint
21 mm (-1.0 m¯¹)
21 mm (-1.0 m¯¹)
Built-in Flash
No
Yes, with flash commander mode
Storage Media
1x XQD
2x SD
Electronic Front-Curtain Shutter
Yes
No
Continuous Shooting Speed
12 FPS
6.5 FPS
Max Shutter Speed
1/8000-30 sec, Bulb, Time
1/4000 to 30 sec, Bulb, Time
Flash Sync Speed
1/200
1/200
Shutter Durability
200,000
150,000 cycles
Exposure Metering Sensor
TTL exposure metering using main image sensor
91,000-pixel RGB sensor 3D Color Matrix Metering III
Highlight Weighted Metering
Yes
Yes
Full aperture metering during Live View for stills
Yes
Yes
Face-detection Analysis
On/Off
On/Off
Number of AF Points
273 Hybrid Detect AF points
51 Phase Detection AF points, 15 cross-type
Detection Range
-2 to +19
-3 to +19 EV (ISO 100, 68°F/20°C)
Video Capability
Yes
Yes
Video Output
AVCHD / MP4 Compression with 4:2:0 sampling, 10-bit via HDMI with 4:2:2 sampling
AVCHD / MP4 Compression with 4:2:0 sampling, 8-bit via HDMI with 4:2:2 sampling
Video Maximum Resolution
3840 x 2160 (4K) up to 30p, 1920×1080 up to 120p
1920 x 1080 (FHD) up to 60p
Audio Recording
Built-in stereo microphone
External stereo microphone (optional)
Built-in stereo microphone
External stereo microphone (optional)
Highlight Display (Zebra Stripes) in Live View
Yes
Yes
LCD Size and Type
3.2″ diagonal TFT-LCD Tilting
3.2″ diagonal TFT-LCD Tilting
Touchscreen
Yes
No
LCD Resolution
2,100,000 dots
1,229,000 dots
Built-in GPS
No
No
Wi-Fi Functionality
Built-in
Built-in
Battery
EN-EL15b Lithium-ion Battery
EN-EL15 Lithium-ion Battery
Battery Life
330 shots (CIPA)
1,230 shots (CIPA)
Weather Sealed Body
Yes
Yes
USB Version
3.1
3.0
Weight (Body Only)
585 g (20.6 oz)
750g (26.5 oz.)
Dimensions
134 x 100.5 x 67.5 mm (5.3 x 4.0 x 2.7″)
140.5 x 113 x 78mm (5.5 x 4.4 x 3.1″)
MSRP Price
$1997 as introduced (check price and pre-order status)
$2,299 as introduced, $1697 today (check current price)
As you can see, there are a number of differences in the specifications above. Many of them – but not all – favor the Nikon Z6.
Impressions
The takeaway here is that the Z6 and D750 differ in more ways than just mirrorless vs DSLR. Sure, we do see the changes you would expect in a mirrorless camera – light weight, lower battery life, and an electronic viewfinder – but Nikon's changes extend deeper than just the surface.
First, from a video perspective, the Z6 blows the D750 out of the water. I know that not all our readers care about video in a stills camera, but it's hard to ignore the 4K and 10-bit 4:2:2 output via HDMI. We also have focus peaking on the Z6, as well as 120 FPS 1080p video. At Photography Life, we've filmed most of our video courses so far with the D750, and I think it's likely that we will switch to the Z6 (or Z7) going forward.
In terms of still photos, the Z6 also has some major upgrades compared to the D750. One number that jumps out to me is the Z6's crazy 12 FPS frame rate for still photos, compared to 6.5 FPS with the D750. That's a huge difference, especially for fast-moving sports and wildlife photography. Considering the similar launch prices, I find it especially impressive.
However, the D750 clearly wins out in terms of battery life, where it shoots 1230 shots to the Z6's meager 310 (though we want to test these numbers to see if they are truly accurate since some early comparisons show the Nikon Z6 and Z7 to have much better battery life than the specs suggest). The D750 is also ahead of the Z6 in terms of card slots, where it has two SD cards versus the Nikon's one XQD slot. Although XQD is a faster media, arguably the storage type of the future, it would have been great to see two XQD – or even one XQD and one SD – card slots on the Z6.
Although we have no way of knowing for sure exactly how good the Z6's hybrid-detect autofocus system will be, it's clear that with 273 points, Nikon is pushing hard to make this camera appealing for action photographers. If they managed to get the Z6's performance up to the same standard as the D750's 51-point phase-detect system, or better, this camera will be a force to be reckoned with in wildlife and sports photography. Perhaps it is the "miniature D5 full-frame camera" we have wanted ever since the D700 filled that role ten years ago.
It is also worth pointing out that the Z6 has a different layout than the D750, and you may or may not prefer its new design. Some of the ergonomic elements, like the joystick and dedicated AF-On button, definitely are improvements over the D750 – but other changes might be more polarizing. Personally, I like the look of the right-hand dominant controls, although I'll wait until I use a Z6 in person before saying anything more definitive than that.
To top it all off, some rumors are saying that Nikon's new sensors in the Z6 and Z7 will be more advanced than their DSLR counterparts. Although that would be quite a feat – the 24 MP sensor on the D750 is already remarkable – it's certainly something that we are excited to test at Photography Life.
Which Camera Should You Get?
Despite all the excitement surrounding these Z6 features, the Nikon D750 remains one of the best cameras on the market (easily making our list of the top 10 DSLRs today). Sure, it's been out for almost four years now – but if you can't get good photos with the D750, the Z6 won't save the day.
Along with that, some photographers simply prefer DSLR cameras in general, and they may find the D750 better for their needs than the Z6. There is something to be said for the classic controls, large form factor, crisp optical viewfinder, and large battery life of the D750. Hard-core DSLR enthusiasts will – at a minimum – not see much of a reason to jump to the Z6 instead.
And last is price. If you're thinking about getting your first full-frame camera, you may be better off spending money on lenses than cameras. Perhaps, for you, the choice is between the D750 with a great set of primes or the Z6 with its kit lens. In that case, the calculation is much narrower, and the DSLR very likely could win out depending upon your needs.
In short, the D750 was an excellent camera when it arrived on the market, and it's still an excellent camera. Yes, Nikon topped it in almost every way with the Z6, but that speaks more to the mirrorless camera's amazing technology than to any faults of the D750. Even though the Z6 is the winner in this comparison, there is no doubt that you will be well-served with either of these cameras today.