Are you a current user of the Nikon Z 24-70mm f/4 S who bought it as a kit lens, wondering if the Nikon Z 24-200mm f/4-6.3 VR is worth the switch? Or maybe you're considering either lens for the first time and aren't sure which one to get? You're in luck! I've bought both of these lenses and use them all the time – they're probably my most-used lenses on the Nikon Z system. I've also tested both lenses extensively in the lab as part of our reviews at Photography Life, so I have a lot to say about them. Here's what you need to know.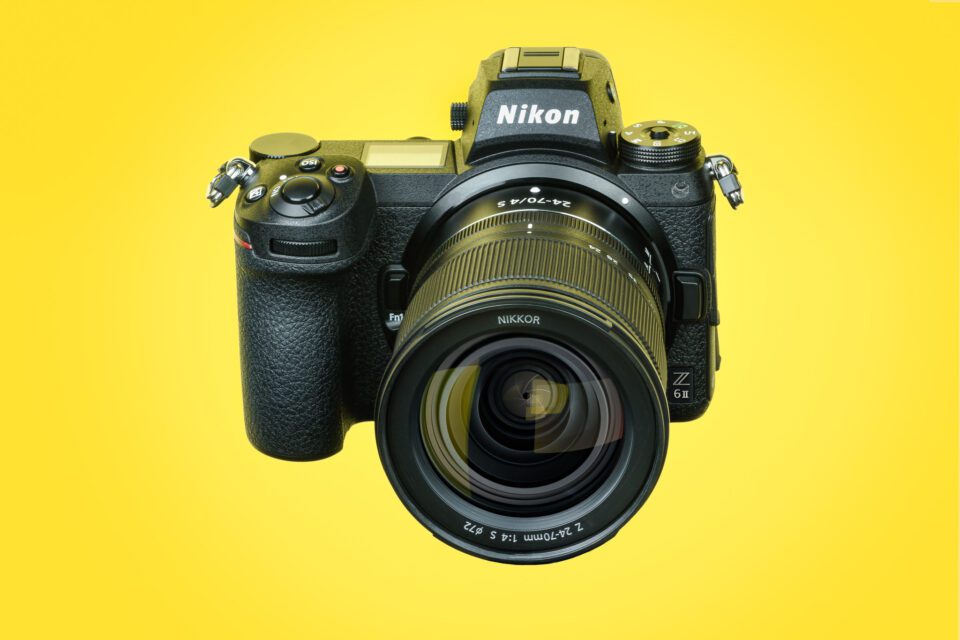 Initial Considerations
Obviously, these two lenses have different focal lengths and maximum aperture values – but that might make the comparison more confusing, not less. After all, it's pretty easy to compare two 50mm f/1.8 lenses and just get whichever one is sharper or cheaper, but you can't do that here :)
Speaking as someone who uses both lenses in practice, I will say that the 70mm maximum focal length of the Z 24-70mm f/4 feels more limiting than the narrower maximum aperture of the 24-200mm f/4-6.3 VR. Now, that's just a personal impression, and other photographers may feel differently. But since I bought the Nikon Z 24-70mm f/4 S on day one of the Z system, I felt for years that it wasn't as long as I would like on the "telephoto" end.
These days, there are plenty of options for Nikon Z shooters who need a telephoto lens, even third-party optics like the Tamron 70-300mm f/4-6.3. So, I wouldn't say that the 70mm long end of the 24-70mm f/4 S is a dealbreaker. It's just something you need to be aware of, assuming that you want to shoot proper telephoto pictures. You'll end up needing to add another lens to your bag one way or another, whereas with the 24-200mm f/4-6.3 VR, you might be fine.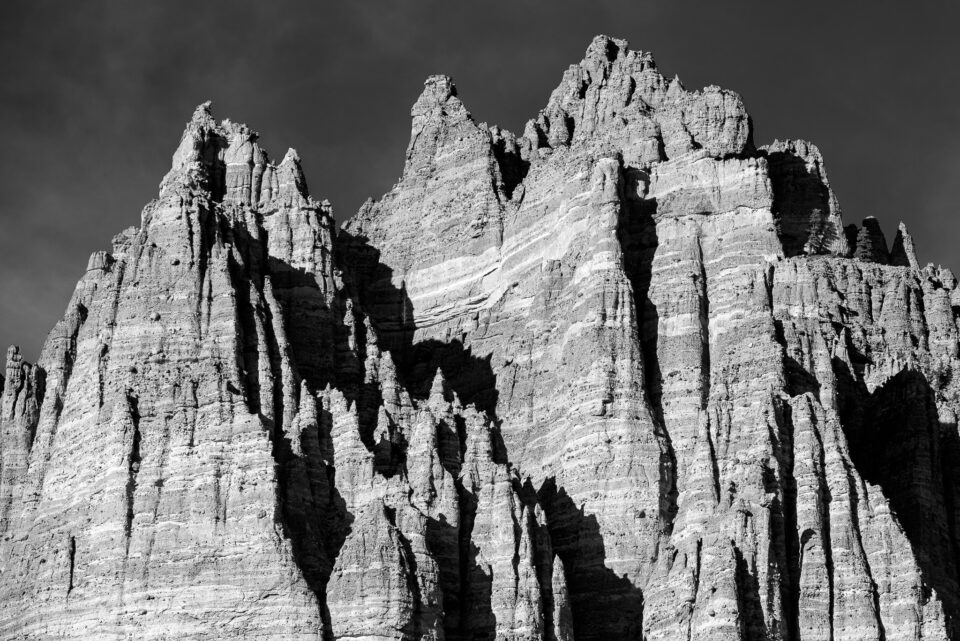 In terms of things like size and weight, the two lenses are more similar than you may expect. The Nikon Z 24-70mm f/4 S is exactly 500 grams (1.1 pounds), while the Nikon Z 24-200mm f/4-6.3 VR is 570 grams (1.26 pounds). That difference isn't enough to notice most of the time, unless you're doing some serious ultra-distance backpacking where every ounce matters.
However, I will point out that the Nikon Z 24-70mm f/4 S feels more portable, because it has the ability to collapse down if you rotate the zoom ring "wider than 24mm" (not sure of a better way to describe it, but it's very easy in practice)! If you have a small sling bag, it can be just a bit easier to carry the Nikon Z 24-70mm f/4 S for a day of photography.
As a final note, both of these lenses have good build qualities and weather sealing, and trust me, I've put that to the test over the years! However, both lenses also have very sparse handling features. There is just a single zoom ring and focus ring on both lenses. The 24-70mm f/4 S has an A-M switch, while the 24-200mm f/4-6.3 does not. (The 24-200mm f/4-6.3 does have a "zoom locking" switch that the 24-70mm f/4 S lacks, but I've never found the zoom to creep anyway, so it's not a feature I really use.)
Image Quality
1. Vignetting
Both lenses have some significant vignetting – more than I'd like to see, and correcting it may result in some extra noise in the corners of your photos. Here are the charts I measured in the lab: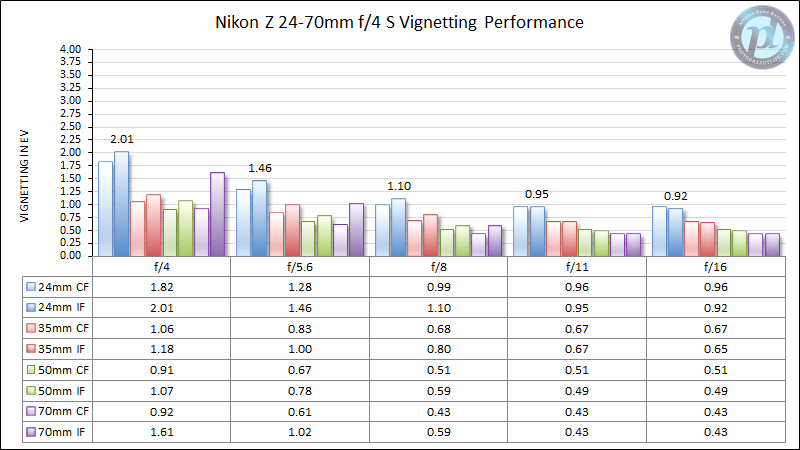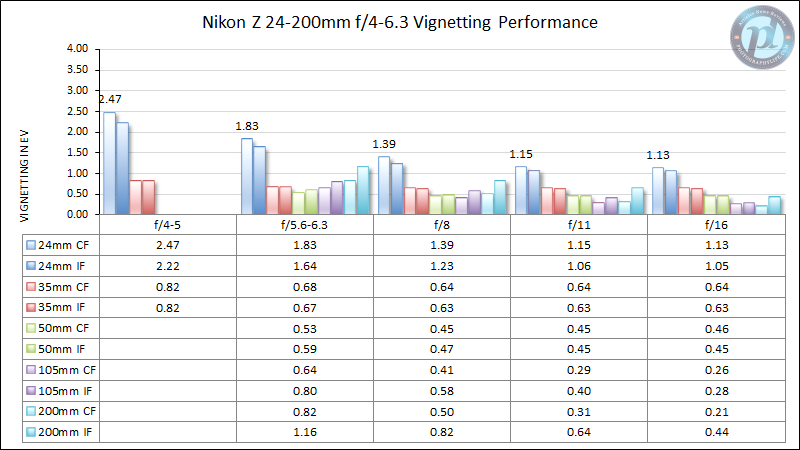 Even though the Nikon Z 24-200mm f/4-6.3 has more vignetting at its worst, that doesn't excuse the Nikon Z 24-70mm f/4 S here! This is one of my only real optical complaints with the Nikon Z 24-70mm f/4 S. Luckily, stopping down to f/5.6 and/or zooming in does improve the vignetting on both lenses.
2. Distortion
Distortion isn't as important in today's lenses considering how easy it is to correct in post-processing, with only minimal loss of sharpness from stretching the image back into place. Nevertheless, both of these lenses have very high distortion: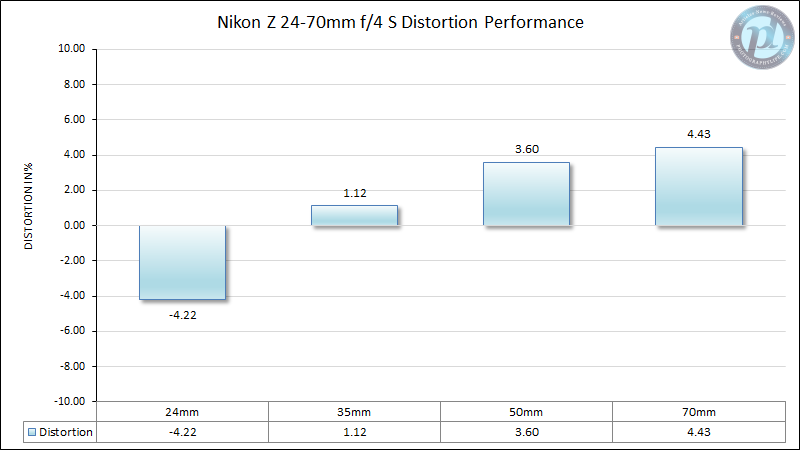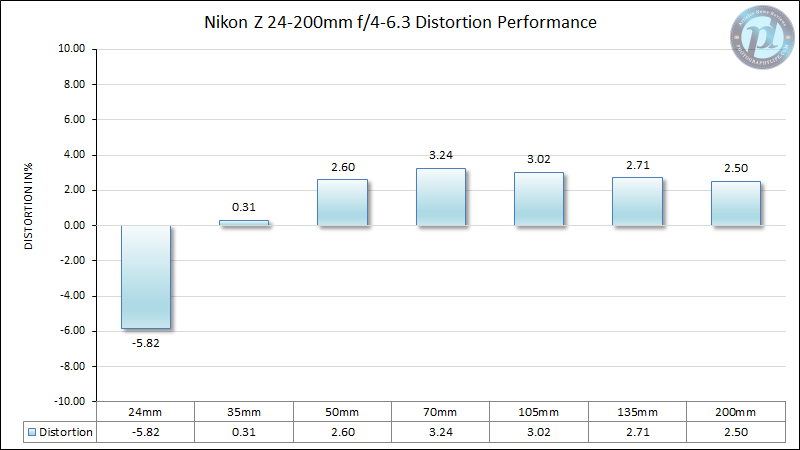 I don't have a lot of good things to say here! Other than to mention again that distortion is, thankfully, not a big deal these days and can be corrected with minimal side effects – just a bit of lost sharpness in the corners, but not a lot. (Some software, like Adobe Lightroom, corrects distortion by default, and the corrections cannot even be removed! So, you may never see this distortion in practice at all, depending on the post-processing software you use.)
3. Lateral Chromatic Aberration
Here's one area with a clear advantage to the Nikon Z 24-70mm f/4 S: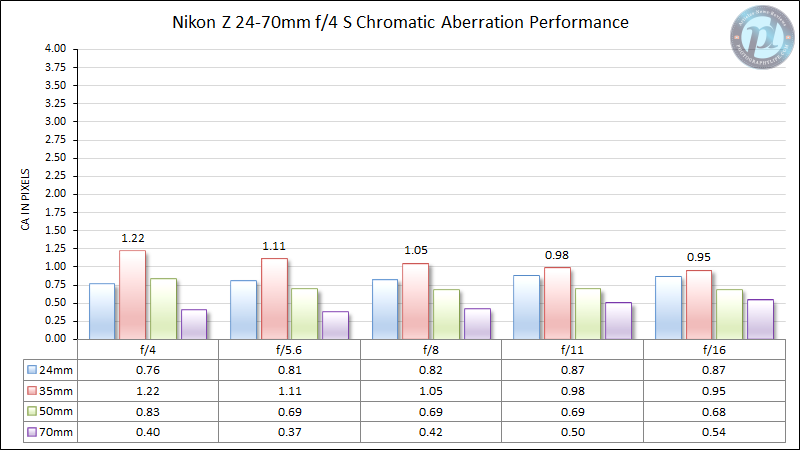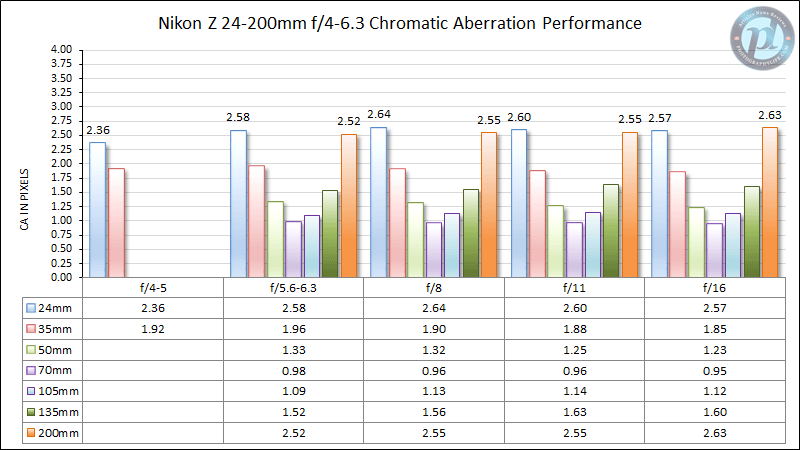 Whereas the Nikon Z 24-70mm f/4 S has only minimal chromatic aberration (actually, really excellent levels for a midrange zoom), the Nikon Z 24-200mm f/4-6.3 has a ton! This, too, can be corrected in post-processing, but not without some side effects. With particularly challenging subjects (say, tree branches against the sky), correcting the photos from the 24-200mm f/4-6.3 can leave some unwanted haloing artifacts along the high-contrast edges.
4. Sharpness
How do the two lenses compare in the single, most important thing a lens can have… sharpness?? (Yes, I am being a bit sarcastic here, but it's still an important consideration with midrange zooms, which have a lot of variability in sharpness sometimes.)
Perhaps unsurprisingly, the Nikon Z 24-70mm f/4 S has the edge at most focal lengths and aperture values. When comparing the charts below, make sure to look at the same apertures on each lens if you want a true apples-to-apples comparison. We'll start with 24mm: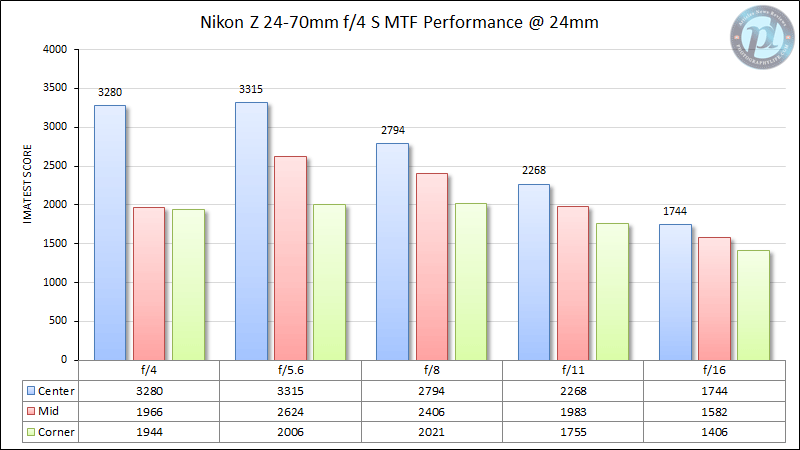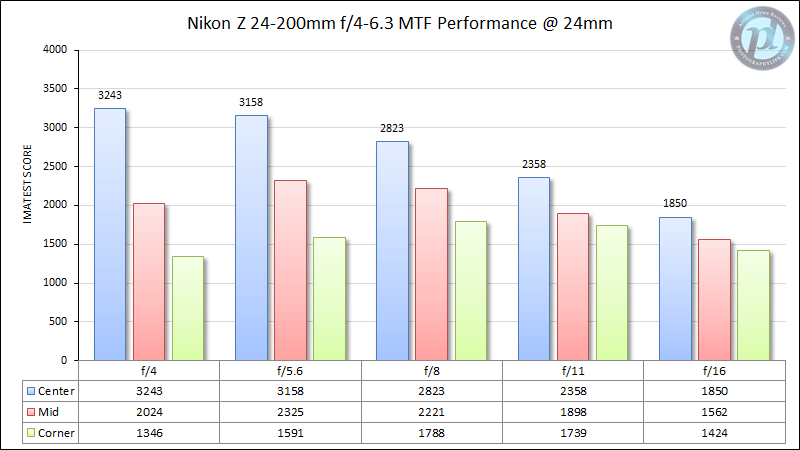 Now 35mm: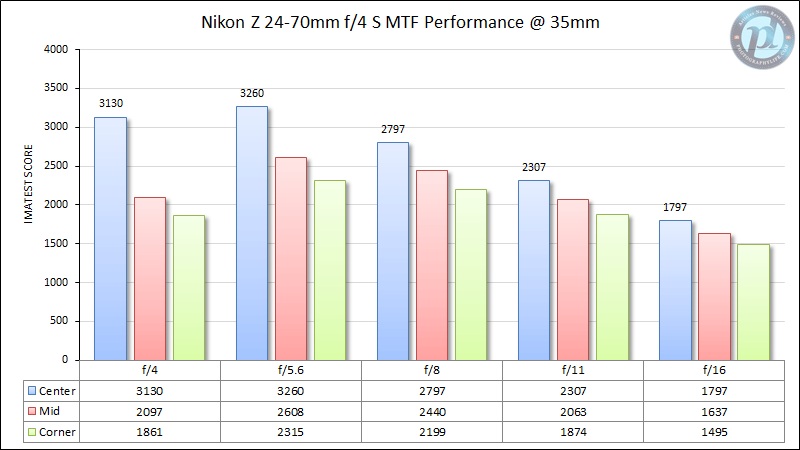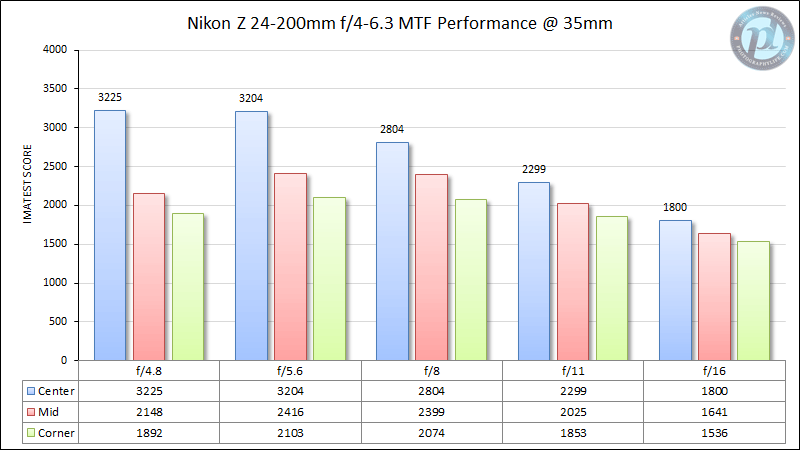 50mm: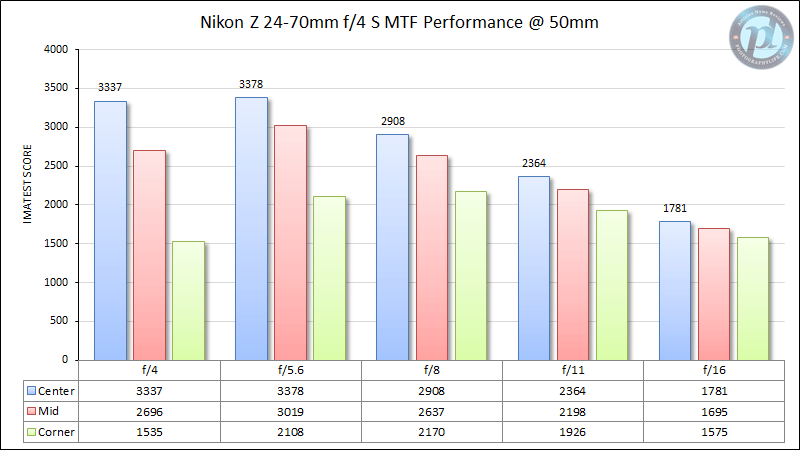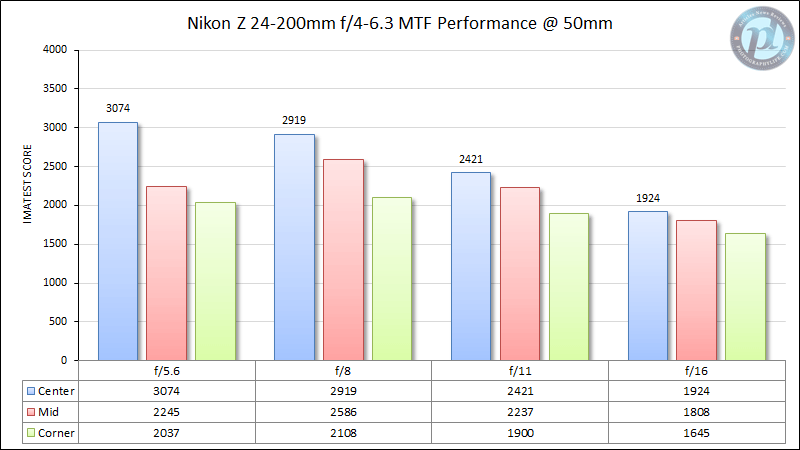 And finally, 70mm: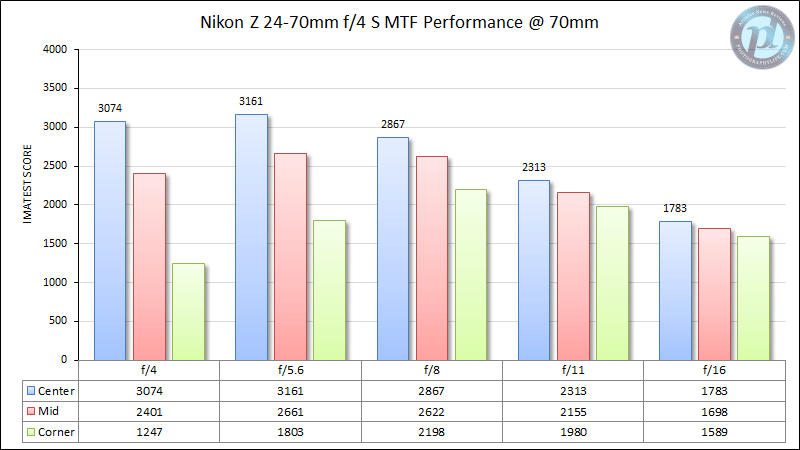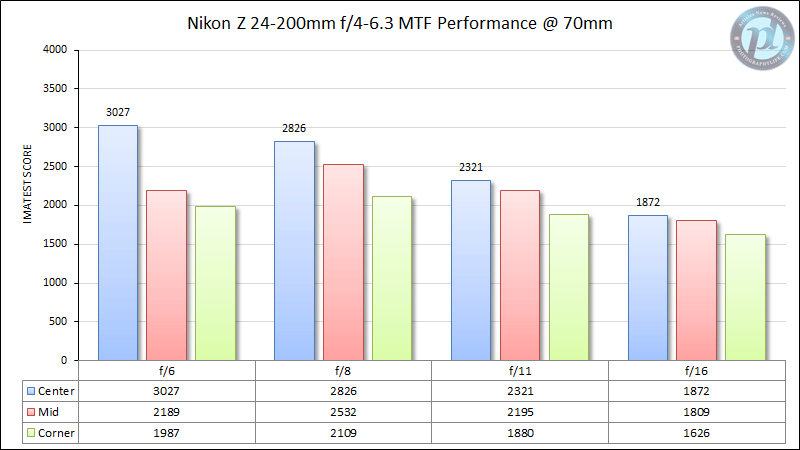 What's the takeaway here? Well, the Nikon Z 24-70mm f/4 S is definitely the sharper lens, but not by as much as you may be expecting. The difference at 24mm f/4 in the corners is probably the biggest difference you'll see. As you zoom in and stop down your aperture, the differences become harder to see.
Ultimately, even though I'd give the nod to the Nikon Z 24-70mm f/4 S, it's unlikely that you'll be able to see these differences even in a large print, except at 24mm and f/4 specifically.
Arguably, the real benefit of the 24-70mm f/4 S is the maximum aperture of f/4 at the longer focal lengths. That means you're capturing about 2x as much light from about 50mm to 70mm. I don't know what kinds of subjects you shoot, but for something like event photography or handheld travel photography in low-light environments, that could make the difference.
Value and Recommendations
The Nikon Z 24-70mm f/4 S costs $1000, and the Nikon Z 24-200mm f/4-6.3 VR costs $900. Sale prices can change these numbers slightly, and there's also the fact that both of these lenses (but especially the 24-70mm f/4 S) are often sold as kits with a Nikon Z camera. So, you can actually find much lower prices on either lens depending on how you buy them.
But the basic idea is that the two lenses are about the same price. Which one is the better value? To me, the 24-200mm f/4-6.3 VR stands out in this comparison. No, it doesn't have the nice, constant f/4 maximum aperture. But it is only a bit worse optically, while covering far more focal lengths than the 24-70mm f/4 S. For most genres of photography, it will make a bigger difference to be able to shoot at 200mm than to have a little more corner sharpness wide open!
I say this as someone who uses and loves both lenses – I have basically stopped bringing my Nikon Z 24-70mm f/4 S on most trips these days. Since I mostly shoot landscape photos at aperture values of f/8 through f/16, both lenses are basically equal in performance anyway, so why not pick the one with the longer focal length capabilities?
Personally, I think that if you need the f/4 maximum aperture, you really should go with the Nikon Z 24-120mm f/4 S instead of the 24-70mm f/4 S. That's what I (and probably most photographers) would have done if the 24-120mm f/4 S had been available from day one of the Nikon Z system. You can see my full comparison of the Nikon Z 24-70mm f/4 S and 24-120mm f/4 S here, but basically, the 24-120mm is just as sharp and high-performance as the 24-70mm f/4, just with more focal lengths on the end.
In any case, that's my recommendation. Go with the 24-200mm f/4-6.3 VR if you need maximum reach, and go with the 24-120mm f/4 S if you need a constant f/4 lens. I still love the 24-70mm f/4 S, but it has basically been superseded by those two lenses, in my opinion. At least for most needs. Admittedly, if you don't need a single do-it-all lens, you could pair the 24-70mm f/4 S with a longer telephoto zoom and get a seriously good two-lens package.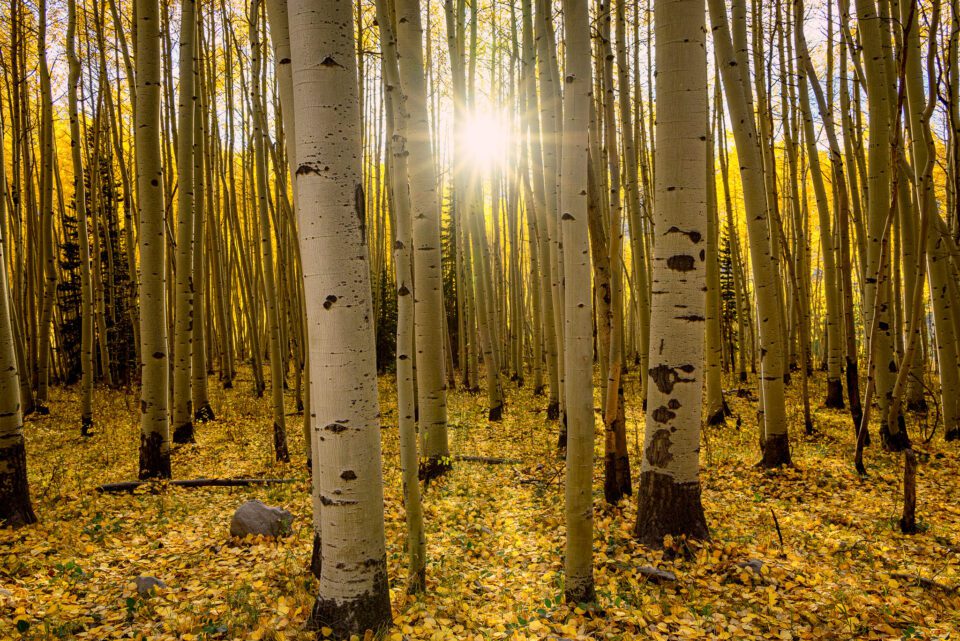 I hope this gives you a better idea of which lens to pick between the Nikon Z 24-70mm f/4 S and the Nikon Z 24-200mm f/4-6.3 VR! You can check the current prices, and support my testing efforts at Photography Life, at the following B&H affiliate links:
As for used prices, the same thing applies! I've been seeing good used prices on both lenses recently, especially the Nikon Z 24-70mm f/4 S (maybe people are taking my advice and switching to the 24-120mm f/4 S or 24-200mm f/4-6.3).
Let me know in the comment section if you have any questions about these two lenses. I've used them both in the field extensively and would be happy to help.