There is no doubt that the new Nikon Df camera is very similar to the D600/D610 duo, as we've already seen from the comparison. From a price stand-point, however, Df is dangerously close to the popular and extremely capable Nikon D800 model (see our very detailed review). Can the Nikon Df back up its price premium when compared to its bigger brother? Analyzing on-paper specifications of both cameras should give a pretty good idea, although you might find the ISO performance comparisons in this article quite useful to make your own conclusions.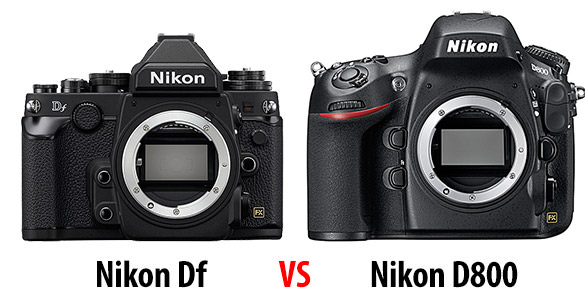 Keep in mind, please, that this comparison is based strictly on specifications and image quality. A camera is often more than a sum of its parts, and that stands true for both Nikon Df and D800.
First, let's go over the key specifications:
Nikon Df vs D800 Specification Comparison
Camera Feature
Nikon Df
Nikon D800
Sensor Resolution
16.2 Million
36.3 Million
Sensor Type
CMOS
CMOS
Sensor Size
36×23.9mm
35.9x24mm
Sensor Pixel Size
7.30µ
4.88µ
Low Pass Filter
Yes
Yes
Sensor Dust Reduction
Yes
Yes
Image Size
4.928 × 3,280
7,360 x 4,912
Image Processor
EXPEED 3
EXPEED 3
Viewfinder Type
Pentaprism
Pentaprism
Viewfinder Coverage and Size
100%, 0.70x
100%, 0.70x
Built-in Flash
No
Yes, with flash commander mode
Flash Sync Speed
1/250
1/250
Storage Media
1x SD
1x CF, 1x SD
Continuous Shooting Speed
5.5 FPS
4 FPS, 6 FPS in DX mode with MB-D12 battery grip
Max Shutter Speed
1/4000 to 30 sec
1/8000 to 30 sec
Shutter Durability
150,000 cycles
200,000 cycles
Exposure Metering Sensor
2,016-pixel RGB sensor 3D Color Matrix Metering II
91,000-pixel RGB sensor 3D Color Matrix Metering III
Base ISO
ISO 100
ISO 100
Native ISO Sensitivity
ISO 100-12,800
ISO 100-6,400
Boosted ISO Sensitivity
Down to ISO 50, up to ISO 204,800
Down to ISO 50, up to ISO 25,600
Autofocus System
Multi-CAM 4800FX
Advanced Multi-CAM 3500FX
Focus Points
39, 9 cross-type
51, 11 cross-type
AF Detection
Up to f/8
Up to f/8
Pre-AI Lens Compatibility
Yes
No
Video Capability
No
Yes
Video Output
N/A
MOV, Compressed and Uncompressed
Video Maximum Resolution
N/A
1920×1080 (1080p) @ 24p, 30p
Audio Recording
N/A
Built-in microphone
External stereo microphone (optional)
LCD Size
3.2″ diagonal TFT-LCD
3.2″ diagonal TFT-LCD
LCD Resolution
921,000 dots
921,000 dots
HDR Support
Yes
Yes
Exposure Bracketing
2 to 5 frames
2 to 9 frames
Built-in GPS
No
No
Wi-Fi Functionality
Eye-Fi Compatible, WU-1b
Eye-Fi Compatible, WT-4a
Battery
EN-EL14a Lithium-ion Battery
EN-EL15 Lithium-ion Battery
Battery Life
1400 shots (CIPA)
850 shots (CIPA)
Battery Charger
MH-24 Quick Charger
MH-25 Quick Charger
Weather Sealed Body
Yes
Yes
Build
Top and Rear Magnesium Alloy
Full Magnesium Alloy
USB Version
2.0
3.0
Weight (Body Only)
710g
900g
Dimensions
143.5 × 110 × 66.5mm
144.78 × 121.92 × 81.28mm
MSRP Price
$2,749 (as introduced)
$2,999 (as introduced)
In every technical way except for a few key features, the D800 beats the Nikon Df on paper, especially when the price / performance ratio is taken into account. Hardly surprising, as Nikon Df, based on a very rational comparison, already struggled against the much-cheaper, but arguably more flexible and just as capable Nikon D610. Firstly, there is the sensor. Which one is better is for each individual to decide on their own, but the D800 offers a massive resolution of 36 megapixels versus 16 megapixels on the Nikon Df. That 36 megapixel sensor unit is no slouch when it comes to high ISO performance either (at comparable output size), but has a lower native ISO range of 100-6400 (vs ISO 100-12,800 of the Nikon Df). Hardly a deal-breaker for most users – between these two sensors, you are likely to make your choice based on preferred resolution.
There are, however, a couple of things to keep in mind when choosing between a 36 MP and a 16 MP camera. First of all, the Nikon D800 will create massive JPEG and RAW files. Those that photograph with the D800 professionally know very well how big of a burden it can be when it comes to dealing with mega-large files and post-processing RAW images. Lightroom, Aperture or any other post-processing tool slow down dramatically and require a lot more computer resources to keep up with the speed. The D800 should not be considered if you are not ready to deal with larger memory cards, more storage space and faster processing power. In addition, the D800 is a very demanding camera in terms of technique. A lot of people are finding that the traditional "shutter speed equals focal length value" for hand-holding technique is simply too slow, requiring often doubling and even tripling the shutter speed value. Sharpness can suffer greatly at pixel level, if good technique or tripod use are not employed. So the D800 can be considered a highly specialized tool as well and it is certainly not for everyone. Portrait photographers tend to stay away from the D800 for the above-mentioned reasons. In this regard, the Nikon Df is a much more attractive and forgiving camera. It creates small files with enough resolution for most needs, it does not put stress on your hand-holding technique or your old lenses that might not be able to resolve a lot of details on a high resolution sensor. It works with pretty much every Nikkor lens – from the modern AF-S versions to pre-AI classic manual focus lenses. It works beautifully in low light situations without adding much noise (see below). In essence, the 16 MP sensor is not a disadvantage for many of us. As a full time wedding photographer, I find 12 MP on my D700 to be more than adequate for my paying customers.
The Nikon D800 has a more sophisticated autofocus system with 51 focus points, 11 of which are cross-type. That is not to say the 39-point AF system used in Nikon Df is bad, but the frame coverage is definitely worse. The Nikon D800 enjoys shutter speeds up to 1/8000s, while the Df has to make do with a 1/4000s maximum. Other advantages of the D800 include faster flash sync speed (1/250s versus 1/200s), video recording, more sophisticated metering, better build quality (D800 is fully made out of magnesium alloy, Nikon Df mixes that with plastic) and durable shutter mechanism (rated for 200k versus 150k of the Nikon Df).
On the other hand, Nikon Df also has some aspects to boast about. Firstly, it is 190g lighter (body-only), yet manages an impressive 1400 shots per battery charge versus 850 shots of the D800. Also, it is noticeably smaller and has slightly faster continuous shooting at 5.5 frames per second versus 4 fps of the D800. Having said that, for an extra $250, D800 potentially offers a lot more bang for your buck. For the majority of photographers, it is no doubt a better camera and a very likable one.
Let's now take a look at how the two cameras compare in terms of ISO performance.
Nikon Df vs D800 Low ISO Performance
Please note that the images below are comparisons between the Nikon D4 and the D800E. Since the Nikon Df has the same (or similar) sensor as the D4, and the D800E is the same as the D800 minus the AA filter, these ISO comparisons between the two cameras are valid. Also, the below are 100% crops, without any down-sampling applied. If the Nikon D800 images are down-sampled to 16 MP resolution, the files will look much cleaner. When comparing sensor performance, I will be providing pixel-level comparisons to illustrate differences between the Nikon Df and other cameras, without changing the angle of view or perspective. If you would like to compare these images at equal print size level, you can easily down-sample images to the same size in Photoshop / Lightroom and look at the differences (I have already done that for the most part in my reviews of Nikon DSLR cameras).
Warning: Simply clicking the images below does not show 100% crop performance (crops are large, so your browser will automatically show them in smaller size). If you would like to compare images head to head, please download the below crops to your computer and then view them!
As expected, both cameras handle base ISO extremely well.
The same is with ISO 200.
At ISO 400 the Nikon D800 has a tad more noise in some parts of the image. However, keep in mind that you are looking at pixel-level performance. As I have mentioned above, down-sampling to equal size will diminish these differences.
At ISO 800, the Nikon D800 shows more noise, especially in the shadows.
Nikon Df vs D800 High ISO Performance
What about high ISO performance at ISO 1600 and higher? Let's take a look:
At ISO 1600, the differences in pixel level noise are pretty clear – the Nikon D4/Df is cleaner in comparison.
The same thing can be observed at ISO 3200. The grain definitely appears larger on the D800.
At ISO 6400, the Nikon D800 is already losing some shadow details and adding artifacts throughout the image.
And at ISO 12800, the Df/D4 still retains plenty of shadow information, while the D800 lost a lot of it. More noise and artifacts appear at pixel level on the D800. Most importantly, there is a noticeable loss of color on the D800.
ISO 25600 looks like garbage on the D800 – something I would not want to use at all. And yet the D4/Df still manages to retain colors and details better even at such high ISO values.
The Nikon Df offers three more "boosted" ISO levels: ISO 51,200, ISO 102,400 and ISO 204,800. While ISO 204,800 is extremely noisy and unacceptable for most people, ISO 51,200 and 102,400 could be somewhat usable when down-sampled:
If you compare ISO 51200 to ISO 25600 on the D800, the noise patterns are pretty close, so there is about a stop of difference between the two at boosted ISO levels.
Now keep in mind once again that we are purely looking at pixel level performance here. Once 36 MP images from the D800 are resized to 16 MP, the performance differences shrink quite a bit. Once "normalized" there is not much of a difference from ISO 100 to ISO 6400. Only at ISO 12800 and above the Nikon D4/Df seems to offer an advantage when down-sampled. And obviously it can go even beyond that all the way to ISO 204,800, while the D800 stops at ISO 25600.
Summary
Choosing between the two full-frame DSLRs will hardly be all that difficult because of how different the Df is in its core approach to photography. Where D800 incorporates a thoroughly modern choice of ergonomics, Nikon Df builds upon the heritage of classic film cameras. It has analog dials for most of its exposure-related settings, such as ISO, shutter-speed and exposure compensation. It also puts a lot of stakes on style and involvement. If these are priorities for you in a camera, you will not feel troubled about the $2750 price tag. But don't ever worry if you find it hard to justify – not everyone is supposed to. As I've said in the Nikon Df vs D610 comparison, you buy the Df with your heart, not your head.