It has been a while since Nikon last caused so much controversy. Even before Df was announced, and, naturally, as soon as all of its specifications were leaked, crowds gathered and the battle was on. Not even D600 or D800 issues caused so much racket. This sort of comparison – Nikon Df versus D610 – is likely to be the most popular among the fans and those who just can't justify the new camera. We, too, will take a closer look at how these two full-frame DSLRs stack-up against each other. Before you jump to conclusions though, make sure to read the summary – you will find that there is nothing to be so perplexed by. And be sure to pay attention to ISO comparisons between the Nikon Df and the D610 that are posted below.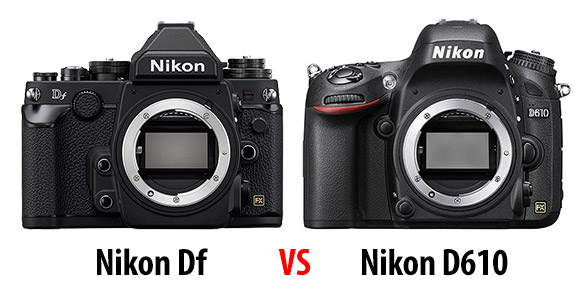 First, let's go over the key specifications:
Nikon Df vs D610 Specification Comparison
Camera Feature
Nikon Df
Nikon D610
Sensor Resolution
16.2 Million
24.3 Million
Sensor Type
CMOS
CMOS
Sensor Size
36×23.9mm
35.9×24.0mm
Sensor Pixel Size
7.30µ
5.96µ
Low Pass Filter
Yes
Yes
Sensor Dust Reduction
Yes
Yes
Image Size
4,928 × 3,280
6,016 x 4,016
Image Processor
EXPEED 3
EXPEED 3
Viewfinder Type
Pentaprism
Pentaprism
Viewfinder Coverage and Size
100%, 0.70x
100%, 0.70x
Built-in Flash
No
Yes, with flash commander mode
Flash Sync Speed
1/250
1/200
Storage Media
1x SD
2x SD
Continuous Shooting Speed
5.5 FPS
6 FPS
Max Shutter Speed
1/4000 to 30 sec
1/4000 to 30 sec
Shutter Durability
150,000 cycles
150,000 cycles
Exposure Metering Sensor
2,016-pixel RGB sensor 3D Color Matrix Metering II
2,016-pixel RGB sensor 3D Color Matrix Metering II
Base ISO
ISO 100
ISO 100
Native ISO Sensitivity
ISO 100-12,800
ISO 100-6,400
Boosted ISO Sensitivity
ISO 50, 25,600-204,800
ISO 50, 12,800-25,600
Autofocus System
Multi-CAM 4800FX
Multi-CAM 4800FX
Focus Points
39, 9 cross-type
39, 9 cross-type
AF Detection
Up to f/8
Up to f/8
Pre-AI Lens Compatibility
Yes
No
Video Capability
No
Yes
Video Output
N/A
MOV, Uncompressed
Video Maximum Resolution
N/A
1920×1080 (1080p) @ 24p, 25p, 30p
Audio Recording
N/A
Built-in microphone
External stereo microphone (optional)
LCD Size
3.2″ diagonal TFT-LCD
3.2″ diagonal TFT-LCD
LCD Resolution
921,000 dots
921,000 dots
HDR Support
Yes
Yes
Exposure Bracketing
2 to 5 frames
2 to 3 frames
Built-in GPS
No
No
Wi-Fi Functionality
Eye-Fi Compatible, WU-1b
Eye-Fi Compatible, WU-1b
Battery
EN-EL14a Lithium-ion Battery
EN-EL15 Lithium-ion Battery
Battery Life
1400 shots (CIPA)
900 shots (CIPA)
Battery Charger
MH-24 Quick Charger
MH-25 Quick Charger
Weather Sealed Body
Yes
Yes
Build
Top and Rear Magnesium Alloy
Top and Rear Magnesium Alloy
USB Version
2.0
2.0
Weight (Body Only)
710g
760g
Dimensions
143.5 × 110 × 66.5mm
141 × 113 × 82mm
MSRP Price
$2,749 (as introduced)
$1,999 (as introduced)
It is immediately clear that the new Nikon Df is heavily based on the current Nikon D600/D610 DSLR. There is very little difference on the inside with most changes apparent at first glance. However, the internal changes that did take place are quite significant, if not numerous. First and foremost, Nikon Df features the same sensor found in Nikon's flagship DSLR model, the D4. It has a lower resolution by today's standards, but actually more or less perfect for most users that do not want or need 24/36 megapixels for their daily photography. As you would expect from such a sensor, it has remarkable high ISO performance and will perform well under pretty much any lighting condition. Suffice to say both cameras are more or less state-of-the-art in terms of technical image quality and you will not be disappointed by either one. For a detailed ISO comparison, see further down below.
The other big difference is the omission of video recording in the Nikon Df, which aims to be more traditional in its approach to photography. On paper that is, of course, a drawback. But don't forget, a lot of long-time Nikon users have been hoping for a functional photographic tool, not a video camera. Most people, including myself, do not ever utilize video functions of DSLR cameras.
Other changes are quite minor. The Df has no built-in pop-up flash, which, again, can be a plus or drawback depending on particular user's needs (for most people it is a drawback). Nikon D610 also has a slightly faster frame rate at 6 fps against 5.5 fps of the Df. The latter, however, is slightly lighter, smaller and thinner (mostly thanks to the tiny grip), and uses a smaller battery shared with Nikon's entry level APS-C cameras, such as the D5300. However, despite the smaller battery, official CIPA tests claim massively improved battery life, promising around 1400 shots per charge. As our eagle-eyed readers pointed out, however, the improved performance comes down to the fact Df lacks a built-in flash, which is normally used during CIPA standard testing. Also, D610 has two SD card slots for more storage or backup. That more or less concludes internal changes.
The exterior differences are extremely noticeable between these two cameras. Nikon D610 is thoroughly modern and incorporates the now-traditional button and dial controls. There is one mode dial with the usual Aperture, Shutter, Program and Manual exposure modes as well as some automated scene modes. Nikon Df does without the latter and, instead, only allows the user to select between the four main exposure modes on a small dial next to the shutter release button. It has separate dials for shutter-speed, exposure compensation and ISO sensitivity, and is obviously keen on emphasizing analogue controls. To those that are concerned about manually setting the shutter speed – it is still possible, as long as the shutter dial is set to "1/3 STEP". Once set, you can change the shutter speed in 1/3 increments using the rear dial, while the front dial is used for changing the lens aperture (on modern "G" type lenses).
Overall, ergonomic differences between the two cameras are very apparent. But there is an elephant in the room. Nikon Df is, arguably, no better or worse than the popular D610 model – it is different. However, the enormous price difference is an issue for many users. Nikon charges an extra $750 for the retro-looking Nikon Df camera. Why? The same reason why Leica does it. Because Nikon Df is a premium product. It is not mainstream. It is different in its approach to how a digital SLR camera should look, feel and operate, despite being thoroughly modern inside, just like its close sibling. There is nothing wrong with that, nor anything to be annoyed with. Nikon's move – the price, the looks, the controls – make Nikon Df a camera that targets a very specific niche of photographers. That is what makes the choice between D610 and Df so very easy. You either want one or the other and it is unlikely there to be something in between. Plus, you are getting the D4 sensor in a package that costs half as much.
Attention pixel peepers: you will surely want to see the below ISO comparisons!
Nikon Df vs D610 Low ISO Comparison
Please note that the images below are comparisons between the Nikon D4 and the D600. Since the Nikon Df has the same (or similar) sensor as the D4 and the D610 has exactly the same sensor as the D600, these comparisons between the two cameras are valid. Also, the below are 100% crops, without any down-sampling applied. If the Nikon D610 images are down-sampled to 16 MP resolution, the files will look cleaner. When comparing sensor performance, I will be providing pixel-level comparisons to illustrate differences between the Nikon Df and other cameras, without changing the angle of view or perspective. If you would like to compare these images at equal print size level, you can easily down-sample images to the same size in Photoshop / Lightroom and look at the differences (I have already done that for the most part in my reviews of Nikon DSLR cameras).
Warning: Simply clicking the images below does not show 100% crop performance (crops are large, so your browser will automatically show them in smaller size). If you would like to compare images head to head, please download the below crops to your computer and then view them!
As expected, at base ISO 100, both cameras look very clean.
The same at ISO 200.
At ISO 400, the D610 has a hint more noise in some areas than the Df, but it is still very clean, even in the shadows.
We see a similar situation at ISO 800 – both cameras are very clean, only with very slight, almost unnoticeable differences in noise performance.
Nikon Df vs D610 High ISO Comparison
Let's see if there are any differences at high ISOs:
At ISO 1600 both cameras start to show traces of noise. At pixel level, the D600/D610 seems to produce a little more noise.
At ISO 3200, it is pretty clear that the D4/Df has a pixel size advantage. Images appear cleaner in comparison, although the noise pattern is quite similar. Down-sampling the two to equal sizes will obviously reduce these differences.
And the performance gap grows even more at ISO 6400. Now the pixel-level grain on the D600/D610 appears larger, although there is obviously a clear difference in size between the two.
The same thing happens at ISO 12800 – the D4/Df retains shadow details pretty well, while the D600/D610 loses quite a bit.
Lastly, if we look at both cameras at ISO 25600, it is pretty clear that the Nikon D4/Df does a better overall job, even if the D600/D610 image is down-sampled. Take a look at the shadow noise and discoloration on the D610 image. The Nikon D4/Df retains a lot more details and colors both in the shadows and highlights.
The Nikon Df offers three more "boosted" ISO levels: ISO 51,200, ISO 102,400 and ISO 204,800. While ISO 204,800 is extremely noisy and unacceptable for most people, ISO 51,200 and 102,400 could be somewhat usable when down-sampled:
If you compare ISO 51200 to ISO 25600, the noise patterns are pretty close. The D600/D610 still looks a tad better, but not by a whole lot, so there is a little less than a stop of difference here.
Now keep in mind once again that we are purely looking at pixel level performance here. Once 24 MP images from the D610 are resized to 16 MP, the performance differences shrink more. Only at ISO 12800 and above the Nikon D4/Df seems to offer an advantage when down-sampled. And obviously it can go even beyond that all the way to ISO 204,800, while the D610 stops at ISO 25600.
In essence, if the ISO capabilities of both cameras are pretty similar below ISO 12800, what IS the advantage of the Df sensor, you might ask? Well, there are several of them. First, the files are obviously smaller, which translates to more images per card and faster post-processing workflow. Second, as we already know from using very high-resolution DSLRs like Nikon D800, handling and technique can become an issue. Lower resolution sensors are much more forgiving in terms of camera shake / minimum acceptable shutter speed to get the sharpest images at pixel level. Lastly, many of the older Nikkor lenses might have issues with resolving enough details on high resolution cameras. So a smaller resolution sensor would once again be much more forgiving for those that are planning to utilize old Nikkor classics.
Summary
For a lot of users, D610 is a much, much better choice for less money. For some, Nikon Df will be worth every penny. I have no doubt in my mind it will be very popular and with good reason. I also have no doubt in my mind that skeptics will once again fail to understand why. Here's a tip – there's no logical reason behind it. A D610 is a camera that you can easily buy with your mind. It is completely justifiable when compared to the Nikon D800, Df or rivaling cameras from other manufacturers. One buys Nikon Df with his heart. That is reason enough, and if it isn't for you, don't sweat over it. No one is forcing the camera on you, and if you ever encounter a snobbish look from someone owning a brand new Nikon Df, while you have a "regular" D610 in your hands, just smile and walk away. Nikon Df buyers should, likewise, do the same.
Next up: Nikon Df vs D800.