With the release of the Nikon D850, one might be wondering how the Canon 5D Mark IV would compare to it side-by-side in terms of specifications, since both compete directly with one another. The Canon 5D Mark IV was announced almost exactly a year earlier in August of 2016, so it is a fairly recent release that will most likely not be updated for at least several more years. Now please keep in mind that such camera comparisons do not take into account lenses, accessories and other systems differences, so I ask that our readers take such comparisons with a grain of salt. It would be foolish to change systems every time a better camera comes out, because manufacturers like Nikon and Canon are known to leapfrog each other every few years!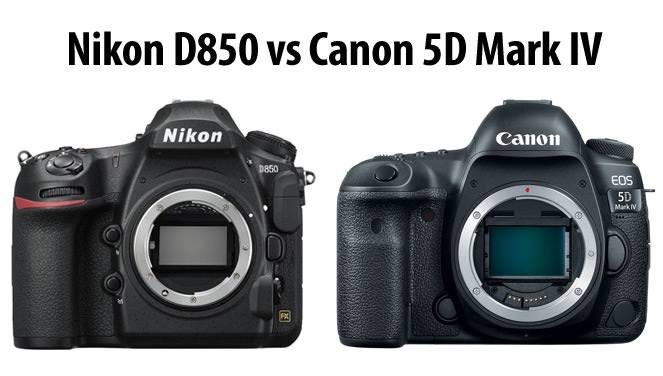 Let's take a look at the specifications of both cameras in more detail. Additional commentary on the data is provided below.
Nikon D850 vs Canon 5D Mark IV Specification Comparison
Camera Feature
Nikon D850
Canon 5D Mark IV
Sensor Resolution
45.7 MP
30.4 MP
Sensor Type
BSI CMOS
CMOS
Sensor Size
35.9×23.9mm
36.0×24.0mm
Low-Pass Filter
No
Yes
Sensor Pixel Size
4.35µ
5.36µ
Image Size
8,256 x 5,504
6,720 x 4,480
Image Processor
EXPEED 5
DIGIC 6+
Buffer: RAW 14-bit Lossless Compressed
51
21
Native ISO Sensitivity
ISO 64-25,600
ISO 100-32,000
Boosted ISO Sensitivity
ISO 32, ISO 51,200-102,400
ISO 50, ISO 51,200-102,400
Dust Reduction / Sensor Cleaning
Yes
Yes
Viewfinder Type
Pentaprism
Pentaprism
Viewfinder Coverage and Magnification
100%, 0.75x
100%, 0.71x
Built-in Flash
No
No
Storage Media
1x QXD, 1x SD (UHS-II)
1x CF, 1x SD (UHS-I)
Continuous Shooting Speed
7.0 fps, 9.0 fps with MB-D18
7.0 fps
Max Shutter Speed
1/8000 to 30 sec
1/8000 to 30 sec
AE Bracketing Range
±3 EV
±3 EV
Flash Sync Speed
1/250
1/200
Shutter Durability
200,000 cycles
150,000 cycles
Exposure Metering Sensor
181,000-pixel RGB sensor
150,000-pixel RGB+IR metering sensor
Number of AF Points
153 AF points, 99 cross-type
61 AF points, 41 cross-type
AF Detection Range
-4 to +20 EV
-3 to +18 EV
Auto AF Fine-Tune
Yes
No
Focus Peaking
Yes
No
Focus Stacking
Yes
No
Video Maximum Resolution
3,840 x 2,160 (4K) @ up to 30 fps
4,096 x 2,160 (4K) @ up to 30 fps
Video Crop Factor
1.0x
1.74x
Audio Recording
Built-in stereo microphone
External stereo microphone (optional)
Built-in stereo microphone
External stereo microphone (optional)
Headphone Jack
Yes
Yes
LCD Size and Type
3.2″ Tilting Touchscreen LCD
3.2″ Touchscreen LCD
Dual Pixel AF
No
Yes
Dual Pixel RAW
No
Yes
LCD Resolution
2,359,000 dots
1,620,000 dots
Built-in GPS
No
Yes
Wi-Fi
Yes
Yes
Bluetooth
Yes
No
Battery Life
1840 shots (CIPA)
900 shots (CIPA)
Button Illumination
Yes
No
Weather Sealed Body
Yes
Yes
USB Version
3.0
3.0
Weight (Body Only)
915g
800g
Dimensions
146.0 x 124.0 x 78.5mm
150.7 x 116.4 x 75.9mm
MSRP Price
$3,299 (as introduced)
$3,499 (as introduced)
Obviously the two cameras are made to serve different purposes. The Nikon D850 has a high-resolution 45.7 MP sensor that competes more with the Canon 5DS R (50.6 MP), rather than the Canon 5D Mark IV, which only has a 30.4 MP sensor. Nikon D850 has a superior back-illuminated (BSI) CMOS sensor and at ISO 64, it is known to yield exceptional dynamic range – something Canon typically struggles with. Without a low-pass filter, the D850 yields very sharp and detailed images, making it an ideal choice for landscape, macro and wildlife photography. In comparison, the Canon 5D Mark IV looks more like a general-purpose camera that is primarily aimed at portrait photographers.
Aside from that, there are very few areas where the Canon 5D Mark IV can hold its ground against the Nikon D810. Nikon has done a phenomenal job with the D850 and it really shows when one looks at a chart like this, since it highlights where Nikon was aiming with the announcement. Clearly, Nikon's goal was to make sure that the Canon 5D Mark IV stays out of the competition, and as you can see from the chart, Nikon beats Canon pretty much on every major spec. It has a larger viewfinder, much better storage media options, an option to increase continuous shooting rate by 2 fps to get to a total of 9 fps, better flash sync speed, better shutter durability, better AF system, larger AF detection range, 4K video without any cropping, a tilting LCD screen, a far superior battery life and a lower price point.
Where the Canon 5D Mark IV comes out is its Dual Pixel AF system, which takes advantage of the phase detection pixels on the sensor when shooting in live view mode, allowing the camera to focus quickly and accurately on subjects. I wish Nikon implemented something similar, because its contrast-only live view focusing is extremely slow in comparison. Another feature Nikon has been consistently missing is GPS. Canon has done a great job by integrating a GPS chip into the 5D Mark IV and I really wish Nikon did it on the D850, since it is such a needed feature for travel and landscape photography. Lastly, the Canon 5D Mark IV is noticeably lighter (with roughly about 115 gram difference) and it is physically smaller in comparison to the Nikon D850.