In this Nikon D810 vs D800 / D800E comparison, we will go over differences in specifications between these cameras and talk about what has been added, changed and improved. The Nikon D800 and D800E have been very popular camera models among enthusiasts and professionals for several years now. With world's first 36.3 MP full-frame sensor, very high dynamic range, pro-level autofocus, magnesium alloy construction and weather sealing, the cameras have converted quite a few Canon and even Medium Format shooters. What does the D810 bring to the table? Let's take a closer look at the specifications.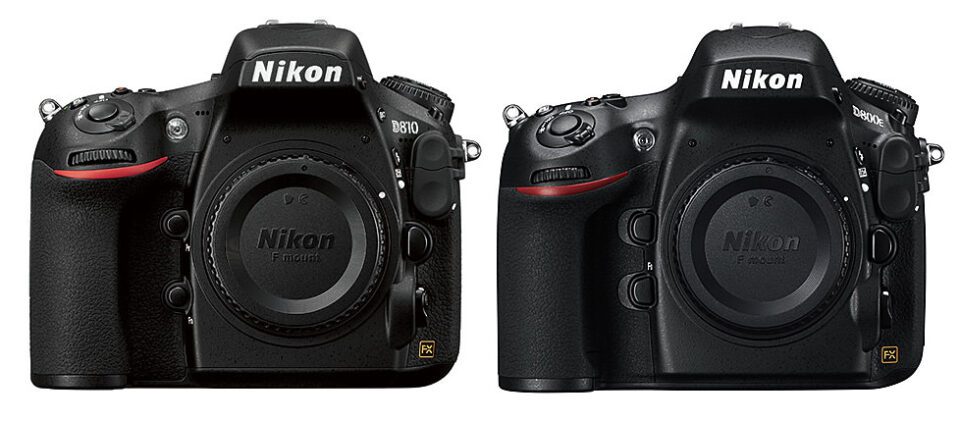 First, let's go over the key specifications:
Nikon D810 vs D800 / D800E Specification Comparison
Camera Feature
Nikon D810
Nikon D800 / D800E
Sensor Resolution
36.3 Million
36.3 Million
Sensor Type
CMOS
CMOS
Sensor Size
35.9x24mm
35.9x24mm
Sensor Pixel Size
4.88µ
4.88µ
Low Pass Filter
No
Yes / No
Sensor Dust Reduction
Yes
Yes
Image Size
7,360 x 4,912
7,360 x 4,912
Base ISO
ISO 64
ISO 100
Native ISO Sensitivity
ISO 64-12,800
ISO 100-6,400
Boosted ISO Sensitivity
Down to ISO 32, up to ISO 51,200
Down to ISO 50, up to ISO 25,600
Image Processor
EXPEED 4
EXPEED 3
sRAW File Support
Yes
No
Viewfinder Type
Pentaprism with improved coatings
Pentaprism
Viewfinder Coverage and Size
100%, 0.70x
100%, 0.70x
Built-in Flash
Yes, with flash commander mode
Yes, with flash commander mode
Flash Sync Speed
1/250
1/250
Storage Media
1x CF, 1x SD
1x CF, 1x SD
Continuous Shooting Speed
5 FPS, 6 FPS in DX mode, 7 FPS with MB-D12 battery grip
4 FPS, 6 FPS in DX mode with MB-D12 battery grip
Max Shutter Speed
1/8000 to 30 sec
1/8000 to 30 sec
Shutter Durability
200,000 cycles
200,000 cycles
Electronic Front-curtain Shutter
Yes
No
Exposure Metering Sensor
91,000-pixel RGB sensor 3D Color Matrix Metering III
91,000-pixel RGB sensor 3D Color Matrix Metering III
Highlight Weighted Metering
Yes
No
Full aperture metering during Live View for stills
Yes
No
Face-detection Analysis
On/Off
Always On
Spot White Balance in Live View
Yes
No
Preset White Balance
1-6 possible
1-3 possible
Autofocus System
Advanced Multi-CAM 3500FX with Group Area AF
Advanced Multi-CAM 3500FX
Focus Points
51, 15 cross-type
51, 15 cross-type
AF Detection
Up to f/8
Up to f/8
Video Output
MOV, Compressed and Uncompressed
MOV, Compressed and Uncompressed
Video Maximum Resolution
1920×1080 (1080p) @ 24p, 30p, 60p
1920×1080 (1080p) @ 24p, 30p
Memory Card + External Recorder Simultaneous Recording
Yes
No
Selectable Audio Frequency Range
Yes
No
Highlight Display (Zebra Stripes) in Live View
Yes
No
Interval Timer Exposure Smoothing
Yes
No
Timelapse Exposure Smoothing
Yes
No
Number of Images in Timelapse / Int Timer
9,999
999
Power Aperture Control using Internal Memory Cards
Yes
No
Audio Recording
Built-in stereo microphone
External stereo microphone (optional)
Built-in mono microphone
External stereo microphone (optional)
LCD Size
3.2″ diagonal TFT-LCD
3.2″ diagonal TFT-LCD
LCD Resolution
1,229,000 dots
921,000 dots
One Button Zoom Image Preview
Yes
No
HDR Support
Yes
Yes
Picture Control
Standard, Neutral, Vivid, Monochrome, Portrait, Landscape, Flat
Standard, Neutral, Vivid, Monochrome, Portrait, Landscape
Unlimited Continuous Shooting
Yes
No
Redesigned Sequencer / Balancer Mechanism
Yes, Operates in Quiet or Quiet Continuous Mode
No
Exposure Bracketing
2 to 9 frames
2 to 9 frames
Built-in GPS
No
No
Wi-Fi Functionality
Eye-Fi Compatible, WT-4a
Eye-Fi Compatible, WT-4a
Battery
EN-EL15 Lithium-ion Battery
EN-EL15 Lithium-ion Battery
Battery Life
1200 shots (CIPA)
900 shots (CIPA)
Battery Charger
MH-25 Quick Charger
MH-25 Quick Charger
Weather Sealed Body
Yes
Yes
Build
Full Magnesium Alloy
Full Magnesium Alloy
USB Version
3.0
3.0
Weight (Body Only)
880g
900g
Dimensions
146 x 123 x 81.5mm
144.78 × 121.92 × 81.28mm
MSRP Price
$3,299
$2,999 / $3,299
At first glance, there is quite a bit of similarity between these cameras. However, quite a bit has been changed in specifications starting from the camera sensor. While the resolution stayed the same at 36.3 MP, the sensors are actually not the same – the D810 sports a new sensor with different sensitivity levels, pushing ISO one stop further at both sides of the range. Its base ISO is 64 vs 100 and the maximum native ISO is 12,800 vs 6,400 on the D800 / D800E. Judging by these numbers, the new D810 sensor should not only produce greater dynamic range, but it also should be up to a stop cleaner at high ISO levels. Another important fact, is that the D810 now consolidates the D800 and the D800E into a single camera, eliminating the optical low-pass filter / anti-aliasing filter in front of the sensor completely.
Thanks to the newer EXPEED 4 processor, the camera gains 1 FPS improvement in speed, jumping to 5 FPS continuous shooting in full resolution, 6 FPS in DX / 1.2x crop modes and 7 FPS with the MB-D12 battery grip. In comparison, the D800 / D800E shoot at 4 FPS in full resolution and require the MB-D12 battery grip to get to 6 FPS. The faster processor also improves autofocus performance, which gains the same "Group Area AF" feature from the top-of-the-line Nikon D4s. As you will see in our upcoming Nikon D4s review, the autofocus performance of the D4s is noticeably faster than the D4, so expect to see similar improvements on the D810.
The D810 gains an improved LCD screen with 1,229K dots compared to 921K dots on the D800 / D800E and the optical viewfinder has gotten better and brighter thanks to improved coatings. The D810 went through several ergonomic changes, with improved grip, new buttons and other slight changes on the back of the camera. Battery life has been improved dramatically, with the D810 capable of shooting up to 1200 shots on a single charge (versus 900 on the D800 / D800E).
One of the biggest highlights of the D810 is the new and improved shutter mechanism that allows Electronic Front-curtain mode in Live View. Basically, the camera simply starts recording the exposure without moving the shutter and only closes the shutter at the end of the exposure sequence, which completely eliminates shutter vibrations. This is a great feature for those of us that shoot in low light, especially with heavy supertelephoto lenses that tend to increase camera shake at long focal lengths. For me, this is a must-have feature when testing lenses in my lab, since I do not have to worry about shutter vibrations at all. The new shutter mechanism is also supposedly much quieter in operation and there is now a "Quiet Continous" mode.
Hopefully Nikon fixed the bad Live View interpolation issue that is currently present on the D800 and D800E, because it makes it difficult to acquire critical focus. Another area that I am not 100% confident about is Wi-Fi compatibility – NikonUSA does not provide any information on this, so it is unclear whether the D810 requires the WT-4a, or if it would work with the much smaller WU-1a unit.
Timelapse photographers will love the D810, because it can now shoot 9,999 frames instead of 999 and there are plenty of other great options available such as exposure smoothing to improve the quality of timelapse sequences.
And movie shooters will probably be happy to see drastic changes in movie recording capabilities of the D810. Nikon introduced a new "Auto ISO" feature in Manual Mode for video shooting, which should make it easy to keep the shutter speed and aperture the same, while letting the camera adjust brightness levels depending on the scene. Full HD recording has been increased to 60 fps and the D810 now comes with a slew of options for movie makers. In fact, Nikon is pushing the D810 heavily for videography needs, thanks to the many video recording options and simultaneous recording of footage to memory cards and external devices. Nikon now even bundles a special "film maker kit", which includes the Atomos Ninja 2 external video recorder. Sadly, there is no 4K support, which is quickly becoming the standard in videography.
The last feature I want to talk about is sRAW file support on the D810. Although this feature is not that useful on the D4s (because it creates tiny 4 MP images), sRAW on the D810 will be more useful. With a resolution of 3680×2456 pixels, which is roughly equivalent to 9 megapixels, the D810 will be able to yield clean RAW images even at very high ISO levels. How does this work? Basically, the camera down-samples / reduces the 36 MP image down to 9 MP and shares color information between adjacent pixels, as described in this awesome article by our dear friend Iliah Borg of RawDigger (see his previous articles here at Photography Life). There is some obvious loss of colors and dynamic range (recorded data is 11-bit), but if you are shooting in the dark and just want a cleaner image, sRAW might be a good option. In short, sRAW is in-camera resizing / downsampling of 36 MP images to 9 MP, while keeping the file format in RAW for flexibility. Although Iliah thinks that the sRAW format is similar to JPEG in terms of information loss and not as practical, I would be curious to see his analysis for the D810…