Many photographers often compare the Nikon D810 and the Canon 5D Mark IV DSLR cameras side by side in terms of specifications, since both sport high-resolution sensors and have comparable features. I have personally tested both of these cameras and found them to be excellent in their own ways, so if you are trying to decide which one to get, you certainly would not go wrong with either option. Instead of pondering about brand choices, you should just stick with whatever glass you already own – the grass always looks greener on the other side! If you are still curious about differences between these high-end cameras, then keep on reading…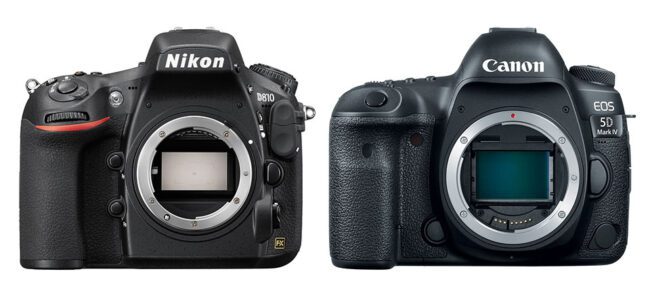 Let's take a look at the specifications of both cameras in more detail. Additional commentary on the data is provided below.
Nikon D810 vs Canon 5D Mark IV Specification Comparison
Camera Feature
Nikon D810
Canon 5D Mark IV
Sensor Resolution
36.3 MP
30.4 MP
Sensor Type
CMOS
CMOS
Sensor Size
35.9×24.0mm
36.0×24.0mm
Low-Pass Filter
No
Yes
Sensor Pixel Size
4.88µ
5.36µ
Image Size
7,360 x 4,912
6,720 x 4,480
Image Processor
EXPEED 4
DIGIC 6+
Native ISO Sensitivity
ISO 64-12,800
ISO 100-32,000
Boosted ISO Sensitivity
ISO 32, ISO 25,600-51,200
ISO 50, ISO 51,200-102,400
Dust Reduction / Sensor Cleaning
Yes
Yes
Viewfinder Type
Pentaprism
Pentaprism
Viewfinder Coverage and Magnification
100%, 0.70x
100%, 0.71x
Built-in Flash
Yes, with flash commander mode
No
Storage Media
1x CF, 1x SD
1x CF, 1x SD
Continuous Shooting Speed
5.0 fps (7.0 fps with MB-D12)
7.0 fps
Max Shutter Speed
1/8000 to 30 sec
1/8000 to 30 sec
AE Bracketing Range
±5 EV
±3 EV
Flash Sync Speed
1/250
1/200
Shutter Durability
200,000 cycles
150,000 cycles
Exposure Metering Sensor
91,000-pixel RGB sensor 3D Color Matrix Metering III
150,000-pixel RGB+IR metering sensor
Number of AF Points
51 AF points, 15 cross-type
61 AF points, 41 cross-type
AF Detection Range
-2 to +19 EV
-3 to +18 EV
Video Maximum Resolution
1920×1080 (1080p) @ up to 60 fps
4096×2160 (4K) @ up to 30 fps
Video Crop Factor
1.1x
1.74x
Audio Recording
Built-in stereo microphone
External stereo microphone (optional)
Built-in stereo microphone
External stereo microphone (optional)
Headphone Jack
Yes
Yes
LCD Size and Type
3.2″ LCD
3.2″ Touchscreen LCD
Dual Pixel AF
No
Yes
Dual Pixel RAW
No
Yes
LCD Resolution
1,229,000 dots
1,620,000 dots
Built-in GPS
No
Yes
Wi-Fi
No
Wi-Fi with NFC
Bluetooth
No
No
Battery Life
1200 shots (CIPA)
900 shots (CIPA)
Weather Sealed Body
Yes
Yes
USB Version
3.0
3.0
Weight (Body Only)
880g
800g
Dimensions
146.0 x 123.0 x 81.5mm
150.7 x 116.4 x 75.9mm
MSRP Price
$3,299 (as introduced)
$3,499 (as introduced)
As we look at the sensor specifications of both cameras, we can see that they are created for different purposes. The Nikon D810 has a bit more resolution, it does not sport a low-pass filter and its performance is optimized to yield exceptionally high dynamic range at its base ISO of 64, so it is suited primarily for such needs as landscape, architecture and studio photography. The Canon 5D Mark IV, on the other hand, is more of a general-purpose camera. While it has plenty of resolution for any kind of photography work including landscapes, it has a low-pass filter to prevent moire patterns, which reduces its resolving power potential. In addition, with a native ISO sensitivity range of 100-32000 and slightly reduced dynamic range (based on lab tests), it has a sensor that is more optimized to perform well in low-light conditions. So right off the bat one could argue that these cameras are designed for different photography needs.
Being a newer DSLR, the Canon 5D Mark IV has some impressive features that are not found on the Nikon D810. For example, the 5D Mark IV has a built-in Dual Pixel AF system, which takes advantage of the phase detection pixels on the sensor when shooting in live view mode, allowing the camera to focus quickly and accurately on subjects. In addition, it has a more robust metering and autofocus systems, and a faster continuous shooting rate of 7 fps. With a total of 61 AF points (41 of which are cross-type), the 5D Mark IV has a more advanced autofocus system compared to Nikon's 51 AF point system that only has a total of 15 cross-type sensors. The 5D Mark IV also has a better AF detection range in low-light conditions, allowing the camera to focus down to -3 EV. When I tested both cameras side by side, I found the AF system on the 5D Mark IV to be rock solid and reliable, even when using focus points outside the center area, whereas the Nikon D810 struggled more with the outer AF points, especially in low-light conditions. When it comes to video recording features, while Canon offered 4K video recording on the 5D Mark IV, it crippled its capabilities pretty badly in order to protect its higher-end video camera sales. As a result, the camera uses 1.74x crop factor when shooting 4K video and thus does not take advantage of the full width of the sensor to capture footage. Still, it is nice to have 4K video capture capabilities – the D810 is limited to 1080p Full HD capture only, so there is no competition there. Lastly, the 5D Mark IV has other nice features such as a high-resolution 3.2″ touchscreen LCD, built-in GPS and WiFi + NFC, none of which are offered on the D810 (the LCD on the D810 is not touch-enabled) and it is a tad lighter in comparison.
Where the Nikon D810 stands out is in better flash sync speed, wider AE bracketing range, better shutter durability, better battery life and lower pricing. As stated above, it is unrivaled when it comes to exceptionally high dynamic range at base ISO 64.