How does the Nikon D800 compare to the newly announced Canon 5D Mark III? In this article, I will show the specifications of both cameras and talk about feature differences, in addition to providing my subjective opinion about each camera. Please keep in mind that the information below is purely based on specifications and available information. A detailed comparison with image samples and ISO comparisons is provided in my D800 Review.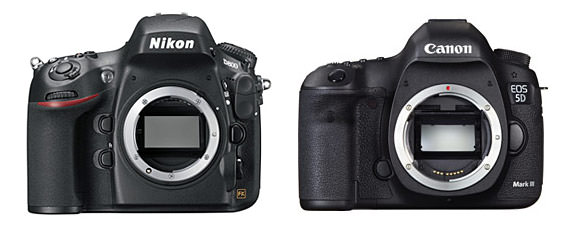 Nikon definitely surprised everyone with its ultra high-resolution Nikon D800 announcement earlier this year. Featuring an impressive 36.3 MP sensor, the Nikon D800 was a huge jump from the 12.1 MP sensor that we all got so used to ever since the Nikon D3 came out in 2007. Knowing that the Canon 5D update was due for a refresh, I wondered what Canon would respond with – a similar high-resolution sensor to compete head-to-head against the D800, or a lower-resolution sensor with better noise characteristics (as it did with the Canon 1D X). As it turns out, Canon decided to play a different game and instead of engaging in a megapixel race, it decided to focus on image quality, autofocus features/performance and weather sealing – the three areas that have been receiving a lot of criticism from the Canon community for many years now. This is a very smart and welcome move, especially in regards to autofocus features and performance. As one of our readers pointed out, "the Canon 5D Mark III is what 5D Mark II should have been in 2008". While I have to disagree with this statement in terms of image quality for now (I will have to test both side by side), I agree that Canon should have included a better AF module on the 5D Mark II, given its price and the full-frame sensor.
Let's take a look at the specifications of both cameras in more detail.
D800 and 5D Mark III Specification Comparison
Camera Feature
Nikon D800
Canon 5D Mark III
Sensor Resolution
36.3 Million
22.3 Million
Sensor Type
CMOS
CMOS
Sensor Size
35.9x24mm
36x24mm
Dust Reduction / Sensor Cleaning
Yes
Yes
Image Size
7360 x 4912
5760 x 3840
Image Processor
EXPEED 3
DIGIC 5+
Viewfinder Type
Pentaprism
Pentaprism
Viewfinder Coverage
100%
100%
Viewfinder Magnification
0.70x
0.71x
Storage Media
1x Compact Flash and 1x SD
1x Compact Flash and 1x SD
Continuous Shooting Speed
4 FPS, 6 FPS in DX mode with MB-D12 battery grip
6 FPS
Max Shutter Speed
1/8000 to 30 sec
1/8000 to 30 sec
Shutter Durability
200,000 cycles
150,000 cycles
Exposure Metering Sensor
91,000-pixel RGB sensor 3D Color Matrix Metering III
iFCL metering with 63 zone dual-layer sensor
Base ISO
ISO 100
ISO 100
Native ISO Sensitivity
ISO 100-6,400
ISO 100-25,600
Boosted ISO Sensitivity
ISO 50, ISO 12,800-25,600
ISO 50, ISO 51,200-102,400
Autofocus System
Advanced Multi-CAM 3500FX with 51-points (up to 15 cross-type points)
61-point high-density reticular AF (up to 41 cross-type points)
AF Detection
Up to f/8 (up to 9 cross-type sensors)
Up to f/5.6
Built-in Flash
Yes
No
AF Assist
Yes
No, only with external flash
Video Output
H.264/MPEG-4 in MOV Format
AVI, H.264/MPEG-4 in MOV Format
Uncompressed Video Output
Yes (HDMI)
No
Video Maximum Resolution
1920×1080 (1080p) @ 30p
1920×1080 (1080p) @ 30p
Audio Recording
Built-in microphone
External stereo microphone (optional)
Built-in microphone
External stereo microphone (optional)
LCD Size
3.2″ diagonal TFT-LCD
3.2″ diagonal TFT-LCD
LCD Resolution
921,000 dots
1,040,000 dots
Exposure Compensation
±5 EV in 1/3, 1/2 or 1 EV increments
±5 EV in 1/3 or 1/2 EV increments
Bracketing
2 to 9 frames in steps of 1/3, 1/2, 2/3 or 1 EV
±3 EV in 1/3 or 1/2 EV increments
HDR Support
Yes
Yes
Built-in GPS
No
No
Wi-Fi Functionality
Eye-Fi Compatible, WT-4A
Eye-Fi Compatible, WFT-E7
Battery
EN-EL15 Lithium-ion Battery
LP-E6 Lithium-ion Battery
Battery Life
850 shots (CIPA)
950 shots (CIPA)
Battery Charger
MH-25 Quick Charger
LC-E6 Charger
Weather Sealed Body
Yes
Yes
USB Version
3.0
2.0
Camera Construction
Magnesium Alloy
Magnesium Alloy
Dimensions
144.78 x 121.92 x 81.28mm
152 x 116.4 x 76.4mm
Weight
900g
860g
MSRP Price
$2,999
$3,499
So, what are the main differences between the Nikon D800 and the Canon 5D Mark III? First, it is obviously the image sensor – while both cameras have about the same size sensors, the Nikon D800 has a 36.3 MP sensor, while the Canon 5D Mark III features a 22.3 MP sensor. This essentially means that the Canon 5D Mark III has an edge in terms of noise performance at high ISOs – but that's at 100% view. A real and a fair comparison involves a down-sampling process, in which an image from a higher resolution sensor is down-sampled to a lower resolution, which ultimately reduces noise on the higher resolution sensor. This comparison is provided in my Nikon D800 Review and as you can see, the Nikon performs very well when compared to the 5D Mark III. True, the Canon 5D Mark III has a two stop advantage in terms of native high ISO of 25,600 versus ISO 6,400 on the D800, however, I personally have no interest in such high ISO figures, since I know that anything above ISO 6400 is just too noisy for professional use. Neither camera can match what the Nikon D4 or the Canon 1D X can do at very high ISOs anyway.
The second main difference is the autofocus system. Now this is the part that will definitely need a lot of testing to compare the two AF systems. While the Nikon D800 has a lower total number of focus points (51 versus 61) and cross-type focus points (15 versus 41), the Nikon D800 has working AF at f/8, with 9 cross-type sensors. The Canon 5D Mark III is limited to f/5.6.
As for other differences, the Canon 5D Mark III has an edge in speed (6 fps vs 4 fps), LCD (1.04 Million dots versus 921,000 dots) and weight (860g versus 900g), while the Nikon D800 has better shutter durability (200,000 shutter cycles versus 150,000), better video features (uncompressed video), high-speed USB (USB 3.0 vs USB 2.0) and built-in flash.
The biggest difference, however, is the price – the Nikon D800 retails for $2,999, while the Canon 5D Mark III is $3,499 – a $500 difference.