The D7200 is currently Nikon's best DX camera for shooting action, but how does it compare to Canon's speed demon, the 7D Mark II in features and specifications? The Nikon D7200 comes with a 24.2 MP sensor, 6 fps continuous shooting speed, 51-point AF system, 2x SD card slots and built-in Wi-Fi, whereas the 7D Mark II has a slightly smaller sensor with 20.2 MP of resolution, impressive 10 fps continuous shooting speed, 65-point all cross-type AF system, 1x CF + 1x SD card slots and a pro-quality build / ergonomics. Both have their strengths and weaknesses, but which one of these would be more suitable for capturing fast action? In this comparison, we will go over both feature and specification differences between the two cameras. Please keep in mind that this comparison is purely based on preliminary data. Further details and comparisons will be provided in our upcoming Nikon D7200 review later this year.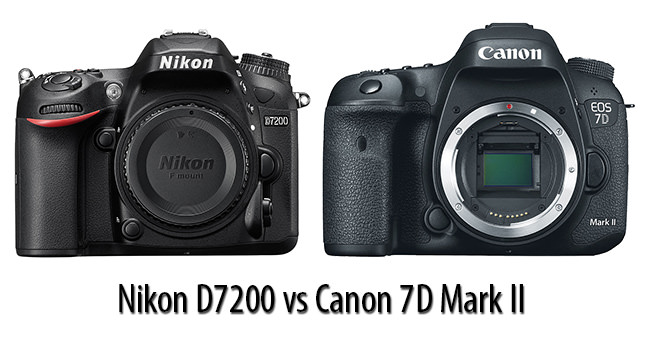 First, let's go over the bare specifications:
Nikon D7200 vs Canon 7D Mark II Specification Comparison
Camera Feature
Nikon D7200
Canon 7D Mark II
Sensor Resolution
24.2 Million
20.2 Million
Sensor Type
CMOS
CMOS
Sensor Size
23.5×15.6mm
22.4×15.0mm
Sensor Pixel Size
3.92µ
4.09µ
Low Pass Filter
No
Yes
Sensor Dust Reduction
Yes
Yes
Image Size
6,000 x 4,000
5,472 x 3,648
Image Processor
EXPEED 4
Dual DIGIC 6
Viewfinder Type
Pentaprism
Pentaprism
Viewfinder Coverage
100%
100%
Viewfinder Magnification
0.61x
0.62x
Built-in Flash
Yes, with flash commander mode
Yes, with flash commander mode
Storage Media
2x SD
1x CF, 1x SD
Continuous Shooting Speed
6 FPS, 7 FPS in 1.3x Crop Mode
10 FPS
Buffer Size (RAW, Lossless 14-bit)
18
31
Continuous Shooting
3.0 seconds
3.1 seconds
Max Shutter Speed
1/8000 to 30 sec
1/8000 to 30 sec
Shutter Durability
150,000 cycles
200,000 cycles
Exposure Metering Sensor
2,016-pixel RGB sensor 3D Color Matrix Metering II
150,000 RGB + IR pixel metering sensor
Base ISO
ISO 100
ISO 100
Native ISO Sensitivity
ISO 100-25,600
ISO 100-16,000
Boosted ISO Sensitivity
ISO 51,200-102,400 (B&W only)
ISO 25,600
Autofocus System
Advanced Multi-CAM 3500DX
65-point all cross-type AF system
Focus Points
51, 15 cross-type
65 all cross-type
AF Detection
Up to f/8
Up to f/8
AF Detection Range
-3 to +19 EV
-3 to +19 EV
Flicker Detection
No
Yes
Video Output
MOV, MPEG-4 / H.264
MOV, MPEG-4 / H.264
Video Maximum Resolution
1920×1080 (1080p) up to 60p
1920×1080 (1080p) up to 60p
Audio Recording
Built-in microphone
External stereo microphone (optional)
Built-in microphone
External stereo microphone (optional)
LCD Size
3.2″ diagonal TFT-LCD
3.0″ diagonal TFT-LCD
LCD Resolution
1,228,800 dots
1,040,000 dots
Built-in GPS
No
Yes
Wi-Fi Functionality
Built-in, with NFC
No
Battery
EN-EL15 Lithium-ion Battery
LP-E6N (or LP-E6)
Battery Life
1,110 shots (CIPA)
670 shots (CIPA)
Weather Sealed Body
Yes
Yes
USB Version
2.0
3.0
Weight (Body Only)
675g
820g
Dimensions
135.5 × 106.5 × 76mm
148.6 x 112.4 x 78.2mm
MSRP Price
$1,199 (as introduced)
$1,799 (as introduced)
With a $600 price difference, it is pretty clear that the Canon 7D Mark II is a higher-grade camera than the Nikon D7200. The true competitor to the 7D Mark II will be Nikon's D400, which will probably be priced around the same mark and should be a more robust camera than the D7200. For now, let's take a look at the differences between these two cameras.
First, the Canon 7D Mark II comes with a slightly lower resolution 20.2 MP sensor on a smaller sensor with a 1.6x crop factor vs 1.5x on the D7200. This translates to lower resolution images, but because of decreased resolution, the pixel size on the 7D Mark II is actually slightly larger. I expect noise performance on both cameras to be similar, although the 7D Mark II will definitely lose in dynamic range, as demonstrated in reviews and articles like this one. The D7200 does not have a low pass filter, while the 7D Mark II does. The sensor native ISO range is a little different, but at the end of the day it does not really matter, as ISO numbers don't mean much in terms of noise or dynamic range.
The key difference is continuous shooting speed and that's where the 7D Mark II has a huge advantage – 10 fps vs 6 fps on the D7200. It might not sound like a big difference, but in reality 10 fps is a lot faster, as shown in this video:
The buffer on both cameras allows shooting for about 3 seconds before buffer fills up, but keep in mind that you end up with 31 RAW images on the 7D Mark II vs 18 on the D7200 after the sequence is over.
As for autofocus, the Canon 7D Mark II has a better and more flexible AF system on paper. With a whopping 65 point all cross-type AF system, it certainly beats Nikon's 51-point AF system with only 15 cross-type sensors. Focusing with outer focus points is more reliable on the 7D Mark II, as noted in my Canon 7D Mark II review. Does this mean that the Canon 7D Mark II has a better overall AF system? That's a tough question, because it depends on many factors. I would say both systems are equally good when using the center focus point and the 7D Mark II is more accurate for outer focus points. For active tracking, I find Nikon to be a bit better, but that's my subjective opinion. Both cameras can focus in very low-light situations with -3 EV AF detection, so there is no clear advantage there.
The 7D Mark II has better shutter durability and better sealing than the D7200. It has a more advanced metering sensor and can also detect flickering when shooting in indoor environments. It also has a built-in GPS chip while the D7200 does not. At the same time, the D7200 has Wi-Fi capability with NFC, whereas the 7D Mark II has no built-in Wi-Fi. The Nikon D7200 is smaller, lighter, has a better LCD screen and better battery life.
It will be interesting to see how the upcoming high-end Nikon DX will compare to the 7D Mark II. If Nikon puts a large buffer with 10 fps continuous shooting speed, it will be a worthy competitor. And if Nikon makes a new AF system with more cross-type focus points, that will be icing on the cake!