Now that it is officially announced, I am sure some of our readers would be interested in seeing how the new Nikon D7100 compares to its predecessor, the D7000. With an improved sensor, high-end autofocus system and other great features, looks like the D7100 will be one heck of a high-end DX camera. The D7000 is no slouch either, with an excellent sensor and great all around performance. Now it is even better. In this Nikon D7100 vs D7000 comparison, I will first go into specifications, then talk about specific features that differentiate the two cameras. Please keep in mind that this comparison is purely based on specifications. Further details, my impressions, ISO comparisons and other useful information will be provided in my upcoming Nikon D7100 Review later this year.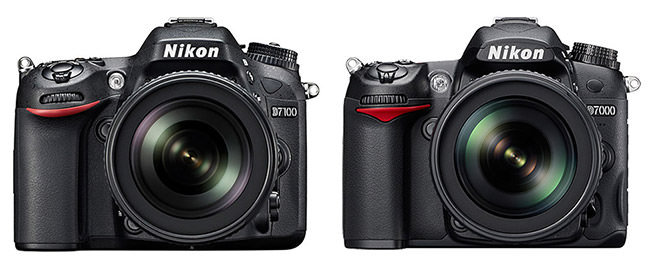 First, let's go over the bare specifications:
Nikon D7100 vs D7000 Specification Comparison
Camera Feature
Nikon D7100
Nikon D7000
Sensor Resolution
24.1 Million
16.2 Million
Sensor Type
CMOS
CMOS
Sensor Size
23.5×15.6mm
23.6×15.6mm
Sensor Pixel Size
3.9µ
4.8µ
Low Pass Filter
No
Yes
Sensor Dust Reduction
Yes
Yes
Image Size
6,000 x 4,000
4,928 x 3,264
Image Processor
EXPEED 3
EXPEED 2
Viewfinder Type
Pentaprism
Pentaprism
Viewfinder Coverage
100%
100%
Built-in Flash
Yes, with flash commander mode
Yes, with flash commander mode
Storage Media
2x SD
2x SD
Continuous Shooting Speed
6 FPS, 7 FPS in 1.3x Crop Mode
6 FPS
Buffer Size (RAW, Lossless 14-bit)
6
10
Buffer Size (RAW, Compressed 12-bit)
9
15
Max Shutter Speed
1/8000 to 30 sec
1/8000 to 30 sec
Shutter Durability
150,000 cycles
150,000 cycles
Exposure Metering Sensor
2,016-pixel RGB sensor 3D Color Matrix Metering II
2,016-pixel RGB sensor 3D Color Matrix Metering II
Base ISO
ISO 100
ISO 100
Native ISO Sensitivity
ISO 100-6,400
ISO 100-6,400
Boosted ISO Sensitivity
ISO 12,800-25,600
ISO 12,800-25,600
Autofocus System
Advanced Multi-CAM 3500DX
Multi-CAM 4800DX
Focus Points
51, 15 cross-type
39, 9 cross-type
AF Detection
Up to f/8
Up to f/5.6
Video Capability
Yes
Yes
Video Output
MOV, Compressed
MOV, Compressed
Video Maximum Resolution
1920×1080 (1080p) @ 24p, 25p, 30p, 50i, 60i
1920×1080 (1080p) @ 24p
Audio Recording
Built-in microphone
External stereo microphone (optional)
Built-in microphone
External stereo microphone (optional)
LCD Size
3.2″ diagonal TFT-LCD
3.0″ diagonal TFT-LCD
LCD Resolution
1,228,800 dots dots
921,000 dots
HDR Support
Yes
No
Built-in GPS
No
No
Wi-Fi Functionality
Eye-Fi Compatible, WU-1a
Eye-Fi Compatible
Battery
EN-EL15 Lithium-ion Battery
EN-EL15 Lithium-ion Battery
Battery Life
950 shots (CIPA)
1050 shots (CIPA)
Battery Charger
MH-25 Quick Charger
MH-25 Quick Charger
Weather Sealed Body
Yes
Yes
USB Version
2.0
2.0
Weight (Body Only)
675g
690g
Dimensions
135.5 x 106.5 x 76mm
132 × 105 × 77mm
MSRP Price
$1,199 (as introduced)
$1,199 (as introduced)
While some of the features remained the same, there are some major differences between the two cameras. First, the sensors are completely different – the Nikon D7100 has a new high-resolution 24.1 MP sensor, while the Nikon D7000 has a 16.1 MP sensor. Due to the increased number of megapixels, the pixel size on the D7100 is also smaller, at 3.9µ (similar to the D3200). The processor on the D7100 is obviously of the new generation, EXPEED 3, versus EXPEED 2 on the D7000, which allows for higher throughput and image processing. While base continuous shooting speed is the same, the D7100 also allows shooting in 1.3x crop mode, so it can go up to 7 fps. Buffer size stayed the same, which is a little disappointing to be honest – the buffer on the D7100 will fill up after 9 shots (compressed 12-bit RAW), while the D7000 can handle 15 RAW images. So this is going to be a bummer for sports and wildlife photographers that like continuously shooting fast action.
The biggest difference between the two cameras is the autofocus system – the Nikon D7100 has the excellent Advanced Multi-CAM 3500DX autofocus system, which is basically a tweaked AF system from the Nikon D300s that can handle lenses up to f/8. The D7100 will have 51 focus points with 15 cross-type points, which is a big jump from the Multi-CAM 4800DX on the D7000 with 39 focus points (9 cross-type). This makes the D7100 much more suitable for tracking subjects, photographing in low-light environments and using teleconverters with telephoto lenses.
Video mode is also significantly enhanced. The D7000 allowed movies to be recorded in 1080p @ 24p, while the D7100 can go all the way to 60i. The LCD is now bigger and has more resolution – 1.2 million dots versus 921 thousand. Battery life has gotten a little shorter, but the battery type stayed the same, which is great news for the existing D7000/D600/D800/V1 owners that own multiple EN-EL15 batteries. The camera got a little lighter, but slightly bigger. The price stayed the same, at $1,199 for body-only version. There are a few other differences between the two cameras in terms of menu options, HDR mode, etc., but I won't cover them in this article.
Now here comes the big question – is the Nikon D7100 worth upgrading to from the D7000? If added resolution and better autofocus systems are important, then yes. Otherwise, skip at least a generation, like I always recommend. If you own an entry-level DSLR like Nikon D3000/D3100/D3200/D5000/D5100, then it is definitely worth the upgrade in my opinion.