Our last comparison will be to show the difference between the new Nikon D7100 and the full-frame Nikon D600, which we reviewed last year. Despite the price differences, seems like a lot of people are wondering which one of the two cameras to choose – the D7100, a cropped-sensor "DX" camera, or the D600, a full-frame "FX" camera. In this article, I will first go into detailed specifications of both cameras, then talk about main features that differentiate the two. Please keep in mind that this comparison is purely based on specifications.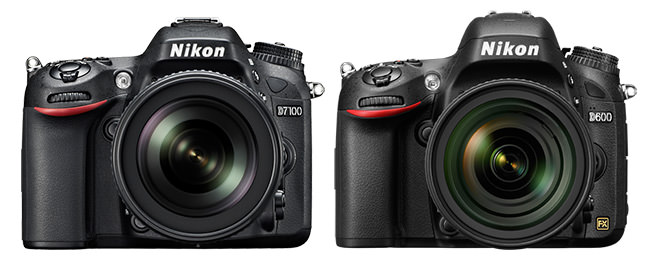 First, let's go over the bare specifications:
Nikon D7100 vs D600 Specification Comparison
Camera Feature
Nikon D7100
Nikon D600
Sensor Resolution
24.1 Million
24.3 Million
Sensor Type
CMOS
CMOS
Sensor Size
23.5×15.6mm
35.9×24.0mm
Sensor Pixel Size
3.91µ
5.96µ
Low Pass Filter
No
Yes
Sensor Dust Reduction
Yes
Yes
Image Size
6,000 x 4,000
6,016 x 4,016
Image Processor
EXPEED 3
EXPEED 3
Viewfinder Type
Pentaprism
Pentaprism
Viewfinder Coverage
100%
100%
Built-in Flash
Yes, with flash commander mode
Yes, with flash commander mode
Flash Sync Speed
1/250
1/200
Storage Media
2x SD
2x SD
Continuous Shooting Speed
6 FPS, 7 FPS in 1.3x Mode
5.5 FPS
Buffer Size (RAW, Lossless 14-bit)
6
16
Buffer Size (RAW, Compressed 12-bit)
9
27
Max Shutter Speed
1/8000 to 30 sec
1/4000 to 30 sec
Shutter Durability
150,000 cycles
150,000 cycles
Exposure Metering Sensor
2,016-pixel RGB sensor 3D Color Matrix Metering II
2,016-pixel RGB sensor 3D Color Matrix Metering II
Base ISO
ISO 100
ISO 100
Native ISO Sensitivity
ISO 100-6,400
ISO 100-6,400
Boosted ISO Sensitivity
ISO 12,800-25,600
ISO 12,800-25,600
Autofocus System
Advanced Multi-CAM 3500DX
Multi-CAM 4800
Focus Points
51, 15 cross-type
39, 9 cross-type
AF Detection
Up to f/8
Up to f/8
Video Capability
Yes
Yes
Video Output
MOV, Compressed
MOV, Uncompressed
Video Maximum Resolution
1920×1080 (1080p) @ 24p, 25p, 30p, 50i, 60i
1920×1080 (1080p) @ 24p, 25p, 30p
Audio Recording
Built-in microphone
External stereo microphone (optional)
Built-in microphone
External stereo microphone (optional)
LCD Size
3.2″ diagonal TFT-LCD
3.2″ diagonal TFT-LCD
LCD Resolution
1,228,800 dots dots
921,000 dots
HDR Support
Yes
Yes
Bracketing
2 to 5 frames
2 to 3 frames
Built-in GPS
No
No
Wi-Fi Functionality
Eye-Fi Compatible, WU-1a
Eye-Fi Compatible, WU-1b
Battery
EN-EL15 Lithium-ion Battery
EN-EL15 Lithium-ion Battery
Battery Life
950 shots (CIPA)
900 shots (CIPA)
Battery Charger
MH-25 Quick Charger
MH-25 Quick Charger
Weather Sealed Body
Yes
Yes
Build
Top and Rear Magnesium Alloy
Top and Rear Magnesium Alloy
USB Version
2.0
2.0
Weight (Body Only)
675g
760g
Dimensions
135.5 x 106.5 x 76mm
141 × 113 × 82mm
MSRP Price
$1,199 (as introduced)
$2,099 (as introduced)
At first, it might seem like these two cameras have a lot in common. However, there are a number of differences, some of which are so big that I will spend some time talking about them detail. The first main difference between the D7100 and the D600 is obviously the sensor. The Nikon D7100 has an APS-C sized sensor, also known as "DX" in Nikon lingo, while the D600 has more than twice larger full-frame "FX" sensor. I won't spend a lot of time discussing differences in sensor sizes here, because I have already written about it in detail before. Head on over to my Nikon DX vs FX article, give it a good read and then come back here. In short, sensor size matters! While both cameras have comparably similar resolution (24 MP), the sensor sizes are different, which means that the full-frame D600 has several advantages such as: lower noise, higher dynamic range, better colors, shallower depth of field, less diffraction and wider field of view. Larger sensor also means a larger mirror and viewfinder, which is a huge advantage that many people underestimate. If you took a DX camera and an FX camera and looked through the viewfinder of both, you would notice the difference right away. I talked about this a number of times before, but it is best to experience this yourself. I highly recommend to go to a local camera store and compare – it is hard to visualize until you actually see it. Yes, it is that much different.
Lack of a low pass filter, also known as "anti-aliasing filter", means that the D7100 will produce sharp images and take advantage of good lenses that can resolve a lot of detail. The D600 has such a filter in place, so it is at a slight disadvantage in that regard. Although for some people, the possibility of moire showing up in images is much worse than having slightly sharper images. Again, I won't cover the advantages and disadvantages of low-pass filters, because I covered it in detail in my "what is a low-pass filter?" and Nikon D800 vs D800E articles.
Speed-wise, both cameras are comparable at 6 (D7100) and 5.5 (D600) fps, although the D7100 can shoot at 7 fps in 1.3x crop mode. The buffer capacity difference, however, is quite big. One of the limitations of the D7100 is its very small buffer that can accommodate a maximum of 16 smallest (compressed) RAW files before the buffer fills up and the camera slows down. The D600 is better in that regard: it can fit 60% more images before slowing the camera – an important metric for sports and wildlife photographers. At the same time, the D600 has an inferior autofocus system from the D7000, with 39 autofocus points that are tightly placed around the center of the viewfinder. The Nikon D7100 is the complete opposite of the D600 in that regard – because it uses the autofocus system from high-end full-frame cameras, its 51 focus points are spread out across the frame. Take a look at the difference between the two:

I will save my commentary on the above for the next article that I am working on.
Another important difference worth noting is the maximum shutter speed – the D7100 can go all the way to 1/8000, while the D600 is limited to 1/4000. Most people won't care about this difference, but it could make a difference for shooting very fast prime lenses in bright light. The same goes for the flash sync speed limitations – the D7100 is better at 1/250 sync speed, while the D600 is limited to 1/200. For most photographers out there, this does not make a difference, but flash gurus will prefer the 1/250 sync speed for a number of reasons. Lastly, bracketing is also limited on the D600 compared to the D7100 – the latter can do 2 to 5 frames, while the D600 can only go as far as 2 to 3 frames total.
Screen sizes on both cameras are of the same size, but the D7100 has more resolution, with its 1.2 million dots versus 921K. The D600 is slightly larger and about 85 grams heavier. Lastly, the price difference between the two is quite big – the D7100 retails for $1,199, while the D600 is at $2,099 (although its price has been around the $2K mark for a while now).
So, here comes the big question – should you get the D7100 or the D600? It is surely a tough choice and not an easy answer. The D7100 is better in features, but the D600 is better in image quality. Personally, I favor the D600 for its better image quality and large viewfinder. But it comes at a much higher cost, especially for someone that owns a number of DX lenses. So I suggest to go through your priorities and decide what is more important for you and decide whether the cost difference is worth the change or not.