In this article, I will show feature differences between the new full-frame Nikon D600 (FX) and the older cropped sensor Nikon D7000 (DX). I have received a number of requests from our readers asking me to provide this comparison, since many photographers are considering to move to the Nikon D600 from their D7000 cameras. Please keep in mind that this Nikon D600 vs D7000 comparison is purely based on specifications. A detailed comparison with image samples and ISO comparisons is provided in the Nikon D600 Review.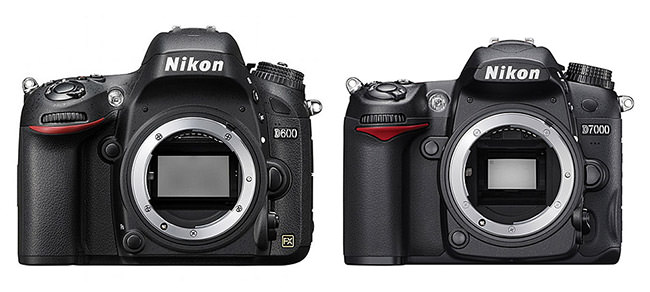 As I have already pointed out in other articles, the Nikon D600 is a lot like the D7000 in terms of features and camera build. However, the sensor size difference is huge (read on FX vs DX), which makes it almost meaningless to compare the features alone without comparing image quality between the two cameras. I have the D7000 to compare the D600 with and these sensor comparisons will be provided in the D600 review (in fact, I wrote this article as a pre-requisite to the D600 Review). Let's take a look at how the two cameras stack up against each other in terms of specifications.
Nikon D600 vs D7000 Specification Comparison
Camera Feature
Nikon D600
Nikon D7000
Sensor Resolution
24.3 Million
16.1 Million
Sensor Type
CMOS
CMOS
Sensor Size
35.9×24.0mm
23.6×15.6mm
Sensor Pixel Size
5.96µ
4.78µ
Dust Reduction / Sensor Cleaning
Yes
Yes
Image Size
6,016 x 4,016
4,928 x 3,264
Image Processor
EXPEED 3
EXPEED 2
Viewfinder Type
Pentaprism
Pentaprism
Viewfinder Coverage
100%
100%
Built-in Flash
Yes, with flash commander mode
Yes, with flash commander mode
Flash Sync Speed
1/200
1/250
Storage Media
2x SD
2x SD
Continuous Shooting Speed
5.5 FPS
6 FPS
Max Shutter Speed
1/4000 to 30 sec
1/8000 to 30 sec
Shutter Durability
150,000 cycles
150,000 cycles
Exposure Metering Sensor
2,016-pixel RGB sensor 3D Color Matrix Metering II
2,016-pixel RGB sensor 3D Color Matrix Metering II
Base ISO
ISO 100
ISO 100
Native ISO Sensitivity
ISO 100-6,400
ISO 100-6,400
Boosted ISO Sensitivity
ISO 50, ISO 12,800-25,600
ISO 12,800-25,600
Autofocus System
Multi-CAM 4800FX
Multi-CAM 4800DX
AF Detection
Up to f/8 (center 7 AF points only)
Up to f/5.6
Video Capability
Yes
Yes
Video Output
MOV, Compressed and Uncompressed
MOV, Compressed
Video Maximum Record Time
20 min in 24p, 30 min in 30p
20 min in 24p, 30 min in 30p
Video Maximum Resolution
1920×1080 (1080p) @ 24p, 25p, 30p
1920×1080 (1080p) @ 24p
Audio Recording
Built-in microphone
External stereo microphone (optional)
Built-in microphone
External stereo microphone (optional)
LCD Size
3.2″ diagonal TFT-LCD
3.0″ diagonal TFT-LCD
LCD Resolution
921,000 dots
921,000 dots
HDR Support
Yes
No
Built-in GPS
No
No
Wi-Fi Functionality
Eye-Fi Compatible, WU-1B, UT-1
Eye-Fi Compatible
Battery
EN-EL15 Lithium-ion Battery
EN-EL15 Lithium-ion Battery
Battery Life
900 shots (CIPA)
1,050 shots (CIPA)
Battery Charger
MH-25 Quick Charger
MH-25 Quick Charger
Weather Sealed Body
Yes
Yes
USB Version
2.0
2.0
Weight (Body Only)
26.8 oz. (760g)
24.3 oz. (690)
Dimensions
141 x 113 x 82mm
132 x 103 x 77mm
MSRP Price
$2,099 (as introduced)
$1,199 (as introduced)
Considering the fact that the sensor area of the Nikon D600 is more than twice larger and the pixel size is larger, the Nikon D600 will outperform the Nikon D7000 at pixel level. What this means is that if you look at images from both cameras at 100% view, the Nikon D600 will have less noise, especially at higher ISOs. Unfortunately for the D7000, it does not stop there. Since the Nikon D600 has more megapixels (24.3 MP vs 16.1 MP), the true advantage of the D600 sensor will be seen when images are down-sampled to 16.1 MP. You will not only see less noise at all ISOs, but images will also appear sharper as a result of the down-sampling process. If you do not know what the word "down-sampling" means, see my "benefits of a high resolution sensor" article, along with "how to properly downsample images in Lightroom" and "how to properly downsample images in Photoshop".
Another key difference between the two is the viewfinder size. The full frame sensor on the D600 requires a much larger mirror and pentaprism, which means that the viewfinder on the D600 is much bigger than the one on the D7000. The difference is huge in comparison – for me, the main reason why I never looked back at DX after switching to FX. One of the major concerns from our readers has been the spread of the autofocus points inside the viewfinder. True, the autofocus points on the D600 are tightly squeezed in a much smaller area compared to the D7000 – that's a given, since the viewfinder is so much bigger. If you compare the D300s to the D700/D800, the difference is very similar. However, if you compare any full-frame Nikon to the D600, you will see that the AF area is actually not much smaller in comparison. Take a look at the Nikon D600 viewfinder compared to the D800 (taken from the Nikon D600 Review):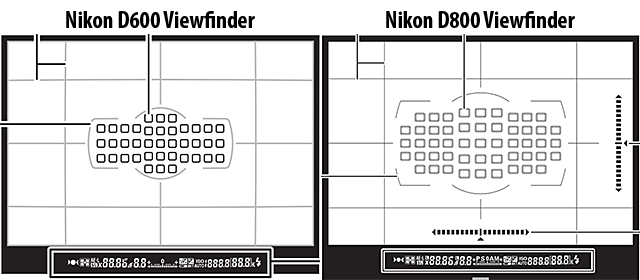 As you can see, the difference in AF area coverage is not as bad as some think when compared to other Nikon full-frame cameras. If you are upgrading from the D7000, however, you will surely notice the difference between the two. If you are used to composing your images with far left/right focus points, then you will have to learn the "focus and recompose" technique, something many DX shooters have to learn when upgrading to FX. Furthermore, the AF system on the D600 is clearly better than on the D7000. Despite the fact that the two cameras share a similar AF system, the one on the D600 is definitely improved. It is easier to focus with in low-light environments and it seems to be faster than the D7000 for capturing fast-moving subjects (detailed testing is underway). I am planning to take the D600 to Bosque Del Apache later this year to see how it performs for photographing birds in flight (I am doing some bird photography locally before then). I will be comparing it to the Nikon D3s and I will make notes of the AF performance and accuracy for those environments.
As for other feature differences, the Nikon D600 is limited to 1/4000 shutter speed and is capped at 1/200 in terms of flash sync speed. These two limitations are not a big deal for most people, as explained in my "Nikon D600 Limitations" article.
Stay tuned, more interesting info is coming soon!