In this article, I will show feature differences between the new Nikon D5300, which is considered to be an upper-entry level DSLR and the current entry-level D3200 (see our review). What does the higher-end D5300 bring to the table and what are the key differences between these models? Let's take a closer look. Please keep in mind that this Nikon D5300 vs D3200 comparison is purely based on specifications. A detailed comparison with image samples and ISO comparisons will be provided in the upcoming Nikon D5300 review.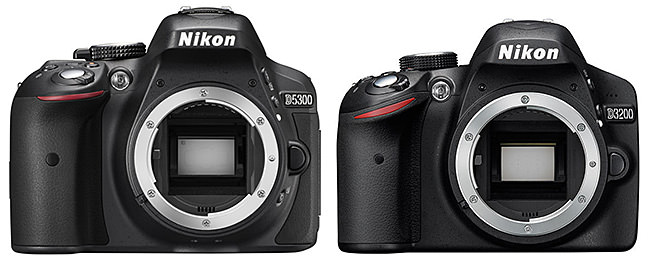 A number of our readers have been sending us inquiries about differences between the D5300 and the current entry-level D3200 model to see if it is worth upgrading from the lower end model or not. Some still have older D3000 and D3100 models as well and are evaluating the D5300, so we've provided some recommendations below as well. Let's take a look at how the two cameras stack up against each other in terms of specifications:
Nikon D5300 vs D3200 Specification Comparison
Camera Feature
Nikon D5300
Nikon D3200
Sensor Resolution
24.1 Million
24.2 Million
AA Filter
No
Yes
Sensor Type
CMOS
CMOS
Sensor Size
23.5×15.6mm
23.2×15.4mm
Sensor Pixel Size
3.92µ
3.85µ
Dust Reduction / Sensor Cleaning
Yes
Yes
Image Size
6,000 x 4,000
6,016 x 4,000
Image Processor
EXPEED 4
EXPEED 3
Viewfinder Type
Pentamirror
Pentamirror
Focus Motor
No
No
Viewfinder Coverage
95%
95%
Built-in Flash
Yes
Yes
Flash Sync Speed
1/200
1/200
Storage Media
1x SD, SDHC, SDXC
1x SD, SDHC, SDXC
Continuous Shooting Speed
5 FPS
4 FPS
Max Shutter Speed
1/4000 to 30 sec
1/4000 to 30 sec
Shutter Durability
100,000 cycles
100,000 cycles
Exposure Metering Sensor
2,016-pixel RGB sensor
420-pixel RGB sensor
Base ISO
ISO 100
ISO 100
Native ISO Sensitivity
ISO 100-12,800
ISO 100-6,400
Boosted ISO Sensitivity
ISO 25,600
ISO 12,800
Autofocus System
Multi-CAM 4800DX
Multi-CAM 1000DX
Focus Points
39 AF points, 9 cross-type
11 AF points, 1 cross-type
AF Detection
Up to f/5.6
Up to f/5.6
Video Capability
Yes
Yes
Video Output
MOV, Compressed
MOV, Compressed
Video Maximum Record Time
20 min in 24p, 30 min in 30p
20 min in 24p, 30 min in 30p
Video Maximum Resolution
1920×1080 (1080p) @ 60p, 50p, 30p, 25p, 24p
1920×1080 (1080p) @ 30p, 25p, 24p
Audio Recording
Built-in microphone
External stereo microphone (optional)
Built-in microphone
External stereo microphone (optional)
Articulating LCD
Yes
No
LCD Size
3.2″ diagonal TFT-LCD
3.0″ diagonal TFT-LCD
LCD Resolution
1,037,000 Dots
921,000 dots
HDR Support
Yes
No
Built-in GPS
Yes
No
Wi-Fi Functionality
Built-in
Eye-Fi Compatible, WU-1a
Battery
EN-EL14 Lithium-ion Battery
EN-EL14 Lithium-ion Battery
Battery Charger
MH-24 Charger
MH-24 Charger
Weather Sealed Body
No
No
USB Version
2.0
2.0
Weight (Body Only)
480g with battery and memory card
455g with battery and memory card
Dimensions
125 x 98 x 76mm
125 x 96 x 76.5mm
MSRP Price
$799 (as introduced)
$699 (as introduced)
Here are the main differences:
Sensors: While the resolution is very similar, the sensors used on both cameras are different. The sensor on the D3200 is made by Nikon, while the sensor on the D5300 is made by Toshiba (same as on the D7100). The D5300 has no optical low pass filter, so it is capable of resolving more details than the D3200
ISO: The native ISO range for the D5300 is 100-12800, with boost up to 25600. The D3200 has a smaller range at 100-6400, with 12800 boost max
Image Processor: The D5300 has the latest EXPEED 4 processor, which allows for faster in-camera editing and recording of movies up to 60p in HD. The D3200 is limited to 30p
Autofocus System: The D5300 has the same AF system as the Nikon D7000 with 39 AF points, while the D3200 has a very old AF system that only has 11 AF points
Speed: The D5300 is slightly faster than the D3200 by 1 FPS (5 FPS vs 4 FPS)
Metering: The D5300 has a more advanced 2016 pixel metering sensor, versus the lower-end 420 pixel sensor on the D3200
LCD Screen: The D5300 has a large 3.2″ articulated screen, while the D3200 has a fixed 3″ screen with slightly less resolution
Wi-Fi and GPS: The D5300 is the first Nikon DSLR to include Wi-Fi and GPS capabilities for things like remote camera control and geotagging of images. The D3200 has no such option and requires external tools
Price: Being a lower-end model, the D3200 costs $100 cheaper than the D5300
The Nikon D5300 is definitely a solid upgrade to those considering moving up from the original D3000, D3100 and even D5000 and D5100 DSLRs. A lot of things have changed in the past few years and the D5300 is a very solid camera in terms of features and image quality. For existing D3200 owners, the D5300 offers a better autofocus system, more precise metering, a larger articulating LCD screen and Wi-Fi + GPS capabilities. For me personally, these differences are worth the upgrade, especially the Wi-Fi and GPS options, but if you do not particularly care about those, then you would probably be better off skipping another generation before considering to move up to an upper entry-level camera. And if you are stuck between choosing the D3200 or the D5300, my recommendation would be to buy the D5300. For only $100 difference, it has a lot more to offer in comparison.