With the long-awaited and much-anticipated Nikon D500 out, one might be wondering how it compares to its predecessor, the Nikon D300S. Since there has been such a huge delay between the releases, it is a given that the D500 is a much better and more advanced camera. However, how much do these cameras differ really when we look at their specifications and what has changed in the last 7 years? Let's take a look and see in this Nikon D500 vs D300S comparison.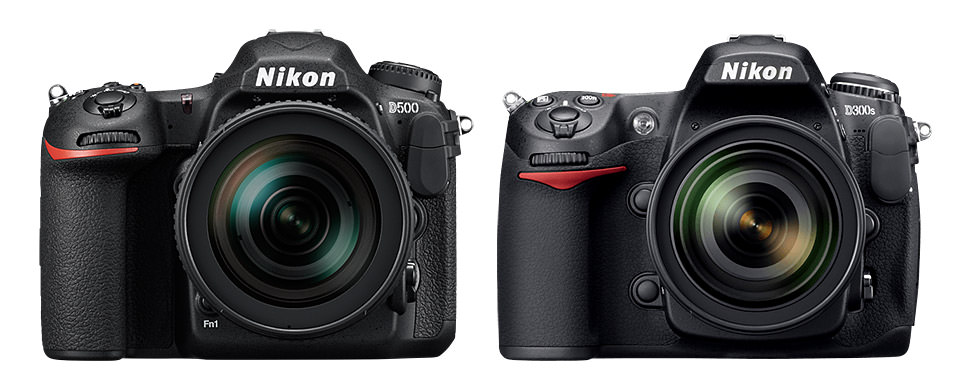 Let's take a look at the specifications of the two cameras in detail:
First, let's go over the bare specifications:
Nikon D500 vs D300S Specification Comparison
Camera Feature
Nikon D500
Nikon D300S
Sensor Resolution
20.9 Million
12.3 Million
Sensor Type
CMOS
CMOS
Sensor Size
23.5×15.7mm
23.6×15.8mm
Sensor Pixel Size
4.2µ
5.5µ
Low Pass Filter
No
Yes
Sensor Dust Reduction
Yes
Yes
Image Size
5,568 x 3,712
4,288 x 2,848
Image Processor
EXPEED 5
EXPEED
Viewfinder Type
Pentaprism
Pentaprism
Viewfinder Coverage
100%
100%
Viewfinder Magnification
1.0x
0.94x
Built-in Flash
No
Yes, with flash commander mode
Storage Media
1x XQD, 1x SD
1x CF, 1x SD
Continuous Shooting Speed
10 FPS
7 FPS, 8 FPS with grip
Buffer Size (RAW, Lossless 14-bit)
200
30
Continuous Shooting Length
20 sec
4.3 sec / 3.75
Max Shutter Speed
1/8000 to 30 sec
1/8000 to 30 sec
Shutter Durability
200,000 cycles
150,000 cycles
Exposure Metering Sensor
180,000-pixel RGB sensor 3D Color Matrix Metering III
1,005-pixel RGB sensor 3D Color Matrix Metering II
Base ISO
ISO 100
ISO 200
Native ISO Sensitivity
ISO 100-51,200
ISO 200-3,200
Boosted ISO Sensitivity
ISO 102,400-1,640,000
ISO 6,400
Autofocus System
Advanced Multi-CAM 20K
Multi-CAM 3500DX
Focus Points
153, 99 cross-type
51, 15 cross-type
AF Detection
Up to f/8
Up to f/5.6
AF Detection Range
-4 to +20 EV
-1 to +19 EV
Auto AF Fine-Tune
Yes
No
Video Capability
Yes
Yes
Video Output
MOV, H.264/MPEG-4
AVI, Compressed
Video Maximum Resolution
3,840×2,160 (4K) @ 24p, 25p, 30p
1280×720 (720p) @ 24p
Audio Recording
Built-in microphone stereo
External stereo microphone (optional)
Built-in microphone mono
External stereo microphone (optional)
LCD Size
3.2″ diagonal TFT-LCD
3.0″ diagonal TFT-LCD
LCD Resolution
2,359,000 dots
921,000 dots
Articulating LCD
Yes
No
Touchscreen LCD
Yes
No
Bracketing
2 to 9 frames
2 to 9 frames
Built-in GPS
No
No
Built-in Bluetooth
Yes
No
Built-in NFC
Yes
No
Built-in WiFi
Yes
No
Battery
EN-EL15 Lithium-ion Battery
EN-EL3e Lithium-ion Battery
Battery Life
1240 shots (CIPA)
950 shots (CIPA)
Battery Charger
MH-25a Quick Charger
MH-18a Quick Charger
Weather Sealed Body
Yes
Yes
Build
Full Magnesium Alloy
Full Magnesium Alloy
USB Version
3.0
2.0
Weight (Body Only)
760g
840g
Dimensions
147 x 115 x 81mm
147 × 114 × 74mm
MSRP Price
$1,999 (as introduced)
$1,799 (as introduced)
As expected, the Nikon D500 shines in every aspect when compared to the D300S – 7 years of technology advancements definitely made a huge difference when we look at the two camera specifications. The first huge difference is obviously in the sensor technology – the D500 has a high-resolution 20.9 MP sensor, whereas the D300S has a 12.3 MP sensor. In addition to the difference in resolution, the two cameras have completely different dynamic range and noise performance characteristics. While ISO performance on the D500 is yet to be seen, we can expect the D500 to look far better in terms of dynamic range and high ISO noise – the base ISO of 100-51,200 vs ISO 200-3,200 speaks for itself.
The biggest difference between these two is in the AF department – the D500 sports the newest generation Advanced Multi-CAM 20K AF system with a whopping 153 focus points (99 of which are cross-type), while the D300S has the first generation Multi-CAM 3500DX AF system with 51 focus points (15 of which are cross-type). In addition to this, the Nikon D500 can focus practically in the dark, thanks to its -4 EV AF detection range, while the D300S would really struggle, with its -1 EV AF detection range. And lastly, the D500 couples really well with teleconverters, capable of providing AF even at f/8 maximum aperture, whereas the D300S is limited to f/5.6.
Image processors are vastly different, with the D500 having the EXPEED 5 processor that is basically 5 generations better than the original EXPEED on the D300S. Thanks to the much faster processor, the D500 is obviously capable of pushing far more data. Not only does it have more continuous shooting speed of 10 fps vs 7 fps, but it can also push far more video data – the D500 can record up to 4K video compared to 720p video on the D300S. On top of that, the buffer size on the D500 is huge: 200 vs 30 RAW images, which obviously makes the D500 a much better candidate for shooting fast action practically non-stop.
One feature that Nikon stripped out of the D500 is the built-in flash unit. The Nikon D500 is the first semi-professional DSLR to not include one. Nikon decided that the D500 does not need one, probably based on the fact that the camera is primarily targeted at sports and wildlife photographers. In addition, excluding a built-in flash will most likely result in better weather protection, particularly in rainy conditions.
Viewfinder magnification is also very different, with the D500 being able to show a much larger view in the viewfinder at 1.0x compared to the 0.94x magnification on the D300S. When it comes to connectivity, the Nikon D500 comes with Bluetooth, NFC and WiFi features, while the D300S has none of those. LCD screen on the D500 is not only larger, but it also has a lot more pixels – 2.4 million vs 921 thousand. In addition, it is an articulating screen, which can be really useful when shooting at different angles (thanks Vitalishe!). Battery technology is also quite different – the D500 has the newer EN-EL15 battery capable of yielding up to 1240 shots, whereas the D300S has the EN-EL3e battery and it maxes out at 950 shots. Since these are based on CIPA numbers and the testing takes into account usage of built-in flash that the D500 does not have, the two cameras are probably going to yield a similar number of total frames before the batteries run out.
On top of all this, the Nikon D500 is 80 grams lighter than the D300S. That's pretty remarkable, considering that the D500 has so many more features and components in comparison. Price-wise, the Nikon D300S was $200 cheaper than the D500 when it was introduced.
Overall, there is simply no comparison between these cameras!