Without a doubt, the Nikon D5 and D500 DSLR announcements have been the center of attention in the photography world this week, probably similar to the impact the Nikon D3 and D300 had back in 2007. The Nikon D5, in particular, is certainly something many sports and wildlife photographers have been waiting for. Thanks to the brand new autofocus system with a whopping 153 focus points, better focusing capabilities in low light, expanded native ISO range, brand new 180,000-pixel metering sensor, faster processor, 12 fps continuous shooting speed and many other tweaks and updates, the Nikon D5 was definitely worth the wait. For many, it will surely be a serious tool to consider moving up to. Let's take a look at how the Nikon D5 fares against the Nikon D4s and see what advantages it brings in comparison. More details on the camera will be provided in our upcoming Nikon D5 review.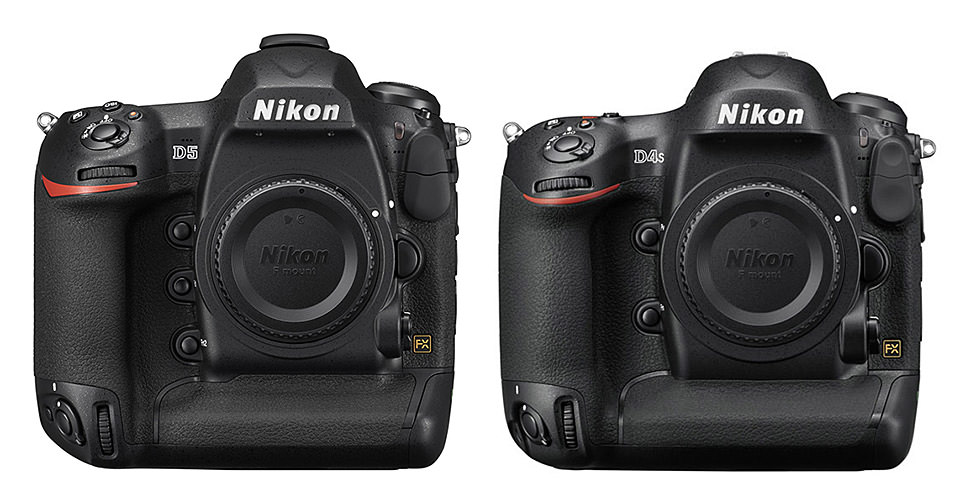 Before we get into the camera specifications, let's take a look at what Nikon has changed on the D5 in terms of camera design and ergonomics.
Nikon D5 vs D4s Camera Design and Ergonomics
When we look at the front of both cameras, we see that Nikon has made a few tweaks to the D5. First of all, the camera is a bit taller than the D4s, which is probably going to be even more comfortable to hold for those with larger hands. The grip has been slightly modified in shape and the side of the camera is no longer as curvy as before. The front dial has been moved in a tad, which was probably also done for increased comfort. The vertical grip and its buttons have been slightly tweaked and the top of the camera with the "Nikon" logo has also been redesigned a bit. The biggest change is the addition of another function button to the left of the mount as pictured. Not sure how it will work out ergonomically, but those who want an extra button to get quick access to one of the camera's many features will probably welcome this change. There are a few other minor cosmetic changes here and there.
The top of the camera has been reworked as well and here we have some surprising changes:

First of all, the camera Mode button, which has always been on the right side of the top of the camera, has been moved to a button on the left dial – it replaced the Bracketing button. In its place and a bit closer to the shutter release, Nikon has placed a brand new ISO button. Finally! This is something I have personally been waiting for – no more need to reprogram the Video recording button to change ISO! Now you can easily change ISO with just your right hand, which is great. If you change your camera modes a lot and you are used to accessing the Mode button with your index finger, you might not like this change, as you will have to now engage your left hand to hold the Mode button while rotating the camera dial with your right hand. I personally fiddle with ISO a lot more than with the camera mode, so for me, this ergonomic change makes a lot more sense. Interestingly, the Nikon D500 also went through a similar change, which means that Nikon will most likely be using this updated layout on all future high-end cameras.
Nikon decided to get rid of the Flash button and move the Bracketing button in its place. Again, this makes sense to me, since the bracketing button usually gets a lot more use than the flash button. And if you factor in the fact that the D5 is primarily aimed at sports and wildlife photographers, flash is not something that is heavily used by those folks anyway.
The exposure compensation and video recording buttons have been moved a bit and there is now a slight bump that separates those buttons on the grip. There are additional design and ergonomic changes, but they seem to be pretty minor.
Let's take a look at the back of the cameras: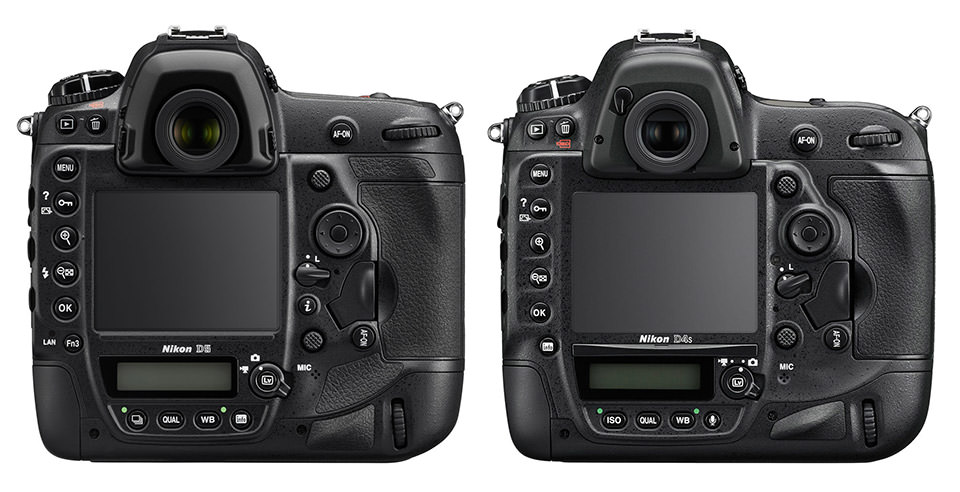 Again, more tweaks and button changes to note. The grip to the right side has additional rubber pieces to rest fingers on. The rear dial seems to have gotten slightly larger in size. The dual joysticks no longer have exterior protruding bumps, which will hopefully make them easier to use. The multi-function button has gotten bigger – a definite welcome change. Right below the lock switch, Nikon added the "i" button, which allows adjusting some options on the LCD / Live View (the Nikon D4s did not have one).
To the left of the LCD, Nikon incorporated yet another programmable Function button – this one took the place of the previous Info button, which has now been moved to the bottom. Speaking of which, Nikon changed two buttons there: the microphone button has been replaced with the Info button and the ISO button, which is now located on the top of the camera, has been replaced with the release mode button. Finally, a much more useful function that now gets a dedicated button!
Another change to notice is the viewfinder area – the viewfinder eyepiece on the D5 is now detachable and features fluorine coating. Additionally, you can attach a Nikon rain cover for protection. Everything else has gone through minor ergonomic changes.
Overall, I think Nikon did a great job with the redesign of the D5 – the moving of the ISO button, new function buttons and the other tweaks make sense to me and will most likely appeal to many others.
Nikon D5 vs D4s Specification Comparison
Let's now take a look at the specifications of these two cameras and see where they differ:
| Camera Feature | Nikon D5 | Nikon D4s |
| --- | --- | --- |
| Sensor Resolution | 20.8 Million | 16.2 Million |
| Sensor Coating | Anti-reflection coating | Standard |
| Sensor Type | CMOS | CMOS |
| Sensor Size | 35.9×23.9mm | 36.0×23.9mm |
| Sensor Pixel Size | 6.45µ | 7.30µ |
| Sensor Dust Reduction | Yes | Yes |
| Image Size | 5,568 x 3,712 | 4,928 x 3,280 |
| Image Processor | EXPEED 5 | EXPEED 4 |
| Viewfinder Type | Pentaprism | Pentaprism |
| Viewfinder Coverage | 100% | 100% |
| Viewfinder Magnification | 0.72x | 0.70x |
| Built-in Flash | No | No |
| Storage Media | 2x XQD / 2x CF | 1x XQD + 1x CF |
| Continuous Shooting Speed | 12 fps with AF/AE | 11 fps with AF/AE |
| Buffer Size (RAW, Lossless 14-bit) | 200 | 78 |
| Continuous Shooting | 16.7 seconds | 7.1 seconds |
| Max Shutter Speed | 1/8000 to 30 sec | 1/8000 to 30 sec |
| Shutter Durability | 400,000 cycles | 400,000 cycles |
| Exposure Metering Sensor | 180,000-pixel RGB sensor 3D Color Matrix Metering III | 91,000-pixel RGB sensor 3D Color Matrix Metering II |
| Base ISO | ISO 100 | ISO 100 |
| Native ISO Sensitivity | ISO 100-102,400 | ISO 100-25,600 |
| Boosted ISO Sensitivity | ISO 50, ISO 204,800-3,280,000 | ISO 50, ISO 51,200-409,600 |
| Autofocus System | 153-point, 99 cross-type AF system | 51-point, 15 cross-type AF system |
| Dedicated AF Processor | Yes | No |
| AF Detection | Up to f/8 | Up to f/8 |
| AF Detection Range | -4 to +20 EV | -2 to +19 EV |
| Auto AF Fine-Tune | Yes | No |
| Video Output | MOV, MPEG-4 / H.264 | MOV, MPEG-4 / H.264 |
| Video Maximum Resolution | 3,840×2,160 (4K) up to 30p | 1920×1080 (1080p) up to 60p |
| LCD Size | 3.2″ diagonal TFT-LCD | 3.2″ diagonal TFT-LCD |
| LCD Resolution | 2,359,000 dots | 921,000 dots |
| LCD Touchscreen | Yes | No |
| Detachable Eyepiece | Yes | No |
| Built-in GPS | No | No |
| Built-in Wi-Fi / NFC | No | No |
| Built-in Wired LAN | 1000 Base T Support | 1000 Base T Support |
| Battery | EN-EL18a | EN-EL18a |
| Battery Life | 3,780 shots (CIPA) | 3,020 shots (CIPA) |
| USB Version | 3.0 | 2.0 |
| Weight | 1,405g (With Battery + 2x XQD) | 1,240g (Body Only) |
| Dimensions | 160 x 158.5 x 92mm | 160 x 156.5 x 90.5mm |
| MSRP Price | $6,499 (as introduced) | $6,499 (as introduced) |
The first difference is obviously resolution – the Nikon D5 pushes it to 20.8 MP from 16.2 MP that we have seen on the last two predecessors. While the change seems to be small, in reality that's quite a lot of data to push through once you factor in the continuous shooting speed of 12 fps. 4 extra megapixels translates to even more cropping opportunities, which is always useful to have on such a camera. In addition to the increase in resolution, Nikon has also modified the coating on the sensor – the D5 now has better anti-reflection coating, which should reduce ghosting and flare even further.
The sensor change is not just limited to resolution – Nikon is pushing the native ISO speed from 100-25,600 to 100-102,400 – a two full stop increase! Does this mean that the images will look two stops cleaner? That remains to be seen, but considering that the sensor technology has been pretty much stagnating during the past few years in terms of noise performance, I seriously doubt it. Nikon claims that it has developed a brand new noise reduction system, but I doubt you can just clean up two stops of noise via software algorithms. If Nikon can even push performance by a full stop, it would still be a huge deal! I really hope to see big improvements in the image quality department…
Another big change is obviously the brand new autofocus system. With a total of 153 focus points, 99 of which are cross-type, the Nikon D5 simply trumps the D4s, which has the older, but still very reliable 51 point AF system (15 of which are cross-type). Nikon has moved AF operations to a dedicated AF processor on the D5, which is something we have never seen before on any Nikon DSLR. The Nikon D5 also focuses much better in low-light, thanks to its -4 EV sensitivity, vs -2 EV on the D4s. One of the brand new features that Nikon delivered in the D5 and D500 DSLRs, is the ability to automatically fine tune lenses. If it really works "with a few button presses" as Nikon advertises, this could be a game changing capability!
With the change of the sensor also comes a change in the main processor. The latest generation EXPEED 5 processor is not only significantly faster, but it is also much more efficient, allowing the D5 to squeeze 3,780 shots from the same EN-EL18a battery that only yields a bit over 3 thousand shots on the D4s. In addition, the Nikon D5 ships with a brand new 180K pixel RGB metering sensor (the D4s has a 91K pixel RGB sensor), which coupled with the EXPEED 5 does a better job at tracking subjects during autofocus operation.
When it comes to continuous shooting speed, the Nikon D5 gains one extra frame per second with continuous focusing, but take a look at the buffer size – the D5 has a much larger buffer for those 14-bit losslessly compressed RAW files: 200 vs 78. In essence, this means that you can shoot for about 17 seconds before the buffer fills up! That's 10 seconds more than what the D4s can handle!
I don't know how Nikon did it, but it seems like the optical viewfinder has gotten even bigger than before – 0.72x magnification vs 0.70x on the D4s. And the previous generation LCD screen with its 921k dots seems so archaic when compared to the 2.36 million dot touch-enabled LCD on the D5.
I personally never liked the XQD + CF slots on the D4 and D4s cameras. While it made sense for Nikon to push both on the D4 for easier transition, I really could not understand why Nikon decided to keep the two formats when the D4s was released as well. Thankfully, this is no longer the case – the Nikon D5 now comes in two variants: one that has two XQD slots and one that has two CF slots. Since XQD is better in every way than CF, I would recommend to get the XQD version. I believe the D5 is Nikon's last attempt to see which one of the two formats its customers are going to favor (based on sales). I personally don't foresee Nikon offering such an option in the future generations of its top-of-the-line cameras, as it is too impractical to produce both.
The big question is, would it be worth moving up from Nikon D4s to the D5? If you make a living with your camera, absolutely! Just the new AF system and the -4 EV sensitivity alone might be worth the upgrade for many pro photographers out there. And if Nikon is able to provide cleaner high ISO images, that would be an added bonus. For everyone else who is not a pro or a serious shooter, the D5 is probably going to be overkill. If you find yourself occasionally getting out to photograph sports or wildlife, you would be probably better off with the superb Nikon D500. You can check out all the Nikon D500 related articles right here.