Many current D4 owners might be wondering how their cameras compare to the newly announced Nikon D4s. In this comparison article, I will provide information about both cameras, along with my analysis of the main differences. I do not yet have a review sample of the Nikon D4s to do more in-depth side-by-side comparisons, so I decided to write about differences in specifications between the two. More details about the D4s will be published in my upcoming Nikon D4s review.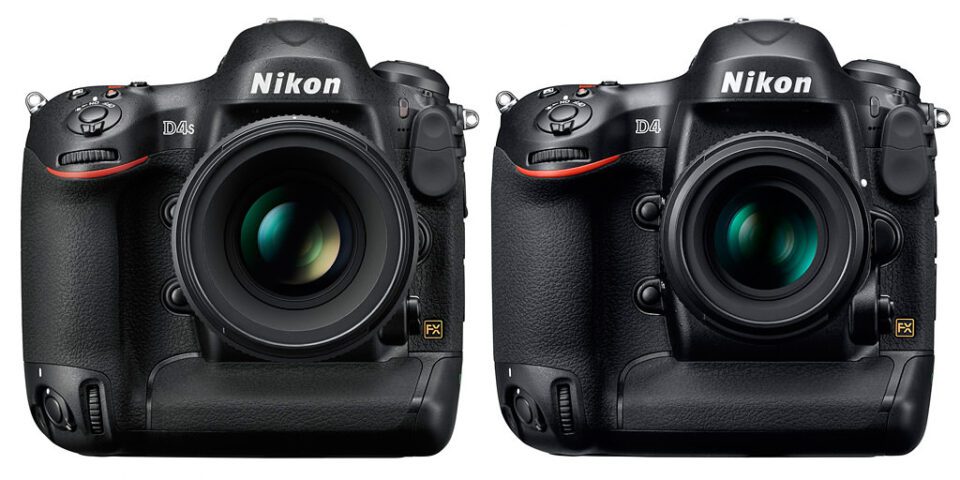 First, let's talk about differences in camera body design.
Nikon D4s vs D4 Camera Body Design Comparison
While most of the camera design stayed the same, Nikon has made a few minor changes to the Nikon D4s. The front of the camera stayed pretty much the same, except for the grip. Per Nikon, the grip is now slightly redesigned to fit larger hands for more comfort. The back of the camera looks mostly the same, except for two changes – the memory card door is now shaped slightly differently on the top and the surface of the two smaller joysticks (for vertical and horizontal grip) has been redesigned for more comfort. I personally don't care for the door, but the joystick change is a great improvement in my opinion, since that was one thing that I did not like on the D4. Here is the comparison of the back of the two cameras (Left: Nikon D4s, Right: Nikon D4):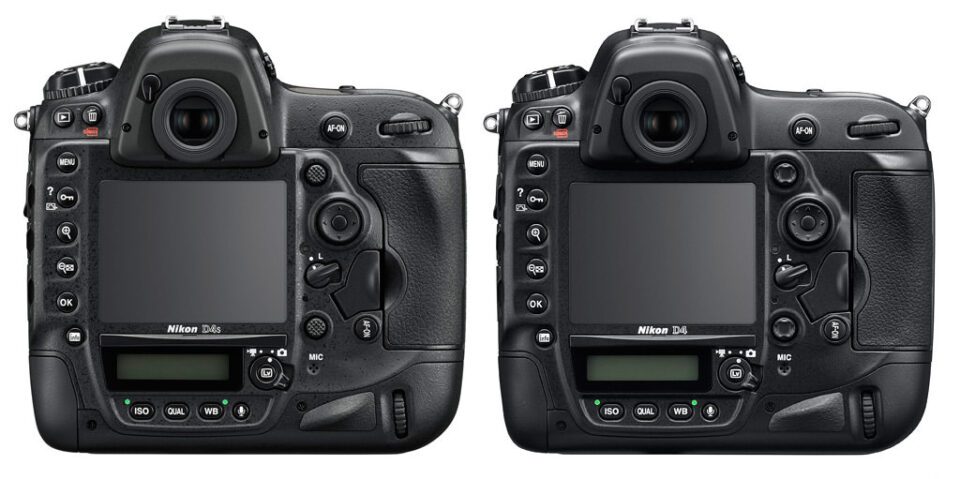 Aside from these changes, I do not see any major body changes worth talking about, so let's move on to differences in camera specifications. The below specifications comparison only shows differences between the two cameras – identical information has been intentionally removed.
Nikon D4s vs D4 Specification Comparison
Camera Feature
Nikon D4s
Nikon D4
Image Processing Engine
EXPEED 4
EXPEED 3
Native ISO Sensitivity
ISO 100-25,600
ISO 100-12,800
Boosted ISO Sensitivity
ISO 50, ISO 51,200-409,600
ISO 100, ISO 25,600-204,800
RAW SIZE S
Yes
No
Advanced Scene Recognition System
Yes, Group Area AF added
Yes
Face Priority analysis for viewfinder shooting
On/Off possible with custom setting
Always On
Spot White Balance when using Live View
Yes
No
Preset White Balance
1-6 possible
1-3 possible
Frame Advance Rate
11 fps with AF/AE
10 fps with AF/AE
Group Area AF
Yes, 5 AF Sensors
No
Video Recording
1920×1080 @ 60/50/30/25/24p
1920×1080 @ 30/25/24p
Wired LAN
1000 Base T Support
100 Base T Support
Buffer Capacity
200 JPEG Fine L
133 12-bit lossless compressed RAW
176 12-bit compressed RAW
104 14-bit compressed RAW
170 JPEG Fine L
92 12-bit lossless compressed RAW
92 12-bit compressed RAW
76 14-bit compressed RAW
Change Focus point size in Live View Movie
Yes
No
Fine Tune LCD Color
Yes
No
Full aperture metering during Live View for stills
Yes
No
Interval timer / Time lapse movie
Up to 9999 shots
Up to 999 shots
Battery
EN-EL18a
EN-EL18
Time-lapse Interval Timers Exposure Smoothening
Yes
No
Weight (Body Only)
1,240g
1,180g
MSRP Price
$6,499
$5,999
Aside from a faster processor, faster fps, superior ISO performance (with the native ISO increasing in 1 full stop to ISO 25,600) and a few minor features and tweaks here and there, we do not see major changes between the two cameras. Although it is expected to be a smaller periodic upgrade, I was expecting to see more for the $500 price difference. At this point, it is hard to say how the two will stack up in noise performance – we will leave that to later time, when I receive the D4s for testing.