While the Nikon D800 has not officially been released yet, its specifications have been leaked for a while now, so our readers have been asking more and more questions about it. In this Nikon D4 vs D800 comparison, I will write about the rumored specifications of the D800 and compare it to the Nikon D4. While these cameras are for completely different needs and obviously are at difference price points, both are generating lots of interest from the Nikon community. Once the Nikon D800 is officially released and I have both cameras, I will provide much more detailed analysis of differences between these cameras, along with image samples and ISO comparisons. Please keep in mind that some of the D800 specifications below are pure speculation and might not match the actual specifications of the camera when it is released.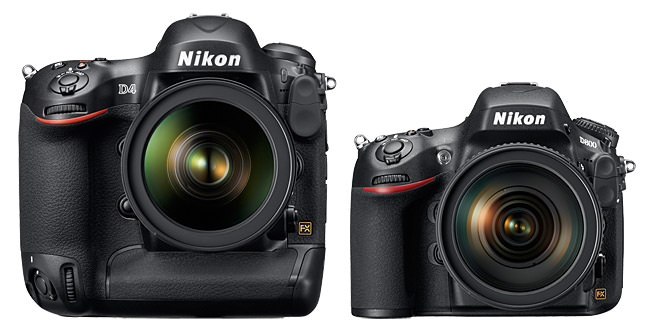 Before I get into the camera specifications comparison, let me first talk about these two cameras. The Nikon D4 is a high-end DSLR targeted at news, sports, wildlife and action photographers. It is Nikon's new flagship low-light king with very impressive high ISO capabilities and extremely fast speed, both in terms of autofocus and camera frame rate. To allow for such impressive low-light performance, Nikon had to keep the pixel size large, which translates to lower resolution (by lower I mean 16.2 MP). The upcoming Nikon D800, on the other hand, is aimed at landscape, architecture and fashion photographers that need high resolution for large prints.
Before the D4, Nikon had two flagship DSLRs for these needs – the Nikon D3s for low-light and the Nikon D3x for high resolution. The lower-end D700 camera had the same sensor as the original D3 and was never updated with the D3s sensor, because Nikon did not want it to eat up the D3s sales. Looks like starting from the D800, Nikon is now reversing the game, offering a high-resolution sensor on a lower-end body and keeping the single digit line for low-light work exclusively. By doing this, Nikon is following Canon's strategy. The Canon 5D Mark II with its high-resolution sensor has been eating up the Canon 1Ds line for a while now and those expensive 1Ds bodies are not selling well ever since the 5D Mark II came out. The same is true with the Nikon D3x – while it is quite popular among landscape, architecture and fashion photographers, it is just not selling well. The Nikon D700 sells better than the D3s and D3x combined. By introducing a lower-end high-resolution professional body like the D800, Nikon will most likely do away from its high-end "x" line, which would be a smart move on behalf of Nikon – keeping the D3x production line is expensive. At the same time, those of us that shoot sports, wildlife and various events that require good low-light capabilities and cannot afford spending $6K on the D4 will be left with only one choice of a high-resolution full-frame camera (unless Nikon releases a new product for low-light photography, which I doubt will happen anytime soon). I believe Nikon's thought process is like this: Canon is selling their 5D Mark II as an all-in-one solution quite well, why not do the same? After-all, many wedding photographers do use the high resolution 5D Mark II and do not seem to be complaining too much.
Nikon D4 vs D800 Specification Comparison
Camera Feature
Nikon D4
Nikon D800
Sensor Resolution
16.2 Million
36.3 Million
Sensor Type
CMOS
CMOS
Sensor Size
36.0×23.9mm
35.9x24mm
Sensor Pixel Size
7.3µ
4.8µ
Dust Reduction / Sensor Cleaning
Yes
Yes
Image Size
4,928 x 3,280
7,360 x 4,912
Image Processor
EXPEED 3
EXPEED 3
Viewfinder Type
Pentaprism
Pentaprism
Viewfinder Coverage
100%
100%
Viewfinder Magnification
0.70x Approx.
0.70x Approx.
Built-in Flash
No
Yes, with flash commander mode
Storage Media
1x Compact Flash and 1x XQD
1x Compact Flash and 1x SD
Continuous Shooting Speed
10 FPS, 11 FPS with AE/AF Locked
4 FPS, 6 FPS in DX mode with MB-D12 grip
Max Shutter Speed
1/8000 to 30 sec
1/8000 to 30 sec
Shutter Durability
400,000 cycles
200,000 cycles
Exposure Metering Sensor
91,000-pixel RGB sensor
91,000-pixel RGB sensor
Base ISO
ISO 100
ISO 100
Native ISO Sensitivity
ISO 100-12,800
ISO 100-6,400
Boosted ISO Sensitivity
ISO 50, ISO 25,600-204,800
ISO 50, ISO 12,800-25,600
Autofocus System
Advanced Multi-CAM 3500FX
Advanced Multi-CAM 3500FX
AF Detection
Up to f/8
Up to f/8
Video Output
MOV, Compressed and Uncompressed
MOV, Compressed and Uncompressed
Video Maximum Record Time
20 min in 24p, 30 min in 30p
20 min in 24p, 30 min in 30p
Video Maximum Resolution
1920×1080 (1080p) @ 24p, 30p
1920×1080 (1080p) @ 24p, 30p
Audio Recording
Built-in microphone
External stereo microphone (optional)
Built-in microphone
External stereo microphone (optional)
LCD Size
3.2″ diagonal TFT-LCD
3.2″ diagonal TFT-LCD
LCD Resolution
921,000 dots
921,000 dots
HDR Support
Yes
Yes
Built-in GPS
No
No
Wi-Fi Functionality
WT-5A, WT-4A
Eye-Fi Compatible, WT-4A
Built-in LAN
Yes
No
Remote Shutter Release Compatibility
Corded and infra-red
Corded
Battery
EN-EL18 Lithium-ion Battery
EN-EL15 Lithium-ion Battery
Battery Life
2,600 shots (CIPA)
900 shots (CIPA)
Battery Charger
MH-26 Quick Charger
MH-25 Quick Charger
Weather Sealed Body
Yes
Yes
Dimensions
160 x 156.5mm x 90.5mm
144.78 x 121.92mm x 81.28mm
Weight (Body Only)
41.6 oz. (1,180g)
31.5 oz. (895g)
MSRP Price
$5,999
$2,999
Now here comes the big question – does a high resolution sensor mean bad low-light capabilities? If you look at a picture at 100%, then yes, a high resolution sensor always translates to more noise at higher ISOs. However, when the image is down-sampled to smaller resolution, those differences are not that big (generally at ISO levels below ISO 3200). For example, when you look at a 16 MP image at ISO 3200 at 100% and then look at a 36 MP image at the same ISO at 100%, you will surely see more noise on the latter image. However, if you down-sample the 36 MP image to 16 MP, then you might see little difference between the two. In fact, if you had a slight focus issue on both, the 36 MP image should look sharper when down-sampled to 16 MP. Now don't get me wrong – I am not saying that the 36 MP sensor on the D800 will give you better results when down-sampled to 16 MP than what the D4 can do right out of the box. Don't forget that the D800 won't be able to go past ISO 6,400, with ISO 25,600 being its maximum upper limit. The Nikon D4 can do native ISO 12,800 and can be pushed all the way to ISO 204,800 without having to resize anything – something a high resolution sensor would not be able to deliver. What I am trying to say here, is that you should not be scared of a high resolution D800 when it comes out, thinking that it will be grossly inferior to your beloved D700. I will provide an in-depth analysis between the D700 and the upcoming D800 when I have it on my hands, but I can say with confidence now that the D800 should give better results than the D700 when its image is down-sampled to 12 MP. Overall, we should be getting around a full stop of advantage noise-wise with the D800 compared to the D700. Think of it this way – you will be able to get superb 36 MP images in daylight and you have the option to down-sample images to lower resolution in low-light. If you are a wedding photographer, I would set a target resolution when delivering images to your customers for consistency purposes. Otherwise you will be burning a lot of DVDs (that's if you shoot and burn, of course)…
I am personally very excited about the Nikon D800, definitely more than the D4.