Many of the current Nikon D3s owners like me probably wonder about the differences between the new Nikon D4 and the now obsolete Nikon D3s DSLR cameras. While I do not yet have the Nikon D4 to do more in-depth side by side comparisons, I decided to write about differences in body design and specifications between the two. More details about the Nikon D4 will be published in my upcoming Nikon D4 review.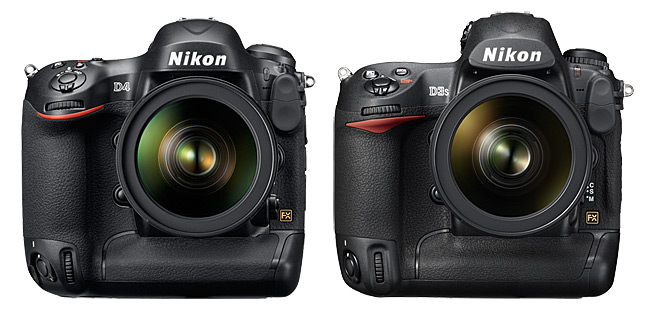 First, let's talk about differences in camera body design.
Nikon D4 vs D3s Camera Body Design Comparison
As expected, the Nikon D4 went through rather significant changes in camera body design. The overall shape of the camera has been completely changed and it now looks more curved than the D3/D3s/D3x models. Let's start from the front of the camera, which went through the least number of changes. The only major change I see on the front is the C/S/M focus lever (bottom left side of the camera) that has been modified to adapt to the same switch we see on the Nikon D7000 DSLR. This was a good design change, because it will prevent accidental changes to autofocus when you pull the camera out of the bag. Now the switch only has two options – AF for autofocus and M for manual focus. The button on top of the switch replaces the AF mode switch on the back of the camera. Now you can switch between the different AF modes (single, dynamic and 3D) by pressing this button and rotating the camera dial. Oh and it looks like the grip is shaped a little differently, which should help with handling the camera a little more.
Now on to the camera left side: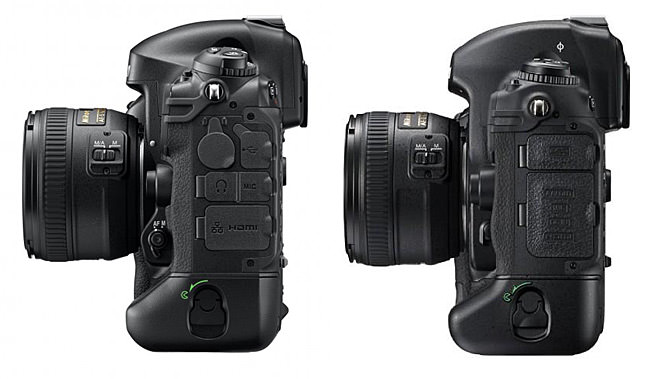 There are some noticeable changes to the camera connector panels – the Nikon D4 has everything separated out by groups, while the Nikon D3s has a more consolidated look. The top left round connection is for the new WT-5a wireless unit. The bottom connection on the D4 shows Ethernet + HDMI connections. The Nikon D3s does not have an Ethernet port.
The top of the camera went through significant design changes: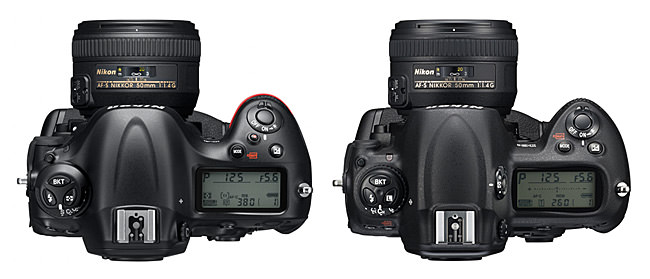 Let's start from the left, the camera dial. The front of the dial is fully closed and only the rear of the dial is exposed. The dial modes are the same, but there is a change on the top buttons – the useless "Lock" button on the D3/D3s/D3x has been replaced with a metering mode button. I really like this idea, because the metering mode switch on the right side has been eliminated as well! Now that I see this change, I started to realize how much I hate the old metering mode switch on the D3/D3s cameras. Pressing the button and then rotating the metering mode dial was never comfortable. I am glad that this annoyance has been finally taken care of. The right side of the camera has also been redesigned. The shutter release is now located at a lower angle for comfort and the camera mode and exposure compensation buttons have been moved up a little to make room for the new and small video recording button.
Now let's talk about the back of the camera, which went through the most number of changes: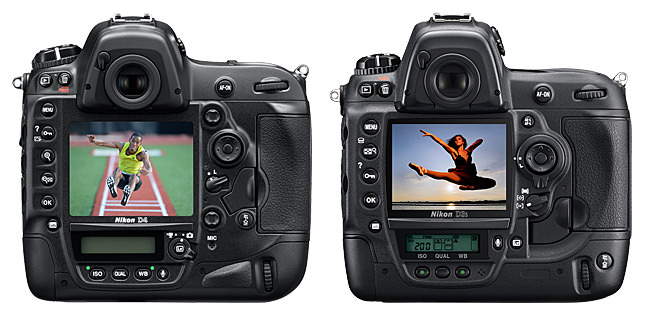 There are things I really like about what Nikon did with the D4 back layout/design and things I don't. Let's start from what I believe are good changes. Compared to the D3s, there is one extra button on the back of the D4. Finally, Nikon adapted a similar layout as the D700, which is the ability to zoom in out by pressing a button. I remember when I first held the D3s on my hand, I could not figure out how to zoom in. I then realized that I have to press the zoom button and then use the dial on the back of the camera to zoom in and out. What a pain! Now this pain goes away, because you just press the zoom in and zoom out buttons without having to rotate any dials! The lock/help button has been moved up right under the Menu button, which I would rather have on the bottom, because I never use it. In addition, all the new buttons are back-lit, which is great news for those of us that shoot in low-light or at night.
Let's move to the LCD. The new LCD on the back of the camera has the same 921,000 dot resolution as the one on the D3s, but is now a little bigger in size (by 0.2 inches diagonal). While Nikon says that they always individually calibrate these screens, it is still the same old LCD technology we see on all other cameras. We are in 2012 now, come on, why doesn't Nikon use higher-end screens on their new cameras? OLED is not cheap, but it uses a lot less energy than LCD and it lasts forever.
The button placement under the LCD, also went through some changes. While the ISO / QUAL / WB buttons are still in their respective places (come on Nikon, that QUAL button is evil! – see my Nikon D3s Review why), the audio record button has been moved to sit together in the same group. I don't really care about this button, because I never use it. The Live View button has moved a little to the left now and has a lever for selecting between photo and video live view modes.
The vertical grip should now be a lot more comfortable, because the AF-ON button has been moved deeper into the camera body. This is great news, because the old AF-ON placement was never good to start with – I kept on accidentally hitting it while shooting horizontally and had to constantly turn it off when I was not using it. AF-ON should have been where it is now on the D3/D3s/D3x models.
Finally, let's talk about the rest of the buttons to the right side of the body and LCD. Similar to the Canon DSLRs, we now have two joysticks (the joystick is borrowed from the MB-D10 grip) – one to use in horizontal position and one to use in vertical position. The top joystick replaces the customizable AE-L/AF-L button (still wondering where it went). I don't know about others, but I hate joysticks. If we have to use a joystick to move the AF point now, what is the purpose of having the bigger dial? Is there there now to move around while viewing pictures? I very much hope that I can still use the big dial to select AF points. Joysticks are the reason why I do not like the ergonomics of many Canon DSLRs. It is sad to see Nikon trying to copy Canon in that regard.
OK, let's move on to differences in camera specifications. The below specifications comparison only shows differences between the two cameras – identical information has been intentionally removed.
Nikon D4 vs D3s Specification Comparison
Camera Feature
Nikon D4
Nikon D3s
Sensor Resolution
16.2 Million
12.1 Million
Total Pixels
16.6 Million
12.87 Million
Sensor Pixel Size
7.3µm
8.45µm
Image Size
4,928 x 3,280
4,256 x 2,832
Storage Media
1x Compact Flash and 1x XQD
2x Compact Flash
Buffer Capacity
Up to 100 12-bit RAW
Up to 70 14-bit uncompressed RAW
Up to 200 JPEG Large
Up to 43 12-bit RAW
Up to 36 14-bit uncompressed RAW
Up to 78 JPEG Large
EXIF Version
2.3
2.21
Focusing Screen
BriteView Clear Matte Mark VIII
BriteView Clear Matte VI
Continuous Shooting Speed
10 FPS, 11 FPS with AE/AF Locked
9 FPS
Shutter Durability
400,000 cycles
300,000 cycles
Shutter Lag
0.042 seconds
0.04 seconds
Exposure Metering Sensor
91,000-pixel RGB sensor
1,005-pixel RGB sensor
Metering Range
-1 ± 20 EV
0 to 20 EV
Base ISO
ISO 100
ISO 200
Native ISO Sensitivity
ISO 100-12,800
ISO 200-12,800
Boosted ISO Sensitivity
ISO 50, ISO 25,600-204,800
ISO 100, ISO 25,600-102,400
D-Lighting Bracketing
Yes
No
Autofocus System
Advanced Multi-CAM 3500FX
Multi-CAM 3500FX
AF Detection
Up to f/8
Up to f/5.6
Focus Modes
AF-A
AF-S
AF-C
Face-Priority AF
M
Normal Area
Wide Area
AF-S
AF-C
M
Flash Sync Modes
Front-curtain sync
Rear-curtain sync
Red-eye reduction
Red-eye reduction with slow sync
Slow rear-curtain sync
Slow sync
Front-curtain sync
Rear-curtain sync
Red-eye reduction
Red-eye reduction with slow sync
Slow sync
Flash Compensation
Yes, -3 to +1 EV
No
Flash-ready Indicator
Yes
No
Live View Shooting Modes
Photography Mode
Movie Mode
Handheld Mode
Tripod Mode
Live View Lens Servo
AF
AF-S
AF-F
MF
N/A
Live View AF Area Mode
Face-priority AF
Wide-area AF
Normal-area AF
Subject-tracking AF
N/A
Video Output
MOV, Compressed and Uncompressed
AVI, Compressed
Video Maximum Record Time
20 min in 24p, 30 min in 30p
5 min
Video Maximum Resolution
1920×1080 (1080p)
1280×720 (720p)
Audio Recording
Built-in microphone
External stereo microphone (optional)
Built-in microphone
LCD Size
3.2″ diagonal TFT-LCD
3.0″ diagonal TFT-LCD
LCD Adjustments
5 Levels
7 Levels
Playback Functions
Auto Image Rotation
Full-Frame and Thumbnail
GPS data display
Highlights
Histogram Display
Image Comment
IPTC Information
Movie Playback
Movie Slideshow
Photo information
Playback with Zoom
Slideshow
Voice Memo
Auto Image Rotation
Full-Frame and Thumbnail
Highlights
Histogram Display
Image Comment
Movie Playback
Shooting Data
Slideshow
Voice Memo
Zoom
In-Camera Image Editing
Color Balance
Color Outline
Color Sketch
D-Lighting
Distortion Control
Edit Movie
Filter Effects
Fisheye
Image Overlay
Miniature Effect
Monochrome
NEF (RAW) Processing
Perspective Control
Quick Retouch
Red-eye Correction
Resize
Selective Color
Side-by-Side Comparison
Straighten
Trim
Color Balance
D-Lighting
Edit Movie with Save Selected Frame
Filter Effects
Image Overlay
Monochrome
NEF (RAW) Processing
Red-eye Correction
Resize
Side-by-Side Comparison
Trim
HDR Support
Yes
No
Interface
HDMI output: Type C mini-pin HDMI connector
Headphone Connector
NTSC
Stereo Microphone Input
Super Speed USB 2.0
10-pin Terminal
HDMI
Hi-speed USB
NTSC
PAL
Wi-Fi Functionality
WT-5A, WT-4A
FTP and PTP/IP with WT-4A
Total Custom Settings
58
46
Built-in LAN
Yes
No
Remote Shutter Release Compatibility
Corded and infra-red
Corded-only
Supported Languages
Arabic
Chinese (Simplified and Traditional)
Czech
Danish
Dutch
English
Finnish
French
German
Indonesian
Italian
Japanese
Korean
Norweigan
Polish
Portuguese
Romanian
Russian
Spanish
Swedish
Thai
Turkish
Ukrainian
Chinese (Simplified and Traditional)
Dutch
English
Finnish
French
German
Italian
Japanese
Korean
Polish
Portuguese
Russian
Swedish
Spanish
Battery
EN-EL18 Lithium-ion Battery
EN-EL4 Lithium-ion Battery
EN-EL4a Lithium-ion Battery
Battery Life
2,600 shots (CIPA)
4,200 shots (CIPA)
AC Adapter
EH-6b AC Adapter
EH-6 AC Adapter
Battery Charger
MH-26 Quick Charger
MH-21 Quick Charger
MH-22 Quick Charger
Dimensions
Width 6.3 in. (160mm)
Height 6.2 in. (156.5mm)
Depth 3.6 in. (90.5mm)
Width 6.3 in. (159.5mm)
Height 6.2 in. (157mm)
Depth 3.4 in. (87.5mm)
Weight (Body Only)
41.6 oz. (1,180g)
43.7 oz. (1,240g)
MSRP Price
$5,999
$5,199
Something in favor of the D3s is its battery life. I understand that there are some new battery requirements in Asia, but it is sad to see D4 have almost half the battery life of the D3s. This is a serious disadvantage, especially when shooting in cold environments where batteries die quickly. The new wireless WT-5a wireless transmitter also draws power from the camera, so expect to have even worse battery life with the WT-5a attached.
You can find more information on the Nikon D4, along with my thoughts on its features in the Nikon D4 article I posted earlier. A comparison between the Nikon D4 vs Canon 1D X is also coming.