Fuji's latest cameras have been so good, they rival each other almost as much as other systems. And as we saw in our X-Pro1 vs X-E2 comparison, the oldest current model in the X-mount compact camera system, the X-Pro1, already struggled against its lower-end sibling. In this article, we will compare it against the newest member in Fuji's line-up of mirrorless cameras, the weather-resistant, DSLR-style Fujifilm X-T1.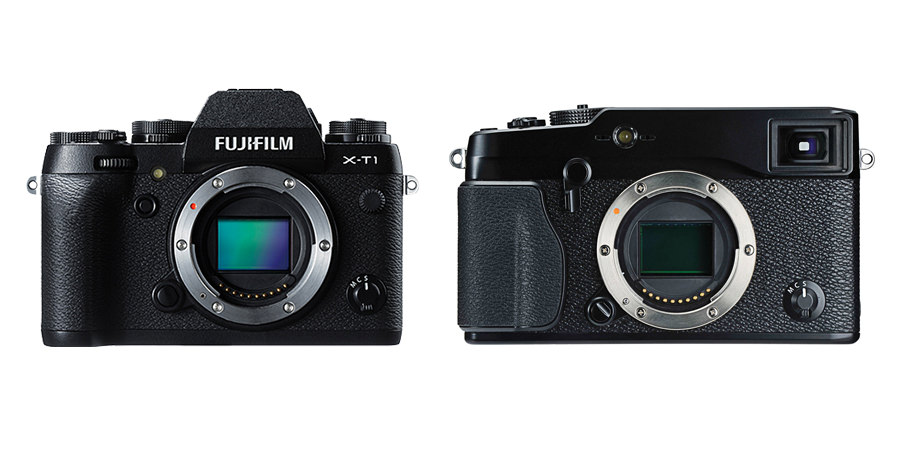 As always, it is important to note that this comparison is based purely on technical specifications. We didn't yet have the chance to use X-T1 (you can click here to read our X-Pro1 review, though). As soon as we review it, we will have a chance to draw definite conclusions. For now, take a look at the following table where we list the main specs of each camera:
Fujifilm X-T1 vs X-Pro1 Specification Comparison
Camera Feature
Fujifilm X-T1
Fujifilm X-Pro1
Sensor Resolution
16.3 Million
16.3 Million
AA Filter
No
No
Sensor Type
X-Trans CMOS II
X-Trans CMOS
Sensor Size
23.6×15.6mm
23.6×15.6mm
Sensor Pixel Size
4.82µ
4.82µ
Dust Reduction / Sensor Cleaning
Yes
Yes
Image Size
4,896 x 3,264
4,896 x 3,264
Image Processor
EXR PROCESSOR II
EXR PROCESSOR
Lens Modulation Optimizer
Yes
No
Viewfinder Type
Electronic (EVF)
Hybrid Optical (OVF)/Electronic (EVF)
Viewfinder Resolution, 35mm-Equivalent Magnification
2,360,000 dots, 0.77x
OVF – 0.37x-0.6x magnification
EVF – 1,440,000 dots, 0.37×,
Viewfinder Coverage
100%
OVF – 90%
EVF – 100%
Diopter Adjustment
Yes
No
Built-in Flash
No (external unit as part of the package)
No
Flash Sync Speed
1/180
1/180 (P and A exposure mode), 1/160 (S and M exposure mode)
Storage Media
1x SD, SDHC, SDXC
1x SD, SDHC, SDXC
Continuous Shooting Speed
8 FPS
6 FPS
Shutter Speed Range
1/4000 to 30 sec
1/4000 to 30 sec
Image Stabilizer
With OIS Lenses
With OIS Lenses
Exposure Metering Sensor
TTL 256-zone metering
TTL 256-zone metering
Exposure Compensation Range
±3 stops
±2 stops
Base ISO
ISO 200
ISO 200
Native ISO Sensitivity
ISO 200-6,400
ISO 200-6,400
Autofocus System
Hybrid AF (TTL contrast AF / TTL phase detection AF)
TTL contrast AF
Focus Points
49 AF points
49 AF points
Face Detection
Yes
No
Video Capability
Yes
Yes
Video Output
H.264
H.264
Video Maximum Resolution
1920×1080 (1080p) @ 60p
1920×1080 (1080p) @ 24p
Audio Recording
Built-in stereo microphone
External stereo microphone (optional)
Built-in stereo microphone
External stereo microphone (optional)
Articulating LCD
Yes
No
LCD Size
3.0″ diagonal TFT-LCD
3.0″ diagonal TFT-LCD
LCD Resolution
1,040,000 dots
1,230,000 dots
Built-in GPS
No
No
Built-In Wi-Fi Functionality
Yes
No
Weather Sealed Body
Yes
No
Operating Temperature
Down to -10ºC
Down to 0ºC
USB Version
2.0
2.0
Weight (Body Only)
440g with battery and memory card
450g with battery and memory card
Dimensions
129 x 90 x 47 mm
139.5 x 81.8 x 42.5 mm
Battery
Li-ion battery NP-W126
Li-ion battery NP-W126
Price
$1,299
$1,078 ($1,699 when announced)
First, let's talk about the similarities between the two cameras. Even though they are separated by just two years of progress in both electronics and software, they are remarkably different. That said, some similarities remain. First of all – the heart of any camera body. Both X-Pro1 and X-T1 use very similar X-Trans sensors with basically the same resolution and, most likely, overall image quality. The only real difference between the two is the inclusion of phase-detect AF sensors in the X-T1, but more on that later. Both cameras are also made of light-weight alloy and should feel similarly sturdy. X-Pro1 is only slightly heavier at 450g vs 440g of the X-T1 (with battery and memory cards) – hard to notice in real world use. Both cameras have identical ISO and shutter speed ranges, and flash sync speed is the same, too. There is a caveat, though. X-Pro1 can sync at 1/180s only in P or A exposure modes – it maxes out at 1/160 in S and M modes. Even if we forget that strobes are usually used with the camera set to manual exposure control, sync speeds of both cameras are dismal and absolutely nothing to be proud of. Quite the contrary. After reading about such disappointing sync speed I start to unwillingly miss the good old Nikon D40, which, despite being an entry-level model, could sync flash at a whopping 1/500s. You just don't expect two most expensive models in Fuji's line-up to be so shamefully limited.
On to the rest of the similarities. Both X-Pro1 and X-T1 use SD card format for storage, the same 256-zone TTL metering systems and have 49 autofocus points to choose from. Thankfully, batteries are also identical. So far so good, right? It gets somewhat better, at first. Let's take a look at the things X-Pro1 does better:
The Viewfinders: one of Fujifilm's brilliant innovations is the hybrid optical/electronic viewfinder. It was first introduced with the original X100 and made its way to the flagship X-Pro1 back in 2012. Needless to say the hybrid viewfinder quickly became one of the most regarded features and gained a huge fan-base. The optical viewfinder is designed for two different magnification levels ("wide" and "standard") depending on what lens is mounted on the camera. When a short focal length lens is attached to the camera, such as the Fujinon 18mm f/2, the OVF operates in its "wide" mode (0.37x magnification). When longer focal length lenses are attached, the camera automatically switches to "standard" (0.60x magnification), which shows the subject closer, making it much easier to compose your shot. Switching between the OVF and EVF is done through the switch on the front of the camera. In OVF mode (which is basically you looking through the viewfinder glass), the viewfinder has a bright white overlay that shows the approximate boundaries of the lens, along with some other useful exposure information. Switching to EVF mode shows what the sensor sees through the lens, so the framing is fully accurate and more information is available to be displayed, including the histogram. Brilliant!
LCD Screen: both cameras have 3″ screens at the back, but X-Pro1's display is ever so slightly sharper with 1,230k dots against 1,040k of the X-T1. Not a huge difference and hardly noticeable in use, but still worth mentioning.
Dimmensions: the X-Pro1 is not all that much more compact than the newer X-T1 and is actually a bit bigger in one dimension, but overall it will take up a little bit less space in your bag.
Price: technically, the X-Pro1 is a flagship model in Fuji's line-up, yet it is cheaper by approximately $200, which is a considerable amount in this price range. At the time of writing, it costs around $1,080 at B&H, whilst the X-T1 is $1,299.
Alright. At this point you might have noticed that the advantages X-Pro1 holds against the X-T1 are not of much consequence. And there is a reason why I started listing them first, because, to be brutally honest, X-Pro1 really is in trouble. As good as it may be on its own (in no small amount thanks to all the firmware updates Fuji released for the camera), it really starts to fall apart when compared to the X-T1. Take a look at the improvements the latest Fuji mirrorless camera has over its older sibling:
Hybrid AF: as I've already mentioned before, the X-T1 has a sensor that is very similar to the one found in X-Pro1 and exactly the same as in X-E2. Don't expect any image quality improvement, be it dynamic range or high ISO. The only real difference lies in the incorporation of phase-detect AF sensors in the newer X-Trans CMOS II of the Fujifilm X-T2. Now, with the latest firmware update, Fujifilm X-Pro1 is a lot snappier and more reliable in the autofocus department than it was at launch. Yet the X-T1 further builds on that with improvements – a hybrid autofocus system that is quickly becoming the standard for mirrorless cameras. This system uses both contrast (normally used in compact cameras) and phase-detect (normally used in DSLRs) autofocus for improved speed and accuracy, especially noticeable when tracking moving subjects. Not something you can add to X-Pro1 via firmware, unfortunately! The same exact system is currently used in Fujifilm X100s and X-E2 and what we have learned about this hybrid AF is that it performs very well in good lighting conditions where phase-detect system is at its best. In lower light, however, the system will rely on contrast-detect more, which means the speed difference between X-T1 and X-Pro1 might be much less noticeable, if at all. Still, this also means there is further room for improvement for the X-T1 however good its performance might be at launch. It is a definite advantage over X-Pro1.
EVF: this, along with the improved AF system, is X-T1's party piece. The new EVF currently offers the biggest magnification of any DSLR or mirrorless camera on the market today – a whopping 0.77x! That's bigger than that of the full-frame Nikon D4. Perhaps just as importantly, the lag has been reduced to a barely noticeable (at least in theory) 0.005s. That, too, is very impressive and should be a welcome improvement for the EVF-skeptics among us. I have not managed to find even approximate delay for the X-Pro1 among the list of official specifications, but I feel confident in saying that, unless you really want that hybrid optical/electronic viewfinder, X-T1 is a much better choice in this regard. And let's not forget the resolution advantage – with 2.360k dots, X-T1's viewfinder is much sharper than that of the X-Pro1 (1.440k dots).
Ergonomics: I've not had the chance to hold it in hand, but thanks to that grip the X-T1 has the potential of being much more comfortable to hold for longer periods than the more boxy X-Pro1, especially with heavier lenses such as the XF 55-200mm f/3.5-4.8R OIS. There are also more external controls with programmable buttons and dials for ISO, metering modes and shooting modes. This means you'll be spending less time browsing the menus, and who likes doing that?
Image Processor and Speed: X-T1 has the updated EXR processor. It is much snappier than the first version and brings a number of other improvements to the camera. First of all, the writing speeds have been improved (which means more shots in a sequence) along with overall responsiveness. Also, Lens Modulation Optimizer is present, which is a set of software trickery meant to improve image quality at small, diffraction-susceptible apertures (in JPEG format only). Finally, the X-T1 can shoot at a maximum 8 frames per second versus 6 fps of the X-Pro1.
Weather Sealing: X-T1 became the first camera in Fuji's X-mount line-up to feature weather protection. Nasim has used X-Pro1, X-E1 and X-E2 in less than optimal conditions – his cameras have seen rain, snow, cold and dust, and survived with no problems to report. Still, if you frequently shoot under heavy rain or in other inhospitable conditions, X-T1's seals should give some piece of mind, especially when it is mounted with a weather-resistant lens (those are yet to be launched).
Articulated LCD: yes, X-Pro1 has a slightly sharper screen as I've mentioned previously. But, really, I was trying very hard to find at least some advantages it had over the X-T1. Let's be honest, and articulated screen is likely to be much more useful than the one that has a few more dots in it. Something the X-T1 has and the X-Pro1 does not. Having said that, a screen that is not permanently fixed to the camera body is always a weak spot and can be damaged if you're not careful, so this particular advantage is actually quite subjective. Personally, I have never really needed a tiltable screen, but the feature can be useful, there is no doubt about it.
Video Improvements: the X-T1 is now capable of shooting 60 fps videos @ full HD 1080 resolution instead of X-Pro1′s maximum speed of 24 fps. Video recording has never been a strength of Fujifilm mirrorless cameras. Perhaps they want to at least catch up with competition in this respect.
Diopter Adjustment: sadly, the flagship model in Fujifilm mirrorless camera lineup does not offer built-in diopter adjustment. For some spectacle-wearers (those who tend to take their off while photographing), this is a real drawback, as X-Pro1 only accepts diopter correction lenses (±3). X-T1 has built-in diopter correction (-4 to +2).
Exposure Compensation: you can now adjust exposure compensation by ±3 stops in 1/3rd increments using the dedicated dial (versus ±2 stops of the X-Pro1).
Wi-Fi: Fujifilm X-T1 gains the now-standard for this class of cameras WiFi connectivity, which enables one to not only transfer images on the go, but also remotely control the camera. There's the option of geotagging, too.
Flash: neither of the two cameras has a built-in pop-up flash, but if you care about such a thing, a small external flash unit is part of the package with X-T1. It's tiny and light, so you can easily pop it into a pocket and forget its there until it is needed. The flash unit is called EF-X8.
Operating Temperature: I've used plenty of cameras – from entry-level to large, heavy, professional DSLRS – in freezing conditions (down to around -30ºC). They never skipped a beat. However, I was always worried. Fuji claims the X-T1 should work just fine at -10ºC (X-Pro1 seemingly scores a bit worse and is reliable down to 0ºC), which really is reassuring. Of course, no such protection can help with battery drain in cold weather.
The X-Pro1 is the older camera of the two and can't do much against the progress Fuji made during the last couple of years even with the constant stream of very impressive firmware updates. There's no way around this, X-Pro1 is, from a technical standpoint, obsolete in comparison to the X-T1. It does not necessarily mean one should replace the older camera with the newer one at this very instance – it is still capable of the exact same image quality and is a powerful tool in the right hands. More powerful than ever, in fact. But if you are just buying into the system, X-T1 or X-E2 are quite a bit more tempting even without the stonking hybrid viewfinder.
If there were ever reasons to spend $200 more on a camera, they are listed above. But such progress with the X-T1 does tell us one thing – X-Pro2, whenever it comes out, is likely to be quite something. Let's not forget, X-T1 might be a high-end camera and somewhat tower above the aging X-Pro1 now, but it is no flagship. Best is yet to come!