Since the newest camera in Fujifilm's lineup, the X-T1, has already been compared in terms of specifications to the flagship X-Pro1 model, it seems only fair to finish this marathon of comparisons by seeing how it measures up against a model positioned slightly lower in the range. That is, of course, the Fujifilm X-E2 – arguably the best camera overall in the Fujifilm's range, at least until X-T1 showed up. Naturally, the X-T1, being newer, packs the latest technology, but the X-E2 isn't exactly old and, considering that $300 price difference, is a serious rival for the higher-end model.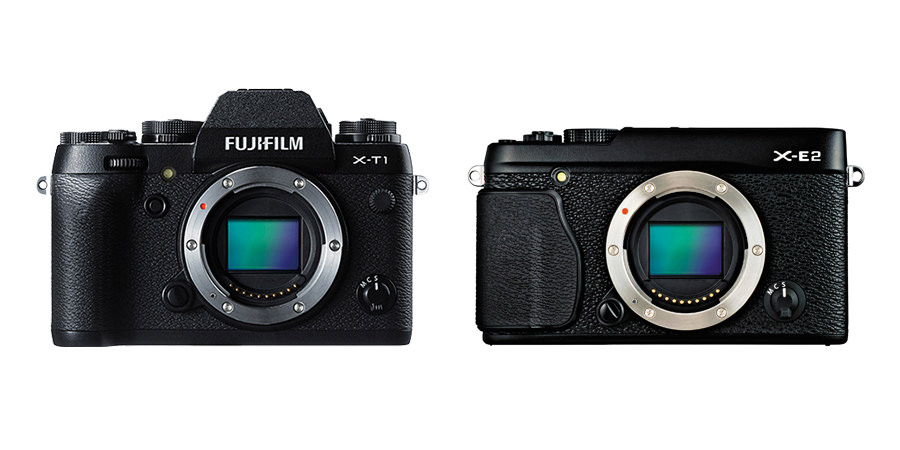 As always, it is important to note that this comparison is based purely on technical specifications. We didn't yet have the chance to use X-T1 (you can click here to read our X-E2 review), so take this comparison for what it's worth:
Fujifilm X-T1 vs X-Pro1 Specification Comparison
Camera Feature
Fujifilm X-T1
Fujifilm X-E2
Sensor Resolution
16.3 Million
16.3 Million
AA Filter
No
No
Sensor Type
X-Trans CMOS II
X-Trans CMOS II
Sensor Size
23.6×15.6mm
23.6×15.6mm
Sensor Pixel Size
4.82µ
4.82µ
Dust Reduction / Sensor Cleaning
Yes
Yes
Image Size
4,896 x 3,264
4,896 x 3,264
Image Processor
EXR PROCESSOR II
EXR PROCESSOR II
Lens Modulation Optimizer
Yes
Yes
Viewfinder Type
Electronic (EVF)
Electronic (EVF)
Viewfinder Resolution, 35mm-Equivalent Magnification
2,360,000 dots, 0.77x
2,360,000 dots, approximately 0.60x-0.64x
Viewfinder Coverage
100%
100%
Diopter Adjustment
Yes
Yes
Built-in Flash
No (external unit as part of the package)
Yes, pop-up
Flash Sync Speed
1/180s
1/180s
Storage Media
1x SD, SDHC, SDXC
1x SD, SDHC, SDXC
Continuous Shooting Speed
8 FPS
7 FPS
Shutter Speed Range
1/4000 to 30 sec
1/4000 to 30 sec
Image Stabilizer
With OIS Lenses
With OIS Lenses
Exposure Metering Sensor
TTL 256-zone metering
TTL 256-zone metering
Exposure Compensation Range
±3 stops
±3 stops
Base ISO
ISO 200
ISO 200
Native ISO Sensitivity
ISO 200-6,400
ISO 200-6,400
Autofocus System
Hybrid AF (TTL contrast AF / TTL phase detection AF)
Hybrid AF (TTL contrast AF / TTL phase detection AF)
Focus Points
49 AF points
49 AF points
Face Detection
Yes
Yes
Video Capability
Yes
Yes
Video Output
H.264
H.264
Video Maximum Resolution
1920×1080 (1080p) @ 60p
1920×1080 (1080p) @ 60p
Audio Recording
Built-in stereo microphone
External stereo microphone (optional)
Built-in stereo microphone
External stereo microphone (optional)
Articulating LCD
Yes
No
LCD Size
3.0″ diagonal TFT-LCD
3.0″ diagonal TFT-LCD
LCD Resolution
1,040,000 dots
1,040,000 dots
Built-in GPS
No
No
Built-In Wi-Fi Functionality
Yes
Yes
Weather Sealed Body
Yes
No
Operating Temperature
Down to -10ºC
Down to 0ºC
USB Version
2.0
2.0
Weight (Body Only)
440g with battery and memory card
350g with battery and memory card
Dimensions
129 x 90 x 47 mm
129 x 74.9 x 37.2 mm
Battery
Li-ion battery NP-W126
Li-ion battery NP-W126
Price
$1,299
$999
The Fujifilm X-T1 and X-E2 are as remarkably similar as X-T1 and X-Pro1 were different. You could almost say the X-T1 is an X-E2 at heart, but with a few notable differences. First of all, they share the exact same APS-C X-Trans CMOS II sensor and EXR II processor. Courtesy of that processor both cameras also feature Fuji's Lens Modulation Optimizer, which is basically a set of software enhancements that counter diffraction effect in JPEG capture mode when the lens is stopped down. There is also the now-standard hybrid autofocus system with both phase- and contrast-detect sensors. As we've found in our X-E2 review, the system is indeed very capable and swift in good light. I would be very surprised if the X-T1 was somehow worse in this regard. Video recording is exactly the same with 1080p60 capture available. They use the same batteries, have EVFs and 3″ LCD screens with the same resolution, both feature the ever-important diopter adjustment, ISO and shutter speed range as well as flash sync speed.
I could go on, but you can clearly see just how much these two cameras have in common in the table above. It is much easier to talk about the few, but important differences that separate X-T1 and X-E2 as two very distinctive models in Fujifilm's range of compact system cameras. Let's start with the shorter list of advantages the X-E2 has over its newest sibling:
Size and Weight: the difference here is not striking, but the X-E2 is still noticeably more compact due to the lack of an EVF "prism" bump at the top and the more prominent hand grip. It is also lighter by nearly 100g, so will be a better choice for those who want the smaller package. X-T1's slightly bigger dimensions have an advantage of their own (more on which later), nonetheless it is undeniably the chunkier camera of the two.
Pop-up flash: personally, I do not find the pop-up flash to be such a useful feature with most serious cameras. I've never used one to light a subject directly with my Nikon gear (but have used it to control external SB-900 speedlights). Still, for those rare occasions and those who know how to take advantage of such light creatively (think fashion photography) the inclusion of a pop-up flash in the X-E2 will be an advantage.
LCD screen: you might find this point confusing at first. After all, the two cameras share very similar screens – same size, same resolution. Beyond that the X-T1 actually holds an advantage, because its screen is tiltable. But for some people a tiltable screen is also a weak point in a camera. Even if you are such a person and prefer to have a simpler, fixed LCD screen on the back, such a difference will hardly help X-E2 win you over on its own, but it might help sway you. Just remember, you can always leave the X-T1's screen alone and not tilt it. :)
Threaded shutter release: because of all the weather sealing (presumably), X-T1 loses the threaded shutter release button and, consequently, support for old and cheap remote release cords.
Price: X-E2 is $300 less expensive than the bigger X-T1 model and that is quite a difference. In fact, X-T1 is currently the most expensive camera in Fujifilm's entire compact camera system. At the same time it will deliver the exact same image quality, is more compact and overall extremely similar to its pricier relative. This is by far X-E2's biggest strength when compared to the DSLR-like Fujifilm X-T1.
There's not much, I agree, but that only serves to emphasize just how much the two cameras are alike and capable. Something that is hardest to ignore, yet also difficult to define as a definite advantage for either camera, is the design and, consequently, ergonomics differences between the two. The X-E2 takes after the rest of Fuji's rangefinder-styled mirrorless cameras with a minimalist design and tiny grip. Even though it sports a high-resolution EVF, there is no hump, so you can't really tell there is in fact an EVF when looking at the front of the camera. Fujifilm X-T1, on the other hand, looks much more like Fujica film SLR cameras of old with an added grip that's not as prominent as on modern DSLRs, yet still quite a bit more so than on the rest of Fujifilm's mirrorless cameras. In this regard, X-T1 seems to be trying to lure in some die-hard DSLR users by seemingly offering all the advantages of a compact camera system, yet also as true-to-life EVF as it currently gets as a substitute for the missing TTL OVF. It looks very purposeful, I must say.
On to the strengths of the X-T1, then:
EVF: this is X-T1's party piece. Yes, it has the same resolution as the X-E2's EVF which already is hardly shabby. Quite the contrary, in fact – it is one of the best in the market. Still, Fujifilm has managed to improve it further with the X-T1. The new EVF currently offers the biggest magnification of any DSLR or mirrorless camera on the market today – a whopping 0.77x! That's bigger than that of the full-frame Nikon D4. I did not find the official magnification specs for X-E2's viewfinder, but I know it is somewhere in between 0.60x-0.64x (full-frame equivalent). Perhaps just as importantly, the lag has been reduced to a barely noticeable (at least in theory) 0.005s. That, too, is very impressive and should be a welcome improvement for the EVF-skeptics among us. I will say this again – X-E2 is very good already in this respect, but if you absolutely need what might be the best EVF ever fitted to a compact system camera, X-T1 could be your choice between these two.
Ergonomics: so, the X-E2 is smaller and lighter. That might be a very good thing if you use small, light prime lenses and do not tire carrying the camera around. If, however, you tend to shoot longer, heavier lenses (and several such lenses are coming), X-T1's more prominent hand grip will make it easier to handle. Because of that grip it has the potential of being much more comfortable to hold for longer periods of time. There are also more external controls with programmable buttons and dials for ISO, metering modes and shooting modes. This means you'll be spending less time browsing the menus, and who likes doing that? Also worth mentioning is that X-T1 has lockable ISO and shutter speed dials, so you won't accidentally rotate them to a different position and affect your exposure.
Speed: not a huge difference, but the X-T1 can shoot at a maximum 8 frames per second (with continuous AF, by the way) versus 7 fps of the X-E2.
Weather Sealing: X-T1 became the first camera in Fuji's X-mount line-up to feature weather protection. Nasim has used X-Pro1, X-E1 and X-E2 in less than optimal conditions – his cameras have seen rain, snow, cold and dust, and survived with no problems to report. Still, if you frequently shoot under heavy rain or in other inhospitable conditions, X-T1's seals should give some piece of mind, especially when it is mounted with a weather-resistant lens (those are yet to be launched).
Build Quality: the body of X-T1 is made of magnesium alloy, top to bottom. X-E2 is built from a mixture of plastic and magnesium alloy parts, so its build quality is slightly inferior.
Articulated LCD: let's face it, the fixed LCD of the X-E2 will be advantageous to very few even though I mentioned it as a possibility. An articulated screen is likely to be more useful for more people. Worst case scenario – it is neither an advantage nor a disadvantage when compared to a fixed screen, because no on is forcing you to tilt it if you don't need to.
Operating Temperature: I've used plenty of cameras – from entry-level to large, heavy, professional DSLRS – in freezing conditions (down to around -30ºC). They never skipped a beat. However, I was always worried. Fuji claims the X-T1 should work just fine at -10ºC (X-Pro1 seemingly scores a bit worse and is reliable down to 0ºC), which really is reassuring. Of course, no such protection can help with battery drain in cold weather.
I think it is safe to say that the choice between X-T1 and X-E2 is quite a simple one. All you need to do to decide is ask yourself several questions: do you prefer the compact dimensions of the X-E2 or the potential comfort and abundance of external controls of the X-T1? Do you need extensive weather sealing? Do you absolutely need that huge EVF with minimal lag? If you shoot moving subject a lot, you might. If you're coming from a DSLR and are skeptical about EVFs in general, it will leave a better impression, too. For many, though, X-E2 is already good enough. Finally, is it all worth an extra $300 for you? Answering these questions will give you a clear idea on which camera to purchase because, in the end, they both are the best Fujifilm can offer at the moment. Overall, I think that the price difference reflects specification differences very accurately.