The new Fujifilm X-T1 has been greeted with great enthusiasm. Based purely on specifications, the newer camera seems to be at the top in Japanese manufacturer's line-up, at least until X-Pro2 comes along. In this article, I will compare the new X-T1 mirrorless camera from Fujifilm to Olympus' top offering, the OM-D E-M1.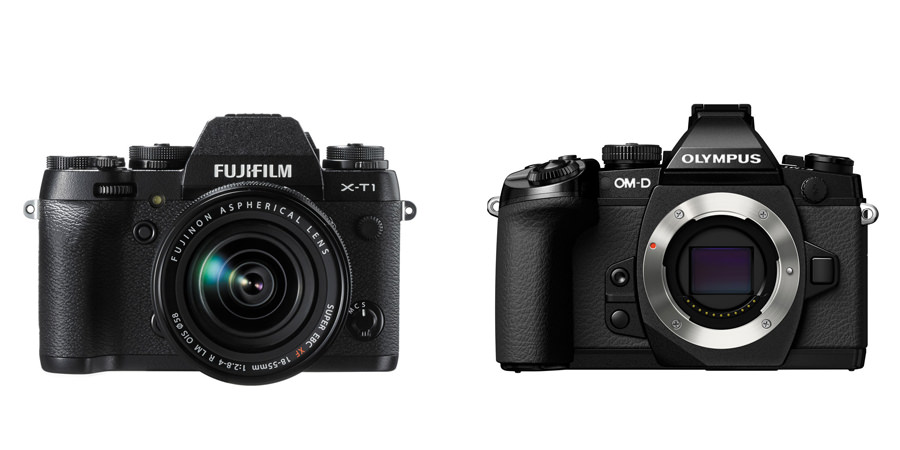 Please keep in mind that this comparison is based purely on official specifications as we have not yet had the chance to review either camera. Both cameras are priced very similarly and even look somewhat alike. Let's see how they stack against each other on paper:
Fujifilm X-T1 vs Olympus OM-D E-M1 Specification Comparison
Camera Feature
Fujifilm X-T1
Olympus OM-D E-M1
Sensor Resolution
16.3 Million
16.3 Million
AA Filter
No
No
Sensor Type
X-Trans CMOS II
CMOS
Sensor Size
23.6×15.6mm
17.3x13mm
Sensor Pixel Size
4.82µ
3.7µ
Dust Reduction / Sensor Cleaning
Yes
Yes
Image Size
4,896 x 3,264
4,608 x 3,456
Image Processor
EXR PROCESSOR II
TruePIC VII
Viewfinder Magnification (35mm equivalent)
0.77x
0.74x
Viewfinder Type
Electronic (EVF)
Electronic (EVF)
Viewfinder Resolution and Lag
2,360,000 dots, 0.005s delay
2,360,000 dots, 0.029s delay
Viewfinder Coverage
100%
100%
Built-in Flash
No (external unit as part of the package)
No (external unit as part of the package)
Flash Sync Speed
1/180
1/320
Storage Media
1x SD, SDHC, SDXC
1x SD, SDHC, SDXC
Continuous Shooting Speed
8 FPS
10 FPS
Shutter Speed Range
1/4000 to 30 sec
1/8000 to 60 sec
Image Stabilizer
With OIS Lenses
Sensor shift
Exposure Compensation Range
±3 stops
±5 stops
Base ISO
ISO 200
ISO 200
Native ISO Sensitivity
ISO 200-6,400
ISO 200-25,600
Autofocus System
Hybrid AF (TTL contrast AF / TTL phase detection AF)
Hybrid AF (TTL contrast AF / TTL phase detection AF)
Focus Points
49 AF points
81 AF points (37 phase-detect AF points)
Face Detection
Yes
Yes
Video Capability
Yes
Yes
Video Output
H.264
H.264
Video Maximum Resolution
1920×1080 (1080p) @ 60p
1920×1080 (1080p) @ 30p
Audio Recording
Built-in stereo microphone
External stereo microphone (optional)
Built-in stereo microphone
External stereo microphone (optional)
Articulating LCD
Yes
Yes
LCD Size
3.0″ diagonal TFT-LCD
3.0″ diagonal TFT-LCD
LCD Resolution
1,040,000 dots
1,040,000 dots
Built-in GPS
No
No
Built-In Wi-Fi Functionality
Yes
Yes
Weather Sealed Body
Yes
Yes
Operating Temperature
Down to -10ºC
Down to -10ºC
USB Version
2.0
2.0
Weight (Body Only)
440g with battery and memory card
497g with battery and memory card
Dimensions
129 x 90 x 47 mm
130 x 94 x 63 mm
Price
$1,299
$1,399
With the exception of a few major differences, the two cameras are very similar indeed. Starting with the ergonomics and design, they are both contemporary remakes of old film classics and will appeal to those who prefer the now-popular retro look over the dull-but-safe modern one. Personally, I would have to say Fujifilm nailed it better – I find the grip on E-M1 to look out of place, as if it was taken from a completely different camera and stuck on the Olympus at the last minute. That said, design is completely subjective. If we look past styling details, though, the ergonomics are, again, very similar. Both cameras feature prominent EVF humps which are not only necessary to store all the parts of current state-of-the-art electronic viewfinders, but also give a rather obvious node to mainstream DSLRs and, possibly, are there to convince some photographers that EVFs are getting better and better each year. Both cameras also feature an abundance of external controls and usefully large grips for better handling, especially with larger lenses. Olympus OM-D E-M1 and Fujifilm X-T1 are made of high quality materials and feature weather sealing.
There are more similarities to be found as we dig deeper. Save for the difference in aspect ratios, both cameras have sensors with pretty much the same resolution. Also, both emphasize improved EVF technology with high-resolution, high-magnification displays and short lag, as well as quick autofocus and response time.
Similarities are one thing, though. They do not make the task of choosing one over the other any easier. For that, we need to look at the list of differences starting off with all the points OM-1 wins over the X-T1. So, here are the major differences between these two cameras:
Hybrid AF: I'd prefer not to speculate, but contrast-detect autofocus system of the E-M5 (read our review here) is one of the swiftest we've ever tested and, in some situations, quicker than that of the X-E2. Adding phase-detect autofocus could only improve it further, so unless Fujifilm has made some serious strides with AF performance with its newest model, there is a good chance E-M1 will be ever so slightly quicker.
Speed: both X-T1 and E-M1 are impressively responsive cameras, and yet the E-M1 trumps its Fujifilm rival on paper. It has a slightly faster continuous shooting speed of 10 frames per second maximum (versus 8 frames per second for the Fuji). What I find to be more important in a camera that costs as much as one of these two is that E-M1 has a top shutter speed of 1/8000s – that is on par with high-end DSLRs. Sadly, X-T1 has to make due with 1/4000s, so if you shoot a lot outside wide-open, that extra stop in shutter speed is definitely an advantage to consider. I feel like I should stress this point more – any digital camera above $1000 mark with a focal-plane shutter should manage 1/8000s shutter speed, especially if its base ISO setting is ISO200, as with both these cameras. For example, I often find myself at the limit with my D700 in daylight when shooting at f/1.4 so for me the 1/4000s of the X-T1 is a serious drawback, one that becomes even more apparent after the XF 56mm f/1.2 announcement. While the Olympus is definitely better in this regard, I'd also prefer its base ISO to be at 100.
ISO range: even though low-light, high ISO performance of the E-M1 is not as good as that of the Fujifilm, Olympus offers a wider range when shooting RAW. And in those cases when a grainy image is better than a blurry image, the Olympus holds an advantage.
Flash sync speed: I'm not sure if all that many people would use either camera with a flash very often, but if you are into strobe photography the Olympus is clearly a better choice. It has a whopping one stop advantage in sync speed! And to be completely honest, the 1/180s of the Fujifilm is rather dismal.
Image stabilization: Olympus has a very effective 5-axis image stabilization system that shifts image sensor to counter camera shake.The important part is that this sort of stabilization works with every single lens you mount even if it has no electronic linkage with the camera. Fujifilm is putting OIS into more and more lenses, like the XF 10-24mm R OIS, but there are still gaps. Here, Olympus holds an advantage.
Overall, the Olympus OM-D E-M1 seems to be a very worthy rival to the new X-T1. However, now it is time to talk about its disadvantages, and thus X-T1's strengths.
Sensors: resolution might be the same, but pixel size is not simply because X-T1 has a noticeably bigger sensor. Now, the one used in Olympus is far from being bad. I think it would still be rather unreasonable to expect it to outperform the X-Trans of the Fujifilm in terms of high ISO noise at the very least. Shallow depth of field is another matter.
Lens Modulation Optimizer: just like the X100S, the Fuji X-E2 also received Fuji's proprietary Lens Modulation Optimizer – software that can use special algorithms to reduce diffraction and other optical problems. Mind you, this is software trickery and only works in JPEG capture, so take it for what it's worth.
Layout Differences: naturally, camera layout is a very subjective matter and which one works best is really up to the person who wants to buy one of the cameras. That said, the dial-based system of the X-T1 might be the better choice, because the camera itself remains button-free for the most part.
EVF: Both manufacturers boast about the technology they've put into the EVFs of these two cameras. Fujifilm X-T1 has a slight edge over the already hugely capable E-M1. First of all, it is slightly bigger at 0.77x 35mm equivalent magnification (although with 0.74x, the Olympus is still no slouch). Perhaps more importantly the Fuji has less lag – that's 0.005s versus 0.029s of the Olympus. Lag is one of the bigger issues with EVFs and it is nice to see manufacturers making such progress.
Dimensions and Weight: I did not expect this, but the X-T1 is smaller (even if just a little bit) in every dimension than the E-M1 despite featuring a much larger sensor. It is also nearly 60g lighter!
Price: even though I stated at the beginning of this article that $1,299 is a lot for an APS-C camera (and remember, technically, the new X-T1 is not even the flagship model), Fujifilm X-T1 is actually $100 less expensive than Olympus E-M1. But less expensive is the keyword here – it is still not exactly cheap. It's just that E-M1 is even more expensive despite having a smaller sensor.
It is a very close call between the two cameras. Your choice will most likely depend on the sensor size you prefer. Interestingly, design might also nudge you towards one camera or the other. The best thing one can do, though, is hold both in hand and use for a bit before making the decision. We will be able to draw full conclusions after both cameras are properly reviewed.