With the release of the much anticipated Canon 6D Mark II, one might be wondering how it stacks up against the three year old Nikon D750 in terms of specifications and features. Since the 6D Mark II has a similar feature set and price point as the D750, it makes sense to compare these two cameras, even though Nikon has not announced a replacement yet. While I am planning to work on a detailed review of the 6D Mark II, along with high ISO comparisons later this year, I thought it would be interesting to see the strengths and weaknesses of each camera when put side by side.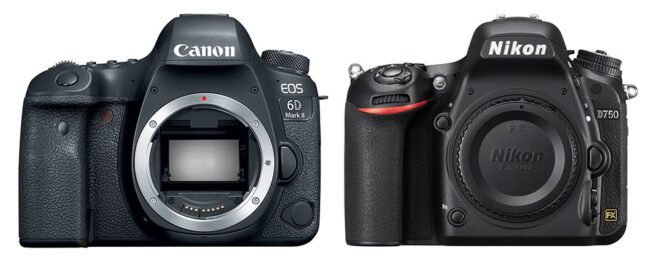 Let's take a look at the specifications of both cameras in more detail. Some commentary on the data is provided below.
Canon 6D Mark II vs Nikon D750 Specification Comparison
Camera Feature
Canon 6D Mark II
Nikon D750
Sensor Resolution
26.2 MP
24.3 MP
Sensor Type
CMOS
CMOS
Sensor Size
35.9×24.0mm
35.9×24.0mm
Sensor Pixel Size
5.75µ
5.97µ
Dust Reduction / Sensor Cleaning
Yes
Yes
Image Size
6,260 x 4,160
6,016 x 4,016
Native ISO Sensitivity
ISO 100-40,000
ISO 100-12,800
Boosted ISO Sensitivity
ISO 50, ISO 51,200-102,400
ISO 50, ISO 25,600-51,200
Image Processor
DIGIC 7
EXPEED 4
Viewfinder Type
Pentaprism
Pentaprism
Viewfinder Coverage
98%
100%
Viewfinder Magnification
0.71x
0.70x
Built-in Flash
No
Yes, with flash commander mode
Storage Media
1x SD
2x SD
Continuous Shooting Speed
6.5 fps
6.5 fps
Max Shutter Speed
1/4000 to 30 sec
1/4000 to 30 sec
Flash Sync Speed
1/180
1/200
Shutter Durability
100,000 cycles
150,000 cycles
Exposure Metering Sensor
7560-pixel RGB+IR Metering
91,000-pixel RGB sensor 3D Color Matrix Metering III
Number of AF Points
45 AF points, 45 cross-type
51 AF points, 15 cross-type
Video Maximum Resolution
1920×1080 (1080p) @ Up to 60p
1920×1080 (1080p) @ Up to 60p
Audio Recording
Built-in stereo microphone
External stereo microphone (optional)
Built-in stereo microphone
External stereo microphone (optional)
Headphone Jack
No
Yes
LCD Size and Type
3.0″ vari-angle LCD touchscreen
3.2″ diagonal TFT-LCD
LCD Resolution
1,040,000 dots
1,229,000 dots
Built-in GPS
Yes
No
Wi-Fi
Wi-Fi with NFC
Wi-Fi Only
Bluetooth
Yes
No
Battery Life
1200 shots (CIPA)
1230 shots (CIPA)
Weather Sealed Body
Yes
Yes
USB Version
2.0
3.0
Weight (Body Only)
685g
760g
Dimensions
144.0 x 110.5 x 74.8mm
140.5 x 113.0 x 78.0mm
MSRP Price
$1,999 (as introduced)
$2,299 (as introduced)
So, what are the main differences between the Canon 6D Mark II and Nikon D750? While it is clear that there are many similarities between the two, there are some important differences worth pointing out. First of all, there is a slight difference in resolution – the 6D Mark II has a 26.2 MP sensor compared to the 24.3 MP sensor on the D750. While the difference is too small to see in images, the 6D Mark II has a newer sensor and promises to have 100-40,000 native ISO range, which could potentially result in better high ISO performance. However, it is too early to say what the actual differences are going to be until we put the two cameras side by side in a lab environment and see how they stack up, so take this information with a grain of salt. It is also hard to say if the 6D Mark II will be able to provide as good of dynamic range as the Nikon D750, but some sources have already indicated that the 6D Mark II might have inferior dynamic range compared to the 5D Mark IV, which is discouraging to hear. At the end of the day, both cameras should be able to take superb images with excellent color and details, so that should not be of a big concern on either side.
Where Canon goofed up is with the viewfinder coverage – it is a shame that the Canon 6D Mark II only has a 98% viewfinder coverage, making it difficult to properly compose and frame shots. No concerns on the D750, since it has 100% viewfinder coverage. Another area where the D750 clearly stands out is the storage media – it has dual memory card slots, whereas the 6D Mark II is still limited to a single memory card slot like its predecessor. This is unfortunate, and it might steer some pros away from choosing the 6D Mark II. When it comes to recording video, while neither camera can shoot 4K, the D750 has a headphone jack to be able to listen to recorded audio, which is a huge benefit. Unfortunately, that's another feature Canon skipped on.
Both cameras have excellent AF systems and it is hard to say if one is going to prove to be better than the other. While the Nikon D750 has more focus points, the Canon 6D Mark II has a lot more cross-type sensors, so it should be more accurate and reliable outside the center area. Unfortunately, both cameras have their AF sensors located very close to the center of the frame.
Canon certainly does better in connectivity options. It has a built-in GPS, WiFi + NFC and Bluetooth, whereas the Nikon D750 is only limited to WiFi. Also, the Canon 6D Mark II is lighter, slightly smaller and has a better MSRP at introduction (current market prices for the two cameras are the same). Both cameras are rated for the same battery life, but keep in mind that CIPA calculations take into consideration use of flash, so without use of flash, the battery on the D750 should last a bit longer.